For those who want to know which places in Thailand would be good to visit. Here is an effort to explore the best places to visit in Thailand. Mixed and sizzled with various cultures, historical events, unique Thai tradition, captivating beauty, picturesque landscapes, happy local people, and Thai food. Thailand is one of the most diversified countries actually to exist. This delightful nation is an assortment of islands. An incredible bunch of around 1,430 islands that make up Thailand resembles a bee's hive from the satellite.
Surprisingly, this is the only Southeast Asian country that never came under the European reign. The word 'Thai' means high to protect, hence it is known to be the land of freedom. As the complete country's official name Thailand, it means the "Dawn of Happiness." To be honest, this country could have its own exclusive encyclopedia with several volumes on local routines and traditional values to talk about.
The best time to visit Thailand depends upon your place preferences; summers for beach adventures, winters for enjoying historical temple endeavors, and special months for discovering Thailand's traditional festivities.
Bangkok :
Bangkok serves as an emblem of several Chinese ethnicities coming together in harmony under one flag. Owing to its rich Asian roots, routes, and reminiscence. Travelers have found it convenient to know the biggest continent of the world through this diverse cultural city. The places to visit in Bangkok Thailand reveal excellent Asian origins and traditions like no other city on the planet.
Bangkok is a full-on Asian chocolate box having almost every aspect of Asia's finest original traditions. One of its glories is the Golden Buddha as it's one of the world's largest statues of the Buddha. Secondly, it made up of pure 18-karat gold. It was the year 1955 when the authorities transferred it to Bangkok. The significance of this date is due to the day when the clay cracked and chiseled off to show its pure gold-gilded statue. This gorgeous golden statue weighs over 5.5 tons, well placed in the sanctuary of Wat Traimit, Bangkok, Thailand.
Bangkok is also known for its inexpensive shopping and exotic street food experience. The Chatuchak Weekend Market is one of the most popular wholesale market where you can stroll and cart in cheap yet high-quality clothes, kitchen items, gifts, souvenirs, and more.
Bangkok is also known for its vibrant nightlife where you could find gaming arenas, clubs, fine dine-in restaurants, onboard ferry parties, and feisty people enjoying their memorable time at the world's most multifaceted capital city.
 Not to forget to mention the grand King Palace founded by King Rama I for himself and Asia's aristocratic dynasty pride. It's construction began in 1782 and it went on with it's magnificent overhaul until the year 1925. The Grand Palace is a must visit place full of amazing Asian architecture, Chinese Art, glorified Buddha statues, and more. The places to visit in Thailand Bangkok reavels excellent Asian origins and traditions like no other city on the planet.
Pattaya :
This place is truly a vista of 5-star hotels, quirky pool resorts, and a foreign cosmopolitan fiesta. Pattaya is the place where the color blue and the evening sunset complement each other in complete harmony. The city situated on the east shoreline of the Gulf of Thailand and around 100 km away from the capital city Bangkok.
Pattaya, the city known to occupy some of the best beaches in Thailand and exclusive romantic resorts for couples and newlyweds considering to travel southeast Asia for their honeymoon. On the contrary of a legal relationship of marriage, this posh place known for its notorious sex industry.
The nightlife in Pattaya is quite loud, mischievous, and unreliable owing to a mix of all sorts of locals and tourists. Therefore, a 3-day visit is probably the maximum duration for travellers to straddle inside one of Asia's bold culture city.
Some of the best places to visit in Pattaya Thailand include the Nong Nooch Botanical Garden where you can stroll around exotic foliage and the rarest plant life. Incontestably, it is the number one place to consider if you're looking for a dormant and profound place to fulfill your restful solace desire. Do not miss the local Thai cultural stage Show enriched with drama, Thai dance and beautiful songs, and an elephant circus in Nong Nooch Botanical garden. You can spend a whole day here as there are many nice restaurants as well as visiting the whole Thai style garden by car. The go-to-list followed by the popular Gems Gallery, Ramayana Water Park, Art in Paradise, Jomtien Beach, Wat Yasangwararam, Sanctuary of Truth, and Koh Lam (Coral Island).
Ao Nang Beach, Krabi Province :
First of all, the Krabi Province known for its jaw-dropping pastoral landscape encompassed with mesmerizing beach venues, hotels, wholesale shops, and best bistros for enjoying coffee and bakery appetizers. Also, if you are considering selecting a beautiful beach in Thailand, then the Krabi outskirts might have that for you.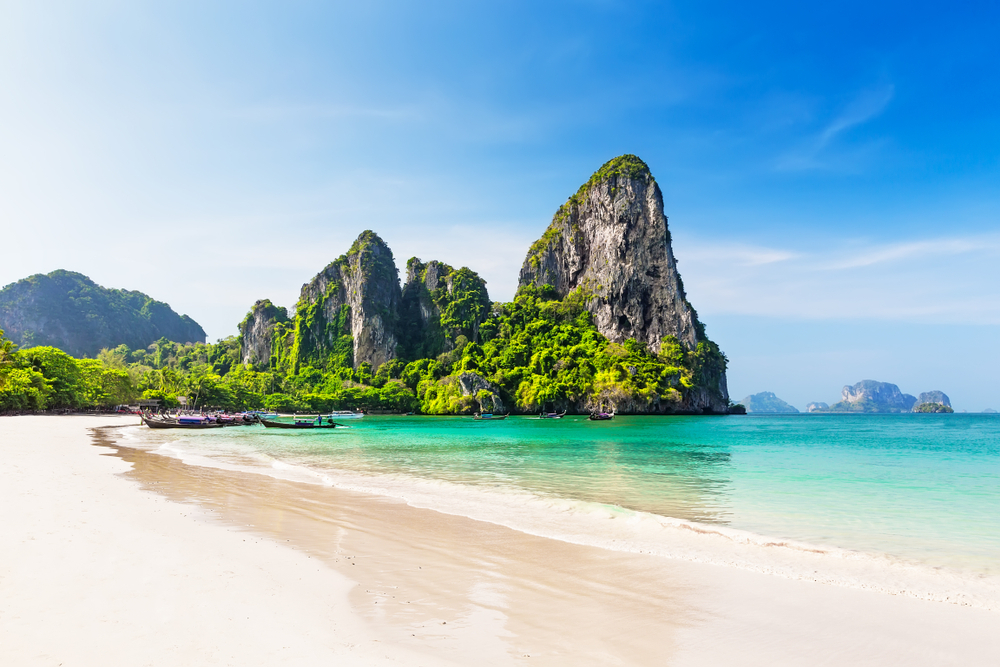 Some of the popular tourist attractions include the Tiger Cave Temple, Tourist Centre and ample seashore restaurant points.
The Krabi Province and Ao Nang have some of the best places to visit in Thailand that considered the best in the world. Putting them in the same headline is due to the short distance between them i.e., 11 km and the in-car route is about 17 km.
Whereas, Ao Nang a popular touristy town of Krabi cradled with restaurants, tourist attractions, hotels, and Asian-based gift item shops. This place is home to rich countryside views, beautiful beaches, luxury villas, and exclusive homely adobes for couples.
Phuket :
Definitely, a worthy place to put on the Thailand travel bucket list, Phuket island is a rich traditional island home to some of the best beaches in Phuket points of Southeast Asia. The globally famous places like the Phi Phi Islands and the Phang Nga Bay concentrate some of the best beach points for both couples and families looking for a holiday retreat.
The tropical Phi Phi Islands is a plethora of marine shelves, rustic coral reefs, swimming, and snorkeling points. Those places making it one of the biggest tourist attractions of Thailand. Without a doubt, it is one of the best beaches in Phuket. Located adjacent to the Andaman Coast. The Ko Phi Phi Le is famous for its featuring in Leonardo DiCaprio's movie The Beach. All in all, a full-day Phuket Island tour is an absolute win-win Thailand holiday package in own self.
On the same note, the Phang Nga Bay has also grown to become a full-on tourist point due to its inclusion in popular film setttings. The limestone pointed rocks fluttering out of its waters was showed in the feature film The Man with the Golden Sun.
One of Phang Nga Bay's prominent roles as a place setting was in the movie Star Wars: Episode III – Revenge of the Sith. Besides, this famous Bay is also ideal for a single-day trip. There you have to cruise towards the pinpointed towering James Bond Island. Also, don't forget to enjoy brunch and lunch routines at the Muslim village located on the Panyee Island.
Phi Phi Islands :
A magnificent land necklace chain of six islands. The Phi Phi Islands is the destination for party lovers, newlyweds, and a feisty getaway of friends. The Koh Phi Phi is a natural masterpiece resting on serene waters.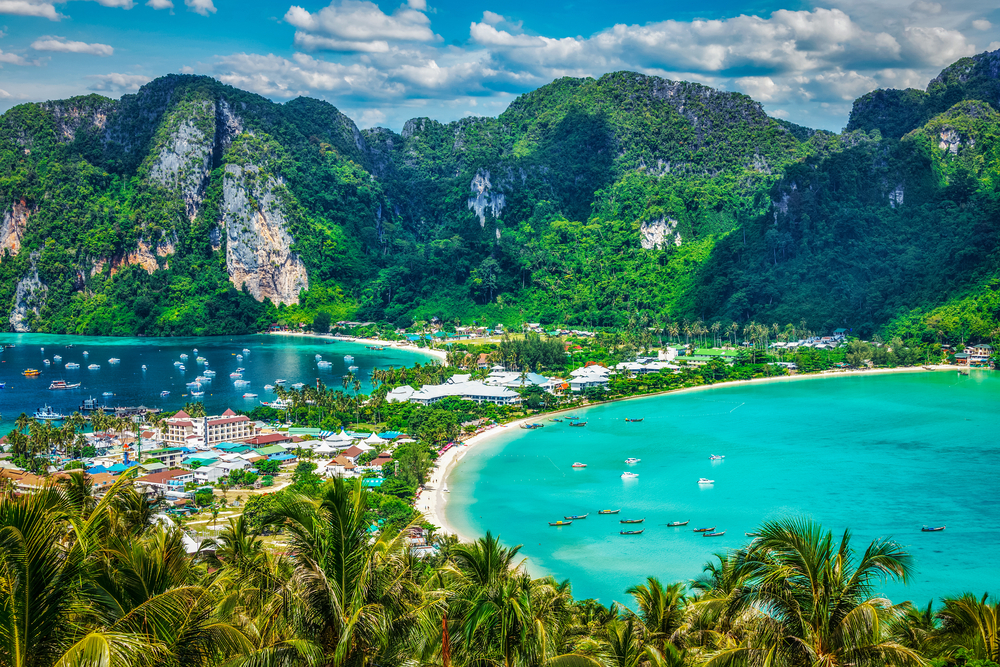 Tourists from all over the world come to enjoy its deluxe blue waters, gold dust sands, and some spectacular seashores. These some of the reasons that known to be one of the most expensive Island travel all around Asia.
The Phi Phi Islands are best for travelers who are looking for a calm and laid-back Asian venture. Ideal for couples and groups of friends having a strong desire for an undisturbed nomadic life. However, the day times filled with parties and evenings with bonfire camping chitchats.
James Bond Island :
As the name suggests, the James Bond Island never saw its tourist toll upsurge until the year 1974. When the blockbuster spy thriller movie James Bond film The Man with the Golden Gun was released.
On the other hand, its top-tipping island's natural land-water subsiding formation doesn't have a strong bond between the two natural elements. Which is the main reason why it's famous for. It was the year 1981 when this island witnessed its sky-reaching popularity among tourists of the newly established Ao Phang Nga Marine National Park.
The James Bond Island shows some serious mind-bending anti-gravity illusion owing to its unbelievable upside-down hilly formation. To top this off, the small trees and herbs growing around it make it look more beautifully bizarre. Undoubtedly this is one of the best places to visit in Thailand.

Chiang Mai :
Profoundly Asian, depicting Buddhist, and encompassing evergreen plants and pastures. Chiang Mai is one the most beautiful places in Thailand to enjoy a wanderlust frenzy. This countryside district is a major city of Northern Thailand and has the highest peak of Asia's cultural capital country.
Neighboring the biggest mountainous region Himalayas, it proudly tents in the two highest peaks; the Doi Suthep and the tallest mountain of Thailand, the Doi Inthanon. Chiang Mai's significance lies in its historical foundation that happened in the year 1296. Which preceded the former capital Chiang Rai.
Furthermore, Chiang Mai is home to over 24 Buddhist temples. That has made a huge impact on Thailand's art and architecture. Some of the best tourist attractions in Chiang Mai include the Old Town/Old City, Night Bazaar, Nimman for experiencing an overwhelming nightlife, and the Riverside ideal for families.
Koh Tao :
Considering to lodge in comfy rent home spaces or luxury villas to enjoy a peaceful rich Asian standoffish. Then Thailand's Koh Tao is no short of an ideal safe Haven having similar characteristics.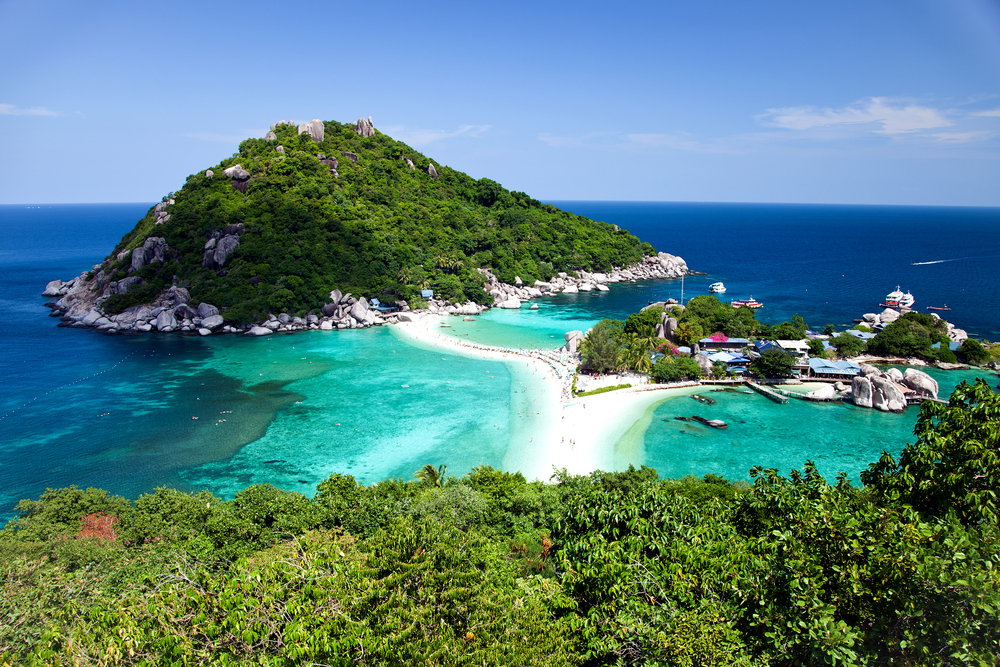 Spouses should stop looking for the best island for a couple to enjoy their private unwind time. Away from the world when they could reside in these lovely rustic outskirts.
Koh Tao is the smallest island in Thailand yet a top-spot tourist spot where water sports happen all year around. It's famous for scuba diving, snorkeling, swim coaching, hiking, rock climbing, camping, and bouldering.
According to Bangkok Post, it receives around 2.5 to 3 million tourists every year. Koh Tao is ideal for those looking to enjoy a calm laid-back Holiday in southeast Asia. Its most popular picturesque nation having outlandish traditions, rituals, and Buddhism era glories.
Ko Nang Yuan :
Here's another version in Koh Tao's serene footsteps, Ko Nang Yuan is a small neighbouring island to it.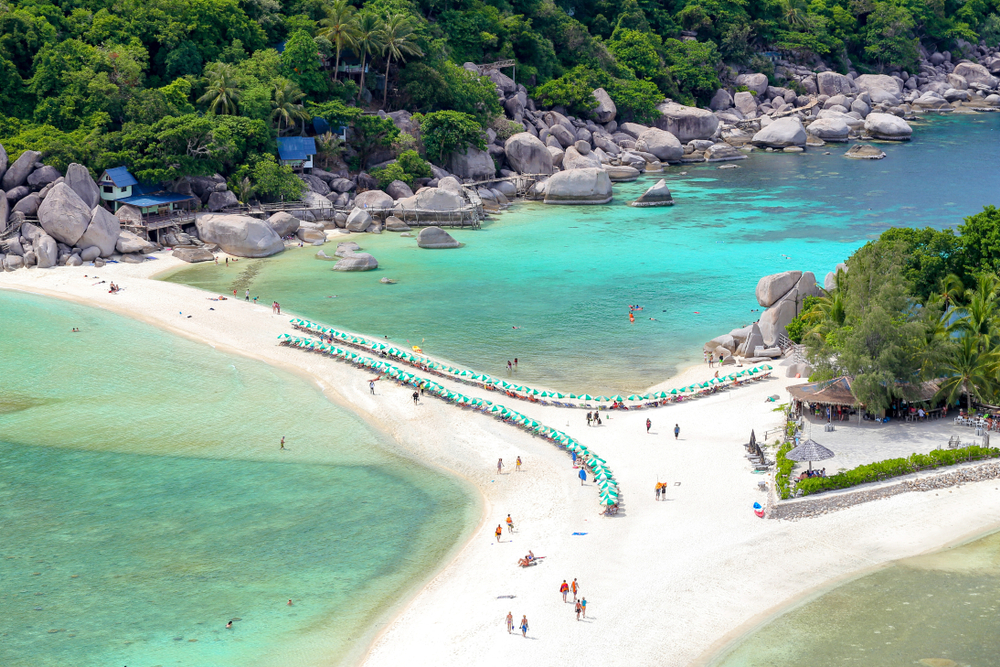 Popular for diving sports and snorkeling marine life adventures. It's an ideal place for families looking to enjoy fun-loving times at Asian eccentric shorelines. Travelers who Travel to Koh Tao, Ko Samui, Ko Pha Ngan, and Thai's mainland town Surat Thani and feel to visit this place is mandatory for enjoying an exotic landscape experience.
Also, this gorgeous piece of the island is home to endangered reptilian species. Thick forest greeneries and plain sandy beaches for making sandcastles and enjoying popular ball beach sports.
Ang Thong National Marine Park – A Tropical Paradise :
Are you in search of a sunny beach in Thailand? then probably the morning glory is all set to astound you at the Mu Koh Angthong National Marine Park. Known as the Paradise Island of Thailand and famously known as the Golden Bowl. This water-surrounded foliage-covered park is something you need to witness.
Tourists who like to stay in wild nature, can experience the Spooky camping at night . In case you're not interested resting in temporary shelters, there are small bungalows available for rent. Moreover, visitors at Ang Thong enjoy greens and blues of its tree drenched miniature forests and nearby aqua blue shallow waters.
The Ang Thong National Marine Park , consisted of 42 islands is a lovely gateway for tourists. Here you can also reavel traditional fishing routines, climb steep limestone mountains, adventure in deep jungles, walk with your better half on smooth sandy beaches, and explore hidden cave systems.
Koh Samui :
Famous for a pristine clean environment and palm trees and American houses depicting as dominos ready to get poked, the Koh Samui Islands Thailand's most popular suburban living grounds.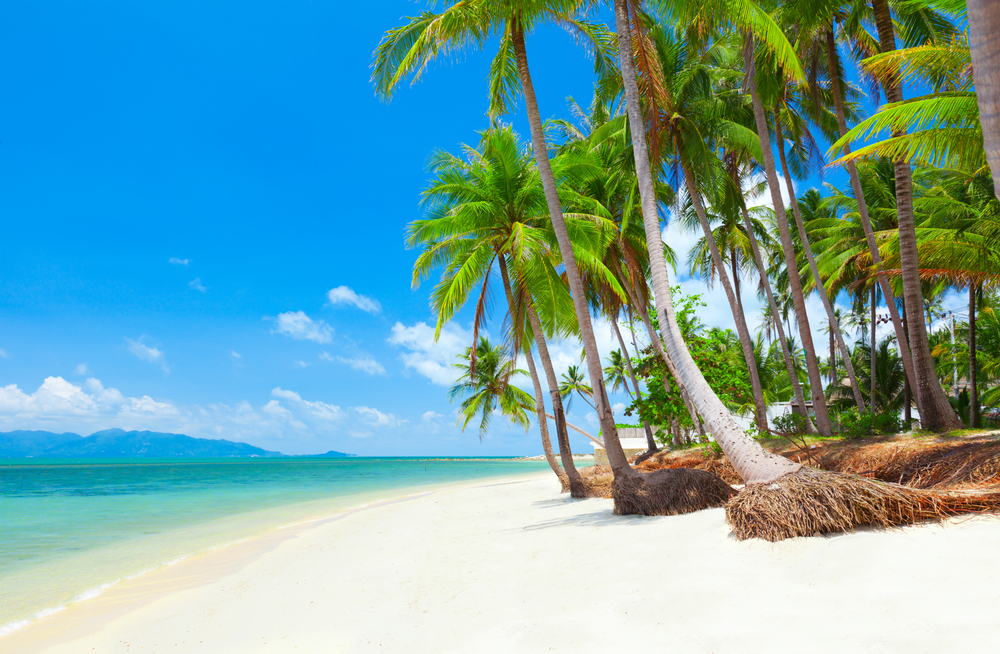 Just as the above picture suggests. It's incredibly cheap for solo nomads as well as inevitably expensive for wealthy bigwigs looking for a spendthrift Asian offshore holiday expedition.
Furthermore, Koh Samui is also a brilliant settlement of housing schemes. Where families could enjoy their best last days in Thailand before leaving for home. The palm tree cradled shores and picturesque streets along with lush green and marine blues. These popular islands of Thailand are a place to enjoy a restful time with tranquillity at its best.
Similan Islands :
Have you ever watched the movie Cast Away where Tom Hanks is rescued by the gifts of mother nature? If yes?! Then you can relive the similar situation on the Similan Islands.
Just kidding, the Thailand tourism department has got you covered yet the islands have the exact looking setting. This island is an exotic archipelago having some of the world's best diving spots.
It is also a famous hub of wavy swift yacht riding and speedboat cruises. 'Similan' derived from the word Sembilan, meaning 9 from the Malay language. It has an equal number of islands with a different name for each. It also said to be popular for overnight campers.