The best time to visit Switzerland is generally from June to August, for this country remains very lively in this time. This exceptional country with glossy snow and iridescent nights offer you with a mysterious fairy tail to explore.
While exploring the country, you will discover that Switzerland portrays different features in different seasons and they all are equally magnificent. Each season comes with distinct shades and the best time to visit there depends on your plans. Plan your trip to Switzerland now according to your preferences.
1.Summer (June-August):
Switzerland experiences heavy crowds during June-August as during this time the foreigners from every corner of the world gather here to relish the summer holidays.
At this time of the year, every corner of cities in Switzerland makes sure to sweep you off your feet. In summer, Switzerland offers innumerable exciting things to do. It is also a proper time to go outdoors and emerge yourselves with the charming ambience. Trek through Alpina, head to Gurten, savor the views over the Berne and Alps if you are looking for an adventurous holiday.
Summer is the time when Lake Geneva's charm peaks as Lake Geneva weather in this time is extremely pleasant. The Ascona Music Festival, where famous artists come from all across the world, is a major highlight of summer in Switzerland.
Opera, art, scrumptious delicacies, concerts are all in abundance during this time in Switzerland. As summer is the peak season, you will be experiencing a constant drive of excitement everywhere.
2.Autumn (September- November):
Autumn weather in Switzerland is usually very cosy. You will be waking up to misty mornings intimating the arrival of winter.
During daytime, you will experience chilly weather and at night the temperatures drop further. For outdoor activities, you could indulge in boating in the Rhine falls. Events like the Grape Harvest Festival accentuates the charm of Switzerland even more.
With golden leafs spread everywhere in the streets of Switzerland in Autumn, you will be reminded of King Midas's touch. If you are interested in spending some time quietly, then Autumn is the time to visit.
3.Winter (December to February):
Switzerland in winter is a dreamy affair. Winter is when you have the access to experience the culture of Switzerland by visiting the surreal countryside, like the Laterbrunnen of Switzerland.
Head over to places like Grindlewald , Engelberg, Andermatt and Zermatt to relish the original Swiss adventure. With a myriad of festivals during this time, the spirit of Switzerland remains alive even in winter.
Lugano festival and Grindelwald World Snow festival are some of the major highlights during this time. Skiing and other snow sports are there to keep you active. With lesser crowds and lower prices, this is another suitable time of the year.
4. Spring ( March To May ) :
Spring arrives with lavish greenery, flourishing meadows and blooming trees. Lake Geneva, St. Mortiz, Zermatt and Lake Lugano are some of the best places to visit in Spring.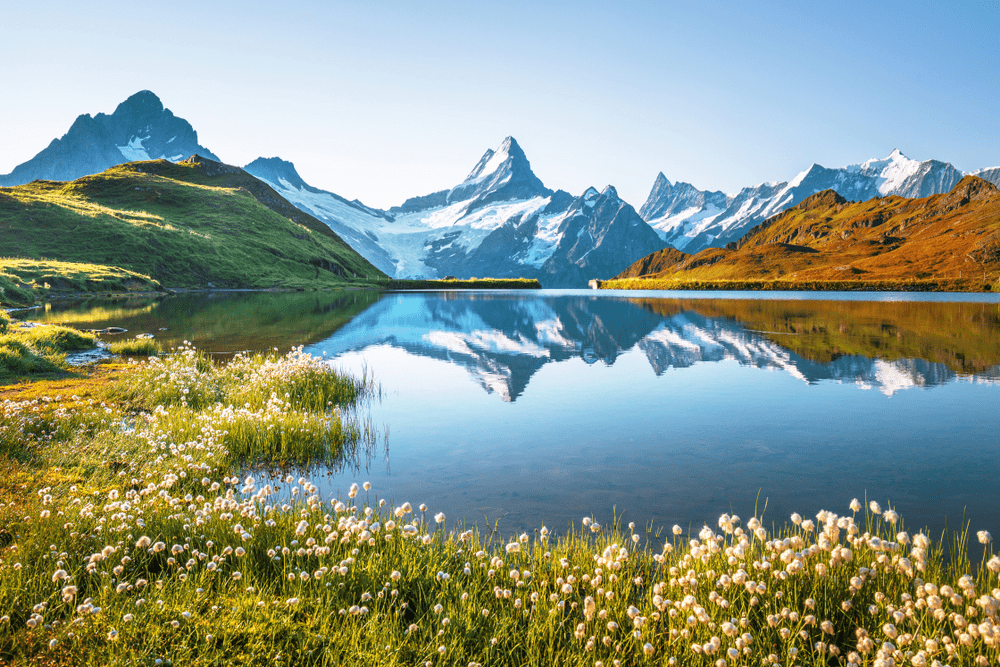 During this time, the weather is pleasant for the tourists to immerse themselves in the mesmerizing scenery. Moreover, festivals like Boog, Sechseläuten, Lucerne Festival make this time of the year even more vibrant and lively.
Switzerland offers you a lifetime experience worth remembering. To ensure the best vacation, make the perfect travel plan by choosing the best time to visit Switzerland according to your priorities.