San Francisco is one of the most beautiful cities located in California. With so many things to do in California, rest assured that you won't be bored for a second.To make your stay mesmerizing, you can go on a San Diego boat adventure, visitthe famous wine countries Napa and Sonoma, or just travel around San Francisco. In San Francisco, you will make memories of a lifetime.
Hotels in San Francisco define what a vacation experience in San Francisco, one of the best places to visit in California, should be like for visitors from all around the world.
Explore some of the best hotels in San Francisco below.
1. Pacifica beach hotel:
Pacifica beach hotel is one of the best ocean view hotels in San Francisco that will help in making your getaway an exceptional one.
Visitors of the hotel are treated with special service, an in-room Jacuzzi in many rooms, as well as various amenities like free parking, complimentary Wi-Fi, free cable, and the most charming views of the beach. Moreover, the guests of the hotel can enjoy an indoor swimming pool and breakfast.
However, Pacifica is known best for its surfing adventures. Tourists looking to enjoy good food can head to Puerto 27, Nick's Rockaway, or Moonraker. If time allows, make sure to visit Shelldance Orchid Gardens, a famous attraction that lies within walking distance.
2. Cypress Inn on Miramar Beach:
The Cypress Inn is located 30 miles south of San Francisco. It is a perfect getaway destination, in betweenhills and the most beautiful coastlines of California.
Cypress Inn offers unique amenities, including dramatic ocean views, daily breakfast, evening wine, cheese reception, and a certified massage therapist. Visitors of the Cypress Inn can gaze upon the Pacific Ocean while enjoying their breakfast from their room.
Let the calming sound of the waves take you on a blissful journey while you enjoy a massage by Cypress's in-house masseur.
3. Riu Plaza Fisherman's Wharf:
The hotel Riu Plaza Fisherman's Wharf is situated close to Pier 39, a wonderful hotel in San Francisco by the bay area.
The hotel has more than 500 rooms offering you maximum comfort. The rooms come with exquisite amenities like satellite TV, coffee machine, mini-fridge, and air conditioning. The facilities at the hotel also include a pool with sunbeds and umbrellas, where you can enjoy the climate of California throughout the hottest months.
It offers American buffet breakfasts and á la carte lunches as well as dinners. In addition, you can also enjoy the snack bar, which is open all day. The hotel also provides conference room facilities, where you can hold your events and meetings.
4. Chelsea Inn:
Chelsea Inn is located between Fisherman's Wharf and Golden Gate Bridge.
San Francisco's Cow Hollow region is known for itslavish architectural flavor and fascinating neighborhood charm. The Chelsea Inn offers its guests comfort and all modern facilities.
The room features one king, two queen's or two extra-long comfortable beds along with a flat-screen TV, air conditioning, and Wi-Fi facilities. However, being conveniently located in San Francisco, it gives you easy access to world-class shops and restaurants.
5. Royal Pacific Motor Inn:
The Royal Pacific Motor Inn is positioned at the junction of Chinatown as well as North Beach within minutes' distance from San Francisco's most alluring attractions.
Including amenities like a 24-hour front desk assistant, laundry facilities, a shuttle reservation, and vending machine. Moreover, all rooms feature a coffee maker, flat Tv, alarm clock, telephone, and workplace with desk and chair.
However, ADA rooms offer amenities like the rooms have balconies, toiletries handrails, and service animals are also allowed. Whether you are traveling here for work purposes or vacation, you will find all the things you desire just outside the door.
6. Stanyan Park Hotel:
Elegantly re-established in 1983, The Stanyan Park Hotel is aHistoric Place listed on the National Register, where you can experience an ancient era of grace and style.
It is situated just across from the county San Francisco's renowned Golden Gate Park. The guests of Stanyan Parks are invited to enjoy the complimentary Manager's reception with cheese and wine on weekday evenings along with a Tea service to make your evening more pleasant.
This hotel prides itself in its lush accommodations, extraordinary amenities, and unmatched service, so that you can relax in the Victorian-style rooms & suites and have a good night's sleep in comfortable beds.
7. Lombard Plaza Motel:
If you are looking for an ideal family-friendly hotel in San Francisco, then you're welcome to visit Lombard Plaza Motel.
The hotel is 15 minutes' walk from the best view of the beach and is situated in San Francisco's Marina District. The motel comes at a budget-friendly price, offering extraordinary amenities like a flat-screen TV, air conditioning, a mini-refrigerator, and WiFi facilities. Free parking is also available.
Beside to make your stay more enjoyable don't forget to explore some of the Thai restaurants, including Kin Khao, Blackwood, and The Old Siam Thai Restaurant, which are few minutes from here.
8. Rodeway Inn & suites San Francisco:
Rodeway Inn & Suites is known as the San Francisco-Great Highway hotelsteps away from the Pacific Ocean, and Ocean Beach.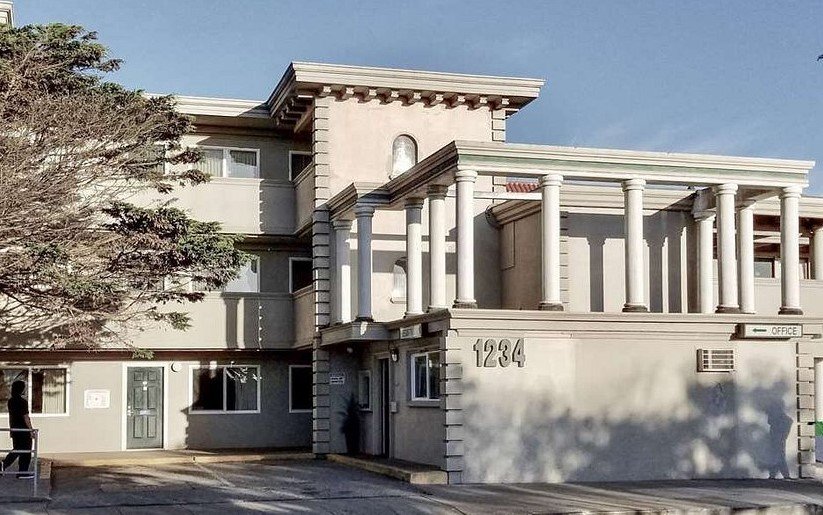 Here you can enjoy also a panoramic viewthrough the Golden Gate to the Marin Headlands. Everything you need for a remarkable vacation is right here within your budget.
Rodeway Inn is one of the cheapest hotels in Sanfrancisco. Here guest rooms feature both a refrigerator and a microwave. Some of the rooms include a desk, coffee maker, copy and fax machines, also a living room area.
Located justbeside Ocean Beach, it puts you within easy reach of all the things the Bay Area can offer.
You can select a nice hotel from the above list as per your budget. California welcomes the inquisitive tourists of San Francisco, to pass a golden moment in these hotels. So, delay no more choose one of these hotels in San Francisco to make your stay more delightful.