Resorts in Orlando bring home a getaway experience that is entirely unique than the traditional resorts offer. These resorts in Orlando define what a vacation experience in Orlando, one of the best places to visit in Florida, should be like for visitors. When you check in one of these stunning resorts, you'll find that there's so much to check out! Explore some of the best resorts in Orlando below.
1.Holiday Inn Resort Orlando Suites – Waterpark, an IHG hotel (For family with kids, $99):
Holiday Inn is the perfect choice, ifyou are looking for to stay close to Disney and on a budget. This resort with waterpark, is situated in the center of Orlando's main tourist attractions.
Holiday Inn is close to many famous tourist attractions, like SeaWorld Orlando, Disney and the International Drive entertainment district. This family resort incorporates 777 spacious 1, 2, and 3 bedroom family suites. Holiday Inn Resort not only offers kids splash pad, but it also adds Club Candy Activity Center.
This resort is 17 km away from Universal's Islands of Adventure and 13.3 km away from Magic Kingdom. Holiday Inn also provides a shuttle service to Disneyland and on- site water park. This resort's shuttle drops off the tourists at 9 AM to Disney and pick up at 9 PM.
There are 2 pick up slots, so if you want to spend less time there, just take a taxi. Holiday Inn offers a great dining options, like Lakeside Café breakfast buffet, Antonio's Pizzeria, the Lagoon's poolside bar and Hershey's Ice Cream Shop.
2. Sheraton Vistana Resort Villas, Lake Buena Vista Orlando (Family $143):
Visitors feel Orlando getaway pleasant at Sheraton Vistana Resort Villas. Situated in Lake Buena Vista close to Disney Springs and other popular attractions, this resort is convenient for all ages.
This venue is great for theme parks, to get around this huge property, large villas, on-site restaurants and wide choice of pools. Moreover, Sheraton Vistana resort offers shuttle to Disney World and Sea World in Orlando.
Guests can lounge at one of 7 pools, dine at on-site restaurants & bars, work out in the fitness center and can use BBQ area. Visitors feel like home in a spacious one or, two-bedroom premium villas, along with a fully equipped kitchen. This is one of the resorts in Orlando, which is an excellent resort, 8 minutes away from Disney Parks.
3. Hilton Orlando Bonnet Creek (Luxury, $316) :
Hilton Orlando Bonnet Creek is a 482-acre posh vacation oasis, perfectly nestled in one of the safest cities in Florida, Orlando.
Only a few minutes away from Walt Disney World Resort, this is one of resorts in Orlando, that prides itself in its lush accommodations, extraordinary amenities and unmatched service sure to refresh body and mind. You will come across pure indulgence at every corner here.
You can start the day with an energetic round of golf, then unwind with luxurious spa treatments and end the day relaxing by the lazy river pool.The Signia by Hilton Orlando Bonnet Creek provides a variety of eating options, including fine dining, casual dining, and grab-and-go alternatives, with 12 restaurants and bars on site.
Dinner is served at the hotel's signature restaurant, La Luce, which features Italian cuisine. The complimentary shuttle here puts visiting the theme park, dining, shopping and numerous entertainments at your fingertips.
4. JW Marriott Orlando, Grande Lakes (Family Hotel, river pool, Children float with water tube, $573):
JW Marriott Orlando, Grande Lakes, one of the best resorts in Orlando, Florida, will help in making your Florida escape an exceptional one.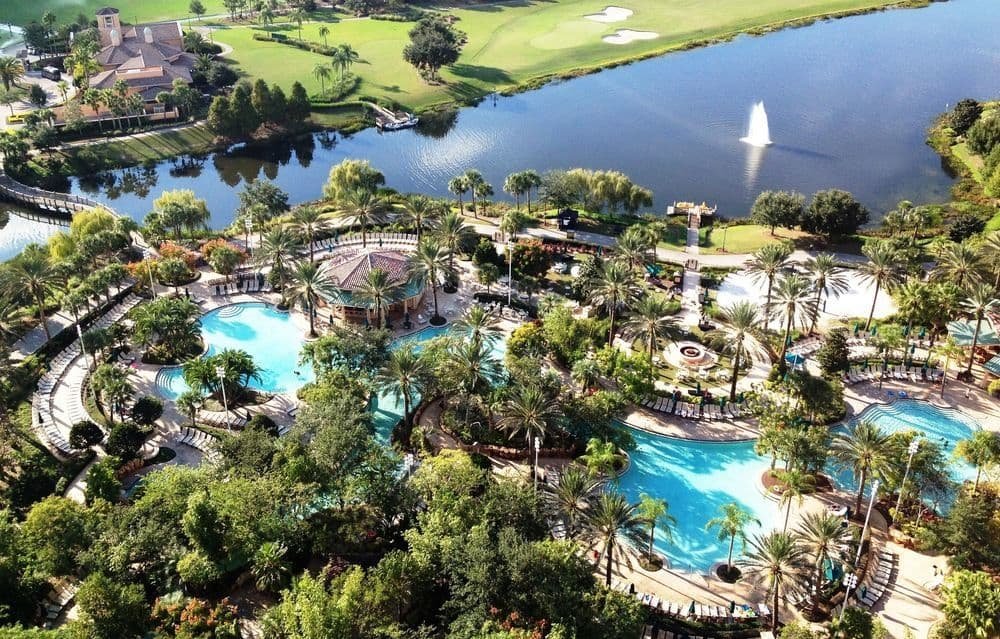 This resort is situated on a lush property that is of 500-acre and is perfect for discovering Orlando or even for unwinding at poolside drenching in the Florida sunshine.
Select from a wide variety of rooms that come with exquisite amenities like luxury bedding, premium bathrooms, HDTVs and enchanting views of the resort. One of the best resorts in Orlando with a lazy river, allows its guests to unwind at its outdoor pool complex that includes a lazy river.
Other fun activities here include Mountain Bike Trail, Eco Tour, Fishing, Sunrise Safari and playgrounds. Make use of its excellent location to rummage stunning Central Florida.
5. Hilton Grand Vacations Club Parc Soleil Orlando (Posh rooms, Shop, $168):
Situated on Fifty-two acres off Palm Parkway in Orlando, this amazing hotel is for family fun, where visitors will face affluent facilities and a complete offer of activities for children.
Guests staying in this hotel recommend it, for spacious room, comfy bed, reasonable price and tasty food. This pretty hotel is in the vicinity of Sea World Orlando, Walt Disney World and Aquatica.
Family prefers one or, two bedrooms suits, which includes separate dining and living areas, kitchen with stuffs, washer and oven. 1BR Unit is larger, including a large balcony, a full kitchen and bigger size bathroom.
This is one of resorts in Orlando, that is full of all modern conveniences and well maintained.
6. Best Western Plus Universal Inn (Budget friendly, $95):
Best Western Plus Universal Inn is a budget friendly hotel with comfortable rooms. This hotel is ideal for great location and proximity to Universal Orlando.
The hotel rooms are not only clean, but also updated. This family friendly hotel provides free breakfast, with usual continental breakfast items. Free Wifi and outdoor pool will make your stay relaxing.
Try out mouth-watering appetizer to Italian restaurants, like Mama Della's and Vivo Italian Kitchen nearby. Lake Eola park and Bill Frederick Park are within a short distance from Best Western plus.
This is one of the resorts in Orlando, that allows free parking for the guests, arriving by car.
7. Coco Key Hotel and Water Park Resort (family friendly with kids, $132):
This is the perfect family friendly hotel near main theme parks and great Orlando shops. Boasting an outdoor water park with 6,000 sq. meter area, Coco key hotel is 4.8 km away from Universal Orlando Resort.
Kids play at the water park whole day and they can grasp things from bar, restaurant & convenience store on site. Coco key provides an arcade full with 50 cool games for kids.
This hotel arranges 391 well furnished rooms and suits for the comfortable stay of the guests. Coco key hotel offers complimentary transportation to Universal, SeaWorld and Kids club activity as well.
There are lots of shops and eateries in strolling distance making everything extremely advantageous.
8. Wyndham Lake Buena Vista Disney Springs Resort Area (Luxury, $128):
Wyndham Lake Buena Vista is an authentic Walt Disney hotel, offering a relaxing and pleasant stay. This hotel is fairly clean, which you can book at a reasonable price.
The resort is suitably located, just 5 minutes' walk from Disney Springs. This includes Walt Disney World's top-class shopping, amusement and dining district which provides more than 150 venues.
This hotel accommodates 232 spacious rooms, which impress the tourists. This is one of resorts in Orlando, which offers a wealth of amenities like, free shuttle, two pools, a large hot tub and aquatic playground. Adults can relax on the lovely pool deck to immerse in Florida sunshine.
Visitors can try cuisine on the on-site Oasis restaurant. Moreover, pool side bars offer refreshing beverages. The LakeView Restaurant presents an abundant breakfast buffet everyday while, the Sundial Cafe and Joffrey's Coffee Shop situated in the hotel lobby offers also delicious breakfast and snacks.
9. Rosen Shingle Creek (Budget Friendly, $142):
Rosen Shingle Creek ascertains extraordinary comfort and convenience for its guests with all the amenities that one might expect. Beautifully nestled on Universal Boulevard, Rosen Shingle Creek, an all inclusive resort in Orlando, Florida, is best known for its award winning customer service.
Enjoy panoramic views from your spacious guestroom, which offers a bird's eye perspective of Shingle Creek Golf Course and the lush, verdant countryside.
Golf, eat, shop, and unwind – everything you'll need for a memorable vacation is right here. The Arnold Palmer Design Company designed the greens at Shingle Creek Golf Club, which are both hard and rewarding.
A Land Remembered and Cala Bella, as well as the hotel's abundance of informal restaurants and lounges, are recommended by Orlando's foodies as must-try fine-dining establishments.
10. WorldQuest Orlando Resort (Close to Disney, $169)
With the prime location close to Disney World, WorldQuest Orlando Resort
Is definitely a good option for the tourists. WorldQuest, one of beautiful resorts in Orlando, provides a homely feeling with regards to solace and style.
Disney Springs and Lake Buena Vista Factory Stores are worth a visit for the shopping lovers. The tourists, wishing to encounter Orlando's famous attractions, can visit Disney's Hollywood Studios, Revelation Cove, Epcot and Disney's Animal Kingdom Theme Park.
A host of luxurious features include spa, fitness center and a pleasant pool. Transportation service to Disney World and Free parking is available here. Poolside Cabana bar gives comforts and a refreshing feeling to the hotel guests.
The outside pool water is turned to hot, if weather is not warm. Moreover, a little grocery is found in the lobby.
Tourists can select hotel for staying from above resorts in Orlando list and can experience a wonderful vacation.