Surely, Anguilla is one of the best Caribbean islands for picturesque views and warm sunny weather even in December. Anguilla beaches are popular with Hollywood stars who visit this island to relax. Enjoy sailboat race and summer festival in the first week of August. So why miss this Caribbean paradise?
Anguilla has become one of the most popular destinations among the Caribbean islands for its breathtaking beauty and warm weather. Anguilla is well known as the safest island in the Eastern Caribbean.
Tourists from cold countries arrive on this warm sunny island in December winter break to escape the snow, when the temperature here 25 degrees Celsius in December. Anguilla island belongs to 33 beaches, so it is an advantage to visit different modes of beaches at one visit to Anguilla.
During summer, Anguilla beaches come alive during Anguilla's summer festival at the beginning of August. Tourists enjoy the spectacular boat race in Sandy Ground beach in the first week of August. The best time to visit Anguilla is May to August for warm dry weather. Hurricanes may hit from the last week of August to November. Let's explore the stunning Anguilla beaches that offer a lot to tourists. If you want to know about more exotic beaches, then you should explore the Best Beaches in France.
1.Sandy ground:
Of course, Sandy ground is a popular sea beach for the sailboat race. People from around the Caribbean park their sail boats in sandy ground beach at the beginning of August and tourists enjoy the boat races which is included in this Anguilla's summer festival though.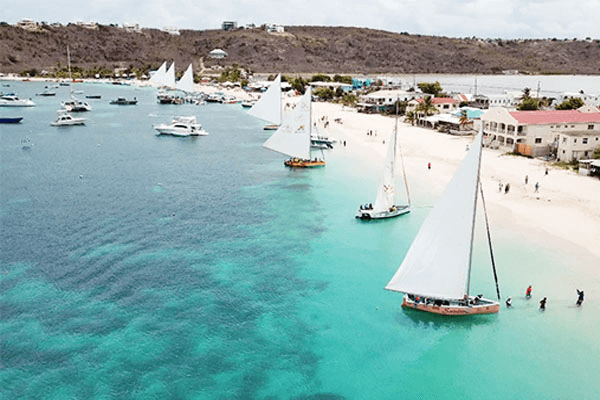 Sandy Ground is a small beautiful village that stands on the north coast of Anguilla. The beautiful curving bay, filled with brown sugar like sand, has turned into a charming promenade. Sandy ground Anguilla is an authentic Caribbean Vibe arrayed with popular restaurants, bars and dance clubs.
Visitors become fascinated to watch many colorful sailboats in the sea. It is a vibrant sea beach full of life with fun, music, dance, and drinking. Sandy ground nightlife is more exciting here of live music and dancing beside the sea. Tourists take a taste of Roy's Bayside Grill for their lunch. Elvis' bar is a great place to take dinner with live music close to the sea.
2. Meads Bay :
Meads Bay is one of the most attractive beaches of Anguilla for its breath taking beauty and sun-kissed coolness. This beach is special, as the contrast of light peach sand and blue crystal clear water has made a heaven like ambience.
This beach is well kept and clean, so great for walking around as well as enjoying the captivating scenery. There are beach chairs and umbrella rentals which offer tourists a comfortable stay close to tranquil nature. There are many dining options along the beach to take delicious Caribbean style food.
Blanchard's Beach Bar is great to taste the palatable items. Meads Bay offers serenity coupled with luxury, as this beach boasts an array of luxury resorts and beach bars lined beside the sea. The Four Seasons Resort and Malliouhana are the luxury hotels of meads bay Anguilla with superb sea view.
3.Shoal Bay :
Shoal Bay is the best snorkel sea beach in Anguilla island surrounded by crystal clear calm water and the pristine stretch of soft sand. This sea beach is heavenly and very welcoming to the nature lovers.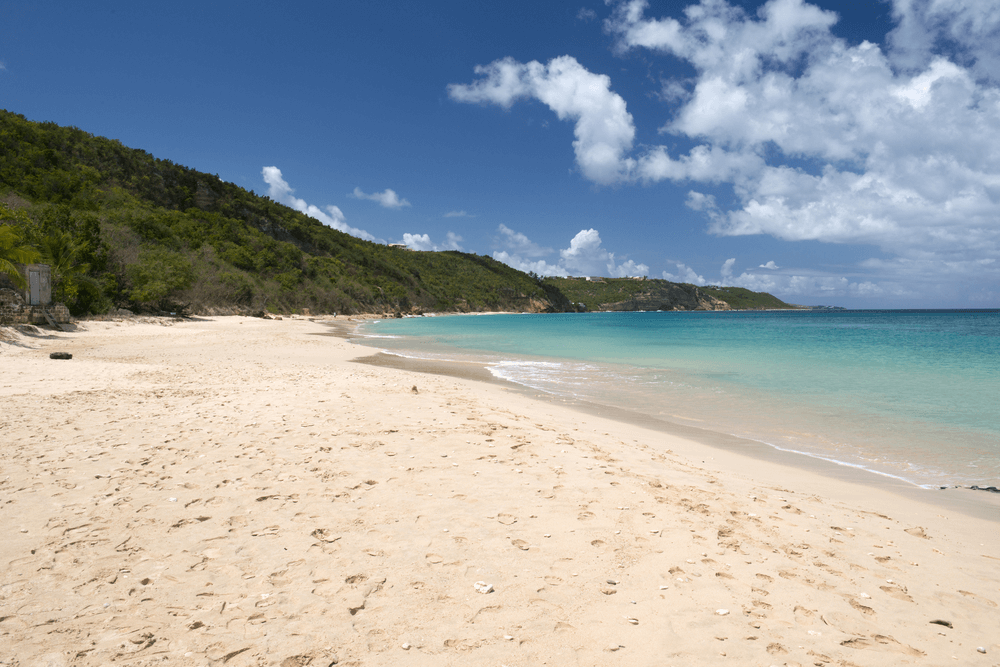 Shoal Bay embraces sea water which does not belong to rocks or coral to raise a smooth ocean floor. Couples, who are looking for quiet beach vacation, Shoal Bay is the suitable place for them. Shoal Bay draws plenty of visitors from Anguilla island as well as day-trippers from neighboring Saint Marteen Island.
This palm fringed bay is a safe beach for families to stroll around and swimming in warm water. There are lots of drink and dining options along Shoal bay like, Madeariman Bar & Restaurant ,Gwen's Reggae Bar & Grill , Elodias Beach Bar , Le Bon Pain and  Falcon Nest. Shoal Bay Anguilla is one of the best Caribbean beaches for its unbeatable views and tranquil nature.
4.Rendezvous Bay :
Rendezvous bay is a great beach for abundant sunshine and amazing turquoise blue water. Visitors fall in love with it for its Breath taking beauty and beautiful white soft sandy beach.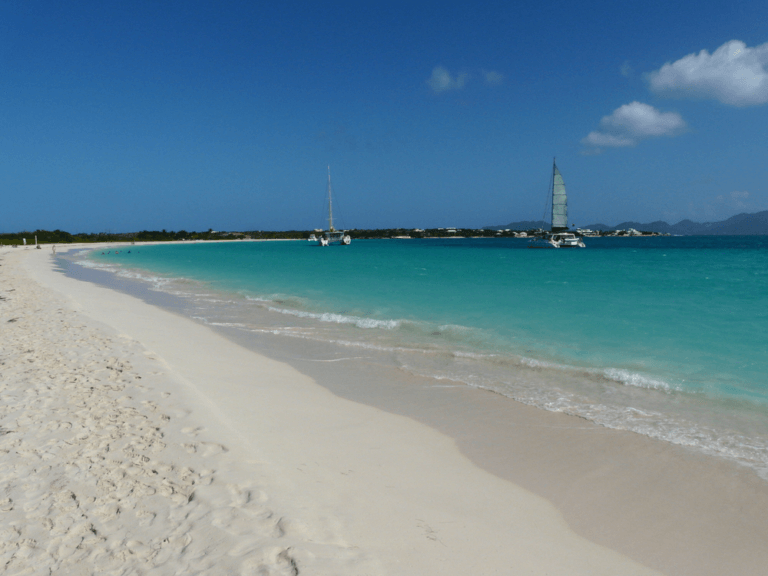 It is a pleasure and refreshing feeling to walk along the 1.5 miles of beach in the morning. It is a wonderful experience to have a beer and listening music in the Dune preserve, the night club and beach bar just next to the beach.
Singer Bankie Banx, who owns this restaurant, keep up live performance as well as other Caribbean musicians perform here also. SunShine Shack Anguilla is great for a day relaxing, as it offers chairs and umbrella. Tourists enjoy here to have grilled lobster and delicious barbecue. Rendezvous bay Anguilla is magnificent and a great place to enjoy a pleasant swim.
5. Cove Bay :
Cove bay is a great relaxing beach close to Rendezvous Bay and Maundy's Bay. Cove bay is Anguilla's larger beach facing St. Marteen island.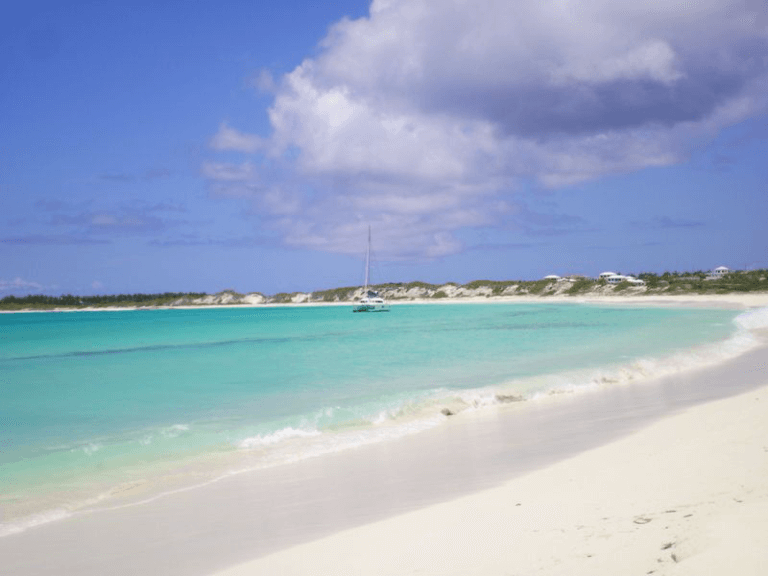 It is a paradise for the kite surfers, horseback riders, nature lovers and swimmers. Cove Bay has a popular anchorage and local fishermen utilized this dock. Day traveler arrive here for a dip in Cove sea shore and to taste a big plate of grill at Smokey's at the Cove.
This serene beach surrounded by tropical palm trees and waterfront restaurants. Cove beach Anguilla is a long beach which not filled with numerous hotels. Tourists enjoy snorkeling in crystal clear water in warm weather. This is an ideal spot for a picnic near the sea and enjoying cold drinks at the bar while enjoying the sea view.
6. Maundays Bay Beach :
Maundays Bay is a half-moon-shaped bay in Anguilla, that looks celestial. Situated on the southwest part of Anguilla island, Maundays Bay is a cool harbor surely.
Maundays Bay's water is favorable for swimming, diving, and snorkeling. when the new wind blows, tourists can take part in sailing sports, kite flying, and windsurfing. This broad coastline is densely strewn with smooth sand of light brown color. The magnificent Belmond Cap Juluca is one of the island's most remarkable hotels, which is known for its Moorish style.
This lucrative beach is also a famous venue for weddings, with a view of Saint Maarten island across the water. This lucrative beach is also a famous venue for weddings, with a view of Saint Maarten island across the water. Like other beaches, Maundays Bay Anguilla offers loungers for relaxing in the beach, water sports equipment rentals, and a lot of bars to drink.
7. Little Bay :
Little Bay a solitary paradise flanked by a rugged cliff near Crocus Bay. Access to this unspoiled beach is not so easy, tourists need to take Calvin's Boat Service or Traditions Sailing from Crocus Bay.
Explorers who go on a journey can reap the reward of a serene and sacred place and enjoy amazing nature. Moreover, It is a beautiful hidden treasure of Anguilla, which is enriched with turtles, pelicans, and other birds. Little Bay Anguilla is a great area for snorkeling to explore marine fish and turtles.
It is a good place for adventure junkies to enjoy jumping off the rock. Visitors enjoy cliff-ascending and from the hilltop they get a marvelous view. In a boat trip, visitors watch several turtles swimming in the waves and coming to the surface for air. The little bay, shielded by cliff, offers something a little more secluded.
8. Crocus Bay :
Crocus Bay is a nice secluded beach with soft brown sand and azure transparent water. The water is calm here, so tourists can take kayaks or boats towards little Bay or roam around the sea.
Crocus bay Anguilla is favorable for snorkeling and have a picnic. Da'Vida is also a good dining option to have food and enjoy the view while eating. Also, there are beach chairs and umbrellas free of charge to relax beside the sea, if taken drink or food in the nice beach restaurant.
Tourists should use sandals to avoid stones while strolling around the beach. There are some Charter Yachts of all sizes to carry tourists on the sea trip and Couples can spend their time lonely than at other popular beaches like Shoal Bay.
9.Barnes Bay :
Barnes Bay is an ideal place for those who deserve a private holiday. Of course, It is a heavenly place for its tranquil nature. Newlywed couples can choose this secluded beach as a honeymoon destination.
This seashore is wide, so it is an advantageous spot for strolling around. In some parts of the beach, the water is filled with stones and shale, so those areas are not favorable for swimming. Also, there is a little cove on the west side of Barnes Bay with a beautiful view.
Tourists prefer to stay at Viceroy, which provides easy access to the beach. Barnes Bay Anguilla is a lovely beach to view the amazing sunset. Tourists choose to stay in Four Seasons Anguilla, Mango's Seaside Grill, and Caribella on Barnes Bay.
10. Captain's Bay :
Captain's bay is a bit different to look at than other Anguilla beaches, as it has a big sand surf area in front of the sea. Stones remain at the edge of the sea on both sides and small hills exist behind the stones.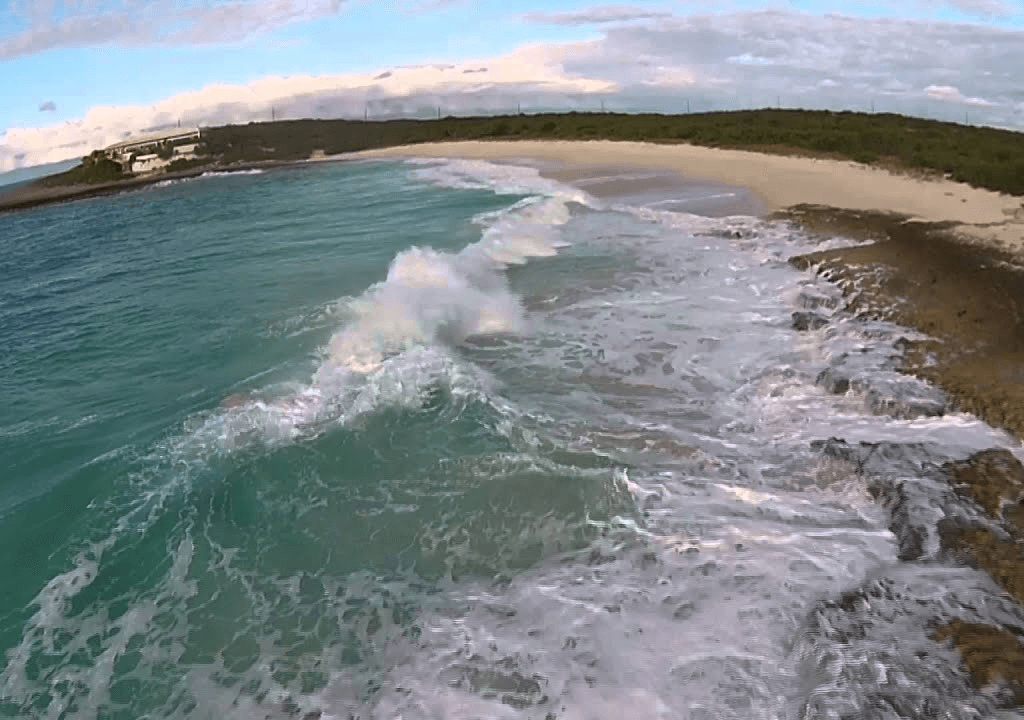 Big waves seen from this beach and visitors should be aware of swimming here. Tourists may be washed away if they are not careful about the strong currents here. This beach is perfect for adventurers indeed, as it is in a very remote area and difficult to find out.
The roads do not have any sign and people have to walk over the lava rock to reach the beach. At last, the reward is Breathtaking, visitors discover an enchanting sea beach. Captain's bay seems a secluded private area and no beach bars seen beside the beach. The sand surf area in front of the sea is a great fun place for children to play.
11. Long Bay :
This bay stretches a long way along the coast and retain light peach color silky sand. Tourists walk along the soft sand while enjoying the surrounding views and feeling the Caribbean sun.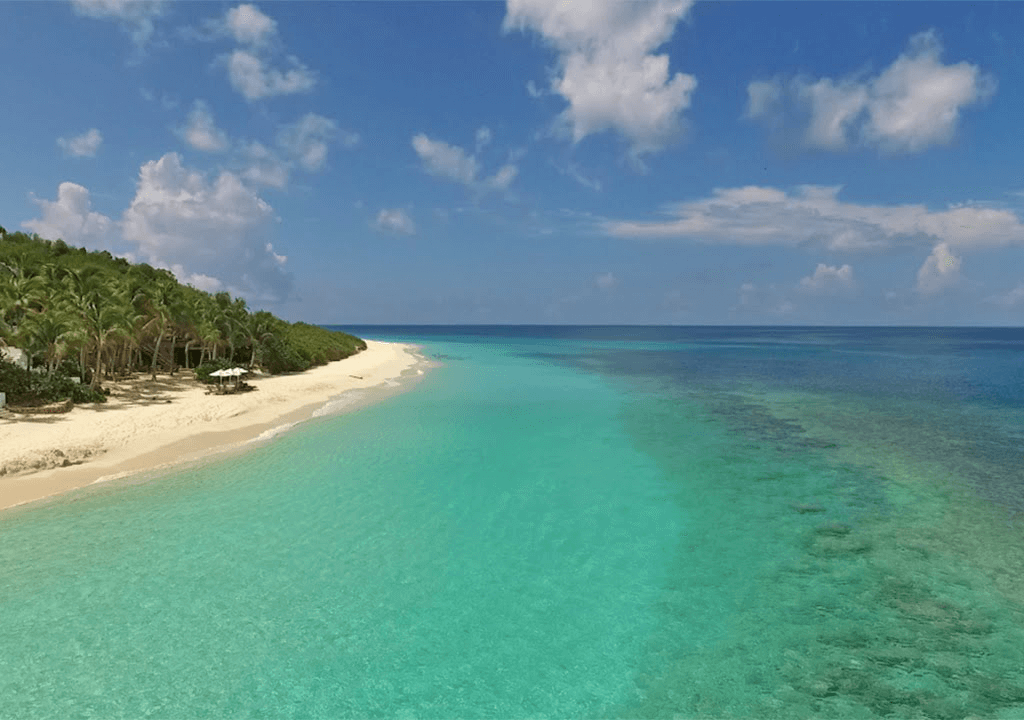 Despite the fact that it's enormous, this isn't a sea shore you'll discover packed with travelers so you can anticipate it as a chilled vibe and far away from sea shore bars and nightlife Beacause Tourists enjoy swimming, snorkeling and sunbathing while staying in Long bay Anguilla.
Oliver's restaurant stands in the hillside which has stairs, through visitors can walk to the end of the beach. There are many high end villas on Long Bay beach for a nice stay here. Long Bay Villa Anguilla is a posh resort beside the sea beach with modern amenities.
Tourists from all around the world visit Anguilla beaches for its captivating beauty and tranquility. It is an authentic Caribbean vibe for relaxing near the sunny beach, boat cruise, day trip to another beaches and Anguilla's summer festivals.