Auckland beach explore is a wonderful experience for the visitors. Discover Muriwai Gannet Colony to view numerous pearly white sea birds on Muriwai beach. Children enjoy the splashing fun in the Water world of Browns Bay and Mission Bay beach on the sea. Auckland beach has a variety of options from calm stunning beaches for swimming & water sports to wild beaches perfect for the surfers.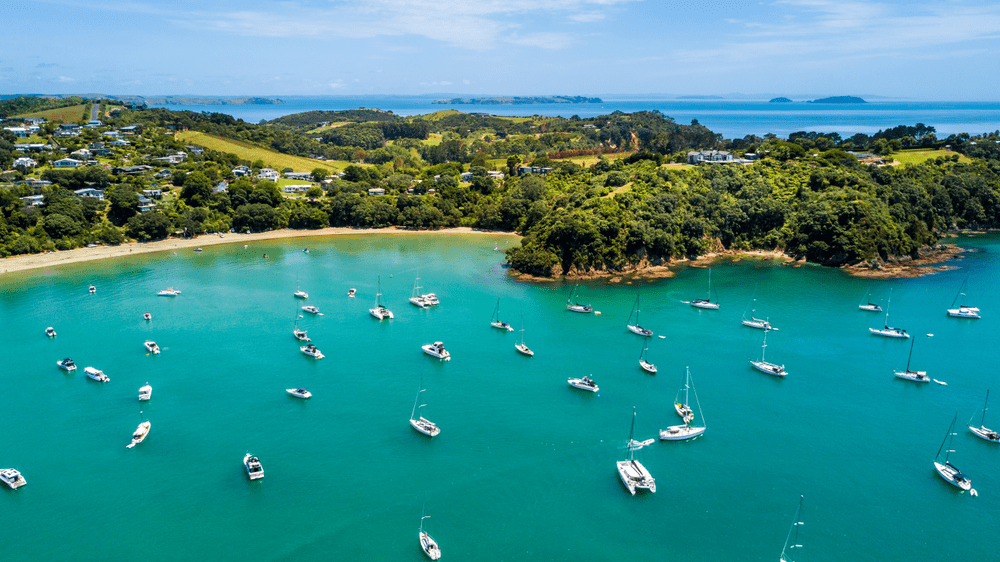 Auckland is New Zealand's major city, which boasts a wide range of wonderful sea beaches with picturesque views. New Zealand has over 700 amazing beaches and a 15,000 km long coastal line, so it is natural that Auckland has a wide array of diversified incredible beaches. Auckland has a lot to offer, either you looking for classic white sand beaches or black sandy beaches surrounded by volcanic landscape and rugged cliffs. Visitors can easily access the wonderful beaches on both the west coast and east coast of Auckland in less than one hour's drive. Explore the serene beaches with calm water on the east coast and rugged beaches with strong waves on the west coast. Whatever is your choice, you can select the best beaches in Auckland for a holiday from the Auckland beaches list below.
1. Mission Bay Beach :
Mission Bay is the favoured beach to the tourists for the scenic drive along the sea named Tamaki Drive.
The spectacular view from Mission Bay enchants the visitors. Tourists enjoy a widespread view from Mission Bay, as they can view Devonport to the left, Mt Rangitoto in front, and outlying Auckland islands on the right. Situated close to central Auckland, this beautiful sea beach is safe for swimming and it is sunny like Lanzarote Beach. Selwyn Reserve, which lies between the beach and Tamaki Drive. It is a popular waterfront location for relaxing and arranged events. It is a large green space with a lovely fountain, close to restaurants, bars, and shops.
 Mission Bay Beach Restaurants has a variety of options for food and drink, such as Lupino for Italian & European Cuisine, Otto Woo for western style, modern Asian cuisine, Bodrum kitchen for Greek & Turkish cuisine, and Tarka Indian Eatery for Authentic cuisine. Visitors can wander also the neighboring beaches like Saint Helliers and Kohimarama beaches.
2. Browns Bay Beach :
Brown's bay beach is the most popular sea beach to the children on the North shore of Auckland, as it has equipped with fascinating water rides.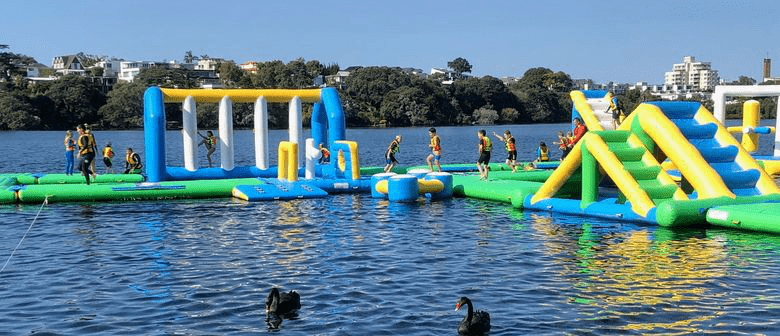 Children enjoy the splashing fun in summer in the Waterworld Browns Bay. This beach is 15 km away from downtown Auckland, so it is an excellent place for family outings. There are benches setting beside the beach, parents can spend their time seeing the breathtaking beauty of the sea with a cup of coffee. Tourists can explore the sea with pleasure through jet ski rides. Visitors can spend a cool time by sunbathing and relaxing on the grass above the beach.
The main road, parallel to the beach, is lined with cafes, restaurants, souvenir shops, book shops, and toy stores. Visitors stroll around the Browns Bay beach with their dogs. Tourists appreciate the outlying view of Rangitoto Mountain from this beach.
3. Muriwai Beach :
Muriwai beach located on the west coast of Auckland is diverse in nature, comprising black sandy beaches and jagged rocks on the sea.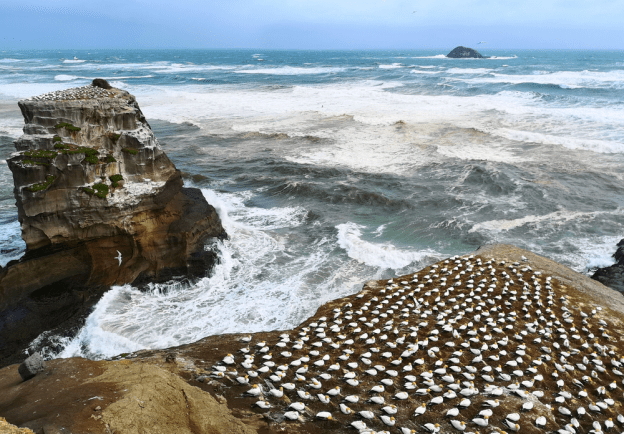 The drive from Auckland to Muriwai Beach just requires 45 minutes and it is a pleasant scenic drive. This beach area was formed by the eruption of a submarine volcano, creating hard rocks and black sand. Australian gannets nestle on the cliff, making it a large colony. The flock of gannet birds comes to this beach between August to March. It is a breathtaking view from the observation point hill to watch the gannets navigate the windy cliff landing and their mating.
Tourists get enchanted to view the Muriwai gannet colony, Auckland. Little blue penguins get the cozy place to nestle along Muriwai beach. Jet ski is found on this beach in favorable weather, launching from the southern end of this beach. Muriwai is a popular beach for surfing owing to its abundance of waves. Visitors can swim only in patrolled areas and stay close to the beach while swimming for strong waves. The southern rock platform is worthy for fishing in the huge sea waves.
4. Orewa Beach :
Orewa Beach is safest beach for swimming of the north shore. This beach is 32 km north of Auckland city and is an ideal spot for family outing.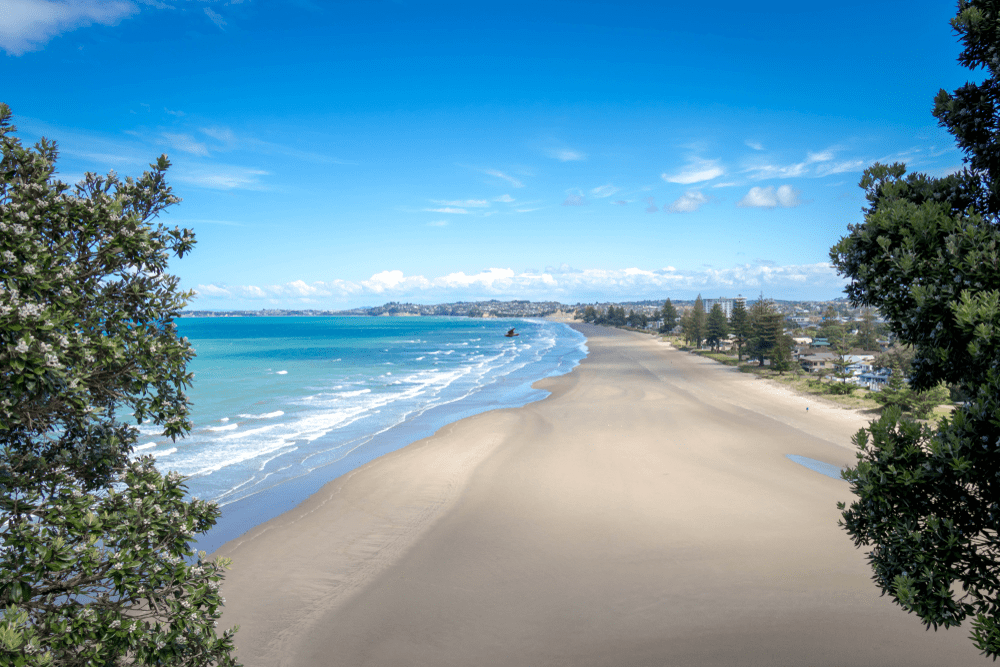 Orewa Beach is a popular beach for delightful water sports activities, like boating paddle boarding, and jet ski. Orewa beach holiday park is a perfect travel destination next to reserve for thermal pools, marina, windsurfing, and golf course. Children enjoy the adventure playground near the beach. This park provides the facilities of the boat ramp, children's adventure lay ground, basketball pad, paddleboard & pedal kart hire, games room, and BBQ area.
Orewa Beach is a great wide beach suitable for strolling along the beach. Orewa is a lovely town with great cafes, ice cream shops, and restaurants. Visitors find free overnight parking by surf club.
5. Takapuna Beach :
Takapuna is a stunning sea beach on the North shore and a great spot for family outing.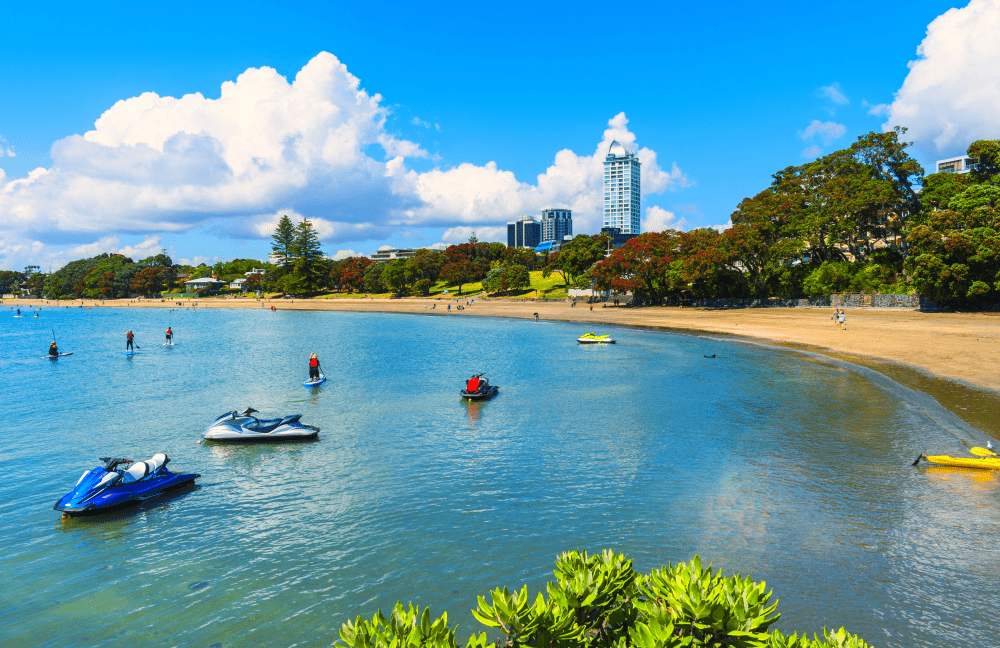 Tapakuna beach is very close to Auckland city center, leading to easy access to this beach, only 15 minutes drive. Tourists enjoy the landscape of Rangitoto island and other islands of Hauraki Gulf, while strolling the beach. The warm lucid water with moderate waves makes this beach for safe swimming. Takapuna beach is lively with water sports activities like jet ski, paddle boarding, and kayaking.
This beach with its astounding beauty can offer you the most resting atmosphere. There are numerous restaurants and cafes to offer tasty cuisine for the guests beside Takapuna beach. There is a playground right at the beach for the kids to be entertained with a captivating view of the nature reserve across the water.
6. Piha Beach :
Piha is a wondrous beach in Auckland, unlike the lovely swimmable beaches.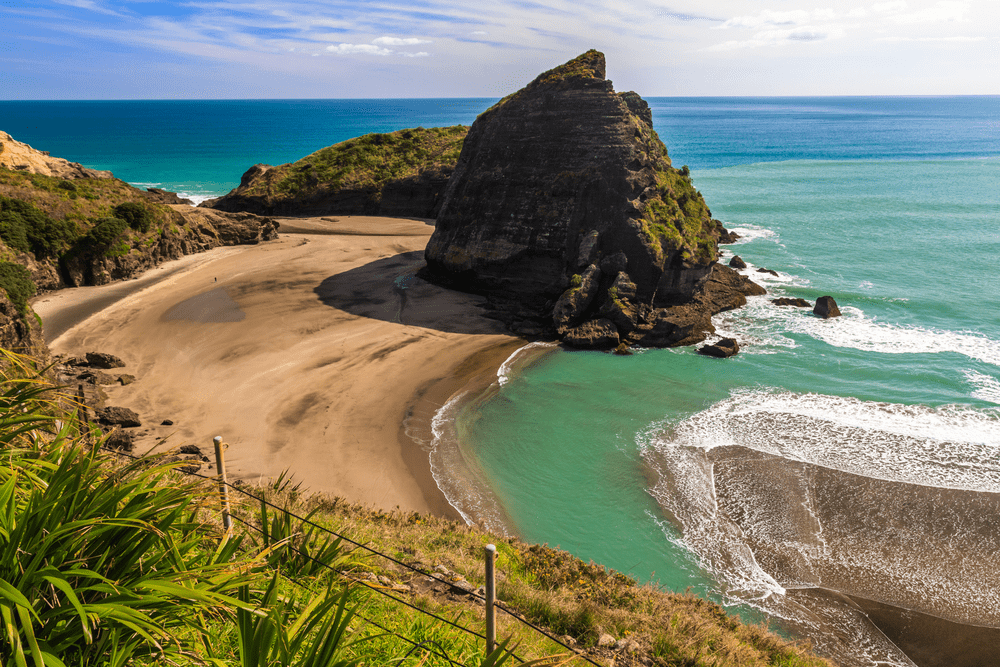 It's is renowned for black sand, which is not alike to the usual white sand or the light peach sand of Anguilla beaches. Located 29 km away from Auckland city, People take a drive to this beach mainly to see the picturesque beauty of the sea, strong sea waves, and water hitting the hills. But swimming is risky here, because of the strong current. The Lion Rock is placed on the beach dividing it into South and North Piha beaches.
It is adventurous to climb up the Lion Rock to watch the 360 angle view of surroundings including the sea. It is not risky to reach up to the Lion Rock, because Stairs and steel railing pillars set for easy climbing. Once you reach the top of it, you could enjoy the magnificent sea view from the hilltop. It is quite amazing! Nobody should miss it.
7. Cheltenham Beach :
Cheltenham Beach is serene beach with alluring view just located close to Devonport.
Tourists enjoy a scenic view of Auckland's Rangitoto island, while they relax in this secluded sea beach. Walking along this beach on the silky smooth sand gives the visitors a cool feeling. North Head Historic Reserve is a popular tourist attraction here, not only to see the historic emblem like canon weapon display but also to enjoy the wonderful panorama of outlying sites like Hauraki Gulf and Waitemata Harbour. For a day excursion, Ngataringa Park, Devonport Domain, Hauraki Gulf park, and Woodall park are enchanting places to retreat the visitors.
The shallow water of this beach is favorable for swimming, especially a diving platform for kids. A lot of things to do in Devonport, which offers tourists to explore such a beautiful spot. Victorian villas surrounding the beach are also appealing to attract visitors.
8. Bethells Beach :
Bethells beach, also known as Te Henga, is a rugged west coast beach outside of the urban sprawl.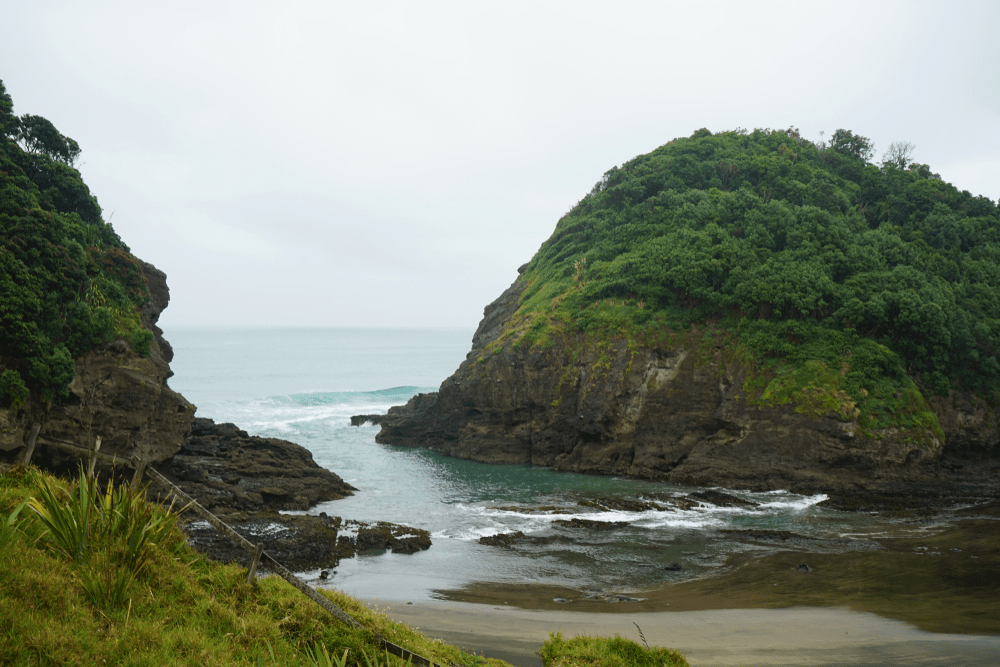 Only 45 minutes drive from central Auckland, Moreover, this beach is well known for its picturesque black sand beach, sand dunes, and exciting trails. Black sandy beach backed by green hills has created an amazing landscape facing the roaring sea. Hiking over the hill track from Bethells Beach to the south of Muriwai beach uncovers a stunning perspective of Auckland's wild west coast.
 Indeed, The strong waves of the sea make this beach a perfect site for surfing for experienced surfers. Bethells Beach is popular for having a surf club, parasailing, strolling along the beach, and fishing. Swimmers should stay in water only in the patrolled areas for strong waves. Tourists may discover the caves and the three dune-bound lakes – lake kawaupaka, lake Wainamu, and lake Waiatary.
9. Whatipu Beach :
Whatipu beach is a wondrous beach, that is an hour drive out of the city.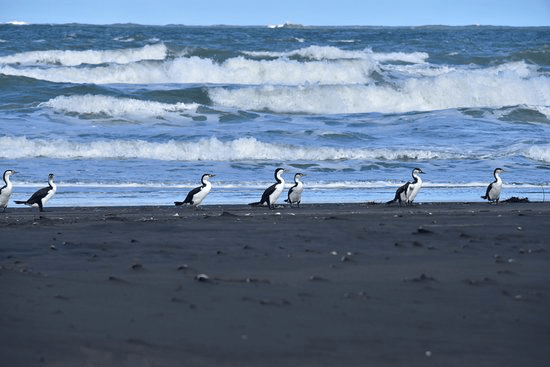 It is a remote beach on the west coast on the north island of New Zealand, but it is a bit wild, worth a visit, if you seek out something venturesome.
This beach is unique in a sense, you will see black sand all the way. Tourists find a lot of things to do on this Auckland beach, as they can go hiking on Hillary Trail for captivating scenery.
They can discover some fascinating caves and stroll around to find out the natural affairs like, amazing sea waves and watching birds. Visitors see here fishing with interest as well as they can hike on the top of the ridges to enjoy a beautiful seascape.
10. Anchor Bay :
Located in the center of Tawharanui regional park, Anchor Bay is the loveliest beach in northern Auckland.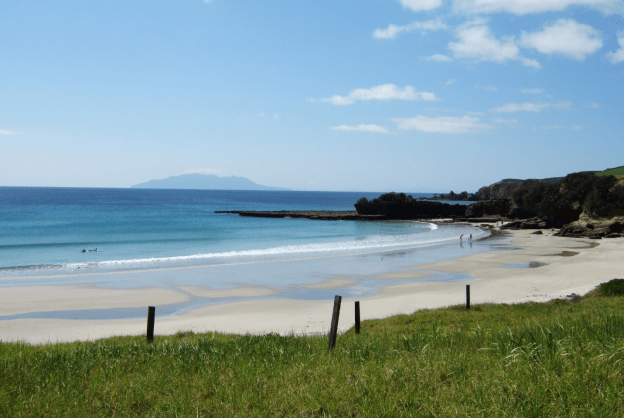 Tawharanui is a preserved zone to protect the native birds. As it offers a stunning view, the main part of the beach gets crowded in the summer. If you want to get to a secluded area, you need to walk. Although this beach is not favorable for relaxing, it has some good viewpoints to see the panorama of this beach. The specialty of this beach is that visitors see here Pohutakawa trees, which is a well-known tree with red flowers.
This beach is convenient for learning to surf, so it attracts new surfers. moreover, It is a marvelous place to view multiple habitats, like the beach, hills, and wildlife. Just an hour's drive, this beach is enriched with a variety of birds, mostly live in the national park area.
Auckland beach offers a lot for all types of tourists. Auckland possesses a calm sea beach for swimmers, a wild beach for strong currents for surfing, a water park adventure for kids, and much more. Choose the best beaches in Auckland today and head off! You'll not even think what a surprise is waiting for you until you reach there.