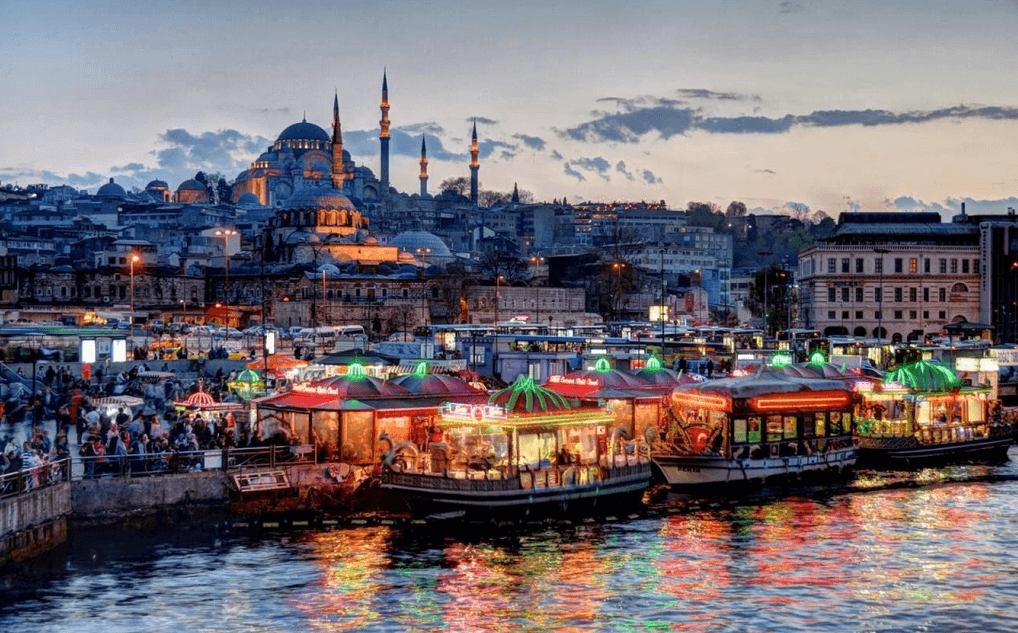 Welcome to the beautiful versatile transcontinental country that bridges together two evergreen continents Europe and Asia. Bordered and countrifi with medieval monuments as well as bedeck with historical era statues and hallmarks, Turkey is an incredibly rustic nation mix with different colors, creeds, and cultures. Turkey is famous for food, incredible architecture and arts, its exotic marketplaces, byzantine buildings, and mesmerizing beaches. The search for the best places to visit in Turkey is probably going to be pleasant.
The country is richly famous for its ancient Byzantine and Ottoman landmarks and ruins. Without a second thought, Turkey is the number one destination to fly too, owing to its rich culture, spectacular sightseeing, handcraft items/ souvenirs, medieval architecture, and historical eras transcended by elite empires of the times. And yes, you have to have patience and a good demeanour in case you're considering buying an ice cream cones in the Turkey thoroughfares.
Talking about the top attractions in Turkey, there's a lot on its topography table to enjoy. Places to visit in Turkey include the Hagia Sophia, Blue Mosque, Grand Bazar, Sultanahmet Square, Archaeology museum, Topkapi Palace, and others. The country has the best in the world transport metro/tram systems plus its quite cheap if compared to the rest of the world's tourist transports.
It is a country enrich with ethnicities, exotic foods, and exhilarating archaeological structures and remains. Speaking of some of the best food in Turkey, it is famous for its multi-layered sweet baklava, Şiş kebab, Doner kebab, Kofte, Kumpir, colorful fruity chewy Turkish Delights, and many other amazing eateries. With this being said, who doesn't want to know more about this beautiful country?! So let's get start.
1. HAGIA SOPHIA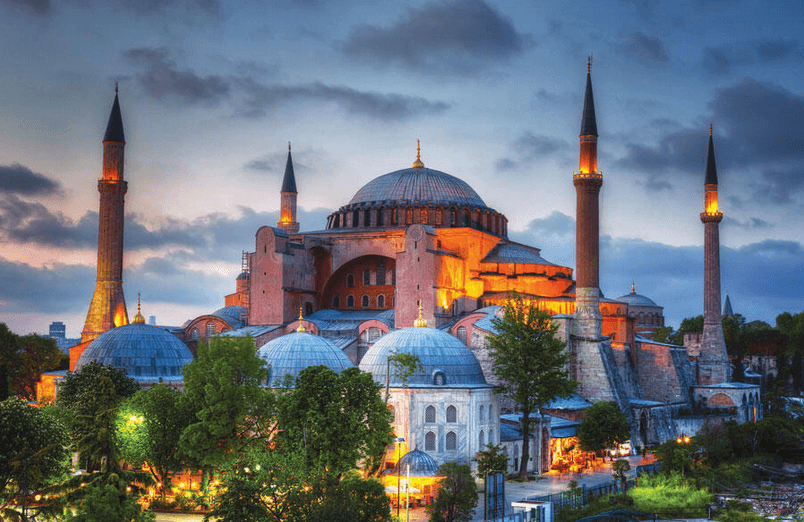 The magnificent Hagia Sophia is one of Turkey's prominent Byzantine architectural renaissance hallmarks and the best places to visit in Turkey. It is located in Turkey's capital city Istanbul that stands elevated and colossally covers far-flung perimeters. Situated on a hill seeable from the Marmara Sea and Bosphorus Strait which naturally forms the waterway continental boundary between Asia and Europe, Hagia Sophia is a perfect landscape to look at from a distance. It adds a heartfelt religious zeal in the hearts especially if you're cruising in big boats and ferries. Cruise in Istanbul in Turkey and you'll be able to envision why Aya Sophia is the heart of the city.
This glorious and monumental cascade of domes candled with minarets on its sides is one of turkey's finest archaeological spectacles to watch. Built by the Byzantine Emperor Justinian in 360 AD, Hagia Sophia saw its maestro magnificence in the year 537 AD. Hagia Sophia remained the largest Church of its time for about 1000 years, until it came under Muslim rule during Ottoman Sultan Mehmed II conquered Istanbul in 1453 AD. It got reconstitut to a mosque designated with the 'Aya Sophia' title followed with a bit religious overhaul.
Hagia Sophia is a high-flying symbol of turkey just like how the pyramids are an essential central part to Egypt's tourism department. The real deal is what lies inside Hagia Sophia and travellers just can't wait to o beyond its huge doorways. The astonishing interior grand dome is worth watching for the next five minutes; the byzantine elements are eloquently etched all around it. The rocketing pillars 'stand firm being able to hold the skyview vista inside. A few other eye-catching rarities include the elaborate mosaics of Jesus, depiction Virgin Mary, angels, and saints, and whatnot.
As of today, Hagia Sophia orchestrates as a soulful mosque harmonized with openhearted doors for tourists to enjoy its exuberant and unforgettable inside-out archaeological and aristocratic magnificence.
2. TOPKAPI PALACE
If anybody asks you the question what are the best places to visit in Turkey? Tell them it has the jaw-dropping Topkapi Palace." It is also known as the Cannonball Gate," and is of the very first archeological attractions that come into your mind.
Once known as the supreme abodes of Ottoman Sultans, the Topkapi Palace houses artifacts, souvenirs, and eye-catching early Middle Eastern arts engraved upon the doors, walls, and its ceiling.
In case you're looking for Topkapi's core grounds to wanderlust for a few minutes, then you should head straight down to Third Courtyard, also called the Inner Palace. It's the heart of the palace owing to its lush green garden. One thing you shouldn't overlook, and that is its library having a huge collection of historical books and ancient manuscripts.
Furthermore, this famous museum is known for the Harem; the place where the Sultan's mother and wives resid. The Harem is astonishingly huge having around 300 rooms, 9 Turkish baths, 2 Mosques, and a hospital.
3. BOSPHORUS CRUISE
One of the most beautiful places to visit in Turkey is the Bosporus Cruise. In other words, it's all about boarding the finest luxury ferries and big boats to enjoy a wavy water venture at the Bosporus Strait that connects Asia and Europe.
The beautiful Bosphorus Strait not only bridges the two continents, but also has developed a to and fro tourists passageway through its popular dockyards. Best known for impressive Istanbul cruises, Bosphorus is best suited for couples who want to enjoy a cherishing starry-eyed nightlife.
The most busiest docks include the Eminonu and Istinye where travellers gather like crazy, especially owing to its crossing besides the Bosphorus Bridge (15 July Martyrs Bridge). That's not it, but there are several other bridges that adds to the exclusivity of the spectacular landlocked Strait.
In order to make your Bosphorus visit memorable, you have to visit the Ulus 29 restaurant known for its terraces. This waterway corridor gives you the perfect view of the bridges of Istanbul. And yes, Turkey is famous for food, so don't forget to chomp some traditional and continental oceanic cuisine.
4. DOLMABAHCE PALACE
Unquestionably, the Dolmabahce Palace is one of the most awe-inspiring Muslim architecture that showcases a hint of Western archaeological influence. It is situat in the Besiktas area of Istanbul towards the European bank of the Strait of Istanbul.
The Dolmabahce Palace and the Topkapi Palace is a worthy visiting fist fight since both places are known for their eloquent exteriors, spectacular interiors, and what lies within to lay your eyes on. The Byzantine oriented building incorporates 285 rooms, 46 halls, 6 baths, and 68 toilets, making it one of the most deluxe Sultan presidential palaces among others in Turkey.
Astoundingly, the area extending around the building and its bordered perimeters are about 45,000 meters per square, which makes it one of the best historical places in Turkey. If you wish to travel to the top 10 archeological-based Turkey beautiful places, then the Dolmabahce Palace is one of them. it is one of the best places to visit in Turkey.
5. BLUE MOSQUE
Blue Mosque is a great mosque in Istanbul Turkey for its architectural attributes. Built between the years 1609 to 1616, during the rule of Sultan Ahmet I, and now is remember as the last resting place of him.  
The Blue Mosque is one of the most splendid structures of the Ottoman era that has stood its ground firmly for around 400 years. It is a pride of faith for the Muslims who endure not only their Islamic rituals, but also have a profound and heavenly taste of design and art. The inside has handcrafted blue marble tiles, blue lights that glows the interior with a spellbinding out of this world moon-sky twilight.
Both the outside and inside depict the infallible Muslim architecture that even the Western civilization used to add versatility to their own sense of aristocratic arts and medieval architecture. It also has a madrasah and a hospice, which is believ to house some of the best doctors of its time. undoubtedly this place is one of the most gorgeous places to visit in Turkey.
6. GRAND BAZAR
Turkey has some of the most amazing marketplaces in the world, but the Grand Bazaar is a stand out from the crowd. Built under the rule of Fatih Sultan Mehmet, it's indeed as old as its designation 'Grand' tell us. With shops and stalls having those rustic and ancient traces like old-fashioned roofs and architectural domes, this marketplace is a marvel within itself.
It's of the oldest markets in the world with around over 61 streets connect to one another. With over 4000 shops, this popular bazaar attracts a huge number of tourists everyday. Here you can buy lots of things that go deep down with the byzantine and Islamic traditions. Almost everything here is a core part of Turkey's culture.
Here you can buy the traditional Turkish lamps that has become a significant symbol for the Islamic month of Ramadan. The Grand Bazar is best known for its miscellaneous collection of souvenirs, a wide array of ceramics, ancient jewellery, Old coins, Islamic design carpets, Kilim rugs, and more. In case you're visiting to buy gifts for your loved ones hack home, then try out buying bags of exotic Turkish spices, silver and gold jewellery, and the fruity Turkish delights.
7. ARCHAEOLOGY MUSEUM
One of the most beautiful places to visit in Turkey is Istanbul and why not so? It has every single perseverance of the nation's old and new cultures. But first and foremost, the capital city of this incredible transcontinental country has some of the best must-visit museums in the world. One of them is the Archaeology Museum, which consists of millions of relics of the Byzantine golden era times.
If you're fond of history and want to know the old lot of Turkey's oldest civilizations, then this is one of the best historical place in Turkey to head too. The artefacts found inside the Archaeology Museum dates back to as early as its counterpart Roman Civilization. The outside of the museum is an amazing sight of engraved Islamic and mosaic art alongside statues standing besides its entryways.
With over an estimated one million artefacts, there are a total of 600,000 Islamic and non-Islamic currencies made out of stones, bronze, silver, copper, and gold. Around 200,000 pieces are archaeological relics having traces of the Byzantine and Ottoman monarchies.
The Archaeology Museum's famous collectible is the ornate Alexander Sarcophagus, which is believ to belong to Alexander the Great. Other than that here you'll also find ancient clues of the Turkish, Hellenistic, and Romanesque long-lost periods.
8. PRINCES ISLAND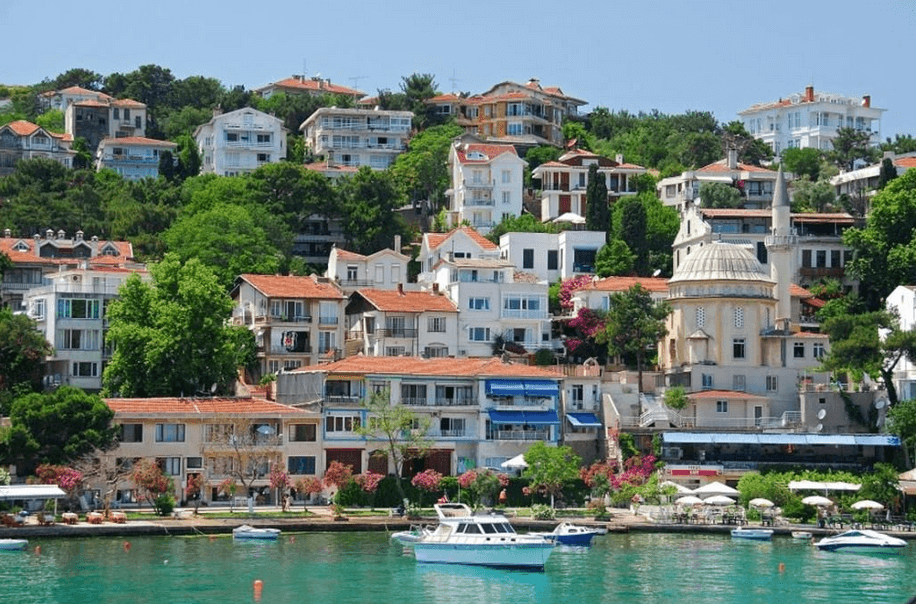 Ideal for the newlyweds and couples looking to harness a posh Luxembourg theme while visiting Turkey; the Princes Island is one of those genteel grounds where classic English traditions are gently put in to the cradle. The gorgeous flowery streets, chocolate-box terraces, and the horse carriages are some of its exclusive eye-candy treats. The Princes Island's famous Dil Burnu National Park pine forests and the Museum of the Princes' Islands have made it one of the best places to visit in Turkey.
This famous semi-beach town is a collection of nine islands southeast of Istanbul where mostly Western travellers reach via ferries and water buses. It takes about an hour journey to reach to the Princes Island if you board a ferry from Istanbul. Boats and ferries run round the clock to Buyukada, Burgazada, Heybeliada, and Kinaliada from the cosmopolitan city.
Out of all the 9 islands, the largest island of Büyükada is quite popular among tourists. It has numerous tourist attraction sites of its own including the big market square, its historic pier, famous seafood restaurants, and those splendid summer mansions. The most crowded areas of this island is its Cankaya Street and the famous Aya Yorgi monastery that has the stunning blue sea in its backdrop.
9. MARMARIS
Without a doubt, this seashore small district is Turkey's Venice doppelganger owing to its prestigious residential buildings and well-thought-out water channels. Marmaris has a lot to offer when it comes to entertain tourists that have travelled from far-distant countries. It has stunning vistas of pine trees wreathed mountain terrains, sandy beaches, crystal-clear waters, and historical remains and ruins. It is located along the Turkish Riviera in southwest Turkey.
Furthermore, Marmaris has a fine dine of several tourist attractions that it becomes a hard choice to select the best one. Here you can visit the Castle of Suleyman from the 16th century, charming cobblestone streets, horsing and boating safaris, evergreen pine forests, and the mesmerizing cascades of waterfalls. Marmaris is also known for its traditional water sports, jeep adventures, stunning restaurant dine-ins, coffee bistros, and a lively nightlife.
10. PORT OF ISTANBUL
Famously known as the Port of Haydarpasa, this commercial dockyard is a general cargo seaport that has a huge container terminal for the country's export import business. This commercial channel is situated at the southern gateway of the Bosporus.
Here you'll find cruise liners for passengers located in the Beyoglu district where you can travel to the nearby residential dockyards. It is owned and authoriz by the country's Turkish Maritime Lines, which makes it one of the essential trading water canals of Turkey.
11. PAMUKKALE
A perfect place to enjoy a thermal water therapy in the cool turquoise water-filled cascades. Pamukkale is a small town in Western Turkey conversant for its mineral-rich natural water pools where tourists come to enjoy an exciting experience. The spectacular terraces of pools easily join in the ranks of some of the most beautiful places in Turkey for couples.
Pamukkale borders next to the Greco-Roman city of Hierapolis, which was an ancient Roman spa city founded in 190 BC. Here you'll find ruins of a well-preserved theatre and the submerged Roman streets and Antique Pool due to the result of an earthquake.
12. LADIES BEACH
Once a private women-only sandy beach stretch during the Ottoman rule is now open to all genders. The Ladies  Beach is locat in Kuşadası, Aydın Province which is regularly visited by locals especially during weekends. This sandy seashore is one of the best shorelines of Turkey where only females were allow to swim during the Ottoman period.
The Hotel Ladies Beach is a perfect place to lodge in if you're considering to visit this beach. It is the best beautiful place in Turkey for families. You can also go and check out the archaeological ruins of Ephesus which is 12 miles away from the Ladies Beach. And yes, don't forget to visit the Turkish Aegean traditional koy village at a short distance of 7.5 miles from this beautiful arch margin of land and sea.
13. KUSADASI CASTLE
Looking for a special fun-loving family time at a quite place? Then you should probably visit the resort town of Kusadasi, Turkey. The castle resort and garrison built here saw its supreme times in 1834, when it was refurbish and expanded, making it the town's center of attraction.
This beach resort town is famous for the Turkey's classical Byzantinian remains at Ephesus. It is also a major cruise ship destination where ships rush from all the close by towns and urban communities. . It also has an amazing queue of hotels and restaurants connected the promenade, marina, and harbor seafronts. Some of the best hotels near the Kusadasi Castle you can check-in into includes the Sunrise Hotel, Sunny Hill Hotel, Hotel Ogerim, and Baris Suite Hotel.
14. OYLAT CAVE
Located in the Bursa Province, the Oylat Cave is an exotic thermal bath lands beneath the surface. It is about one kilometre away to the southern region of Hamiliye Village. It is formed on a significant marble fault line that began to deteriorate thousands of years ago. Inside the Oylat Cave you'll find fossils that date back to the early modern human periods.
This popular tunnel of rocky and spikey underground channels was opened in 2006 for tourism. The cave is said to cure several respiratory problems such as asthma and bronchitis owing to its natural mineral-enduced atmosphere. Besides, the remedial gases ooze out of the curing thermal pools that have formed naturally inside the Oylat Cave, making it an ideal place of human health revival.
15. PATARA BEACH
Incontestably, if you talk about the best beaches of Turkey, the Patara Beach comes to the top-3 spot. It is located near the medieval Lycian city of Patara near the coast of Turkish Riviera. The fastest air ways to reach here is to book a flight from the Dalaman or Antalya airport. It is one of the most beautiful beaches in Turkey for couples owing to its soft sand, episodes of elongated waves, and the cool breeze. It's the 2nd longest beach in Turkey. The nearby attractions include the Patara Ancient City, the Saklikent Gorge, Caretta carettas, and the awe-inspiring towering landscape of the Taurus Mountains.