Ukraine is an Eastern European beautiful country, but a less-traveled destination. Because first-world countries know very little about Ukraine, although it has many tourist attractions. so we are exploring here the Best Cities in Ukraine. Aside from the enchanting natural beauty, Ukraine is celebrated for its long traditional history and marvelous architecture. It is considered the hidden gem of Europe for its magnificent palaces, cathedrals, captivating black sea beaches, and lush green forests.
The natives are very warm and inviting. They introduce their rich culture to tourists by offering them their local cuisine. Ukraine is an excellent European destination for travelers, who are on a budget, because prices are fairly low there. Ukraine has many fascinating cities to explore which are sure to leave you with amazing experiences
1.Kyiv :
Kyiv is a rapidly progressive European capital that unites its ancient history and unique culture with modern life. The capital of Ukraine is also called "City of Golden Domes", because Michael's Golden Domed Monastery and golden domed Kyiv-Pechersk Lavra have unique cultural and historical status. They express the aristocracy and religious significance of Ukraine. Golden Domes are famous things in Ukraine to explore.
Kyiv has flourished with a number of museums, art centers, concert halls, and new theaters. Poshtova Square is a great place to roam around. Kyiv's natives and visitors can go on a captivating Dnipro River trip, appreciating the view of the surrounding.
The bank of the Dnipro river has turned into a travel place with a café, night club and open air restaurants. Situated on Dnipro River, Motherland is the original symbol of Heroism and strength of the Ukrainian people. Visitors love this city, as Kyiv is the country's bustling modern business and vibrant cultural hub. Cultured people like to visit Kyiv for theater, opera, and musical performances. Andriivs'kyi Descent, Khreschatyk Shopping Street and Friendship of Nations Arch are also charming places to visit in Ukrain Kyiv.
2.Odessa:
Odessa .Ukraine's most acclaimed port city is Odessa, which is located on the north shore of the Black Sea. Odessa is named the "pearl of Black Sea", because Odessa is renowned for trade center, cultural hub and tourist spots. One of the primary tourist attractions in Odessa is Potemkin Stairs, seeing that this grand stairway proceeds to the beachfront directly from the center of the town.
Odessa National Opera and Ballet Theater is the most beautiful theater in Europe for its interiors and exteriors and the main auditorium. The sea cruise in Black sea is an awesome experience for travelers. Visitors prefer to roam around Lanzheron beach and Tarasa Shevchenka Park. Odessa is said to be the entertainment capital of the south of Ukraine.
It is one of the cities in Ukraine that offers a vibrant Odessa nightlife with crazy girls, festive atmosphere, DJs and party and plenty Alcohol. Most summer clubs of Odessa are located on the waterfront of Arcadia beach which is only is only 20-minute drive from downtown Odessa. Explorers appreciate awesome 3-hour visit to the most established winery of Odessa. Visitors can taste high quality wines from local grape for free at local Tairov winery estate and can buy cheap wine of Odessa.
3.Kamianets Podilskyi :
Kamianets-Podilskyi, a fairy tale city, is well known for the Kamianets-Podilskyi Fortress. Built in 11th-Century, this magnificent Castle is elevated on a colossal rock enclosed by a 40 meters deep Smotrych River Canyon.
Tourists can explore inside this castle which has now turned into a museum. Visitors enjoy the artistic and marble works of Italian artists, paintings, sculptures and vintage furniture.
Tourists wait for the amazing festival of hot air balloons over the Smotrych Canyon in spring. Saints Peter, Paul Cathedral, and the other stunning abandoned forts are scattered throughout the Old Town. This mindblowing Best Cities in Ukraine holds great houses, cobbled streets, and road wall paintings depicting the historical backdrop of the city.
Turkish minaret is 40-meter high and a statue of the Virgin Mary was placed on top of the minaret. The history behind the minaret reflects the rich history of the city itself. The minaret is standing at the main entrance of the Peter & Paul Cathedral. Bakota is a drowned village in Podillia near Kamyanets-Podilsk. The main fascinating thing of Bakota is a Monastery on the rock. Tourists fly there on paraglide to have a fantastic view out over the drowned valley and amazing Landscapes
4. Lviv :
hosts great opera and ballet performances.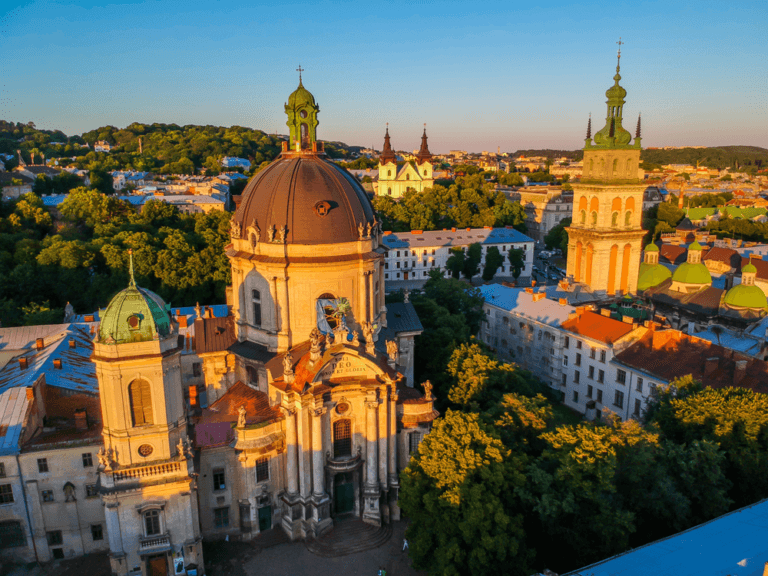 Tourists get impressed to see the Rynok Square with the town hall in the middle of Lviv. The cafes, bars, and restaurants at Rynok Square is an excellent spot to lounge about. Visitors should be careful to cross the roads, because tram line exists in Rynok Square. Climbing the town hall tower, tourists can view the old Lviv town from above. It is the specialty and tradition of Lviv to add art nouveau in architecture and in the town house.
Various bars and pubs remains in Lviv to enjoy a drink and enjoy nightlife. Tourists may Visit splendid Boim Chapel and the walls are so decorative with sculpture. The House of Scientists is a stunning building with neo-baroque style and each room is luxuriously decorated. Its wooden stairs are so well designed to surprise the visitors.
5 . Mukachevo:
Mukachevo, a Ukranian city which is located in the valley of the Latorica river and Surrounded by The Carpathian Mountains. It is one of the cities in Ukraine that has a long fascinating story. Cobblestone Streets are seen throughout the City and rivers are very scenic.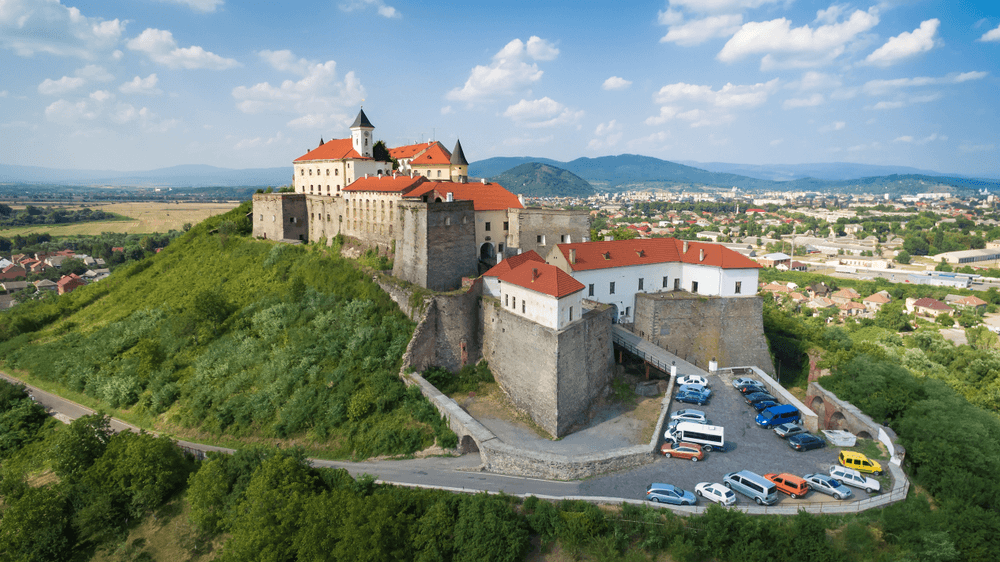 Palanok Castle, Perched atop a hill overlooking the city, is a popular attraction in the city. This tenth century castle is carefully preserved and isolated into three structures: the upper mansion, center part, and lower mansion. It likewise contains an authentic exhibition hall and an art gallery. This captivating castle stands 65-meter-high on a hill and offers panoramic views of Mukachevo city.
The Mint-Green Gothic Town Hall and St. Martin of Tours Cathedral are also well known tourist spots. People enjoy picnic by beautiful atmosphere of Latorirnic River. Andriya Kuzʹmenka or the Peremohy are fantastic Parks to stroll around and to have pop corn and ice cream from food vendors.
6 . Chernivtsi :
Chernivtsi is often called 'Little Vienna', because this city comprises the stylish Architecture like Vienna, as it was once under Austrian rule. The city surroundings are not only charming, it has historical significance and cultural importance too.
Chernivtsi National University is well known for its traditional impressive architechture. Tourists visits many other places with interest like Teatralna Square, Armenian Church and Cathedral Of Holy Spirit. Jewish People's House was once used for many cultural events and evidence of how wealthy and cosmopolitan Chernivtsi was a century ago. It has opened a small museum to reveal the cultural facts and information. Chernivtsi Train Station building's outside look seems posh.
The Palace of Justice situated in Chernivtsi city center has alluring architecture. There are many eye catching buildings, cafes and restaurants on both sided of Olgi Kobylyanskoi Street.
7 . Bukovel :
Bukovel is an impressive ski-and spa-resort situated in the Ivano-Frankivsk Oblast (territory) of western Ukraine. It is one of the budget friendly and ultramodern ski resort in Ukraine. Bukovel is a popular ski resort in Europe also for outdoor activities and plenty of well-equipped skiing trails.
Bukovel is located in one of the most beautiful places of this land, the Ukrainian Carpathians, at an elevation of 920 meters. Snow fall starts in Bukovel in advance, so winter exists a long time from November to April, which is a long time for skiing and snowboarding.
The winter sports venue is located between the elevations of 859 and 1,372 m, there are 16 lifts to carry the skiers and 68 km of slopes available, which makes it one of the best ski resorts in Eastern Europe. Each visitor can choose a track according to his ski skill, difficult trails are for professional skiers and easy trails are for the beginners. There are expert trainers also to assists the new interested visitors. Visitors get really impressed to see the Bukovel's amazing slope, the quality of the snow and the skiing facilities.
8 . Myrhorod :
Myrhood is mainly famous for celebrated Short story writer Nikolai Gogol, who was born nearby this town. This writer gave the name Myrhorod to his second volume of Ukranian Stories.
A National Museum of Nikolai Gogol remains there presenting his works, scripts, dresses and photo. Visitors find Gogol's statue in Mirgorod city. Myrhorod is well known as a spa town, because there are some underground springs. People can enjoy bathe in this springs for a fresh feelings or can drink water. Tourists can travel by boat in the Khorol River to see the picturesque view.
In Dubrovka Horse Ranch, visitors can take an adventurous Horseback Riding Tours and Horse-Drawn Carriage Tours through the lush green nature. Myrhorod is one of the cities in Ukraine where visitors are amazed to see a musical water fountain. Kurortny Park, Mirgorodskaya Luzha( Water Park) and Myrhorod Local Lore Museum are also alluring city spots.
9 . IVANO-FRANKIVSK :
Ivano-Frankivsk is a historic city with traditional architecture in Western Ukraine. Visitors enjoy Latino dancing in Shevchenko City Park at spring and summer time. Rynok square is a relaxed place filled with city hall, bars and cafes.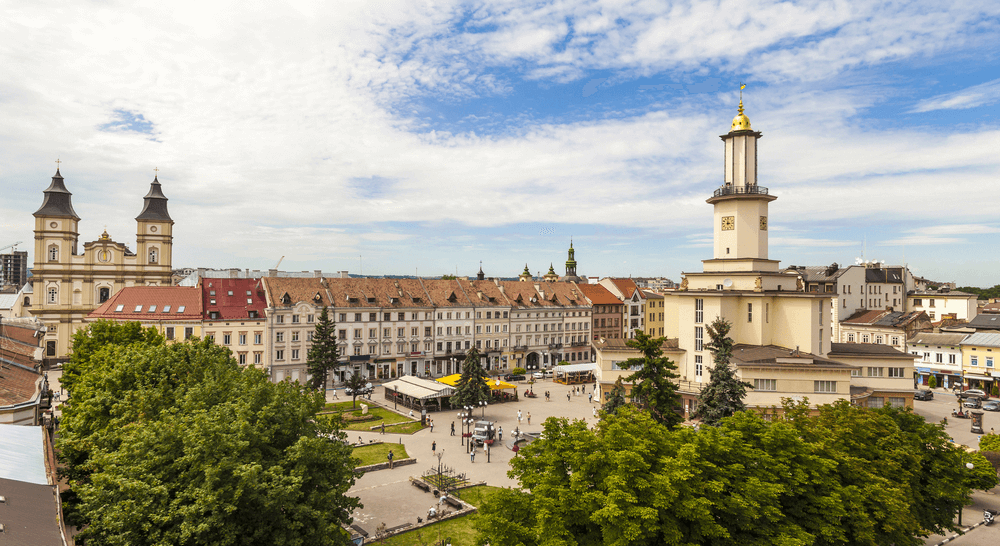 Ratusha Tower is a popular city tower, from where visitors get panoramic view of the city from the top. Museum of Ciscarpathian Art is an extensive Baroque museum with a collection of original folk costumes and art, roccoco religious art pieces and Painting collection.
The people living in this mountain region are efficient in their local traditional work for embroidered clothing, blankets, pottery, leather works, and wood carvings. Valy is a pleasant and quiet place close to the nearby city center and railway station. It is a small park to sit and enjoy the surrounding stunning views and historical buildings. this city is the most beautiful Cities in Ukraine.
10 . Kharkiv :
Kharkiv, called Kharkov is the second biggest and city of northeast Ukraine, offers a ton to the inquisitive explorers. The "Ukraine Flying" Independence Monument is an amazing landmark dedicated to the undying fight for independence for all Ukrainians. Constitution Square is a marvelous venue at the heart of Kharkiv historical city center.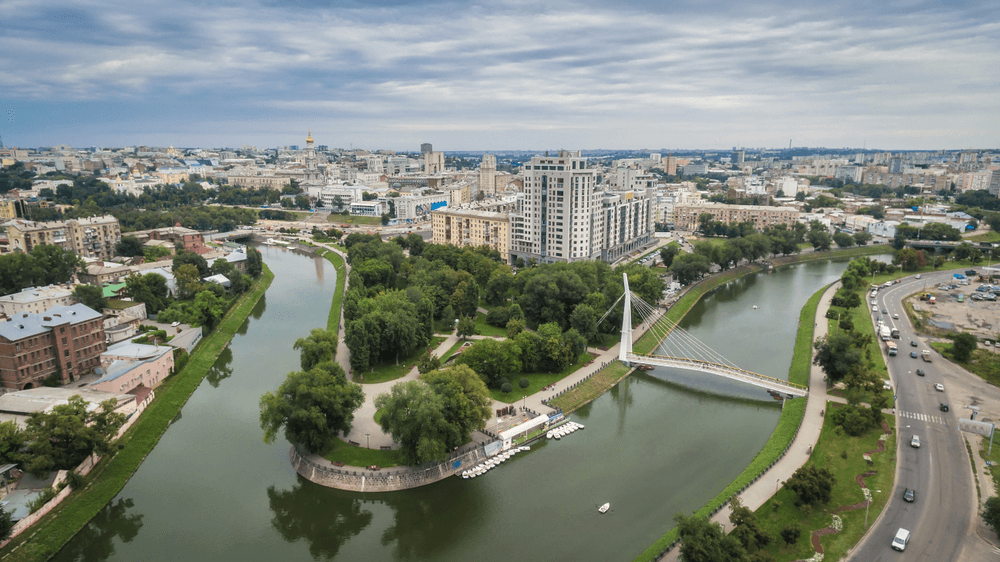 Kharkiv State Academic Opera and Ballet Theatre is a renowned cultural point in Kharkiv. Mirror Stream Fountain, surrounded by water and a park is a lovely place for couples in Ukraine. Church of the Holy Myrrh-Bearers is an impressive church encompassed by the large trees of Peremohy Garden Square and the epic Mirror Stream water fountain. The interior is so gorgeous, as when the sunlight enter into the church, its Gold coated interior becomes dazzling.
Gorky Central Park, a wonderful park in Kharkiv is free for anyone to stroll around. Visitors can enjoy the rides, giant Ferris wheel and a cable car here. Archeological museum in Karazin Kharkiv National University campus is also a great tourist attraction.
11 . Lutsk
Lutsk, located in northwestern, is one of the Best Cities in Ukraine. In Lutsk, Lubart's Castle is a remarkable castle, which has few museums, like book museum representing old books and manuscripts, bells museum.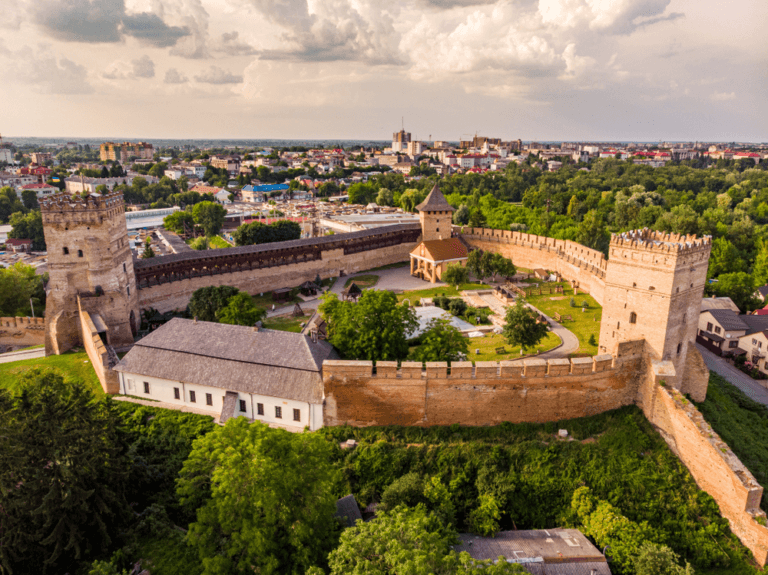 The Dominican Convent was founded in 16th century in a European traditional style with red and white combination giving it an attractive look. St. Peter and St. Paul Cathedral is a tourist attraction for the cathedral's stunning façade and amazing interior.
Lesi Ukrainky is the main city street where visitors hang out in cafes. The House with Chimeras is a wonderful building in Lutsk decorated with stylish sculptures. Lesya Ukrainka Central Park , Lutsk Zoo, and Trinity Cathedral in Lutsk are beautiful places for a budget trip in Lutsk Ukraine.
12 . Yaremche at Carpathian Mountains :
Yaremche is a city of west Ukraine near The Carpathians Mountains.Tourists may hike some epic trails to Yaremche Carpathian Mountains. Yaremche stretches along the beautiful prut river. People enjoy the captivating Probiy waterfall at Prut river in Yaremche.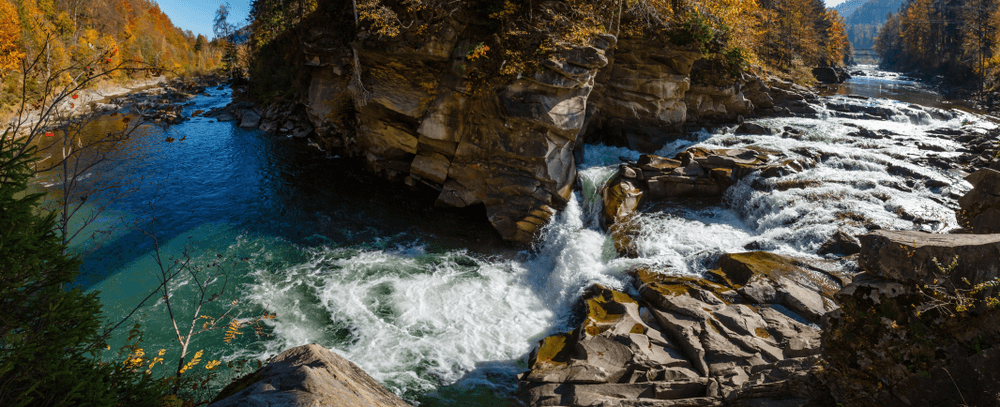 Yaremche additionally offers more convenience, trips, hikes and bicycle rides than some other valley community in this area. Carpathian National Nature Park is a beautiful park with lush green nature. Visitors enjoy natural beauty walking along this green park. There is an arrangement to have an exciting fun with the rides on wires crossing the river.
Mount Hoverla trip is a fascinating idea for a wonderful daytrip. Lake Nesamovitoye is an amazing lake into Carpathians mountains in Yaremche. Rocks Dovbusha is a rock and cave complex to explore. Krasna Sadyba is a tranquil riverside hotel in the centre of town . This hotel is in walking distance to the souvenir market, the downtown museums, the zoo and the train station.
Ukraine has many less crowded beautiful places suited for couples. Travelers can visit many places in Ukraine within a limited budget and can explore the attractions which are close to the city center by walking. The cities of Ukraine can be included in the list of truly aristocratic and quiet beautiful cities.
.