Hotel Park Central in New York is a well renowned hotel offering luxury to its guests. Nestled in Midtown Manhattan, Hotel Park Central hosted a number of influential figures like Jackie Gleason, Mae West and believe it or not even First Lady Eleanor Roosevelt in the past. The travelers choose this posh hotel, while their business and leisure travel.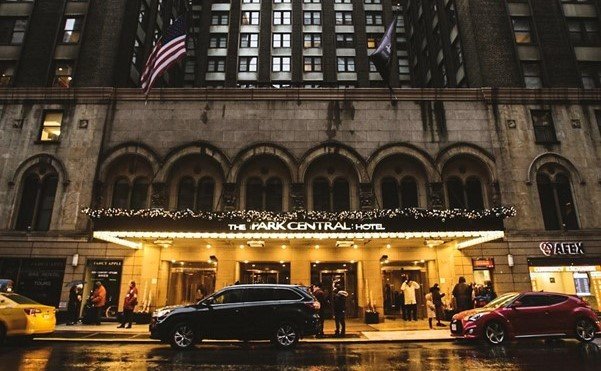 Towering over seventh Avenue in midtown, Park Central Hotel is located within a 10-minute stroll of many NY top attractions, including Times Square and Central Park. New York metro and subway, which makes it easy for the hotel guests to get around the city. Enjoy your stay in such a stylish accommodation in New York and you will forever reminisce gifting yourself such an amazing break from the hectic life.
Location :
With its unparalleled location in the heart of New York City, you will enjoy one of the best hotels in New York with good locations . This wondrous location will enable you to visit any of the Big Apple's attractions very effortlessly. Renovated by Jeffrey Beers of Jeffrey Beers International, Park Central Hotel in New York overlooks the whole city with its location right at the epicenter of New York City. Jeffrey Beers himself titled it as "A love letter to New York City". The Park Central Hotel is at such a location that you might be able enjoy a few attractions of New York city even through the window of your room.
Lobby and Room Decoration :
Furthermore, the lobby at the Hotel Park Central, New York is the perfect go to place for socializing and chit-chatting. The lobby is so beautifully decorated that it will make you want to stay there all day. Hotel Park Central ensures you utmost comfort with their rooms featuring comfortable beds, sleek furnishings and a huge variety of amenities. The beautiful bedrooms are not only picturesque but also undeniably charming. You instantly get a chic and luxurious vibe when you step inside a room. Hotel Park Central offers you an extra warm and inviting environment that you will surely love. You may choose a room according to your preference from the 9 categories of rooms that they offer.
Amenities :
Hotel Park Central is placed among the top-tier classic hotels in New York. All the amenities that you might require to feel away from home, are kept ready to serve you at this hotel.
All the essentials that one might require for optimum comfort are all at one's fingertips at park central hotel.You are guaranteed the best hotel toiletries here and hence C.O Bigelow ® bath amenities are equipped in each room. Moreover, A flat screen tv and a writing table are compatible for this hotel rooms for ease and comfort. After busy hours, if you can make your own coffee to get refreshing, as a complimentary coffee maker remains in your room. Small refrigerators are provided to keep juice, drinks and fruits for being fresh. Moreover, their concierge services are delighted to provide dining recommendations, transportation services, theatre tickets and more.
Things to do :
Park Central Hotel makes it immensely easy to enjoy New York to the fullest. For a day trip in New York, you can start your day by grabbing your breakfast from the Central market and then go on a walk through Central Park. Alternatively, if you opt for a chilled morning then enjoy a traditional breakfast at Junior's Restaurant. Later in the day, head over to the Museum of Modern Art and get mesmerized by the numerous collections on display. The MoMa there caters various dining options and hence you won't have to worry about lunch. Then to be delightful, do visit the Comedy Cellar nearby where the line-up includes famous personalities like Darrell Hammond, Daymon Wayans, Caroline Rhea and many more. For dinner, we recommend you try out Basso65 which is widely popular for lobster crepes.
Nearby tourist places and attractions :
Park Central Hotel aptly conforms to its name being located only a few steps away from the Central Park. You will find Carnegie Hall around the corner too. Carnegie hall is the dream destination for the artists from all over the world. Besides, the Museum of Modern Art, one of the most popular attractions of New York is situated nearby too. You will enjoy only roaming around in NY, exploring lively neighborhood, modern shops and multicultural people. You will be delighted to know that even Times Square is at a very short distance from this hotel. Columbus Circle and Broadway are also extremely easy to visit from the Park Central Hotel.
Great Shopping :
It goes without mentioning that Park Central Hotel is a heavenly abode for the shopaholics as it is placed in such a neighbourhood that it makes it easy to shop at some of the worldly famous shopping areas. All the famous branded shops are present on 57th street and Fifth Avenue to satisfy the visitor's heart. Ranging from elegant to funky and casual, you will find everything here. Don't miss out enjoying the shopping scene of New York City. Fifth Avenue, only a few minutes away from this hotel, is the main hub of numerous stores welcoming enthusiastic shoppers from all over the world.
Dining Options :
There are tons of dining options to indulge in your taste. Even a dainty eater will find various dining options in the center of Midtown Manhattan. For breakfast, we recommend you to try some of the wildly popular breakfast places like Ralph's Coffee, Epicurie Boulud and Ivan Ramen. For lunch or dinner, you definitely should visit The Redeye Grill and try their famous "dancing shrimp". Amali and Joe's Shanghai, just 8-minute walk away, are also loved by the locals and the tourists.
To sum up, to stay at the Park Central Hotel is to relish the best of New York. Book your room right away and enjoy your stay in the heart of New York.