Experience Malta's underwater marine life at the Malta National Aquarium. We suggest you head over to Malta National Aquarium for an educative day out with your kids. It's a huge aquarium with 41 tanks hosting about 250 species and serves as a modern educational spot. Malta National Aquarium is the perfect spot to learn about the beauty of the Maltese islands, to learn more about marine creatures, and to spend a perfect day with friends and family.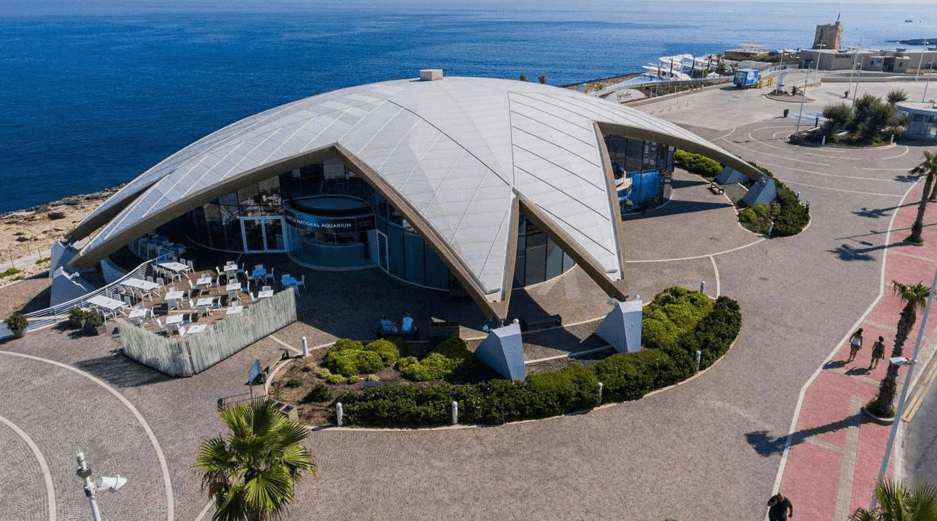 The project for the Malta National Aquarium covers approximately 20,000 square meter area. Malta National Aquarium is the biggest aquarium of the Maltese Islands. It is a starfish shaped aquarium that hosts approximately 250 species of different animals. They have collections in their display not only their native species but also others from different parts of the world. The aquarium offers a wide range of facilities, which is a must visit place in Malta. You will find more reasons as to why you must visit this aquarium through the following detailed description.
Marine life of Malta
If you want to see what marine life is all about, a visit to an aquarium is a must. Malta Aquarium makes us enlightened about the Malta sea life and the countless number of species that constitute it. Visitors come to town Qawra, which is located within St. Paul's Bay in the northern region of Malta, to get the experience of marine life displayed at The Malta National Aquarium. Qawra is a famous tourist spot and it has numerous hotels and restaurants ready to serve the tourists.
The beautiful Malta National Aquarium was inaugurated in 2013. It has been offering its visitors a closer image of marine life. With numerous tanks, this aquarium is great fun to visit. The specialty of this aquarium apart from being starfish-shaped is its two underwater tunnels. It has an underwater tunnel of 12m. The visitors can walk inside it. And there is also another smaller tunnel that allows the visitors to crawl through. Malta National Aquarium pictures provide an idea about the collection and affluence of sea creatures preserved in it.
There are 41 tanks in total in this aquarium. In order to simulate the underwater environment, all tanks are expertly themed.
A laboratory, food storage space and quarantine facilities are additional features of the public aquarium.
The Malta National Aquarium complex is set in the shape of a starfish in an iconic curved shell structure. The adjacent promenade offers pedestrians additional leisure amenities, including children's games. After visiting the place you can explore the Best Beaches in Malta.
How this aquarium contributes to the marine life conservation? The environmental prospects-
The Malta National Aquarium has one of the core objectives that is dedicated to the conservation of seas.
They collaborated with Sharklab and the develop shark eggs in the cases of Zone 1 of the aquarium. Approximately 300 sharks hatched and were taken back to the Maltese waters from the aquarium.
Baby Station: There is also an artificial laboratory called the baby station which helps in breeding of different species. This also offers to the preservation of the marine creature.
They have also strengthened Qawra's outlook while preserving its picturesque natural surroundings.
Their mission is to be the leading agency for the conservation of marine life and its surroundings. They do this by instilling in their guests and team members a sense of environmental responsibility. Throughout their practices, they follow what they preach and thus thoroughly value the environment.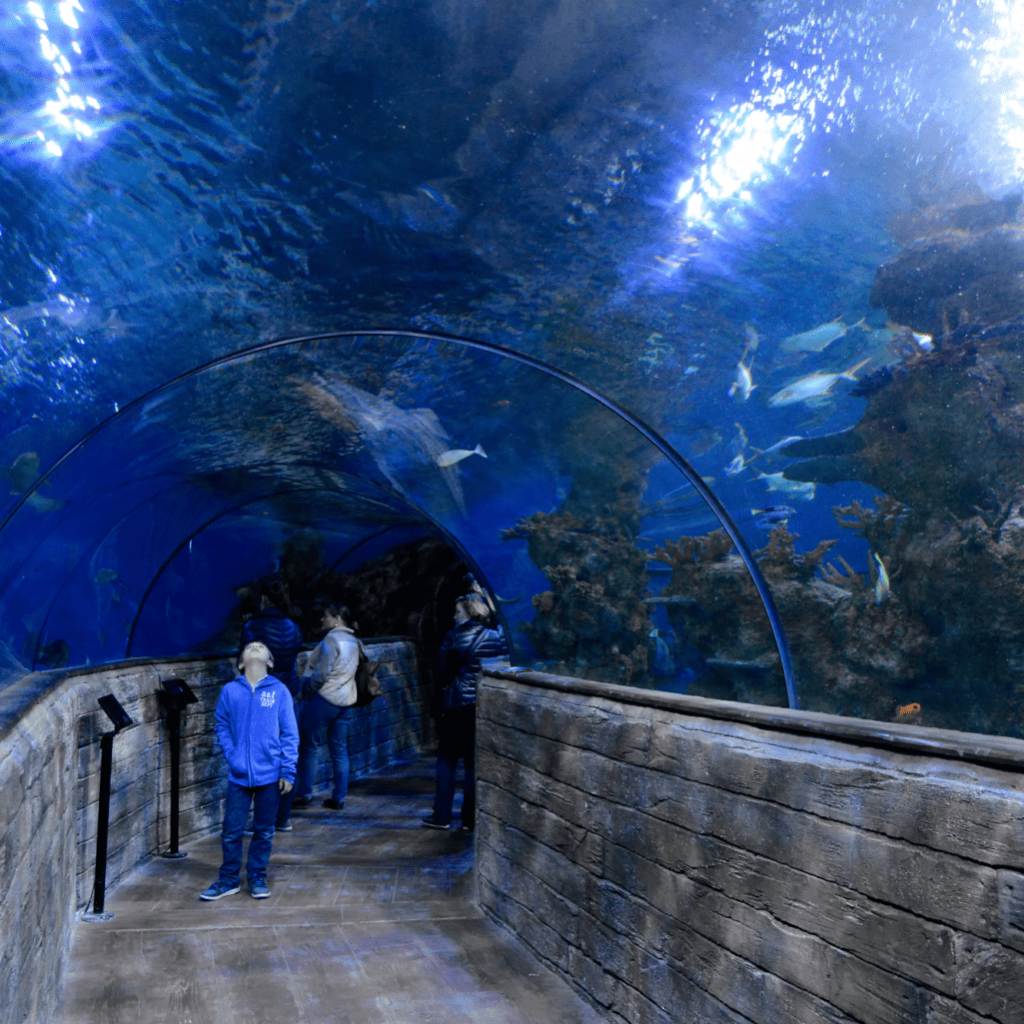 What's in it for the students? The educational prospects-
There are also special perks for the students in this aquarium.
The aquarium holds educational sessions daily that include learning of marine evolution and the aquarium's program of shark conservation. So a trip to this aquarium will not only be visually pleasing but also educative.
In accordance with the Maltese National Curriculum, the Malta National Aquarium arranges the marine species suitable for high-level educational programs.
To complement the students' visit, they also deliver curricula-related activities to enrich the student's knowledge.
They have a variety of regular public talks that help promote understanding of key issues such as littering, species loss. Eventually, this modern paradigm of immersive education can help alter the conventional way of learning.
Malta Aquarium Location and Routes:
Triq it-Trunciera, San Pawl il-Baħar SPB 1500, Malta
By Bus
Airport to Malta Aquarium : X3
Valletta to Malta Aquarium : 45, 48, 31
Mellieha to Malta Aquarium: 221
Sliema to Malta Aquarium: 212
Rabat to Malta Aquarium: 186
Malta National Aquarium Ticket Price :
Adult €13.90 = 16.95 USD
Child €7.00 (Ages 4-12, under 4 free) = 8.54 USD
Senior €11.90 (Ages 60+) = 14.51 USD
Malta Aquarium Discounts :
Visitors can achieve 10% discount on tickets, if is bought online.
Tickets for children are offered at a discount price of $7.68, while the ticket price for adults is $15.25 and Seniors 13.05 USD.
Aquarium Malta opening hours :
Monday – Sunday: 10:00 – 18:00 (Last Entry 17:30)
What to expect at the aquarium?
This amazing aquarium is divided into 5 zones and there is 1 latest addition of reptiles and amphibian area. Let's unearth these zones and see what the visitors shall experience there.
Zone 1
Zone 1 has Mediterranean species, European sea bass, mullet, grouper, scorpionfish, amberjacks and many more.
Moreover, there is a special attraction that hides under the sand. It is a member of a family that is closely related to the family of sharks and is commonly known as undulate rays.
Another attribute of this zone is the submarine hosts sea anemone, parrotfish, octopus and many more.
Zone 2
This zone comprises more of the local fish of Malta, such as sea bream, cerna, mycteroperca and many more. There are also lionfish, pufferfish, slipper lobster.
At the end of this zone, there is also a glance of the Indian ocean with creatures like Emperor angelfish, damsels and more.
Zone 3
This zone has the main tank that houses the marine creatures from Indo-Pacific Ocean, such as batfish, pompano fish, unicorn fangs, bannerfish, leopard and zebra sharks.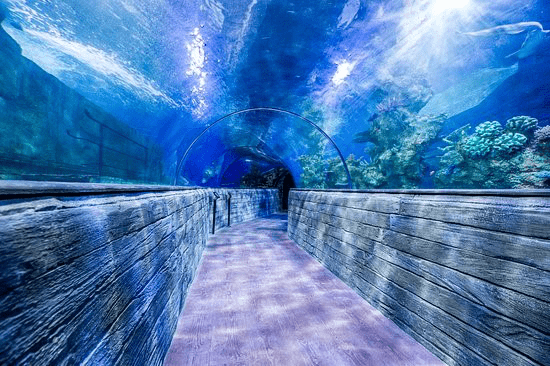 Zone 4
This zone has cleaner shrimps, clown fish, damselfish and it also has replicas of Ancient Roman remains.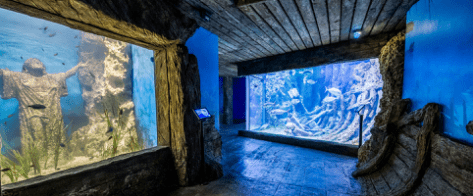 A dupe was also made of the shipwreck of Saint Paull which was found in 2005. There are plenty of Mediterranean fish such as the blue runner, armoray eel and amberjack in this zone.
Zone 5
This zone represents the wonders of Gozo and Camino. This zone has fresh water tanks which have in display pacu, catfish, peacock bass, Oscars etc.
More about the marine creatures of Malta National Aquarium-
Facts about some of the marine creatures found in the Malta National Aquarium-
European sea bass-
European sea bass belongs to the family of Morinidae. It is found on the coasts of the western side of Europe and the northern side of Africa. It is also commonly known as branzino. (it's an Italian name)
Mullet-
The mullets belong to the family of Mugilidae and found worldwide. They commonly found in the tropical and coastal temperate waters and some also found in freshwater. Mullets considered a significant source of food in Mediterranean Europe. The family has in total 78 species in 20 genera.
Groupers-
Groupers are from the family Serranid who are They consist of a stout body and a big mouth. They are unable to swim fast or long distances. Also, they eat crustaceans, fish, and octopuses.
Scorpionfish-
Scorpionfish is from the family Cottidae that consists of the world's most venomous species. They have mucus that is venomous in their sharp spines. They mostly found in the Indo-pacific.
Parrotfish-
Parrotfish belongs to the Scaridae family. This family is a big one of almost 95 species. This family is considered to be important for its bioerosion capabilities.
Sea anemone–
Sea anemone is from the order Actiniaria. They are marine and predatory in nature. Most of the colorful and hence named after a flowering plant, anemone. They do not have the medusa stage in the life cycle.

Mycteroperca-
Mycteroperca is from the Serranidae family. They can be found in The Pacific Ocean and the Atlantic Ocean. Their bodies are oblong and the body is smaller than the head.
Lionfish-
Lionfish is the commonly known name of Pterois. They are mostly native to Indo-Pacific. This is a popular fish in most aquariums.
Puffer fish–
Pufferfish belongs to the Tetraodontidae family. They are morphologically alike to the porcupine fish. They mostly prey on mollusks and crustaceans. Most members of this species are toxic and some are also on the list of most venomous vertebrates.
Amberjack–
Amberjack comes from the Carangidae family. They mostly found in the parts of the ocean that warmer.
Zebra shark-
The zebra shark comes from the family Stegostomatidae and Zebra Shark is the sole member of this family. Indeed, they feed on mollusks, bony fishes, crustaceans, sea snakes, and crevices. They remain solitary for most of the time in a year but they also form aggregations seasonally.
Blue Runner-
The blue runner is moderately large and belongs to the family called Carangidae. The blue runner mostly has its abode in the Atlantic Ocean. This species can reach to a maximum of 5.05kg weight and 70cm length. They are flexible to inhabit in both offshore and inshore areas.
Damselfish-
Damselfish are from the Pomacentridae family. They are mostly small in size.
Pacu-
It belongs to the family Serrasalmidae. Pacu is often mistaken to be piranha. But they are not the same. Pacu is a species that is only closely related to the piranha. Pacu can be found in subtropical and tropical South America. Most of these species are very migratory in nature.
Peacock bass-
Peacock Bass is a member of the Cichlidae family. They also go by the name pavon. These considered vital food fish and also called game fish. They are highly predatory in nature and have high chances of ruining the ecosystem.
Octopus-
The octopus is a very popular marine creature. It is bilaterally symmetric. Though, it can change its shape, which enables it to pass through small gaps. They use eight appendages to swim. Respiration and locomotion did through the siphon. They have a nervous system that is complex in nature and they are not only diversified but also responsive. They grow and mature very early. Also, they don't live long. They are venomous in nature but only the octopuses that are blue ringed acknowledged as deadly to human beings.
Oscars-
Oscars are from the family Cichlid. They have a variety of names including velvet cichlid, marble cichlid, and tiger oscar. They are termed as food fish.
Where to eat?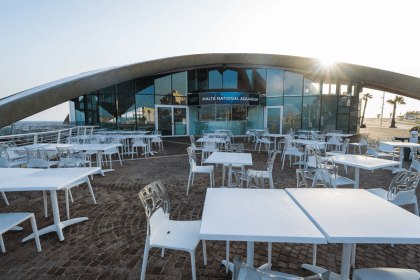 The aquarium has its own bistro called La Nave bistro. This bistro has the fascinating panoramic views of the Comino and Gozo islands. La Nave Bistro offers a huge variety of Mediterranean cuisine. Aquarium Malta restaurant menu are Grills, salads, pasta and pizza. With its amazing location and food, the dining experience becomes more fulfilling.
More facilities include-
Multi-story parking
Beach club
Merchandise outlet
Tourist information kiosk
Children's play area
All in all, this aquarium is a spot that should not be missed in Malta. This spot is now one of the most liked and visited tourist attractions of Malta. Most of the aquariums worldwide dedicated to the display of marine creatures only and pay little focus to the other aspects. This aquarium alongside beautifully displaying the marine creatures has policies for conversation of these creatures. They also have facilities for those who want to learn and do research on marine life. Moreover, it is also playing a vital role in conserving and conveying Maltese history and treasures. It also offers great views of the Comino and Gozo islands. So, while in Malta, don't forget to visit Malta National Aquarium.