Sun-kissed sandy beaches of Montenegro in the Adriatic Sea draw millions of visitors like a magnet. Enjoy an open-air concert at Jaz beach and yacht in Porto Montenegro. The beauty of the Gulf of Kotor and Sveti Stefan is eye-catching. Adore this enchanting Balkan country and visit within an affordable budget in Europe.
Out of many charismatic coastlines in the world, the Montenegro beaches is a stunning shoreline region. It's a must-visit region for holidaymakers looking to enjoy a seaside swashbuckling expedition. Atop deep blue waters of the Adriatic Sea, the beaches here are incredibly vivid and theatrical.
Montenegro hoists some of the world's most exotic beach spots in the world. The Adriatic seashores are full of adventurous terrains every vacationer dreams for. Here you'll witness mesmerizing aquamarine waterfronts, pine forested hills, hanging cliffs and deluxe Montenegro beach resorts.
Montenegro's medley of tourism spots are countless, but its awe-inspiring seashores are something on another level. Today, we'll check out the top 12 Montenegro beaches for couples, friends, and fami
Budva, Montenegro :
The old town of Budva houses in much inspiration for tourists that you can justly call as a sightseer's heaven. Here you can enjoy a wide array of tourist spots ranging from old towns, quaint shorelines, depending upon your taste.
It has quite a few budget-friendly beaches for holidaymakers making it to the Montenegro on a year's of saving. Besides, it's a perfect place for the whole family looking to spend a whole week full of enjoyable and exploratory vacationing.
 The best Budva beaches include Royal Beach, Mogren Beach, Slovenska Beach, Jaz Beach, and Calypso Beach, among others. Key things to remember that'll gust away your sleep; you're going in for a laid-back secluded sandy beach nap, strolling the medieval walled town, paragliding, kayaking, bonfire camping, and a relishing feisty nightlife.
Ada Bojana :
This sandy beach is the biggest coast of Montenegro that runs a roughly 3 kilometers or 2 miles across the seashore. The land surrounded by the Ada Bojana beach is the result of the River Delta and Bojana Tributary.
It's a popular kitesurfing and windsurfing spot where you can enjoy wafting offshore waves, rocky terrain protruding out of the waters, sandy walkways, lodging huts, and nearby resorts. It is located on an islet in the Ulcini Municipality and isolated from the fullblooded bustling life.
Here, the FKK Ada Bojana is a nudist settlement encompassing the triangular paradise island. The bordering Naturist Island Ada is a special accommodation for nudist tourists traveling from around the world. There are about 83 guest houses adjacent to the Adriatic Sea where you can rent a room for a full one day or two. Here you are served with delightful staff and appetizing seafood. Overall, it's one of the serene beaches of Montenegro and is a must visit if you wish for a soporific remoteness from the rest of the world.
Crvena Glavica Beach :
The splendid seashore you won't ignore, especially when it comes to luxurious accommodations, exotic eating, and a well-spent honeymoon in the beach-throne Balkan state.
Crvena Glavica is Montenegro's dreamland getaway for lovers and couples looking to enjoy private time away from their busy lives. Here you'll find plenty of elegant hotels, classic seafood, nearby town restaurants, and sufficient tourist attraction spots.
 The Crvena Glavica beach incorporates secluded sandy beach areas, peaceful pebblestone seashores, rocky atolls to climb on, bridged isle full of villas and guesthouses.
Mogren Beach :
Probably one of the most popular amongst all the Montenegro coastlines among seashore wanderers. In case you're trying to predict its wayfaring worth if you should add this to your visit list or not.
We'll tell you "say no more!" This beach is one of Budva's best coastal margins perched with small islets, docile aqua blue waters, nearby chalets, budget-friendly hotels, and a number of other seaside spots.
The best pocket-friendly accommodations include the Avala Resort & Villas, Hotel Villa Gracia, Apartments Teona, and Villa Merci Budva, among others. You can also go for an offshore stroll if you like to see the historic Statua Ballerina, ramble around Budva city walls, eat at cafes, and visit antediluvian buildings.
Sveti Stefan :
Exclusively for those looking for a restful beachside experience. The Sveti Stefan is a small sandy beach settled with on-rent lounges and chairs roofed with umbrellas.
This beach is for those looking for a laid-back yellow sunny and clear blue waters experience. Two of its main attractions include an islet resort beach and a 15th century fortress.
Other spots you need to see if you visit this beach includes the Kotor Port (don't forget to go on-board if you want to enjoy ferry cruise), Kampana Tower, Kotor Fortress, popular restaurants, and a few paragliding spots. The best part is its reasonable accommodations at nearby hotels and guesthouses. In short, an ideal beach lover's spot for those traveling on a budget.
Jaz Beach :
Jaz Beach comes in the Budva Municipality and is one of the most renowned seashores of Montenegro owing to its spurring music festivals some years back. Speaking of its natural scenic beauty, this is a sandy beach with nearby shrubberies, a queue of eatery terraces, restaurants with exotic local, continental, and seafood cuisine.
Also, you can rent autocamps and beach lounges at discounted rates as compared to other beaches at the Budva district in Montenegro. Jaz Beach's concert highlights includes the July 9, 2007 Rolling Stones music concert followed by a 3-day Live Fest in August 2008 performed by Lenny Kravitz, Armand Van Helden, DJ Set Retro Groove '70, Dino Merlin, and Goran Bregovic.
 Also, Madonna among other celebrities staged their musical mosaics. These live concert performances gave Jaz Beach its esteem worth among seaside travelers. All in all, Jaz is quite a spot for budget travelers looking to go the extra mile to their seashore excursions.
Tivat Bay Beaches :
If you're considering staying near the Kotor Port and planning your outings from this exact spot. Then starting from Tivat Bay is an excellent idea.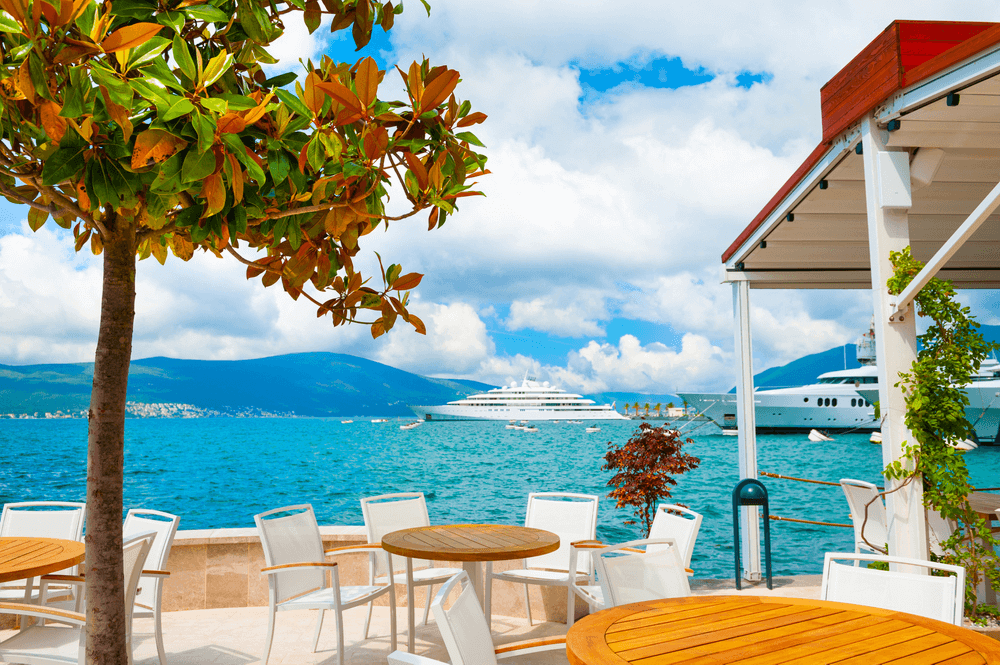 It's like you're living in the capital of the country named Beach. Furthermore, the airport is near as well the mount Vrmac in case you're in a mood to hike Montenegro's foliage topography.
Don't forget to take a stroll on the coastal promenade along the port having plentiful bistros served with good coffee and tender cakes. Nearby beaches include Opatovo, Belane Beach, Donia Lastva, Bonici, and Zupa, to mention a few.
Buljarica Beach :
A detached serene seaside heaven not yet browbeaten by swarms of locals and tourists to date.
Indeed, It's a beautiful long stretch of sandy seashore carpeted with small stones, pebbles, and seashells. It's a must-visit coast if you love open waters, cliffy edges, and backdrop hills cradled with trees and meadows.
Buljarica Beach is an ideal spot for families and holidaymakers looking for mindful peace away from busy routines. Though, Here you'll easily find inexpensive lodgings and restaurants serving the best food at affordable prices.
Ksamil Beach, Albania :
If you have enough money in your bank account for a 3-days venture adrift away from Montenegro, then Albania Beaches is a win-win to experience South Asia's Maldives in Europe.
The Ksamil beach is an aquamarine pool oceanfront with nearby islets, reefs, and a peaceful atmosphere.
Moreover, The Balkan Peninsula's state is a perfect getaway for couples and newlyweds to afresh their passionate spirits. Other popular Albanian beaches include Sarande, Gijpe, Drymades, Dhermi, Borsh, and Durresi Beach, to name a few.
Kamenovo Beach :
This is one of the most beautiful blue waters and pristine beaches. Its surrounded by evergreen nature in the Budva Municipality in Montenegro.
It's ideal for families with kids owing to its soft sand shores speckled with pebble stones. The scenic beauty of this beach increases with an enclosed bay surrounded by mountains in its backdrop.
The water here is crystal clear and is ideal for swimming and snorkeling in its shallow waterfronts. Moreover, You can even enjoy cruising a jet-ski at the Kamenovo beach which you don't see much at other beaches in Montenegro. One more thing that'll keep you well aware of your beach expeditions is the Montenegro beaches map.
Mala Plaza Ulcinj Beach :
The prime city beach could accommodate around 2500 vacationers. The Mala Plaza is a small area of sandy shoreline stretched with shallow waters, Even then, making it a perfect swimming spot for small children.
It's one of the cheapest beaches in Montenegro. Although, You can visit an old town atop having great picturesque buildings and sufficient restaurants serving delicious food.
 One thing to keep in mind that it doesn't have hotels, shops, and cafes in close proximity. Thus, it's an ideal grounds for nomadic sojourns and a roving move-on after a few hours or so.
Plavi Horizonti Beach :
More popular than the Luchica's crystal blue waters' Lucice Beach near the town of Petrovac.
It is located on the Lustica peninsula and is a blue flag beach popular for families with kids. This family beach in Montenegro is a long stretch of sandy shorelines, small bays, and nearby pine forests.
In fact, It is the best spot for snorkeling, catching fish, sunbathing, and swimming. Disappointedly, this beautiful beach has fallen prey to the ongoing Covid-19 pandemic. Also, the local maritime authority seems to disregard this spectacular coastline amongst others.
At first, The beautiful Balkan country is a spectacular sightseeing vacationer spot every nomad dreams of. Montenegro shares the Adriatic coastline with Croatia. And wins it over for having the best variety of some of the world's most picturesque beaches. It's an all-in itinerary for those looking for an all-inclusive touristy experience on a budget with some amazing places to visit. This piece of land has some of the best coastal regions in the world. And is a much-admired seaside lovers' haven owing to its beautiful European beaches.