Phuket is a popular island of Thailand for picturesque views and warm weather all year round. Hollywood star Leonardo DiCaprio took part in shooting at Maya Bay for the movie 'The Beach'. After that, Phuket island quickly became famous to the outside world. Youngsters go crazy to join 'Phuket Full Moon Party' and live music concerts at night to a few beaches. So why miss this wonderful lively paradise?
Phuket, the largest island of Thailand, has been blessed with incredible beaches in the Andaman sea. Phuket is known for its wonderful beaches, lively towns, traditional Thai cuisine, and plenty of entertainment options. While a few beaches are crowded with tourists, there are many tranquil ones, as well as secret ones too. Enthusiastic tourists can start an adventure to seek out these secret Phuket gems hidden across the islands. The series of picturesque winding coastal routes bordering the west shore of Phuket island present the best beaches in Phuket which are the most amazing beaches in the world also.
It's challenging to determine the best beaches in Phuket among so many options. Here we arrange the beautiful places to visit in Phuket according to the charming scene and beach activities, they offer to the tourists.
Best places to stay in Phuket to Party :
1.Paradise Beach :
Phuket Paradise Beach is a stunning beach around 5 km southwest of Patong. In this pristine beach, Crystal clear water embraces the white silky sandy beach flanked by granite rocks.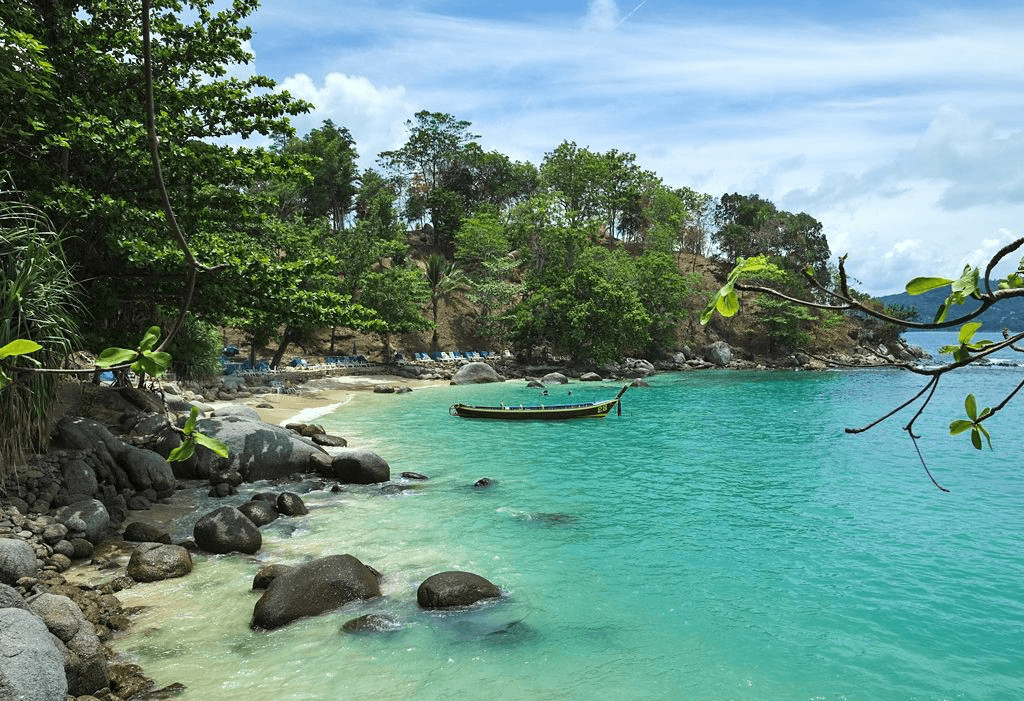 Tropical palm and almond trees remain beside the beach to provide a blissful natural shade. Paradise Beach Club offers eateries, shops, snorkeling, and scuba diving stuff for enjoying this beach. They additionally have a seashore volleyball court and comfortable sun loungers. Tourists have to pay a little expense around 200 baht to enter paradise beach club.
This fee also covers the facilities a free shuttle to Patong, access showers, toilets, and parking. Numerous tourists like singles are excited to join the full moon party at night. So, Paradise beach is the best beach in Phuket to enjoy parties.
Activities: Youngsters get crazy to join the 'Phuket Full Moon Party' at night in paradise beach. This event covers a fire and laser show, live music with dance, and a delicious barbecue. This party occurs in an isolated part of the beach so that the loud music does not affect the rest of the peaceful tourists. A shuttle bus comes from Patong beach every 30 minutes, so tourists from Patong beach may also join Phuket nightlife.
2.Patong Beach :
Patong is a coastal town on the west bank of Phuket Island, confronting the Andaman Sea. This 2.8 KM long beach is very popular among the entertainment and fun-loving youngsters.
For people who like crowds, adventure, and parties, it is the perfect beach. Bangla Road in Patong comes into life after the sunset when the streets become bright with Neon lights, noisy with loud music, and vibrant with the voice of young guys. Some tourists visit here to have an experience of the Patong party atmosphere.
Not all part of Patong is crowded, rather It is quieter on the northern side of Patong and there are still good facilities for a nice stay. Patong has incredible culinary alternatives going from inexpensive food to beachfront feasting to food courts. It offers a greater number of enjoyment than some other seashore and has an unmatched nightlife scene.
Activities: Patong beach Phuket is also well known for its traditional water sports, Parasailing, jet ski tour Phuket, riding banana boats, and lively nightlife. Patong beach offers diverse sea beach activities like surfing and parasailing.
Best Phuket beaches for Honeymoon :
3.Freedom Beach :
Freedom Beach in Phuket is a 300-meter-long strip of white sand that is popular for its breathtaking beauty and serene nature.
This is one of the best beaches that look so stunning for crystal clear water, silky smooth sand, and a backdrop of green palm trees. It is a relaxing vibe for warm weather and a tranquil environment. Newlywed couples select this beach as a Honeymoon destination to spend time in an isolated place and Phuket honeymoon resorts.
Couples enjoy this beach and picturesque view in a relaxing mood sitting on the loungers. Freedom is one of the beaches near Patong, which is an isolated beach and calm in nature, although it is close to crowded Patong beach. Tourists reach Freedom beach by long-tail boat from the south end of Patong beach and gain a unique experience of sea life.
Activity:  Tourists who come from a cold country in December, enjoy swimming in the incredibly warm water of freedom beach. It is a great experience to snorkel near this beach to explore Phuket's marine life. This is a pleasant experience to play Beach soccer and Beach volleyball with friends on this lovely beach.
4.Nai Yang Beach :
This secluded beach is located within the Sirinath National Park border. The northern part is liked by the locals, as this beach does not get a touch of the commercialization. This is one of the most scenic places in Phuket, which has a lot to offer.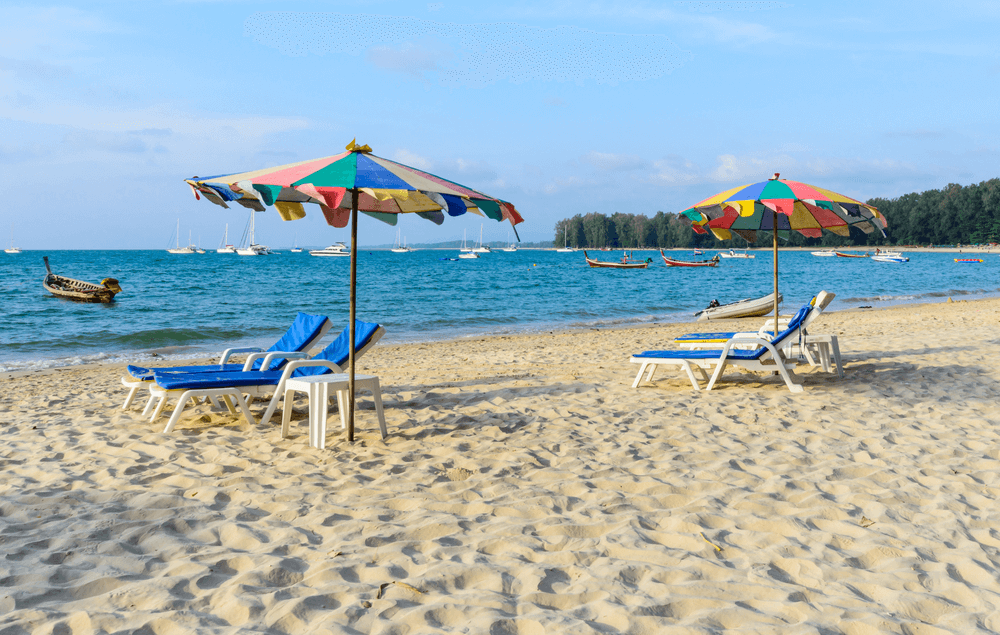 Romantic couples relax and enjoy the sea on a remote side of the beach. Some tourists prefer to set camp near the trees here. There is an opportunity to rent tents from the National park headquarters.
Visitors enjoy swimming in the shallow warm water on Nai Yang sea beach. Phuket Marriott Resort and Spa is a grand hotel, which arranges colorful weddings on Nai Yang beachfront. It is a lovely paradise, where a small Casuarina groove is in the southern part and a dense rain forest in the north.
Activity: Aqua One Watersports Phuket arranges diving trips as well as rents the accessories. Kiteboarding or kitesurfing is a type of wakeboarding where tourists are dragged by a huge kite rather than a boat. Kiteboarding Asia is the main organization for kiteboarding exercises and rents the equipment.
Best beaches in Phuket for Family:
5.Surin Beach :
Surin is a wonderful sea beach in Phuket with scenic beauty and translucent water. Surin has a 1km pleasant seashore which is situated in a bay in the central part of the western shoreline of Phuket Island.
Along the sea shoreline, green tropical vegetation remains as a background. In the Northern part of Surin, a monstrous stone has raised beside the beach that isolates Surin from Pansy Bay. Surin beach is the best beach in Phuket for families for appealing sightseeing as well as a tranquil atmosphere.
It is a clean unspoiled beach with soft sand. It is one of the best beaches of Phuket that has some high-class Phuket beach resorts and hotels in Surin beach to welcome the elite class and wealthy people. Visitors with their families spend their vacation in such a wonderful paradise.
Activity:  Surin's water is favorable for kayaking or snorkeling. Surfing and boogie boarding are a portion of the other preferred activities. In the off-season, tourists have to be careful, when water is rough. Tourists can enjoy parasailing or jet ski tour Phuket on a sunny day.
6.Kata Beach :
Kata is an amazing sea beach located on the west coast of Phuket with a 1.5 km long beachfront. This is less crowded than Patong beach and is a dream place for families, as it has many things to offer.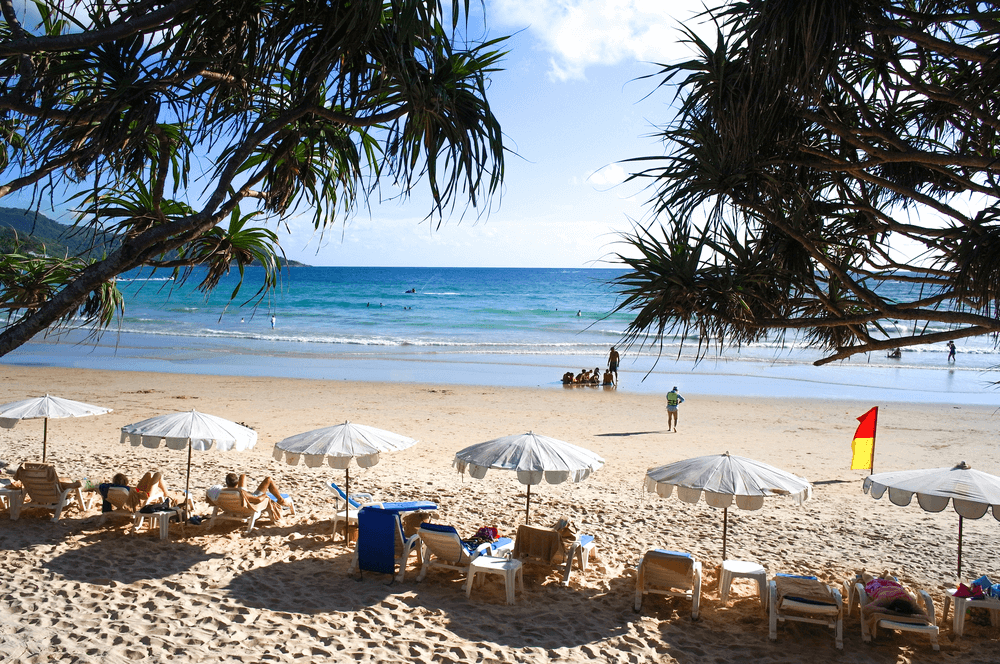 Kata covers three areas, like the center, Kata south, and Kata viewpoint. It is a vintage place with lively nightlife and cool restaurants & bars. Kata South includes some standard hotels. And Kata viewpoint boasts Dino park with a dinosaur theme and a volcano, surf house, and Kata temple in Kata beach Phuket.
There are two Kata seashores: Kata Noi toward the north which looks smaller and less crowded and Kata Yai toward the south, where the vast majority of the activity may be seen. Tourists visit this lovely beach all year round. But November to April is the peak season to visit this sunny warm beach and from May to October, some young people come to surf in this off-season.
Activity:  A surf competition is held once a year from May to October when the sea is strong with waves. Visitors enjoy the Surfer's performance in the sea.  Sea is calm in Summer and warm water is favorable for swimming and snorkeling in Kata beach.
Best area to stay in Phuket for Couples :
7.Nai Harn Beach :
Nai Harn is one of the best beaches in Phuket which is a breathtaking vista surrounded by hills on both sides.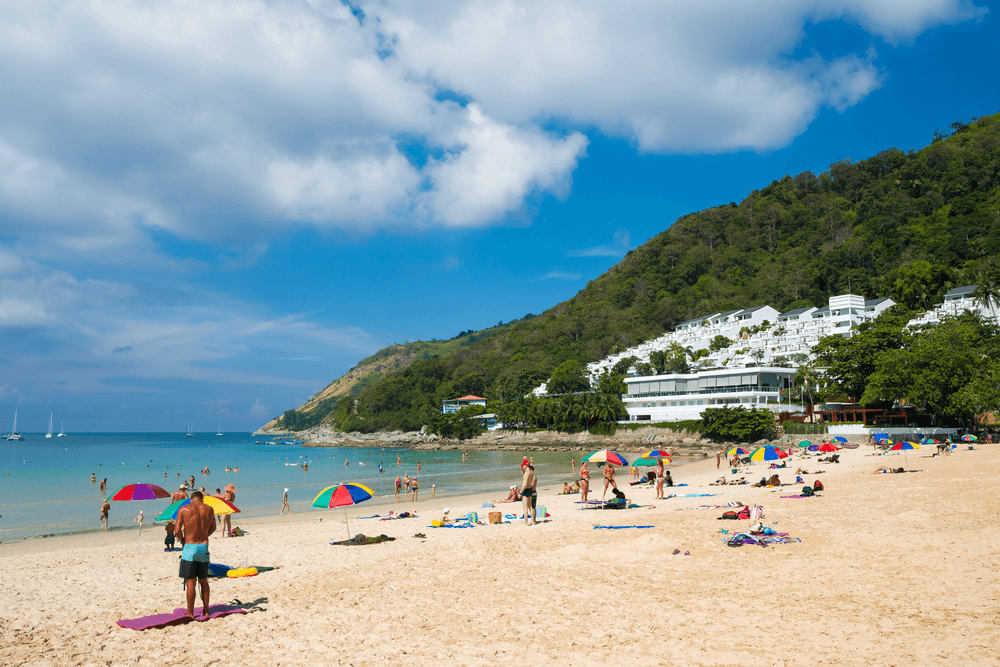 This sun-drenched shore renders energy to beach lovers. The tranquility of this beach attracts families for a relaxed stay. The seashore is a protected coast were cruising and fishing boats anchor in steady water.
Swimming is enjoyable for vacationers, as seawater becomes hot during day time. Nai Harn has preserved natural surroundings, which are not commercialized yet. There are nice restaurants that serve an excellent selection of Thai dishes and seafood at a reasonable price.
Activity: On the eastern side of Nai Harn, there is a shallow pool near 50 meters separate from the actual sea. Water depth is up to the knee and this pool is perfect for children to swim. Some visitors looking to relax and take message under the shade of palm trees on this beach.
8.Kamala Beach :
Kamala beach, situated on the west coast of Phuket, is a remote beach with smooth sand and crystal clear water.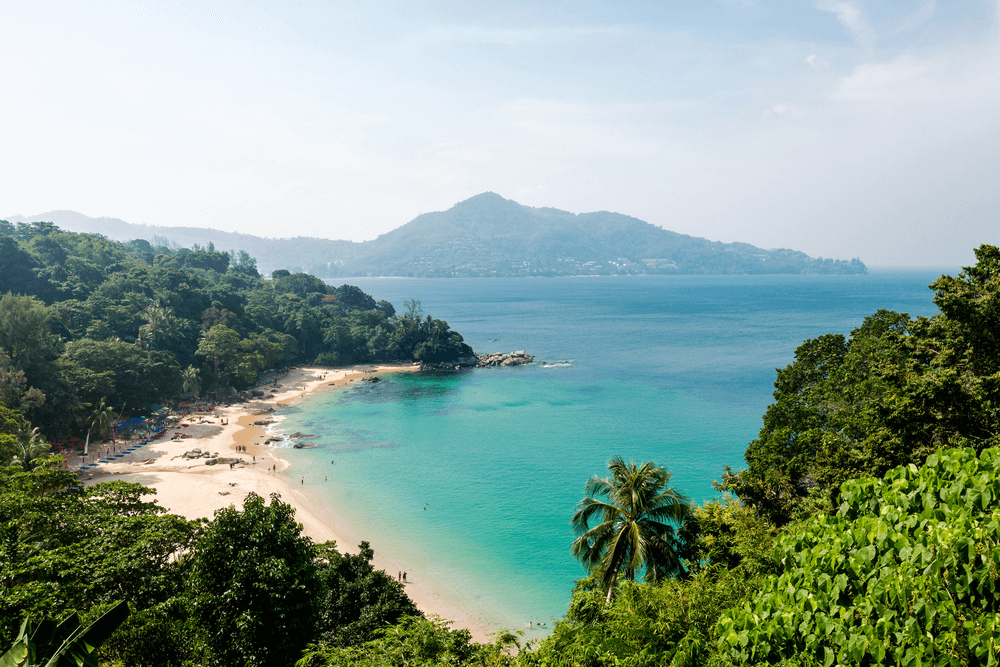 Adjacent to a fishing village, this beach conserves authenticity in nature, which captivates nature lovers. Kamala beach keeps up 2 km long beach, which is an awesome promenade for the tourists to enjoy the scenic beauty of the surroundings. This beach is known as a secluded beach, as there is less crowd here. Kamala beach is one of the best beaches in Phuket for couples to offer privacy.
Couples can enjoy the tranquil sea beach and pass holiday in a solitary nature. At the north of Kamala beach, there remains a charming coral reef, which is explored by the visitors while snorkeling. Kamala beach also gets tourists for its closeness to the Phuket Fanta Sea theme park. At Kamala's Southern end, there are many budget hotels on the beach road.
Activity: This calm beach offer snorkeling, surfing, visiting the temple, spa treatment, and catching fish of fishermen in the sea. Shopping for traditional things provides travelers a Thai experience.
Best beach in Phuket for Luxury Resort and Hotel:
9.Bang Tao :
Bang Tao is one of the longest sea beaches of Phuket which stretches more than six km with a beautiful sandy shore.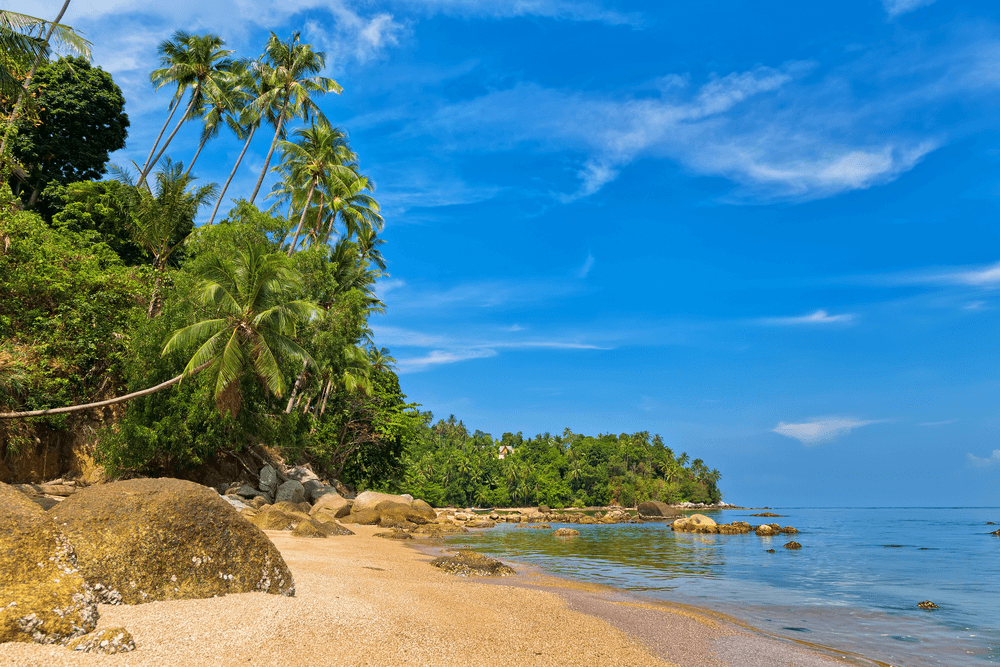 Bang Tao is well known as the family-friendly beach of Phuket. The northern part of Bang Tao is mostly uninhabited and serene, while most of the luxury resorts occupy the Southern end of this beach. Beachfront hotels and beach clubs provide a lively atmosphere near the beachside.
There are many posh world-class resorts like Outrigger Laguna Phuket Beach Resort, Angsana Laguna Phuket, and Laguna Phuket which includes elegant restaurants and remain private beaches with sun loungers. Family-friendly resorts are Baan Armeen Cottage, Pai Tan Villas, and Baan Fran Sim Da, well renowned for good service. Laguna Holiday Club Phuket Resort outfitted with a playground, water sports, and private beach Phuket.
Activity:  In the peak season, this beach offers jet ski tours in Phuket, parasailing, banana boat trip, and horse riding. In the offseason, people enjoy surfing in big waves.
Best beaches in Phuket for watersports and snorkeling :
10.Karon Beach :
Karon a 3 km long marvelous beach situated on the Western coast of Phuket. This beach a piece of heaven embellished with lush green vegetation alongside the beach.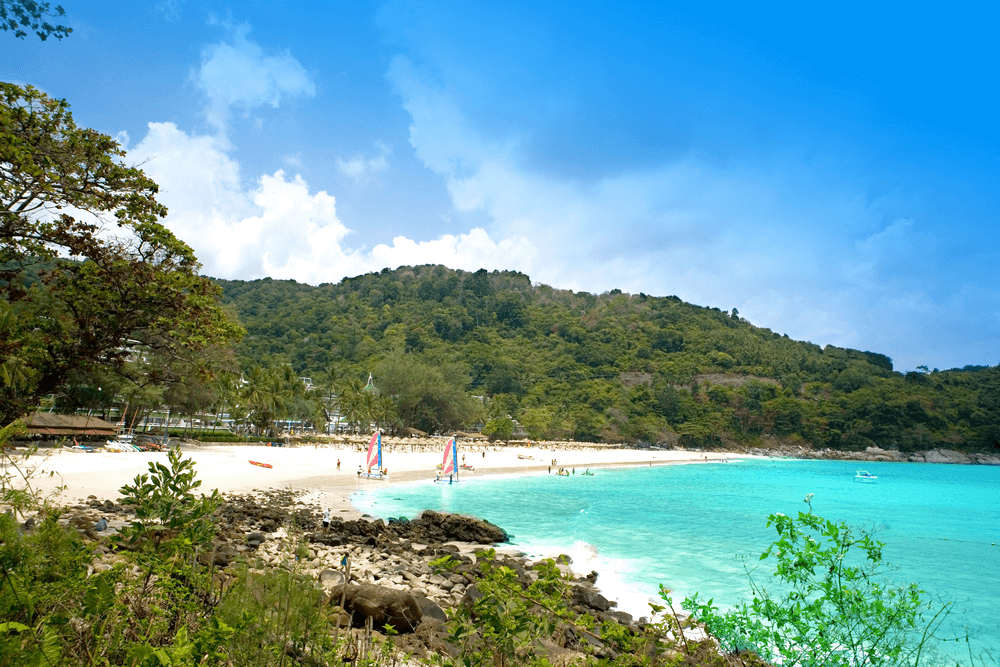 Patong is located on Northside and Kata is on the Southside of this stunning beach. Le Meridien Phuket beach resort is a spectacular grand resort in front of the beach offering luxury to welcome the Elites. Centara Grand Beach Resort Phuket is a pleasant resort suitable for families.
Karon beach's nightlife is not the party type, rather tourists enjoy the beach clubs and Irish bars in Karon Phuket. A quiet lovely atmosphere remains at the north end to stay alone. There are many Thai seafood authentic restaurants on the beach road near Novotel at Karon Southern end. Tourists visit Soi Patak to have a taste near Karon Circle.
Activity: Firstly, Karon is one of the best beaches in Phuket for watersports offering waterskiing and snorkeling. Youngsters can also enjoy motorized water sports like jet skiing and parasailing on Karon beach. This beach is ideal for windsurfing in sunny weather. Snorkeling is favorable by the rocks at the sounder end of Karon. Tourists play volleyball at the beaches mid-point with court and net in the evening in Karon Phuket.
11.Ao Sane beach :
Ao Sane considered a hidden gem in Phuket for its breathtaking beauty as well as serene nature.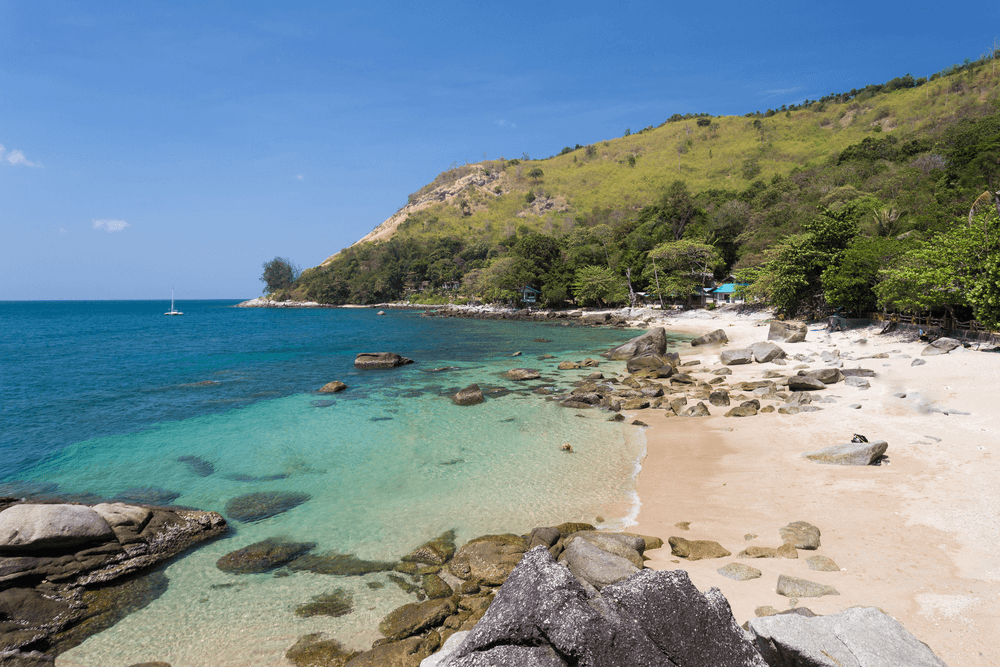 Ao sane is known as a great snorkeling beach. In the beach shore, different size stones are scattered attached with water, which adds a special look to the nature. Ao Sane possesses three sandy bays, where tourists can walk from one another.
This 200 m beach seems like a little piece of heaven to the newcomers. The beach lined with green trees which gives a cool atmosphere. There are opportunities to rent beach chairs with an umbrella and snorkeling gear at the Amin Dive Shop. The beach is able to retain its primitive form of nature and foreign tourists like to view this surreal look of Ao Sane.
Activity:  Ao Sane is one of the best beaches of Phuket that is excellent for snorkeling during the rainy season. Dive to the sea is also favorable on this beach.
Best beach in Phuket for Serenity :
12.Banana beach :
Banana beach well renowned for its tranquility and natural beauty. This pristine sea beach stretched 180m in length. Blue turquoise water embraces the brown silky sand at the back of lush green palm trees in Banana beach.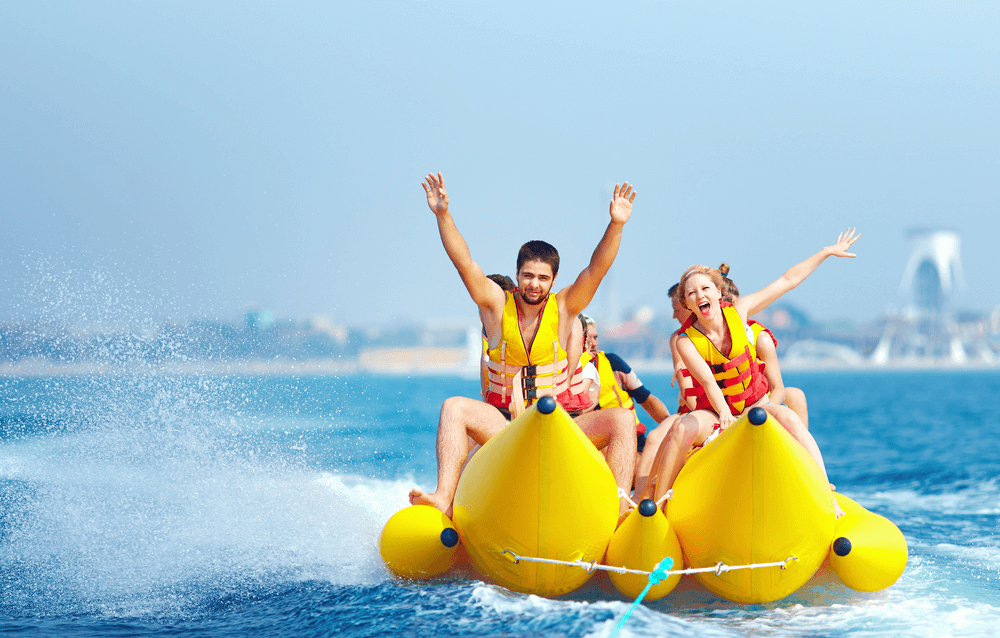 Tourists prefer to stay in a tranquil atmosphere at the northern or southern ends of this beach. Tourists like to have lunch in an open-air under the coconut tree beside the beach to enjoy the flavor of the natural environment.
Visitors come from Rawai beach by long tail boat to roam around Banana beach. Sun loungers and umbrellas are available in front of the beach. Holidaymakers visit the banana beach from November to April is the peak time. Indeed, This charming beach is like a paradise that draws tourists like a magnet.
Activity: Calm water of Bana beach is suitable for nice swimming. Parasailing, Banana boat, snorkeling, and kayaking seen as water sports activities in Banana beach.
Phuket island has many beaches with the captivating view and comfortable accommodation. Tourists can select beaches for a stay according to their choice and budget in Phuket Thailand. There are a lot of things to do in Phuket and beautiful places to visit in Phuket, which draw millions of tourists to the Phuket beach.