Tourists have an interest in the New York cities for travel to enjoy the vacation. Cruise through the Hudson Valley in Albany for a soul-pleasing experience. Cooldown at the beaches in Long Island City. Delve in the evergreen natural beauty of Buffalo and Niagara Falls. And saunter through the diverse neighborhoods of Syracuse and Rochester. New York cities awaits to give you the best traveling experiences.
New York, widely named as 'The Big Apple', is easily a beloved travel destination. NYC is one of the greatest cities, that every traveler would want to tap on it. Start at New York City, which is by far one of the top most vibrant cities in the world, without a doubt. Delving through the contemporary streets of Rochester and Buffalo, and throwing hands up at Niagara Falls, are also equally worthwhile. Immerse yourself into Albany's and Binghamton's rich histories by going museum-hopping. New York cities like Syracuse, Yonkers, Ithaca, and New Rochell are well known for their diversities. To explore the charming New York cities, do plan ahead wisely.
1.New York City :
New York City is where the dreams come true. With over a vast array of reasons that make NYC one of the greatest cities, it's no surprise that every traveler would want to tap on it. From the reading rooms in Brooklyn to the Central Park in Manhattan, every single attraction in NYC is unique. Times Square has an exhilarating taste of New York City at night.
Head to the New York main attraction Liberty Island to greet Lady Liberty in her full glory. Stand atop the Empire State Building, and gaze down at the city's mesmerizing skyline. During the summer in Queens, enjoy water activities on some of the top-rated beaches in New York City. Join us during New Year's Eve, and celebrate a new beginning with a bang.
Exploring Staten Island and its suburbs are also amongst the many top things to do in New York City. No matter which time of the year you pick, NYC will surely give you unforgettable memories. With every city more unique than the other, summing up a list of the best New York Cities for travel is rather tough. However, here are our top 15 extremely remarkable cities that are definitely worth a visit.
2. Albany :
As the capital city of New York, Albany grabs the most attention of tourists. Albany is one of the New York cities for travel, that provides you with easy access to the Hudson Valley, Adirondack Mountains, and Berkshire Mountains.
Another New York main attraction is the Albany Institute of History and Art. If learning about American history is included in your bucket list, this museum will serve you right. You'll get a glimpse of what life was like back in the old days. You'll learn that whoever said Albany is rich in history surely didn't bluff. In addition to history, the city's got infinite beauty. Climb atop the Cornering Tower observation deck on the 42nd floor and dive into the panoramic views of the city.
Continue with your travel before landing at the Empire State Plaza. Grab some food from one of the diners and go on strolls to discover all its unique infrastructures. Similarly, conclude your trip by admiring the glorious architecture of the 'New York State Capitol' located on State Street. It will further give you the impression of standing before an ancient European castle.
3. Buffalo :
Before Niagara Falls, Buffalo is your first stop. Coming down to the second largest in place, Buffalo, amongst the New York cities for travel, has an abundance of places to visit and things to do. However, this compelling city with its unique charms is no less than NYC.
A cultural hotspot, Buffalo is sprinkled with architectural gems, such as the Darwin D. Martin House, and vibrant art galleries. For more history digging, include Silo City and Gilded Age mansions in your itinerary. Moreover, check out Buffalo City Hall which is known to people as one of the largest city halls in America. You can even enjoy a free tour once every week.
Take a pause for some spicy, hot chicken wings at any of the on-street eateries, before continuing towards the Canalside. It's a brilliantly buoyant waterfront that is popular for shopping, concerts, festivals, kayaking, etc. There's a high chance you'll find yourself standing by Lake Erie, and watching fireworks and laser shows at night around Canalside for sure.
4. Niagara Falls :
The iconic Niagara Falls, one of New York main attractions, is the famous city located on the Niagara River, which is part of Niagara County.
It isn't only globally famous for the Falls, but also for its rich culture, in-depth history, pulsating outdoor life, and endless shopping. Hop on to the Niagara Falls State Park and get closer than ever to the opulence of the Falls. Get on the legendary Maid of the Mist and cruise to the heart of the American and Horse Shoe Falls. You'll be left baffled by it all, and will fail to decide which part was your favorite.
If you visit in summer, you can attend outdoor concerts and festivals for which you will come back again. To have a blast in the past, step foot in the Old Fort of Niagara. It will teach you important incidents of American history. Additionally, no trip to this remarkable venue will be complete without a stop at the Cave of the Winds and the World Changed Here Pavilion.
5. Rochester :
Rochester, one of the amazing New York cities for travel, has all the perfect reasons for you to make a visit every season. It not only hosts more than 140 amazing festivals throughout the years but also possesses around 12,000 acres of parks. If you have kids, they'll surely not run out of things to do at Rochester.
Coming at the number one spot amongst the 100+ family-friendly attractions, the National Museum of Play is completely dedicated to the children. Although Board games, dolls, toys, video games, and books are the main attraction here, rather other winners for families are the Seneca Park Zoo, as well as Seabreeze Amusement Park. More importantly, this thriving city homes over 100 wineries, breweries, and distilleries.
The Finger Lakes Wine Country is another must-visit and is known for producing some of the finest wines in the US. The eleven Finger Lakes is longer, confined, and packed with mesmerizing natural beauty. Needless to mention, Highland Park is another competitor when it comes to the scenic beauty. It will satisfy your eyes to the fullest with the evergreen valleys and hills. Apart from all this, do delve into its shopping ecstasies, and vacillating culinary scene at the many fine diners.
6. Syracuse :
Take a step into Syracuse's urban vibrancy and experience its scenic outdoors to the fullest. Explore Downtown Syracuse, one of New York cities for travel and the quaint neighborhoods, with occasional breaks at the street-lined cafes and shops.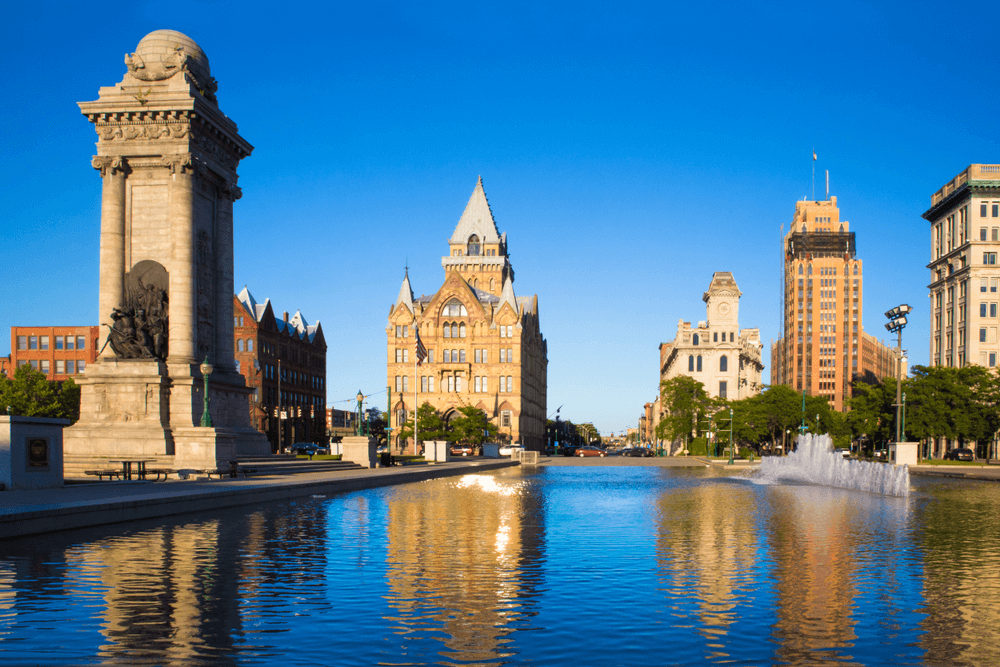 Join at any season and take full swing at all the adventures. Whether it be summer kayaking, an autumn hike, or celebrating the winter waterfalls – there's nothing for you to amiss. Dwell in the expensive arts and culture scene at the historical museums and monuments peppering the grounds of Clinton Square. Move towards the north to visit Little Italy, try the delicious cuisines at any of the restaurants, and sip on some crafty wines. Find serene city parks on the South Side of Syracuse in the same way.
Discover University Hills on the east, which is very prominent in terms of educational institutions, such as Syracuse University. Even though you're a student, this place is the pepperoni to your pizza. It is, for instance, a very central location and you can travel to quite a lot of places from here. It's known to be linked with Finger Lakes' region, and places, such as local wineries and state parks, are even very easily accessible. Hence why students who think of applying to colleges or universities here, get more attracted.
7. Long Island City :
Nestled within the resplendent Queens borough, the Long Island City is loved for its long stretch of white sandy beaches. It is amongst New York cities for travel, where you'll catch sight of numerous locals escaping from the city's buzz.
Bask under the glowing sun at the most popular Long Beach. Breathe into its freshness with a glass of wine. For a more family-friendly beach, head to Jones Beach State Park and beat the waves over surfing. While here, visit the Gantry Plaza State Park where you can stretch out, go for a run, and even play sports. Get the incredible backdrop of the New York City skyline and 59th street Bridge while sipping on a cup of coffee.
If you're craving some creative arts, visit MoMA PS1 or the Sculpture Center. Some of the other few places to keep in mind for visiting are Catalina Express, Naples Island, and the Aquarium of the Pacific. Likewise, Long Island also features 73 wineries and tasting rooms, a few of which are included in the North Fork Wine Trail.
8. Ithaca :
Known to be an enjoyable college town, Ithaca is located amidst the largest of the Finger Lakes – the Cayuga Lake. Spend a fulfilling vacation while indulging yourself in the gorgeous sceneries, shopping sprees, and unlimited entertainment.
Go on an academic tour, and be motivated by the speakers on the grand campuses of Cornell University or of the Ithaca College. When touring through the tranquility, you'll catch sight of the popular town slogan, "Ithaca is gorges", at every corner. Adding to its picturesqueness are the 150 cascading waterfalls framing the valleys and dense forests.
Take on a hike or ride a bicycle along the green trails, to marvel at the falls. The Cayuga Lake itself is open for boating, fishing, and swimming. Wander the streets, and take notice of the reverberating academic ambiance mixed perfectly with bohemian vibes. You can further explore other places like Ithaca Farmers Market, and the History Center in Tompkins County.
9. Binghampton :
Located around the Chenango and Susquehanna Rivers, Binghampton's offerings are no less, especially if you're a science and tech buff.
Its innovative atmosphere is soul-seeping, the greatest example being the 97-mile Chenango Canal that joins Binghamton to Utica. Take a hike along the five-mile Towpath Trail and head over to the Phelps Mansion Museum. Situated nearby Hamilton, this self-guided museum is a 19th-century grandiose.
Binghampton, one of New York's cities for travel, is also home to Ross Park Zoo and Discovery Center where your children can enjoy themselves to their fullest. Gather some time to take your family out on picnics, too, either in Otsiningo Park or Recreation Park Carousel.
10. Saratoga Springs :
This is amongst the amazing New York cities for travel and to brag about. Situated in Saratoga County, it's best known for horse racing. Myths passed down since the Mohawk Indian Tribe tell stories of magical waters which could cure any ill.
It's these 21 mineral spring waters that made Saratoga Springs bloom into beloved tourist destination. Take a dip at any one and feel the radiating colors of youth. If you're in search of a relaxing swim or spa baths, be sure to check out Saratoga Spa State Park. Being a car-lover visit Saratoga Race Course, which is the country's oldest racetrack.
If you travel during August be sure to attend the Travers Stakes, the premier horseracing event. Explore the National Museum of Racing to admire horse paintings and trophies. Last but not least, visit the Saratoga Performing Arts Centre to watch your favorite bands performing live. Saratoga Springs will leave you wanting for more.
11. New Rochelle :
New Rochelle is situated in Westchester County and its people are the very example of diversity. If you want to witness a rich multicultural community, then this is definitely your cup of tea.
Some might even say that you will fit right in. The city's location is very adjacent to a good number of beaches and also New York City. You can spend your summertime sunbathing around Hudson Park and Beach, or the Glen Island beach. Pamper yourself with a handful of souvenirs from one of the many stalls lining the coastlines.
Rent a car to drive past the city borders and into the smaller towns and neighborhoods dotting the lands. Spend an afternoon at a county fair and reminisce on your childhood memories over cotton candies and ice-creams. Moreover, if you're looking for more historical locations to observe, add 'Thomas Paine Cottage' to your itinerary.
12. Yonkers :
Yonkers, being just an hour's drive away from Manhattan, is a renowned suburban city in the state. It's an interesting blend of the fancy city life combined with the greeneries of a small town. Places, like the Untermyer Gardens and Tibbetts Brooke Park, will take your breath away with their natural beauty.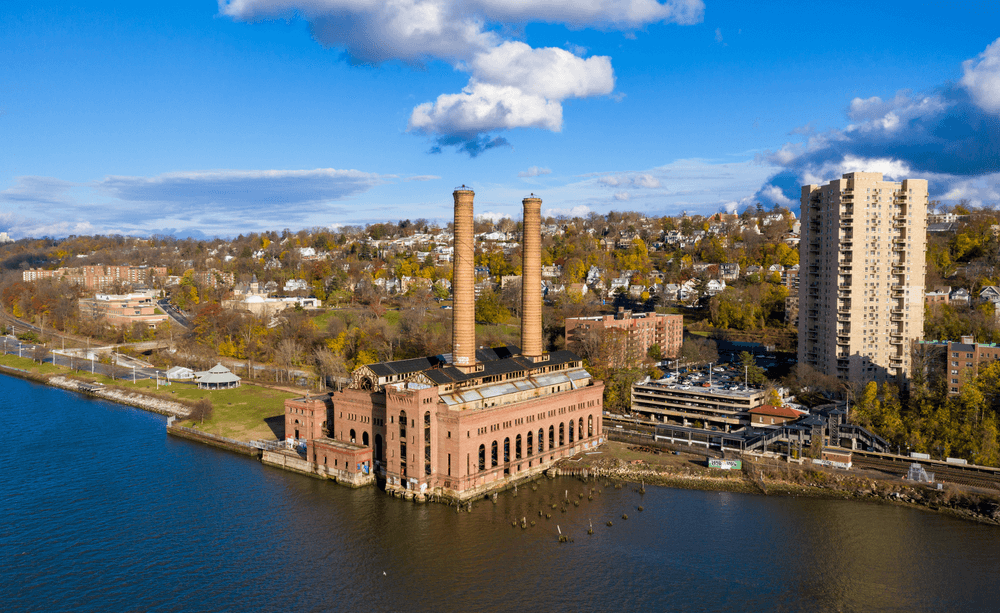 Not only will it be worth the trip for you, but also for your children. That's because you can take them to Legoland and make their day magical. To witness a complete horde of top-notch galleries and collections, visit the Hudson River Museum.
Awaken your senses amidst the flora and fauna of the Untermyer Gardens. If you arrive here in October, attend the YoFi Film Festival where impressive genres are screened by the local talents. For entirely unique shopping spree, land at Ridge Hills and you'll feel like walking on a dashing filming set.
13. Utica :
Found at the east of Syracuse in the Mohawk Valley, Utica can blow your mind if you look at the homes and their prices. The city being small and family-oriented, you'll be surrounded by restaurants, parks, and other activities.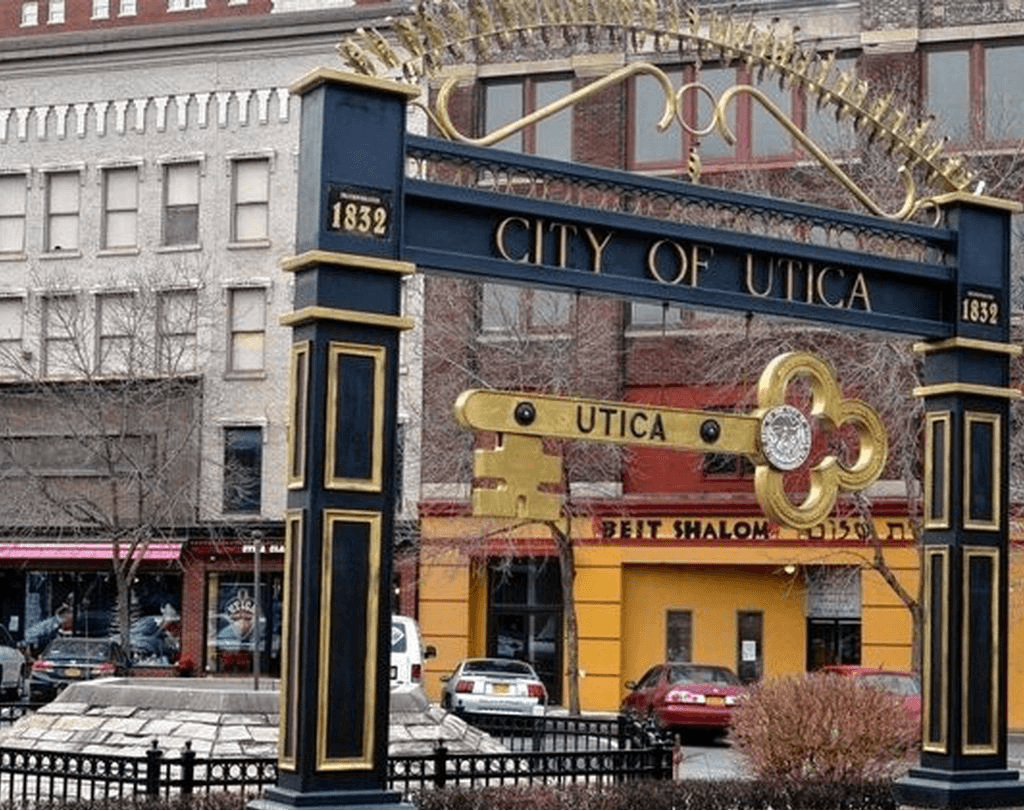 Stop by Munson-Williams-Proctor Arts Museum to take admire some of the fine arts on display. Also, spend quality time with family and children at the Utica Zoo, which shelters over 200 various species. Afterward, you can also take your family to the F.X. Matt Brewing Company, and have a taste of its famed Saranac line of beers. Do add St. Joseph and St. Patrick Church, and the Union Station to your traveling list to explore more of this fantastic city.
14. Mount Vernon :
Situated in the center of the exquisite Skagit Valley, Mount Vernon is important amongst New York cities for travel. It's indeed most familiar to people around the world for its Tulip Blooms and the absolutely delicious Pacific Northwest wineries.
Bless your eyes by visiting the annual Tulip Festival of Skagit Valley, which is the most famous thing to do in Mount Vernon. If you want to see gardens that you have never seen before, make sure you visit Tulip Town. Moreover, you can pause at the Saint Paul's Church National Historic Site to admire the quaint charms of the surrounding.
For a fine dining experience, head over to the most famous eatery of Mount Vernon – Flaming Grill and Modern Buffet. This enormous, humble restaurant serves an all-you-can-eat buffet. It features 350 mouthwatering dishes, including Chinese, Italian, Japanese, American, and sometimes Mexican, too. If nothing else, then surely, it's the food that will bring you back to Mount Vernon.
15. Schenectady :
Make your weekend worthwhile by visiting this city, which is located amidst the Capital Region. Grab a bite at Morrette in Erie Boulevard, which is the closest thing to being a landmark eatery in New York. The renovation of Proctor's Theatre is another top attraction in the city.
You must go watch a show or two with your friends or family while you stay in the city. Otherwise, your trip here will be incomplete. If you are in dire need to have a relaxing afternoon, while away time at The Central Park Rose Garden. Amidst the blossoming roses, refresh your soul by inhaling the sweet-scented air. Moreover, If you're visiting during the winter, definitely go skiing on the smooth snowy slopes at the Maple Ski Ridge. To experience more of the outdoors, the Mohawk-Hudson Bike-Hike Trail is even a scenic trail for you to go bike riding on.
Only pictures cannot describe how divine New York's beauty is. New York cities for travel have unlimited offerings for an enthusiast traveler. Visiting all the vibrant and multicultural places will leave you baffled. So what's stopping you from bo