Filled with ancient folklore and idyllic islands, there is a lot of things to do in Greece that will make your vacation as tempting as possible. The land of Greece is a series of alluring archaeology, philosophy, and art that is not to be missed at all! Be it man-made canals, luxurious staying at Santorini, celestial lakes and islands, or the divine monasteries, Greece offers you a lot to explore.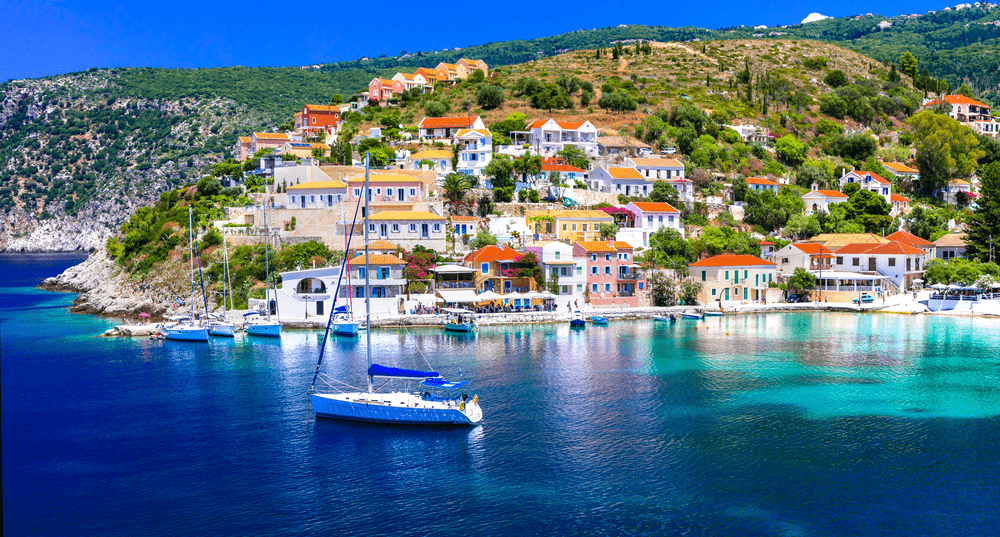 1. Santorini :
Once you set foot in Santorini, you will get amazed at myriads of exciting things to do in Greece. Also, It is the most famous island in Greece that will make you encounter serene natural beauty and soothing sea views. Created from a huge volcanic eruption, Santorini offers you enthralling sunsets with multi shades of red and orange.
If you are assuming where to stay in Santorini then put respite to your thoughts. Santorini offers the best accommodation in Greece. To experience a memorable luxurious stay in Santorini, you may choose Katoikies, Canaves Oia Luxury, or Celestia Grand. If you don't wish to fall under a lavish spectrum, then you may hit for Casa Florin, Aqua Blue, or Dream Island. Accommodations during off-seasons like spring and autumn are considerably cheaper than in summer.
The Island beholds its very own romantic atmosphere, making it one of the over favorite places to couples. For a picture-perfect honeymoon in Greece, Santorini is the best of all destinations indeed.
Inspiring romance at every turn, this island offers you gorgeous sunsets, peaceful whitewashed villages, and a stunning view of the Aegean Sea. The facilities of Hiking and Sailing are also available on this volcanic island.    
2. Archeological sites, Greece :
For spending a perfect vacation, no way can you miss the fascinating ancient places in the capital city of Greece, Athens. Some of the truly archeological sites are the Aeropolis, the Agora of Athens, the Temple of Olympian Zeus, the Roman Forum, and the Theatre of Dionysus.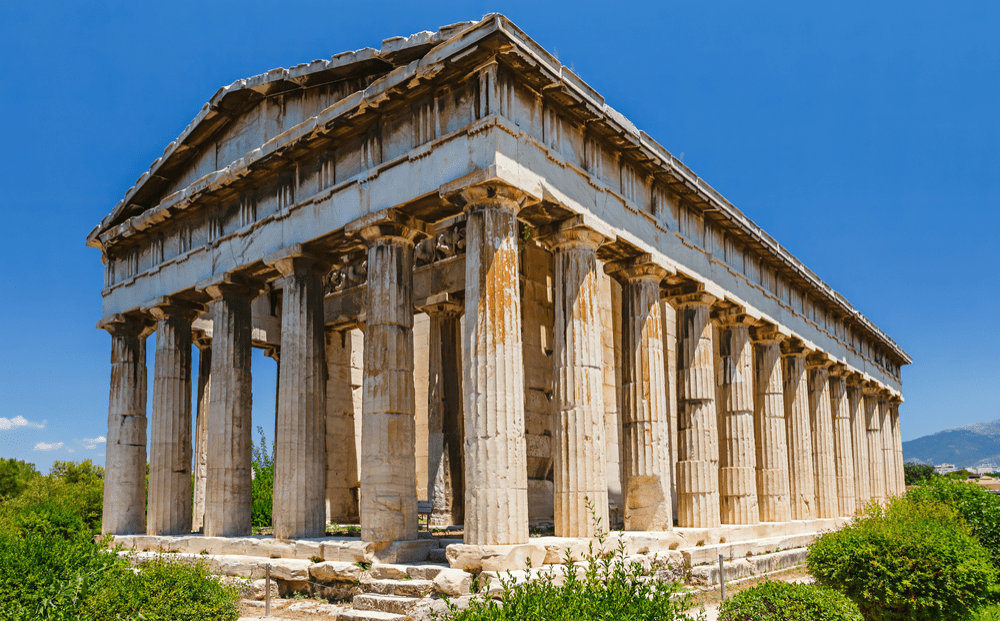 The Aeropolis ranks first in the most admiring vantage points of Athens. The cluster of ancient ruins of Greece will surely be your great interest if you are a history lover. Athens is one of the most vibrant cities in the world for an amazing view, as well as magnificent architecture.
To have a more comforting visit at the Aeropolis, make sure to go there early in the morning when the environment is serene. To soothe your appetite, visit some of the best nearby restaurants like Pantheon and Efcharis.
Northwest of the Aeropolis, lies in the ancient Agora of Athens, which is a nice wide green area.
3. The Guard Mounting, Greece :
The changing of Guards, also known as Guard Mounting, is one of the must-to-do things in Greece. The Greek formal ceremony has performed by troops of fine class military elites called Evzones.
They are the chosen ones to guard the Tomb of the Unknown Soldier. Wearing hand embroidered vests, the Evzones marches way down Vasilissis Sofia Avenue. In order to beat the heat and crowd, make sure you stay present in front of the Parliament in Syntagma Square Greece.
 One must not miss this tempting performance as it provides a lifetime experience. Undoubtedly, Mount Guarding is the grandest of all live events in Greece.
4. Ancient Theatre of Epidaurus, Greece :
The Epidaurus Theatre highly recommended place that makes you feel great admiration. Moreover, the place is an amazing site with charismatic scenery and a mountain backdrop.
For its incomparable acoustics, all 15000 spectators can hear the actors perfectly. The unique architecture of the Theatre makes it world-famous and still maintained as a well-preserved ancient theatre in Greek.
Beyond the stage, the wonderful scenery kept purposefully for maintaining harmony with nature. In this marvelous ambiance, with a great gathering of people, enjoying a playful act is sure to be on the list of things to do in Greece.
5. Balos Lagoon :
Almost 17km from northwest of Kissamos, stands the most photographed beach of Greece, Balos Lagoon.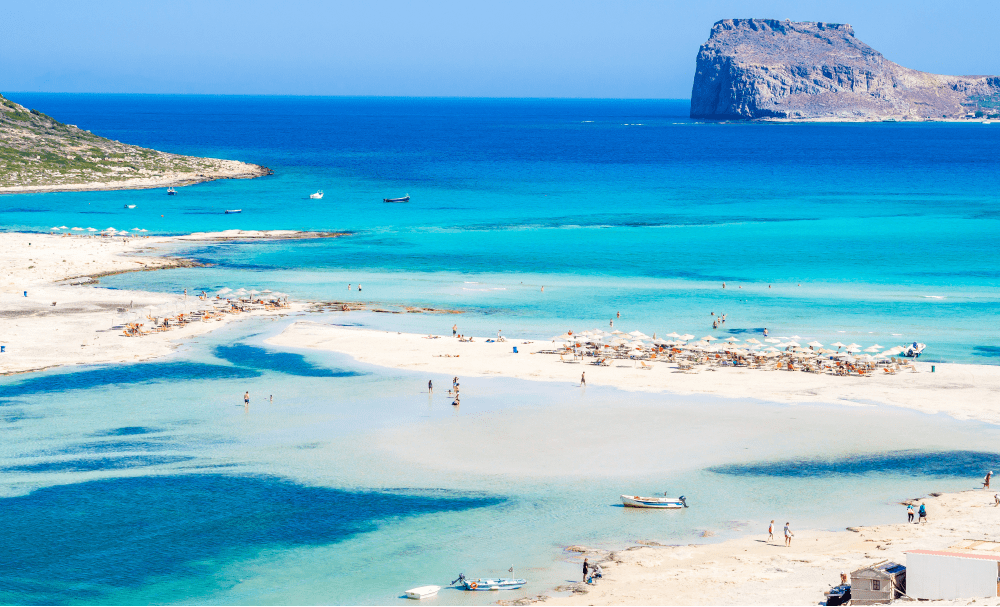 The charming exotic scenery, fresh cobalt blue water, and wild serene natural beauty of Balos Lagoon will lure you to a heavenly experience indeed, if you utterly wish to avoid crowds, the best time to visit Greece are in July and August. Particularly for Balos Lagoon arrive here in the morning, early before the boats reach from Kissamos.
The most convenient access to Balos is to take the morning ferry from Kissamos, where you may see dolphins. One may wish to try for three hours from Kaliviani, passing the crude countryside of Gramvousa. Visitors should not miss visiting the chapel of Saint George, located in Tigani.  
6. Mykonos Town :
Mykonos, considered to be the biggest town on a Greek island under the same name. Matoyianni Street is the heart of the island and a favorite place for shopaholics.
The summer nights are active till midnights and the markets remain open for long, where you shall never run short of things. For experiencing a joyful evening, you will have plenty of restaurants, bars, and clubs. To get the original vibe of the place's rich culture, visit the Aegean Maritime Museum and the Folklore Museum.
One may long for a Mykonos sea-bus ride or a short tour to Little Venice, a nearby neighborhood. For fine dining in this splendid town, check out Boas Fine Dining, NOA Greek Restaurant, or Karavaki Restaurant which stands first in the rating.
7. Mycenae :
Famous as a prominent archaeological site, Mycenae is situated in Argolis, just between Argos and Nafplion. The town gave name to the Mycenaean civilization that prospered for about 600 years.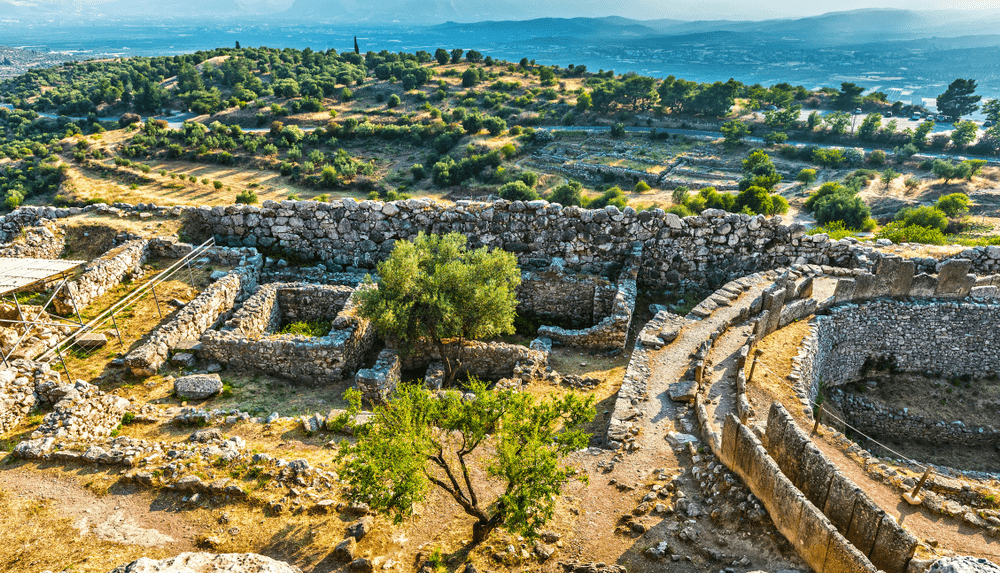 The most viewed tourist destination of Mycenae is the Lion Gate which was the entrance pathway to the town's fortified palace. Citadel and Treasury of Atreus also include the list of significant tourist destinations of Greece.
There are important exhibitions in the Archaeological Museum of Mycenae, each of great interests. Just a few distances from the entrance of the archaeological site of Mycenae, lies the tomb of King Agamemnon, a Greek ruler in the Trojan War
8. Corfu Town, Greece :
If you wish to enjoy good weather in Greece in October, the perfect place to be in Corfu Town. In Corfu Town, the sky during October remains clear or somewhat cloudy.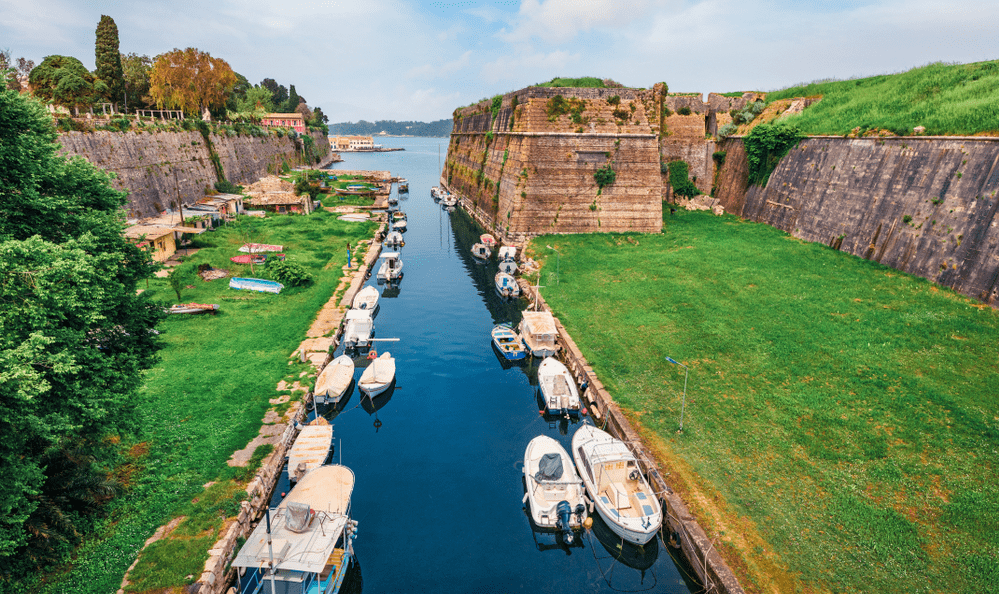 The must-visits of this town are the Church of Saint Spyridon, The Old Town, The Liston, and the Corfu Museum of Asian Art. To make the best use of your visit to Corfu Town take the City Sightseeing Hop-On-Hop-Off Bus tour.
The Paxos Antipaxos Blue Caves Day Tour and Achilleion Palace Tour are specially configured to make your holiday lucrative. In order to get a sneak peek of the town's ancient history, visit Saint Spyridon Church, a place of beautiful and impressive experience. If you have an appetite for Asian cuisine, try The Tandoori Bites of Corfu Town, they regarded as one of the town's bests.
9. Melissani Lake :
Being covered by a cave on Kefalonia island, Melissani lake is a magnificent site with crystal clear water.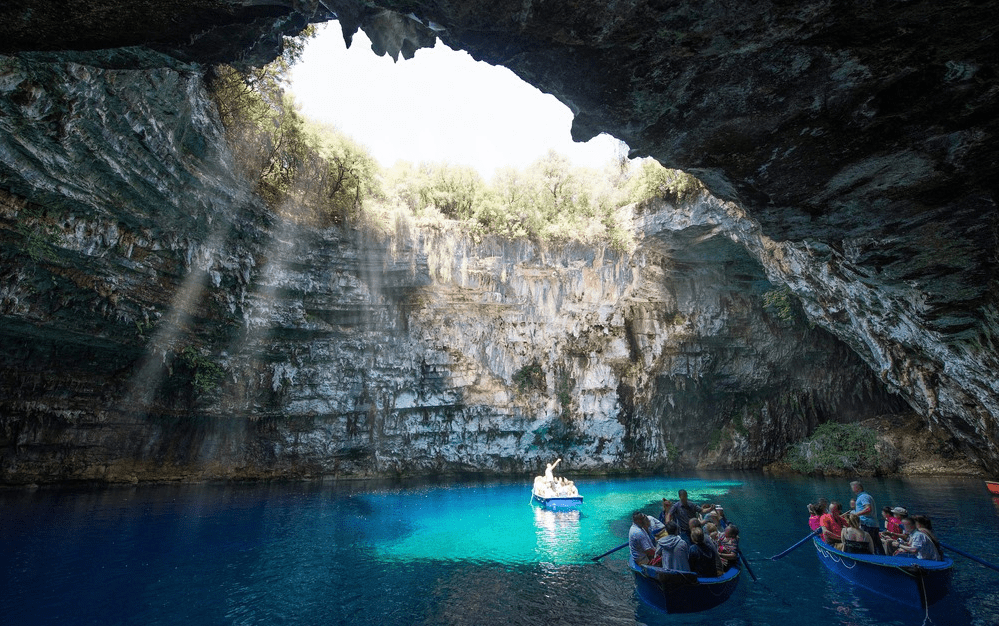 This impressive natural wonder is one of the major tourist attractions in Greece. You shall fall in love with the hues of the water and its clarity that allows seeing the bottom depth.
Its stalactites and stalagmites as well as the different colored stone will leave you in a magical world. 6 euros for each adult is the entrance fee with an amenity of free parking.
There are singing guides with proper knowledge of navigation who give a soothing boat trip in the lake under the cave for about ten minutes. If you wish to ignore a crowded city tour, then this place is undeniably your perfect choice. To soothe your appetite here, you may try out Agia Paraskevi Beach Restaurant and karavomilos Taverna.
10. Crete Island :
Among the many famous Greek islands, Crete is surely to be the largest. Starting from historic forts to delightful cuisines, this place has everything to make your vacation worthwhile.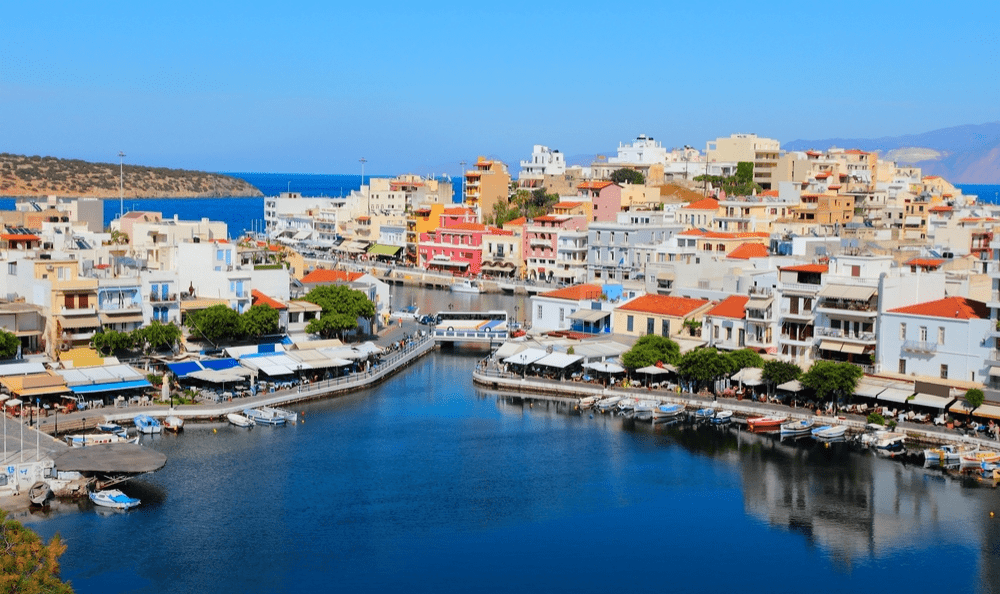 Its spellbinding natural landscapes make it one of the most famous Greek destinations to tourists. Located on the south coast of Crete, Loutro is a pastoral village with idyllic charms.
This little village is inaccessible by land and one has to go there by boat or on foot. It is an ideal place for relaxation and refreshment.
Sissi, another peaceful fishing village in Crete, is a must-visit in Greece. The village is still unaffected by the modern touch, making it a suitable place to relieve distress and recharge oneself.
11. Meteora Monasteries :
Six of the hundreds of years old monasteries of Meteora are listed in the UNESCO World Heritage Sites list. To experience a spiritual moment, one needs to climb up many fights curved stones and then enter a monastery illuminated with candles and filled with religious personas.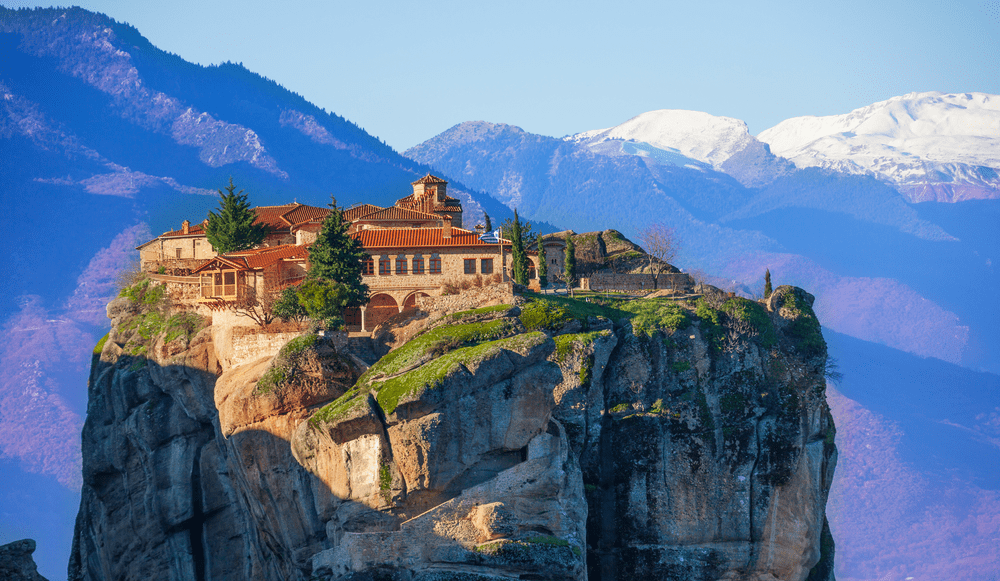 If you dare to reach all the six monasteries then you have to start the day early since an entire day requires that. One can have a peaceful respite here since the monasteries are quiet places and not a place crowded for taking pictures.
Kastraki is a village nearby with amazing backdrops which is also worth a visit. For a smooth journey, you can sign up for a full-day Meteora Tour from Athens by train or a half-day tour from Kalambaka.
Tourists sometimes stay till dusk to encounter a gorgeous sunset from Kalambaka. Visiting the monasteries of Meteora is one of the blissful things to do in Greece for sure.
12. Cyclades Architecture, Greece :
Don't get too comfortable by recharging yourself on Crete Island; instead, take a ferry to the Cyclades to soothe your eyes with dazzling light.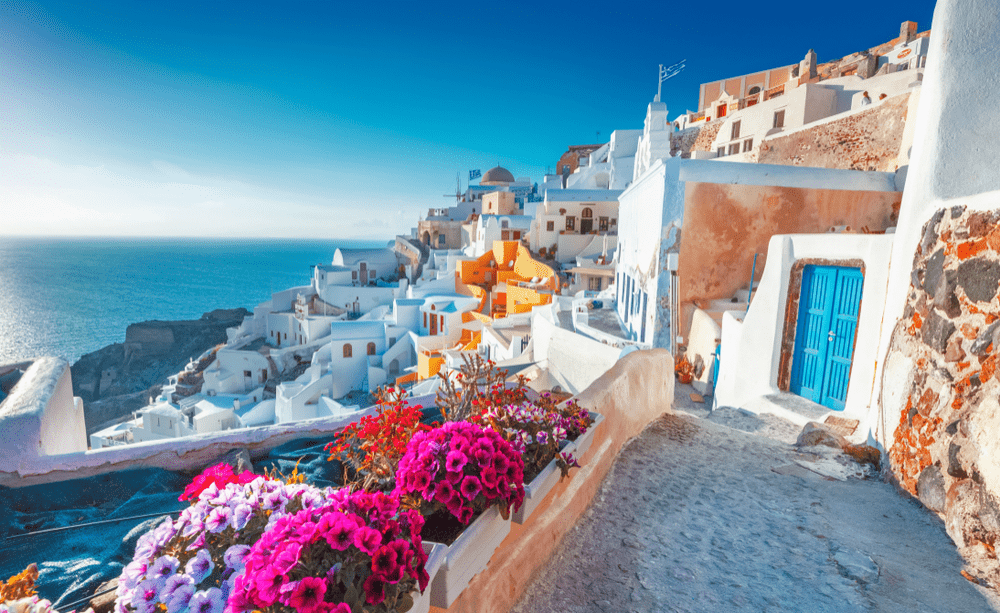 The Cyclades are a group of islands that rise from the deep blue waters of the Aegean Sea and form a circle around the sacred island of Delos. Also, the native architecture, which sparkles in beautiful whites and blues under the magnificent Mediterranean sun, dominate by flat roofs, cubic shapes, and dazzling whitewashed walls.
Surprisingly, most of these one-of-a-kind towns were built on the spur of the moment with basic resources.
Beautiful sandy beaches, white and blue architecture, traditional lifestyle, folk music, hospitable people, and bleak landscapes with solitary chapels will make your journey to the Cyclades a once-in-a-lifetime experience.
13. Palace of Malia :
If you plan a longer stay in Crete, you should visit the palace of Malia. This ancient ruin has a fascinating story to tell. Archaeological sites tell the stories of ancient people's lives.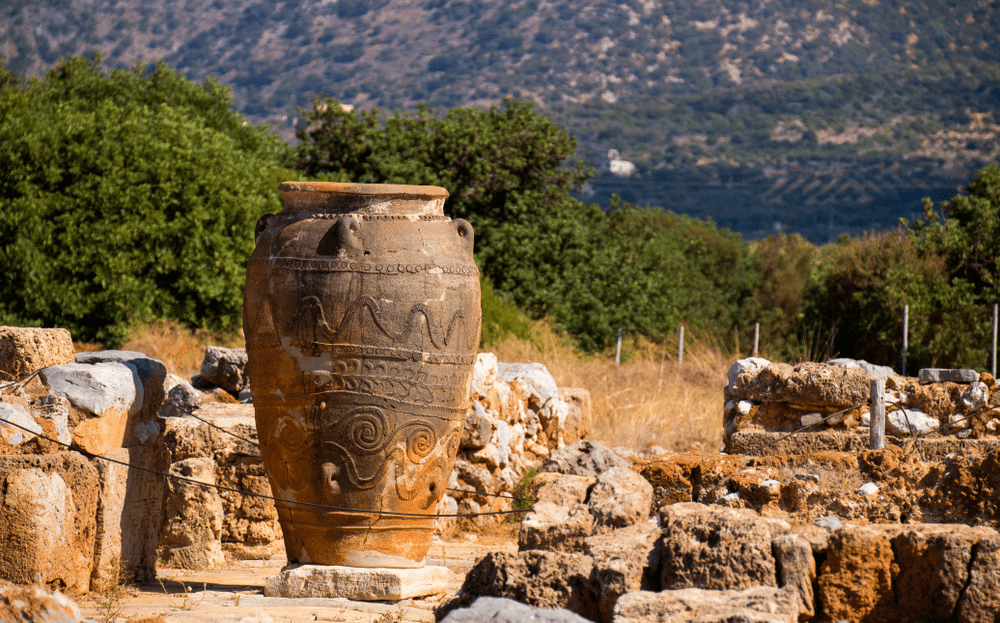 If you love to know about ancient civilization, then it is one of the must things to do in Greece. You'll need to use your imagination to visit this Minoan archeological site because practically all of Malia's treasures have been transported to a museum. So, all that is left are the stone foundations of a large region.
The palace, townhomes, and Chryssolakos cemetery have already been excavated. Some of the finds are on display at the Museum of Heraklion, while others are at the Museum of Agitos Nikolaos. If you want to see the artifacts from here, you now know where to look.
14. Corinth Canal :
While paying your visit to Greece, your tourist spirit will surely crave the impressive man-made Corinth Canal, which has its distinct fascinating story.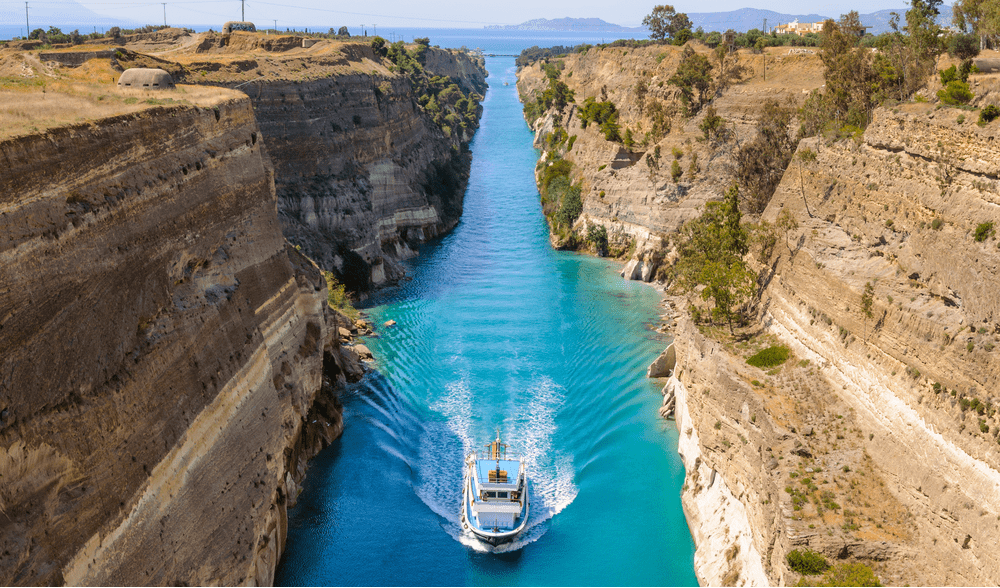 It is highly recommended to stop at the canal and spend some peaceful time here in this vantage point indeed. Staring at this enchanting marvel shall render a sensational feeling that you ought to consider it as one of the nicest things to do in Greece.
One can wish to sail from Corfu to Athens and spectate the highlights of the passage through the Canal. Having a length of 6.4 kilometers and a width of 21 meters, the canal was built in the late 19th century with pure hand-made architectural skills.
For interrupted venture, one may wish to take Corinth half-day trip from Athens or Odontotos Railway Private Tour with a great feast included. Starting from heart-pounding cities like Athens to unbothered village lives by seas, Greece has it all.
Being a collage of versatile experiences, there are so many throbbing things to do in Greece that will make your vacation worth it. This place shall never fail to bewitch you with its charms.