Top 9 Dubai Beaches to visit – The Dubai beaches stretch for miles, and offer guests with delightful vacations. Family beaches, such as Al Mamzar Beach and Jumeirah Beach, are so lively that they appeal to all age groups. Others like Kite Beach provides options for active leisure that add excitement to your trip. A romantic sundown by the Sunset Beach, or some seclusion at the Nikki Beach, will only elevate your summer retreat to the fullest.
The majestic city of Dubai is also home to some of the most beautiful beaches in the world. These are located on the Persian Gulf's warm, aqua-blue waters. Many of the Dubai beaches are public, as they're made to be flat and wide, with soft white sands glittering next to gentle rolling waves.
The best time to visit some of Dubai's beaches is during the September to May period, when the crystal-clear waters are best. Most of the beaches have undergone extensive infrastructure improvements and these include sun loungers, changing rooms, showers and various other facilities. Some of the beaches also have Wi-Fi hot spots.
There's a lot of security in this area as well, especially when it comes to mobile phones and other expensive belongings. Thus, making it very safe to travel along the shorelines.
Find out more about the city's intricate details here: Where is Dubai?
1.The Palm Jumeirah Beaches :
Are Dubai beaches man-made? Not all, at least.
Dubai is incredibly famous for harboring some of most remarkable man-made creations, whether it be record-holding skyscrapers or even islands.
So it's only typical to think Dubai might just have beaches made with their own hands. In fact, the beaches of Palm Jumeirah are quite the fitted example.
The Palm Jumeirah is a stunning archipelago development situated in the Persian Gulf. Its rocky shoreline makes it hard to find a public beach. All of the beaches here are located in areas that are associated with high-end residential areas or apartment buildings. Some of the beaches are also sold separately to the public.
Palm Jumeirah home some of the most peaceful and attractive private beaches in Dubai. Each features various pools and plenty of space to stretch out. Also, nearby is the Black Palace Beach.
2. Jumeirah Beach Park :
The Jumeirah Beach Park features a beautiful beach with white sand, clean water, and various playground areas. This park with recreation area is known as the best in the Emirates and is also located near JBR Open Beach.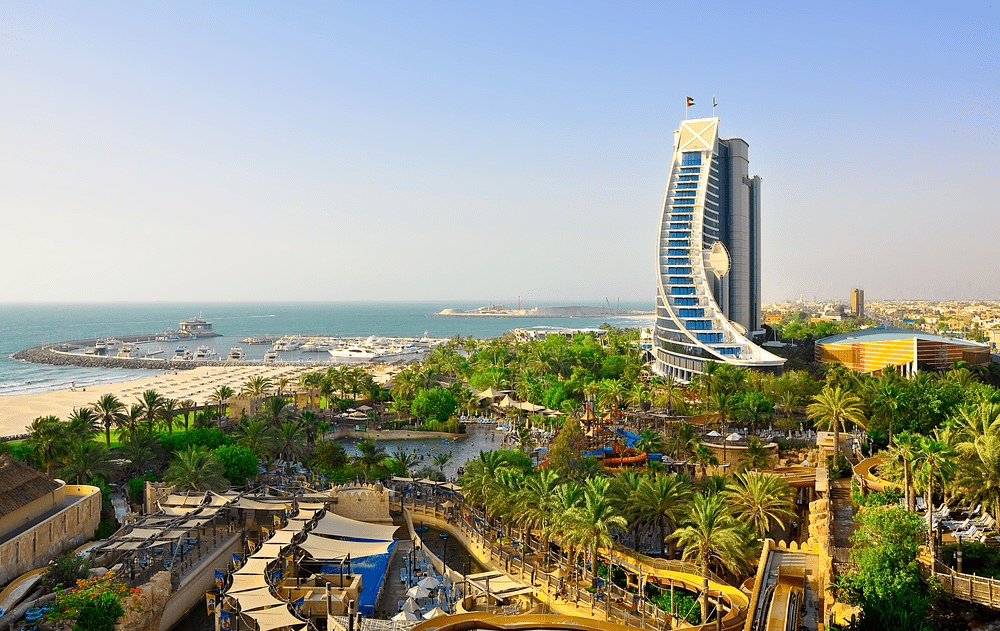 Elegant palm trees line the sidewalks, and the views from the waters are fascinating. Therefore, making the whole ambience very soothing. Sports enthusiasts can also take the thrills of swimming, snorkeling, jet skiing, peddle boarding, and also by playing volleyball.
There are plenty of places to eat, drink, and play in this area. Hence why it's easily Dubai's busiest beachfront. However, it is not massive and can be easily accessed all day. Simply note that there is a nominal admission charge for ladies and children only. Nonetheless, the facilities are extensive and well worth it.
3. JBR Open Beach :
The Open Beach at Jumeirah Beach Residence (JBR) is amongst the most spacious Dubai beaches. Snuggled serenely within the Dubai Marina, its ivory sand is soft and powdery, while the turquoise water is warm and gentle.
The beach features numerous restaurants, shops, and restrooms all within a wide area. The area is also very clean with lifeguards on duty and swimming areas secured by buoys.
A few moments in this gorgeous beach is a great way to get in touch with nature, as it will allow you to rest in peace. Also, it will give you a better view of the nearby resorts and residences which highlight the city's outlook. And thus, explaining further why Dubai is so rich.
4. Kite Beach :
Kite Beach Dubai is the ideal place for surfers and kite-walkers. Its natural features make it a favorite among water skiers, kayakers, and stand-up paddlers, too.
It's also a great place to take a break from the busy beaches of Saadiyat or Jumeirah. There are also numerous facilities for active recreation, such as water polo and beach volleyball. With a wide variety of activities, this beach is sure to cater to everyone. There are also plenty of areas for children to play and socialize.
However, the lack of proper infrastructure has made it hard to visit the beach. Kite Beach is also known for its variety of cafés and restaurants, and there's a skating park nearby. Food trucks are a big draw for those wanting to get their hands on some good eats.
5. Al Mamzar Beach Park :
Amongst all the Dubai beaches, Al Mamzar Beach is a great one for families. There are multiple areas for children to play in, alongside swimming pools and a couple of picnic areas with several barbeque pits to grill on as well. The plantation and foliage surrounding the area is excellent.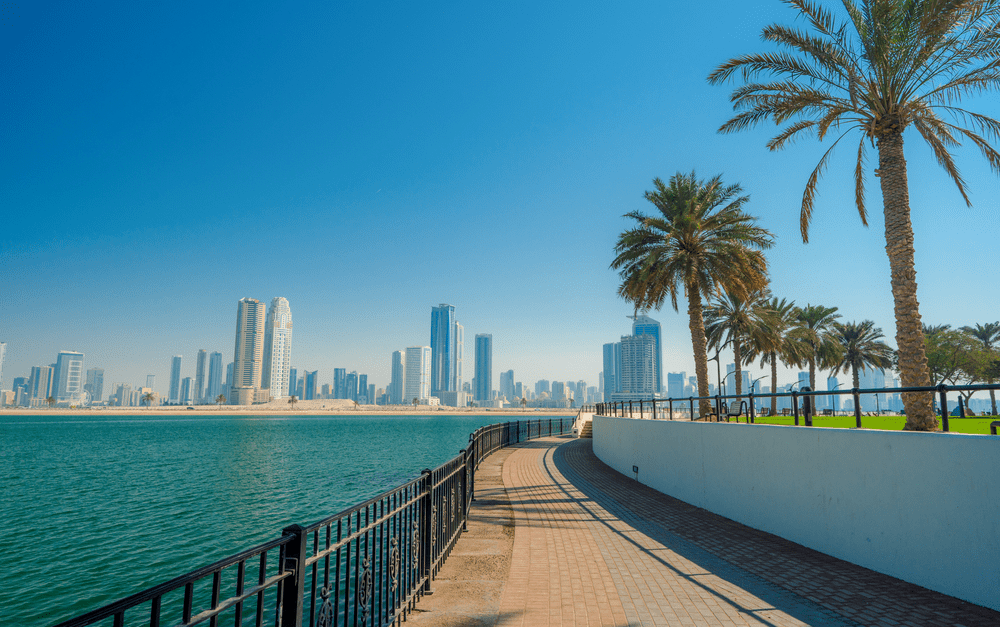 There are various facilities to keep you comfortable at all times, such as showers and bathrooms. If you wish, you can even rent air-conditioned beach tents for your family. Furthermore, it's a lovely beach that features a more natural environment and less people. Then again, it tends to get crowded on weekends.
Lastly, it's important to remember that Mondays and Wednesdays are for women only. The Dubai beach rules are strict and must be respectfully abided by all means.
6. Sunset Beach :
The Sunset Beach is the best for surfing and dwelling in the views of the mesmerizing symbol of the Dubai Skyline, the Burj Al Arab. Also known as Umm Suqeim beach, this stunning beachfront has everything you need to make your beach vacation memorable.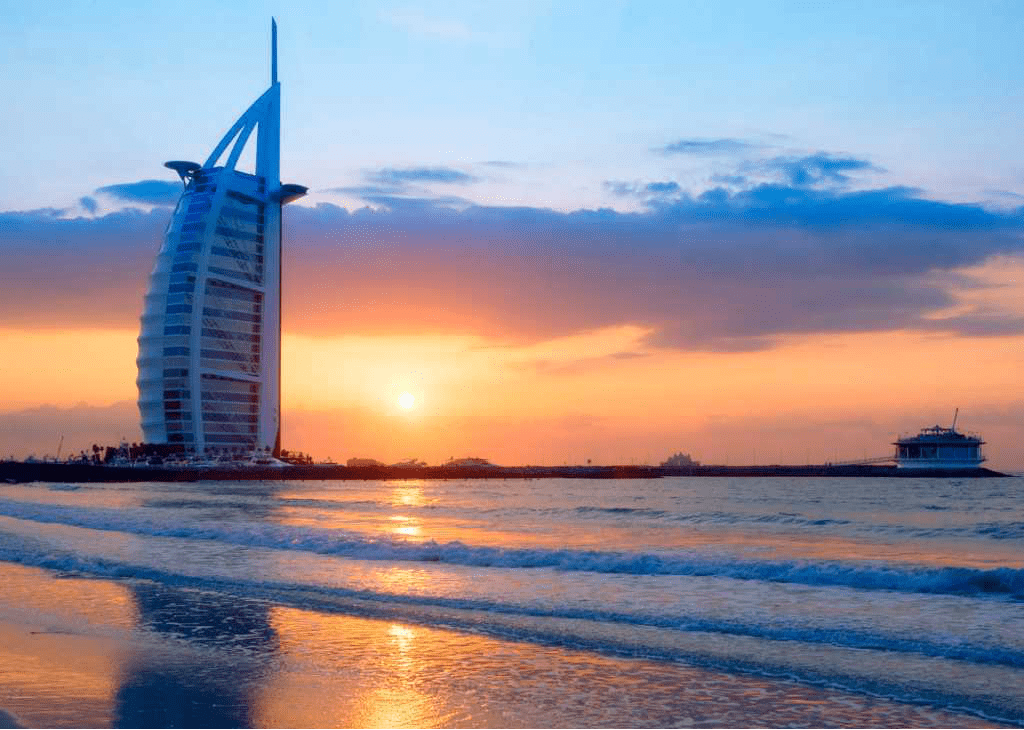 Sunset Beach is a perfect place to indulge in a relaxing day and enjoy the sun. It features a stretch of sand that's ideal for jogging, swimming, surfing and fishing. The calm beach allows you to curl up under the sun and take a long nap. Additionally, It's proximity to the Kite Beach makes it an ideal spot for kite surfing.
With its stunning sunset view, this beach is a must-visit for anyone looking to get in touch with nature. Simultaneously, it has a great swimming pool, a few showers, and toilets. There's also a library station nearby where you can borrow books.
7. Dubai Creek Beach :
Dubai Creek and Deira, which used to be a trading port, are both areas that have relevant historical importance. There are various areas within the Creek Park, including lively beaches and green spaces, which are tremendously attractive.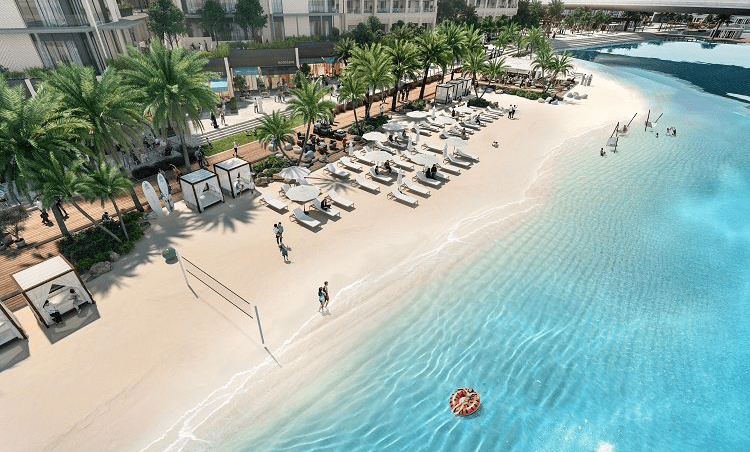 The Creek Beach district is a haven of peace and comfort nestled between the Dubai Creek Tower and Creek Island Dubai. This spectacular beach glazes with refined sandy shores, swimming pools, and hosts world-class dining options. Moreover, this area's pedestrian-friendly design features a variety of shops and restaurants. Hence, it's amongst the loveliest Dubai beaches.
The Creek Beach has a Metro station right beside it, which allows residents to get to the nearby attractions and enjoy the area's natural beauty. This community is also close to the water and the Dubai International Airport.
8. Marina Beach :
The Dubai Marina is a prime residential area near JBR Open Beach. This section of the beach is bordered by The Walk, which features several quaint restaurants, shops, and ice-cream parlors.
The Marina Beach Dubai was born in this section of the bay out of nowhere. It highlights Dubai's white sandy beach with palm trees that shade the bar, and is a great place to relax after a long day of sightseeing. Being one of the more unique Dubai beaches, it also has something down the lane for everyone.
During the day, the Marina Beach becomes a spectacular vision as the buildings around it glow in the light. At night, the water becomes translucent, as it reflects off the buildings. This beach is ideal for couples wanting to spend a day under the sun or a night near a scenic landscape. It's also a great place for families hoping to have a peaceful time during their holiday.
9. Nikki Beach Dubai :
The very trendy and fashionable Nikki Beach Dubai is the best beach to see and be seen. This pleasure pit is amongst the top beaches in Dubai, sat on the incipient Pearl Jumeirah residential peninsula.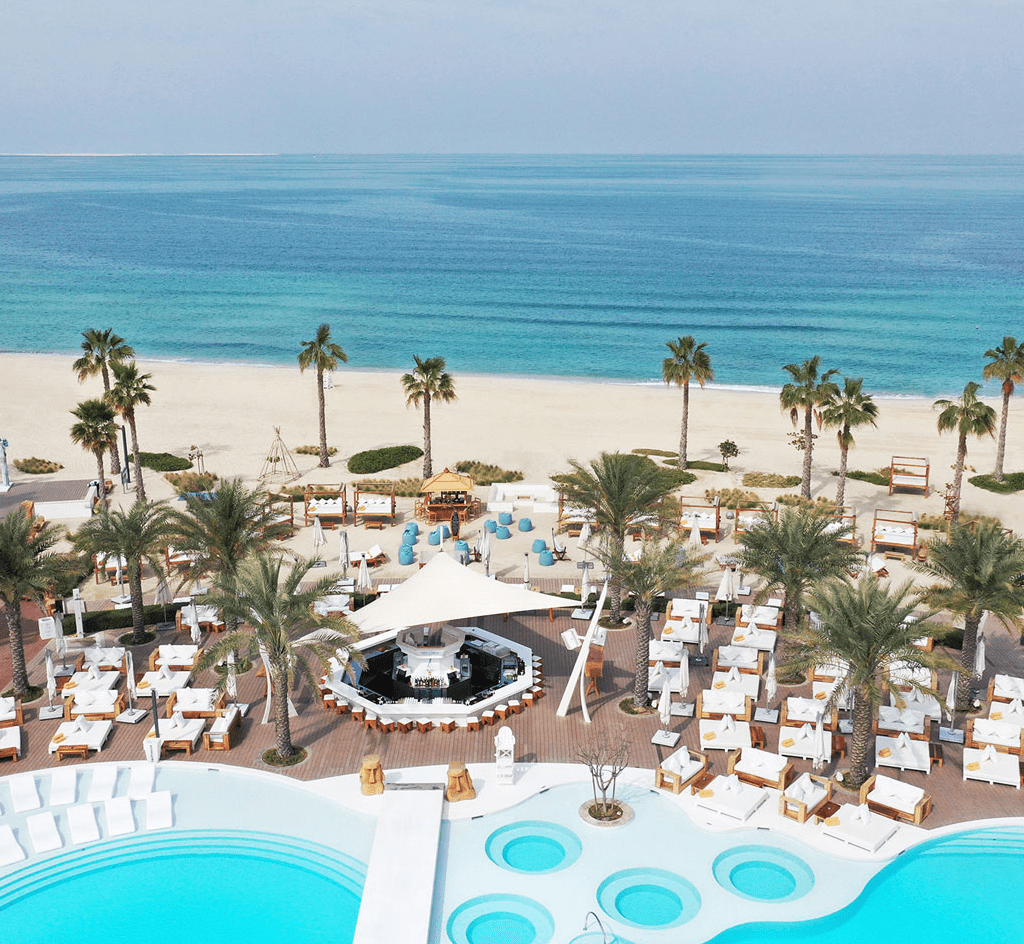 Nikki Beach & Spa, one of the most amazing beach clubs in Dubai, is a spectacular beach destination that offers a variety of facilities and activities for all ages.
If you are looking for an adventure, take a trip to the beach, rent a daybed and enjoy some of the exhilarating watersports. Or, stay in one of the resort's beautiful ocean villa rooms to enjoy luxurious amenities and a pampering stay.
The Dubai beaches are all appealing in their own unique ways, and must be experienced first-hand to know what they are truly like. So, when planning your next beach retreat, do not miss out on these rich shorelines.