Lanzarote beach is popular among the Canary Islands in Spain for outstanding beauty. It has a warm temperature all year round. Tourists enjoy here sunny sea beaches, catamaran cruises, boat trips, and water sports activities. Besides, Playa del Charco de Los Caicos is a spectacular landscape in Lanzarote for its exceptional volcanic phenomenon with black sand and green lagoon. To discover the fabulous Lanzarote island! When it comes to the Lanzarote beach-12 Of The Best Beaches In Lanzarote will be discussed.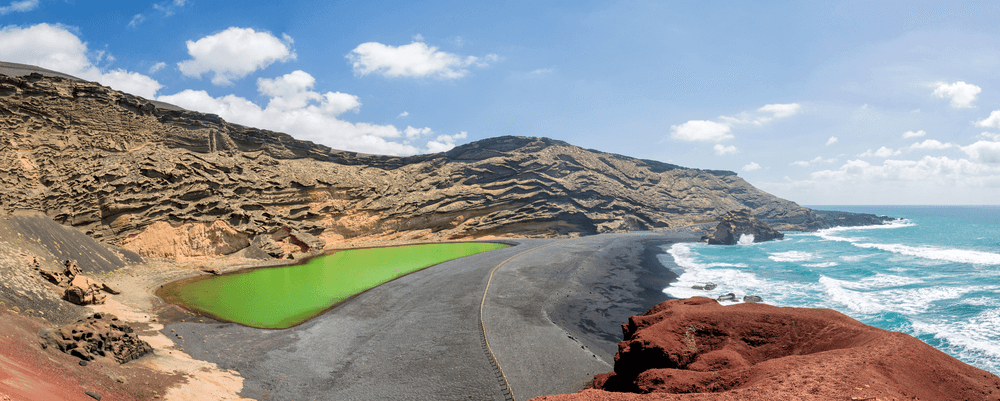 One of the Canary Islands near Spain, Lanzarote island is known for its year-round sunny weather, amazing beaches, and volcanic landscape. Lanzarote beach is perfectly warm enough to relax and to enjoy the winter sun.
The beaches along the northern shore are suitable for surfers. While the calm seawater of the south is more suitable for families and swimmers.
Whether you're searching for relaxation, recreation, amazing sea view, or stunning sunset views. There are some beaches on Lanzarote waiting for you.
1.Playa de Papagayo:
The Papagayo beaches are a series of 5 beaches stretched with a great area which is settled on the southern part of Lanzarote.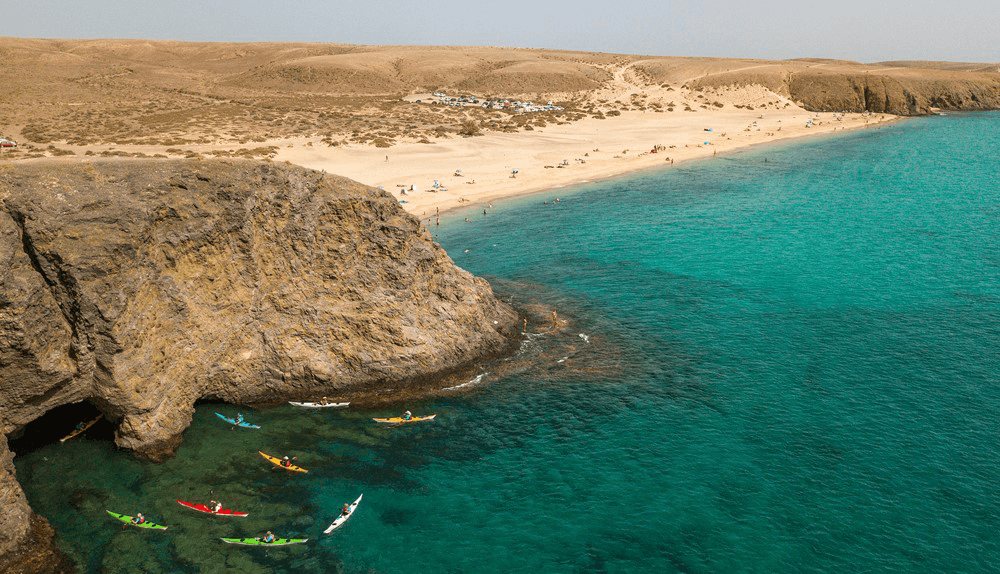 The hills separate the beaches, making them captivating cove embracing crystal clear water. These beaches remain within a natural park. So tourists need to pay a fee to get into the path that raises them to the wonderful beaches. The sea side hills hinder the wind to make the beach for a comfortable stay with shade.
Tourists can reach these beaches by water taxi from either Playa Blanca harbor of Marina Rubicon. The calm water of Papagayo beach is favorable for swimming and sunbathing. Vacationers go out for a sea adventure by the catamaran Cruise from Papagayo beach Lanzarote. The soothe seawater surface and warm weather is favorable for swimming. In Lanzarote beach-12 Of The Best Beaches In Lanzarote, It is a quite popular Beach.
2.Playa de Famara :
Playa de Famara is the surfer's paradise, which is located in the north of Lanzarote island in the Canary Islands.
This 2 KM long stretched bay of Famara is backdropped by huge volcanic cliffs. This beach faces often strong wind. Which creates high waves for surfing. In Famara, a surf school has been established in 2010 to provide full-day surf lessons for beginners.
Experienced surfers can also take a 4-hour surfing lesson to improve their surfing skills. There are some surf shops, from where surfers can hire boards. Surfers check surf forecast through Magic Seaweed in advance before surfing. Tourists enjoy viewing a part of the Chinijo archipelago from the Famara sea beach. Travelers should check a weather forecast before getting a trip to the sea. In between Lanzarote beach-12 Of The Best Beaches In Lanzarote. It is also a famous beach.
3.Playa La Francesa :
Playa La Francea is a secluded beach, located on the south shore of Lanzarote's nearby islet of La Graciosa.
This pristine sea beach is about 2 Km from Caleta de Sebo, the capital of La Graciosa. La Francesa holds an anchor area, where the boats are moored and the tourists visiting this island can spend a day near the beach. Visitors enjoy this sunny beach, as its crystal-clear calm water is suited for swimming.
Playa La Francesa is divided into two parts separated by the rocks and high waves sweep the bay to form a lagoon of salty water. Tourists take the day trip by Catamaran from Lanzarote to the nearby isle La Graciosa. Tourists get thrilled to view the natural charm of Archipielago Chinijo and visit the islet Caleta de Sebo. There is arrangement to stay in Playa La Francesa, it is convenient to book them in advance.
4.Playa Chica :
Playa Chica is a small beach of Lanzarote, which is 100 meters long.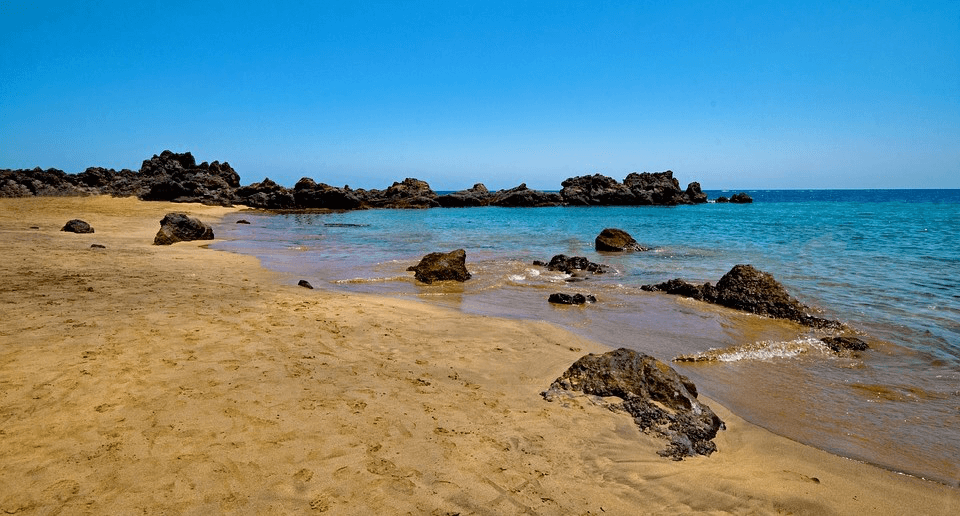 It is the popular beach in Puerto del Carmen, which is the main town for travelers on the island of Lanzarote. Playa Chica is a stunning sea beach, which is surrounded by lava rock and is swept away by lucid sea water. It is an awesome beach so much to do from power gliding to scuba diving.
The calm water has made it a perfect place for scuba diving. Tourists enjoy driving while exploring marine life. Vacationers start for an hour of stand-up paddleboarding to enjoy in the sea. They can explore the huge grouper fish called Felix underwater. The seashore has a little pier offering spots to eat and recreation activities. In the Lanzarote beach-12 Of The Best Beaches In Lanzarote and this beach is the best tourist attraction.
5.Playa de las Conchas :
Playa de las Conchas is a charming beach on the little island La Graciosa, which is a part of Lanzarote island.
This 610-meter long beach situated in the natural reserve "Parque Natural Archipielago Chinijo". This beach's brown smooth sand and blue sea contrast have created a spectacular view, which allure the mass tourists. This lovely beach is an hour's walk from the small town of Caleta de Sebo. This pristine beach is not suitable for relaxed swimming and snorkeling for huge waves, as there is no lifeguard here to rescue.
Rather Tourists can appreciate the perspective of magnificent sea, volcanic rock, the nearby islets of Alegranza and Montaña Clara. This beach is amazing for walking and bicycling along the sea shore. Tourists can take the ferry in Orzola at La Gracoisa to reach to this sea beach. There are some nice restaurants for cuisine in the harbor area.
6.Playa Flamingo :
Playa Flamingo is a beautiful sea beach located on west coast of Playa Blanca, which is the part of Lanzarote island.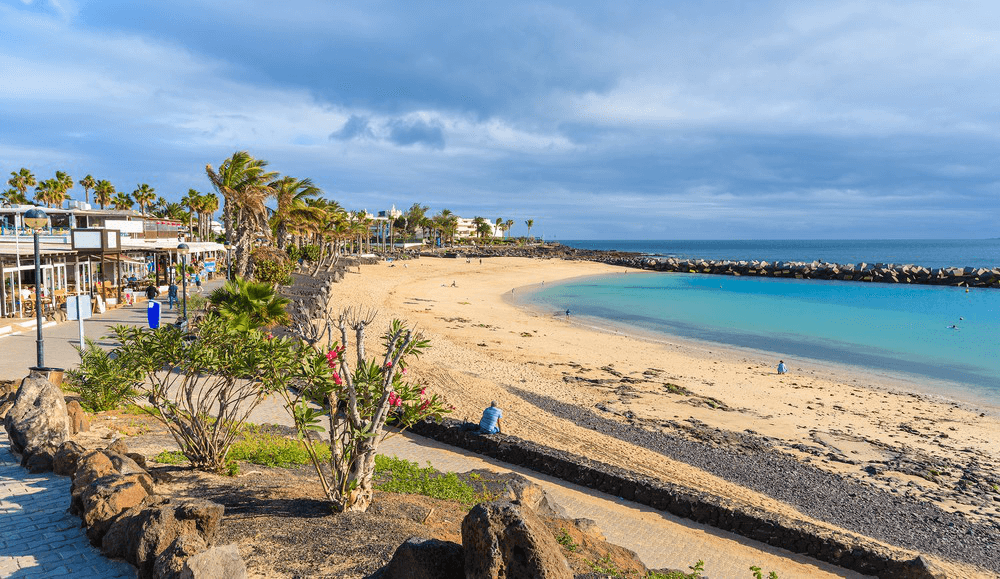 It is a 200 meter long sea beach which embraces lucid sea water and while silky sand. This beach is surrounded by palm trees which enhances the charm of the sea side.
Tranquil seawater has made Playa Flamingo a suitable place for spending a nice holiday as well as enjoy swimming here. Tourists enjoy coffee as well as a view of the sunset from the restaurants, which found in the beach promenade. This beautiful beach provides accommodation for family, parking facilities, relaxing spots,s, and nice restaurants. In Lanzarote beach-12 Of The Best Beaches In Lanzarote, At least there is no need to talk too much about this place as it is very popular with visitors.

7.Playa Blanca :
Playa Blanca is a touristy sea beach that is located in the Southernmost town of Lanzarote.
This beach provides a relaxed atmosphere in sun blessed the sea promenade. Playa Blanca beach offers a lot of excursions for the visitors, like island hopping trips, scuba diving and boat journey. Tourists visit the historical sites like the Castillo de las Colorados, which is like a fort and the Faro de Pechiguera, a light house.
There is a modern marina named Marina Rubicon, which is located on the south coast of Lanzarote. It is a very attractive spot, where vacationers can gain a delightful experience for shopping and water activities. Playa Blanca beach owns a European blue flag for cleanliness and safety.
8.Playa Del Jablillo :
Playa Del Jablillo is a small soothing beach, that is located in the east of the Lazarote island.
This beach cradled by a circle of volcanic rock, that protects this shore from the high tide. So visitors can swim here in calm clear water comfortably. There is a lagoon that is created by flowing tide over the rock. New swimmers enjoy swimming in the shallow water of the lagoon. For the safety of the swimmers, a lifeguard is available on this beach.
Playa Del Jablillo has got blue flag status. Tourists enjoy paddling and splashing in this sea shore. Playa Del Jablillo has natural protection to save this beach from wind and high tide. In the beach area, there are many cafe and restaurants to offer tasty cuisine to the visitors.
9.Playa del Charco de los Clicos :
Playa del Charco de los Clicos is a spectacular landscape in Lanzarote for its exceptional volcanic phenomenon.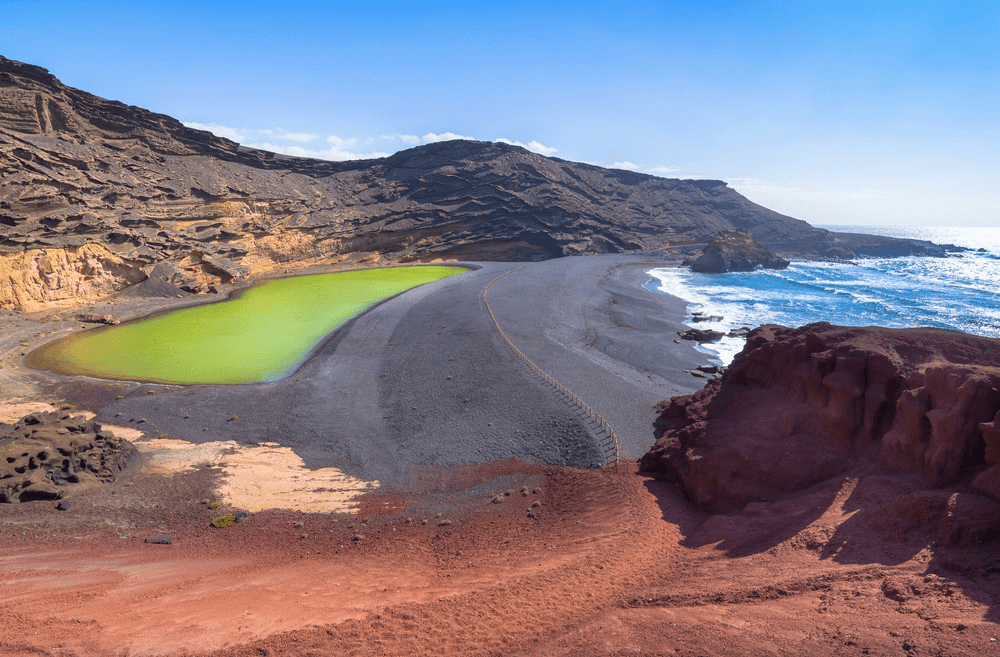 Beside the sea, water from the Atlantic Ocean submerges the extinct volcano crater and forms a lagoon called Charco de Los Caicos, which means green lagoon. Its color is green for the presence of green-colored algae. The beach's sand has turned into black sand for a volcanic eruption in the past. This black sand seashore named El Golfo, which is 100 meters away from the lagoon.
To get the best scene, visitors need to visit first the viewpoint in El Golfo, particularly in the evening. Visitors observe the unique volcanic landscape of the Charco de Los Clicos from the path leading to the beach. It is possible to walk around this Lanzarote beach black sand area and to see the panoramic sea view from there. This beach is not ideal for swimming and sunbathing. But this is a spectacular place for volcanic landscape and beautiful sea.
10.Playa Grande :
Playa Grande is the primary beach of Puerto del Carmen, Lanzarote.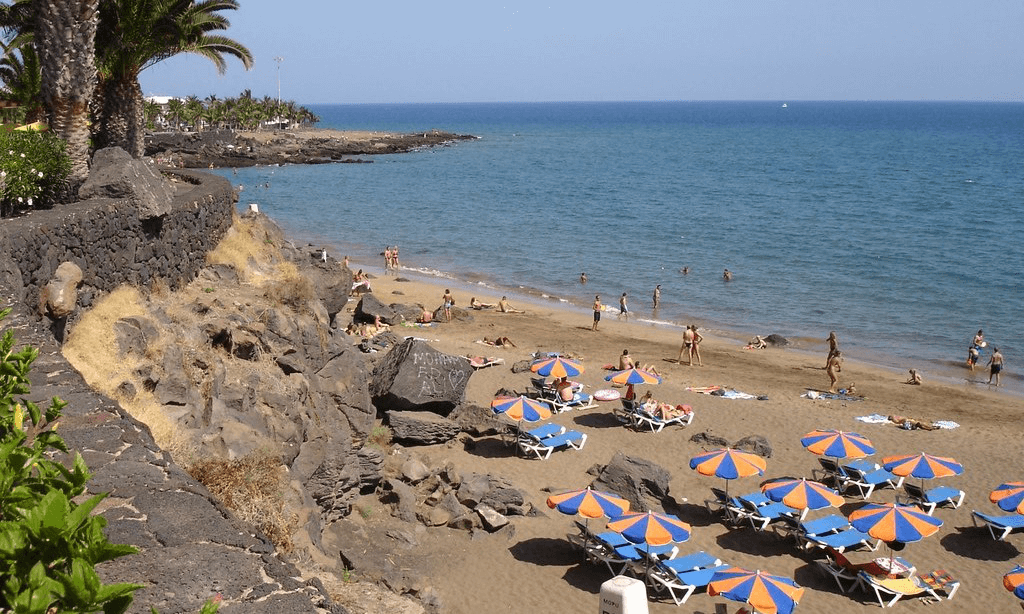 Tourists enjoy this sun kissed sea beach for warm weather. There are huge sporting and leisure activities here for tourist's pleasure. Playa Grande is 1200 metre long and popular for captivating view.
This Lanzarote beach offers good facilities to the tourists for their comfortable stays, like sunbeds on the beachfront, accommodation, promenade, bins, toilets, lifeguards, and sunshades. There are car parking facilities for tourists in Playa Grande. And it has been awarded Blue Flag. Tourists visit the seaside bars and restaurants to take cuisine in an enchanting seafront atmosphere. To visit the shops and discos, are delightful experiences for the tourists.
11.Playa de los Pocillos :
Playa de los Pocillos is a stunning beach on the east coast of Lanzarote, which is close to one of Lanzarote beach Puerto del Carmen.
Light peach color sand and blue sea contrast make a fantastic scenery that allure the tourists easily. It linked to nearby Puerto del Carmen, about 15 minutes walk away by a promenade. This beach is perfect for families, while they enjoy this beach in summer.
A different scenario is seen in September when the vast sandy bay is covered with a thin layer of saltwater. Which known as pine tides. The beach promenade lined with plenty of shops, restaurants, and bars. Moreover, Rancho Texas Park is the top attraction of this island, where Horse riding, canoeing, and many animals seen. From Playa de Los Pocillos, there are a lot of sights within 30 minutes drive, like a castle turned into a museum, church, etc.
12. Playa Caletón Blanco :
Caleton Blanco is a strand of little coves facing sleek white sand and primitive lave rock.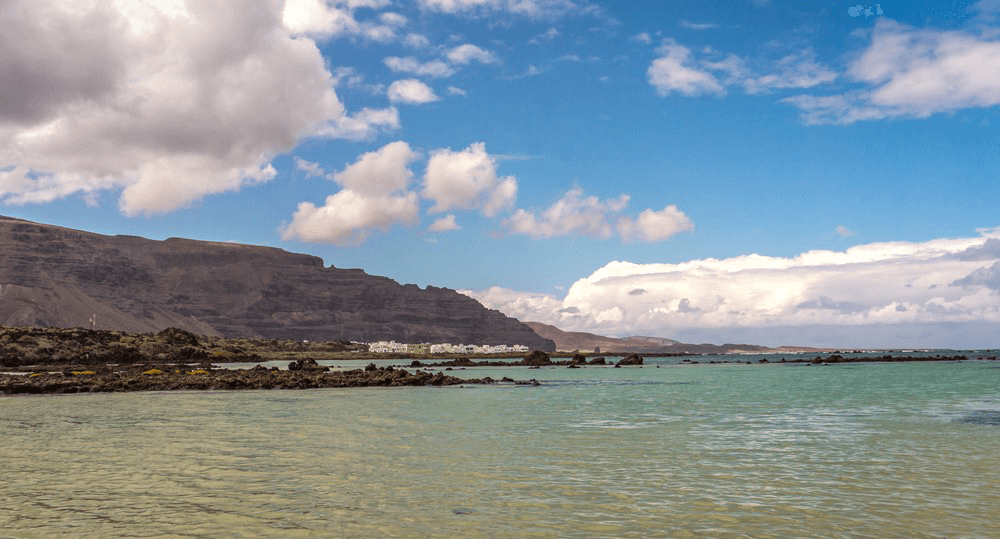 This 500-meter longshore washes by crystalline clear water. Although, a White sandy beach surrounded by Black volcanic malpais make a spectacular color contrast. Situated on the north side of this island. Caleton Blanco may be a bit windy and not warm as Lanzarote's southern part.
There is a big tidal pool, which created by lava flows. Pools shallow water is ideal for the children's swimming. This Lanzarote beach has a picturesque view and access to this beach is easy. Swimming may not be comfortable. But paddling is enjoyable. The waves sweep to the pools to make a natural lagoon which allows visitors for swimming in the sun.
The natural beauty of Lanzarote beach allures the tourists. Tourists like the warm weather of Lanzarote beach as well as enjoy the cruise adventure and water sports activities.