Shopping in the markets in Cape Town is a wonderful experience for all shopping enthusiasts. The tourists love to explore the markets in Cape Town. They like to purchase the traditional things from Cape Town markets. Local Leather backpack, Africa shaped pendant, Rooibos tea, Pink lady gin are some special products that the tourists love to get in Cape Town. Here you will find commodities at a comparatively cheaper price than any other cities of South Africa. Metropolitan Police Services of Cape Town is very helpful.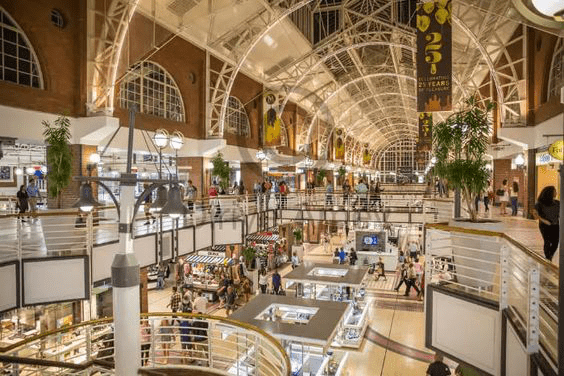 Best markets in Cape Town:
  1.V&A Waterfront:
If you do not have enough time to shop from a number of markets, then we suggest you head over to V&A waterfront. In V&A waterfront, you will find fashion, homeware, jewellery, leather goods and more. Select and buy your favorites things from over 450 retail outlets of V&A waterfront.
2.Cape Quarter:
Cape Quarter is another best place to shop from in Cape Town. You will find here traditional African souvenirs, leather articles, clothes and jewelry within your budget.
3.Victoria Wharf Shopping Centre:
Your shopping experience will not be complete without visiting Victoria Wharf Shopping Centre. If you are fond of luxurious brands, then this mall is a must visit for you.
4.Canal Walk Shopping Centre:
This shopping center is the finest destination with a huge shopping space for the apparel shopping enthusiasts. It is renowned for the availability of international and local clothing brands.
5.Golden Acre Shopping Centre:
Another favorite destination of the shopaholics, situated in the heart of the Mother City, is Golden Acre Shopping Centre. Everything including fashion, tech, food, health and beauty, home, jeweler stores are ready to serve in this shopping center.
What souvenirs to buy from Cape Town?
1.Zulu Ceremonial Spoons
Zulu ceremonial spoons, a great souvenir to buy from Cape Town, depict the history of the Zulu tribe of South Africa. You can use this as a décor piece or use this when you invite guests for dinner.
2. Local leather backpack
This is another souvenir that you can make a part of your everyday life. The local leather of Cape Town is durable, so this souvenir will be a great option if you are looking for something that you can use on a regular basis.
3. Old world wine
This wine is renowned worldwide. You can find these awesome souvenir at the oldest wine region of South Africa, in the suburb of Constantia.
4. Africa shaped pendant
The Africa Shaped pendant, available at Watershed market, is another beautiful souvenir that you can buy in Cape Town. Wear this to remember your Capetonian memories.
5.Rooibos Tea
Rooibos tea, famous for its antioxidant properties, can refresh you from within. Buy this as a gift for your friends who are tea lovers and they can have a taste of South Africa too.
<h2 style="font-size: 30px;">Best food markets in Cape Town:
Cape Town has an increasing number of food markets recently. The food markets of Cape Town offer you fresh and locally made food. These markets cater to you fresh food that are locally made.
1.Bay Harbour market
You can choose to eat anything from fresh mussels to coffee from the 80 stalls in the Bay Harbour Market. Enjoying your meal with live music at Bay Harbour Market will surely give you a wholesome memory.
2.V&A Food Market
Located at the historic pump house beside Nobel Square, V&A food market flaunts its numerous stalls catering delicious street food, baked goods, beer, ice cream and much more. Do not forget to enjoy a tasty meal at this market after shopping from V&A waterfront.
3. The City Bowl Market:
The ultimate destination for foodies, the City Bowl market, is open only every Thursday from 4.30 to 8.30 pm. Indulge yourself in tasting the wide ranging cuisines that the stalls of this market offer. A live band will make your dining experience even more beautiful.
Street markets of Cape Town:
The street markets in Cape Town should not be neglected because these offer a great range of locally made products within budget. Some of the best street markets that you can visit in Cape Town are Mojo Market, Lourensford Market, the Old Biscuit Mill and Green Point Market.
Farmer markets of Cape Town:
Cape Town boasts its Farmers' markets that are considered heaven for the food lovers. You do not need to spend a huge amount of money to enjoy South Africa's gourmet cuisine at these markets. Here are some of the best Farmers' markets of Cape town-
Blaauwklippen Family Market, Stellenbosch:
This is one of the best markets in Stellenbosch offering street food like kebabs, dim-sum, breads, olives, pies and artisan cheeses. You can find craft stalls selling handmade clothing and vineyards offering wine tasting and bistro dining. If you enjoy wines, you can buy wines from here as souvenirs.
Neighbourgoods Market, Woodstock:
Located in the neighborhood of woodstock, Neighbourgoods market is another great farmers' market that houses over 100 specialty vendors. The main centerpiece of Neighbourgoods market is food. Taste the amazing gourmet cuisine with organic, farm-fresh ingredients at this market. Neighbourgoods market  is a perfect place for vegans also.
Noordhoek Community Market, Noordhoek:
Browse the pop up market, named Noordhoek Community market held on every Thursday evening for wine tasting and more. This market is situated along the beautiful Noordhoek's coastline. So enjoy your food with watching the breathtaking views of the coastline.
Good to know-
This may come off as a good news to the shopaholics that due to the weak economy of South Africa, many products are comparatively cheaper in South Africa. Among the cheap products are fruits, furniture, pieces of bread and cereals.
Conclusion :
All in all, there are countless places for purchasing goods in Cape Town. Shop from the best shopping centers in Cape town and you will have an interesting shopping experience there. Do not miss out the street markets, flea markets and night markets because they bring you closer to the South African heritage and culture. We wish you the best shopping experience in Cape Town that you will always remember.