Sometimes we all need to take up our spirits with a small trip. And the Miami Beach Hotels know exactly how to upraise your stay. Visiting Miami Beach firsthand will leave you appreciating its wonders for a lifetime. When planning the trip, people think – is Miami safe? Fortunately, with increased safety protocols thoroughly maintained all year long, your vacation will be free of tension.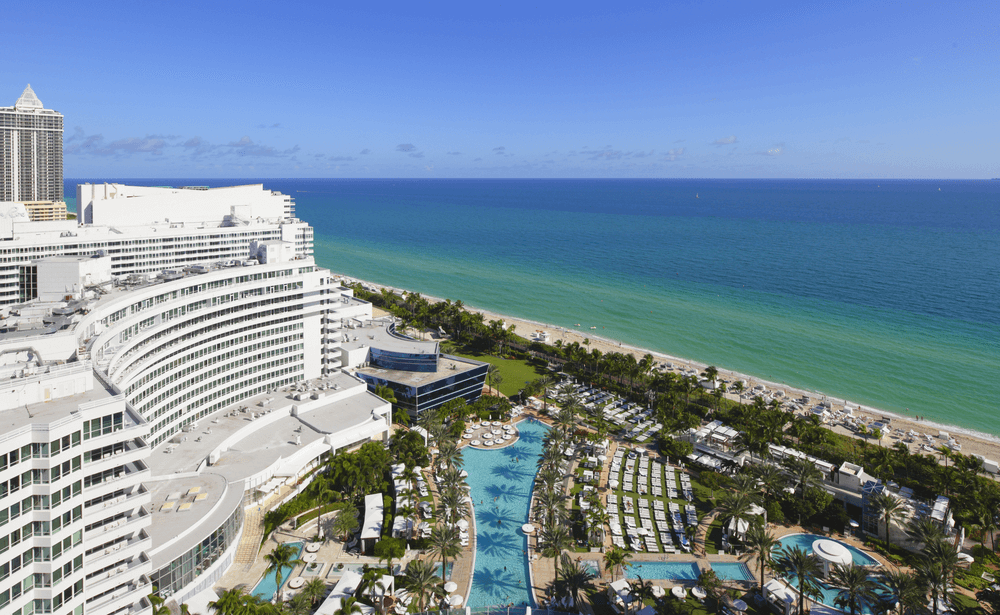 There is a vast array of hotels for you to choose from, all providing diverse specialties and amenities. Most are at easy reach from Miami International Airport. And the smooth roadways help journey to your hotels without hassle. Whether it's a lavish hotel you're looking for to be pampered at, or a budget-friendly hotel with ocean view – there's something along the coasts for everyone.
Best Areas to Stay in Miami :
Miami neighborhoods always bustle with vibrant energy throughout the day regardless of the season. Expect yourself to remain fully occupied no matter which destination you pick. The following areas are usually a Miami traveler's favorite, and where you can definitely make the most out of your stay at.
South Beach : Famous for its Art Deco District and Ocean Drive, the South Beach is a round-the-clock hotspot in Miami. It has a sundry mix of stunning beach views, rich history, cultural heritage and exclusive hotels that make your trip memorable.
Bal Harbor : If you're looking for a luxurious stay at Miami, Bal Harbor has for you the most elite of all hotels. Not the most budget-friendly place, but its exclusive delights are worth every penny.
Downtown Miami : To get the most epic Miami skyline views from atop of some of country's best skyscrapers, head to Downtown Miami. For you all shopaholics, there are plenty of malls, too.
Wynwood : An iconic art deco district, your eyes will be treated with vivacious colors no matter where you look at in Wynwood. Roam around the streets and you'll feel like being a part of a giant canvas.
Coral Gables : Popular for its tree-lined boulevards, ivy-covered mansions and historical landmarks, the accommodation at Coral Gables will surely please you to no ends.
Key Biscayne : At Key Biscayne you'll get to delve in majority of the popular attractions of South Florida on one small land. You can lounge at its magnificent beaches and tour its two beautiful parks.
A.Luxury Beachfront Hotels in Miami :
At Miami's beachfront hotels, not only will you get to taste luxury, but also the scenic views. These are the top 3 luxury beachfront hotels in Miami that you'll surely love:
1.Riu Plaza Miami beach :
Address: 3101 Collins Ave, Miami, FL 33140, United States
Nearby attractions: Art Deco District, Downtown Miami, Lincoln Road Mall
Specialties: Outdoor swimming pool, sun terrace, gym, beachfront location and buffet restaurant.
Located right on the magnificent Miami Beach in Florida, Riu Plaza hotel is perfect for the ultimate luxury in Miami. The hotel features 284 rooms with intricate contemporary decorations, offering guests with optimum comfort. Alongside free Wi-Fi, there's a wide range of amenities for you to relish in.
Due to its exceptional services like its outdoor swimming pool, sun terrace, gym etc., it has rightfully made its place into the list of luxurious beachfront hotels in Miami. As you'll be right at the heart of Miami Beach, you can easily explore the nearby attractions. Grab your backpack and do sightseeing through the Art Deco District. Take a drive through Downtown Miami, or stop at Lincoln Road Mall for fine dining and shopping.
After returning back from a splendid outing, try Riu Plaza's buffet for dinner. You'll be left craving for more.
2. Holiday Inn Miami Beach Oceanfront :
Address: 4333 Collins Ave, Miami Beach, FL 33140, United States
Nearby Attraction: Art Deco World of South Beach
Specialties: Premium oceanfront location, a large pool overlooking the beach, a tropical garden, Paradise Cafe, and Blue Parrot bar.
The Holiday Inn Beach Miami Oceanfront is ideal for a short beach holiday of you and your family. With its premium oceanfront location, it provides the guests a cozy stay. The unparalleled location of this hotel will leave you praising. It features a large blue pool and a tropical garden with hammocks for enjoying the whole abode. You can easily travel to museums and other touristy attractions at a close proximity from the hotel, either on foot or on the local transport.
3. Fontainebleau Miami Beach :
Address: 4441 Collins Ave, Miami Beach, FL 33140, United States
Nearby Attractions: Art Deco District, Lincoln Road Mall
Specialties: Oceanfront location, restaurants with signature chefs, 40,000 square foot spa, swimming pool, conference and event facilities.
Fontainebleau, the largest hotel in the city, has cleverly dominated Miami's hotel scene since 1954. Crafted by a team of renowned architects, it is one of the most dynamic destination resorts, pampering guests with the best hospitality in Miami.
Stay here and enjoy 11 swimming pools, 7 fine dinners, nightclubs, shopping stores and a 40,000sqft spa. Your perfectly air-conditioned room will give you access to your very own mini kitchenette and a bar.
After an exhausting day of sightseeing, head back to your room and refresh yourself with the scenic ambiance of the beachfront.
B. 5-Star Hotel in Miami Beach :
4. The Ritz-Carlton South Beach :
Address: 1 Lincoln Rd, Miami Beach, FL 33139, United States
Nearby Attractions: Bayshore Golf Course, Art Deco District
Specialties: A bar, a restaurant, spa.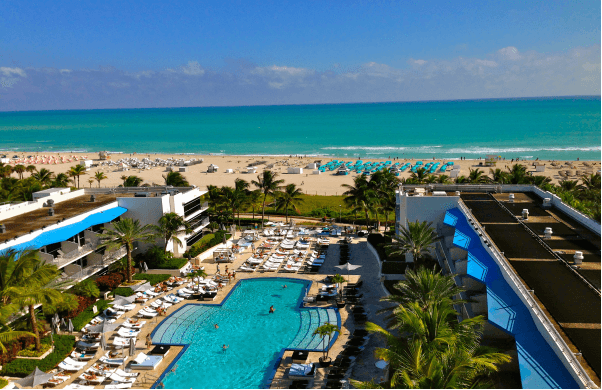 The Ritz-Carlton Hotel at South Beach is an iconic hotel paying tribute to the glamorous culture and history of Miami. If you are looking for a very sophisticated stay in Miami, then do not miss out on a night at Ritz Carlton.
The hotel has beautiful cozy rooms with well contemporary furnishings and spacious balconies. You can enjoy the grand pool view at the patio below while soaking under the sun from your balcony.
The restaurant, Fuego y Mar, is decorated with portrayals of the tradition and heritage of coastal Latin America. You can quietly indulge in Mexican, Cuban, Venezuelan, and Colombian cuisines and refreshing drinks.
5. The Setai, Miami Beach :
Address: 2001 Collins Ave, Miami Beach, FL 33139-1913
Nearby Attraction: Art Deco District, Lummus Park, Bass Museum of Art
Specialties: Yoga and tai-chi classes, 3 infinity swimming pools, on-site spa, 4 on-site restaurants.
The Setai boasts, not only its oceanfront setting, but also its finely furnished Asian-style décor. Its amazing features include 4 onsite restaurants and 3 infinity swimming pools. Once inside you'll walk on shiny teak floors. The rooms are all beautifully furnished in bronze and dark stones.
The 135 suites are all adorned with blue glassed windows, Duxiana beds, black granite baths and Acqua di Parma amenities. Get yourself a Paris-styled treatment at the spa. Have a treat of the variety of world-class cuisines at the in-house restaurants. End your night over fresh and juicy cocktails at their bar.
At the Setai, you'll be left at the mercy of endless arrays of luxuries and pampering that you'll never forget.
C. Boutique Luxury Hotels in Miami Beach :
6. Faena Hotel Miami Beach :
Address: 3201 Collins Ave, Miami Beach, FL 33140, United States
Nearby Attractions: Bayshore Municipal Golf Course, Lincoln Road Mall, Art Deco District
Specialties: Outdoor pool, South-American inspired spa, fitness centre with ocean views and a restaurant.
The oceanfront Faena Hotel is a glamorous 5-star luxury hotel standing proud from where it boasts views of both the city and the ocean. The building is a masterpiece of an Argentine hotelier, Alen Fayena, and the Oscar-winning couple of the films Mouline Rouge and The Great Gatsby, Catherine Martin and Baz Luhrmann.
The theatrical accents of the interiors and a mammoth skeleton of 24k gold intensifies the hotel's extravagance. The furnishings and decors of all the 169 rooms and the oversized lobby are in red, gold and turquoise styles. You have the liberty to choose any room based on the kind of view you'd like amongst ocean view, pool view and city view.
During your stay treat yourself at the 22,000sqft spa, or at the fitness centre where regular indoor and outdoor classes are held. The oceanfront hotel also houses two of Miami's busiest restaurants – the Los Fuegos, which has an open-fire kitchen and the Pow.
7. Nobu Hotel Miami Beach :
Address: 4525 Collins Ave, Miami Beach, FL 33140-3226
Nearby Attractions: Lincoln Road Mall, Luxury shops of Bal Harbor, Wynnewood design and art district
Specialties: Japanese cuisine served at the restaurant of this hotel by the world renowned Japanese Chef Nobu Matsuhisa.
The Nobu Hotel, a luxe hotel with sophisticated Asian-inspired décor, overlooks the Atlantic Ocean and an Intracoastal Waterway. Only 3 miles down you have the Miami Beach Botanical Gardens to dive in the nature at, and also the popular Lincoln Road.
Its most intriguing feature is its restaurant and hence, is extremely popular among food lovers. You will get to taste delicious Japanese cuisine, especially made by the famous master chef himself – Nobu Matsuhisa. The flavors of his signature dishes, such as the Black Cod Miso & Rock Shrimp Tempura, will linger on your mouth for days.
If not for its elegant hospitality and friendly services, you will surely be willing to return again for the exotic food.
D. Budget Hotels in Miami Beach :
8. Hampton Inn Miami Beach :
Address: 1700 Collins Ave, Miami Beach, FL 33139-2007
Nearby Attractions: Jackie Gleason Theatre, the New World Symphony Park, Lincoln Road and Jungle Island
Specialties: Pool, Complimentary Breakfast, Rooftop terrace.
Hampton Inn, a great budget accommodation option, you'll be taken by its urban designs, contemporary interiors and humble atmosphere. This hotel is located at an advantageous location. You can easily go visit a number of attractions, like the Jackie Gleason Theatre and the New World Symphony Park, from the inn.
With comfortable air-conditioned rooms, you also get a long en-suite bathroom. In the evening, take some time to enjoy the numerous lively bars, restaurants and nightclubs situated closely from the inn at Lincoln Road.
9. Crystal Beach Suites :
Address: 6985 Collins Avenue, Miami Beach, FL 33141-320500 1 888-643-4630
Nearby Attractions: South Beach, Bal Harbor, Aventura Mall
Specialties: Outdoor pool, fitness centre.
Crystal Beach Suites is another modern budget-friendly hotel with oceanfront, and a few minutes away from the marvelous South Beach. Within a very healthy budget, you get to experience standard quality suits fully equipped with kitchenettes, living rooms and en-suit bathrooms.
The friendly services of the hotel will impress you immensely. And the lively welcoming ambience will create a lasting impression enough to ensure your return.
E. Miami Beach Hotels with Balcony :
10. Grand Beach Hotel Surfside :
Address: 9449 Collins Avenue, Surfside, FL 33154-2610
Nearby Attractions: Bal Harbor, Lincoln Road Mall, Art Deco District
Specialties: Hot tub, private balcony, oceanfront pool, rooftop pool, bar.
At Grand Beach Hotel Surfside, experience a splendid mixture of tranquility and luxury. It's a contemporary all-suite hotel on the breathtaking ocean side and resembles to a gateway to paradise.
Whether you choose a room with a pool view or the beach view, either way soak under nature's serenity by lounging at your balcony. With easy access to world-famous beaches, this hotel is another top pick in Miami.
There are 4 hot tubs here for you to destress in. Head up to the rooftop Sky Pool for a good swim and to immerse in the remarkable views of the Atlantic. Further rejoice your senses with the variety of amenities including spa and fitness centre, together with the Sky Bar and several lounges.
11. Best Western Plus Atlantic Beach resort :
Address: 4101 Collins Ave, Miami Beach, FL 33140-321000 1 800-568-8520
Nearby Attractions: American Airlines Arena, South Beach, Port of Miami
Specialties: Gym, Solarium, outdoor swimming pool, balcony.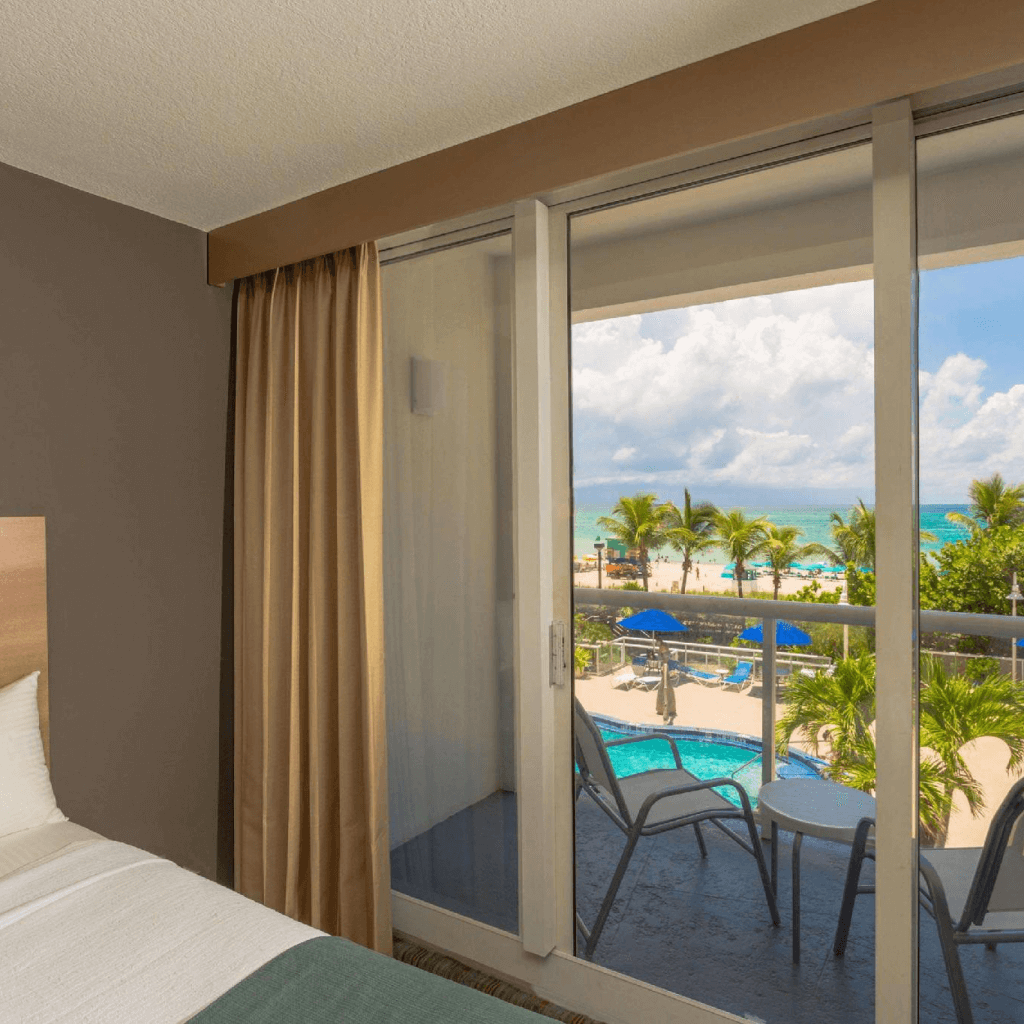 To indulge in a top-notch service at an affordable price check-in at the Best Western Plus Atlantic Beach Resort to elevate your vacation. Indeed it's Only 5 minutes away from the Miami Beach Convention Hall, and overlooking the Atlantic Ocean, your stay will be full of refreshing comfort.
Spacious rooms with contemporary décor, open balcony and other amenities are kept ready at your wait always. With a restaurant and cocktail lounge located right on the property, there is no need to seek out entertainment or dining outside.
F.Miami Beach Oceanfront Hotels with Balcony
12. Marriott Stanton South Beach :
Address: 161 Ocean Drive, Miami Beach Hotels, FL 33139, United States
Nearby Attractions: Many shops and restaurants of Lincoln Road
Specialties: Fitness centre, lounge, beachfront location, hot tub, private balconies, outdoor pool.
Located on Ocean Drive, Marriott Stanton South Beach has made its place as a unique and distinguished resort. Offering modern chic comfort along with a laid-back beach vibe, you can immerse in its heartening, yet invigorating ambiance.
Firstly Pick one of the trendy rooms perfectly equipped with every amenity that exists, and relax in its grandeur, then Take a tour around Ocean Drive, and get fancy at all the fashionable shops. At close proximity, you'll also find numerous fine restaurants serving delicious seafood and other international cuisines.
However, what you'll enjoy the most is, undoubtedly, the exotic sunset view from the balcony of your room.
13. Cadillac Hotel & Beach Club, Autograph Collection :
Address: 3925 Collins Ave, Miami Beach, FL 33140, United States
Nearby Attractions: Miami Beach Boardwalk, Jungle Island
Specialties: 3 restaurants, family-friendly outdoor pool, direct access to the Atlantic Ocean, rooms with oceanfront balconies, hot tub, and gym.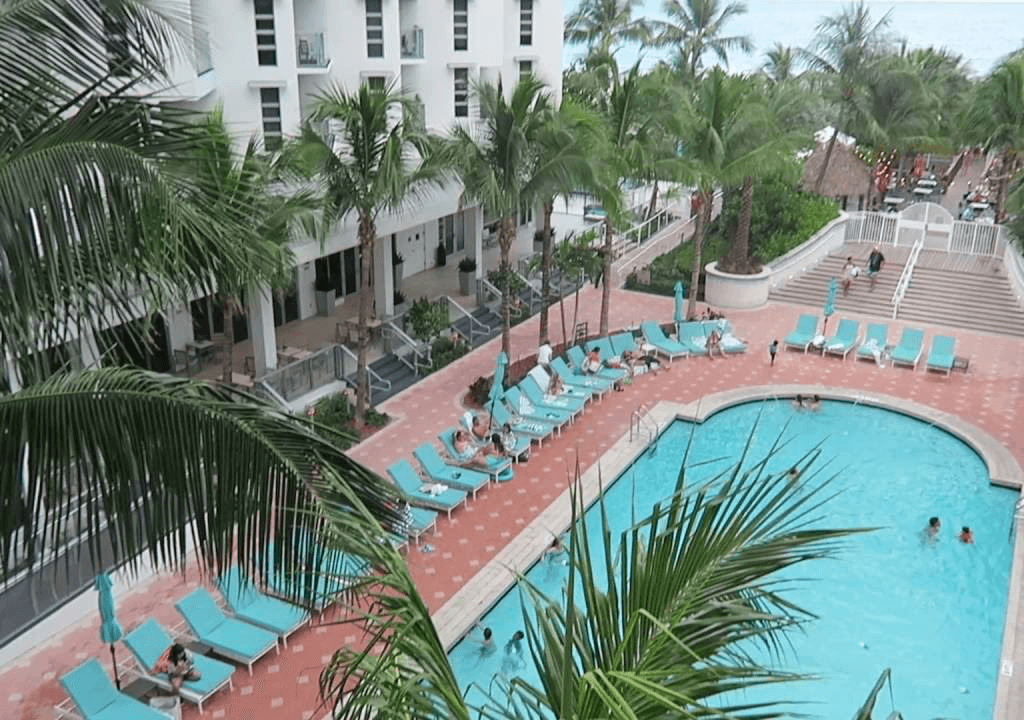 Influenced by the Italian Riviera, Cadillac Hotel & Beach Club, Autograph Collection is an oceanfront luxurious hotel. Known as one of the original art deco hotels of Miami, you will be offered rooms with picturesque views of the Atlantic Ocean and the cityscape. Moreover, their unbeatable tailored concierge services, dining options, and other plush amenities are all well worth your time and money.
Breathe in the serene air and feel you senses heightening. Ignite your mood further by dining at their in-house restaurants serving delightful meals of authentic Italian cuisine and energizing cocktails.
Take a long lounge under the warm Florida sun at the immaculate white sandy beach. Celebrate your day at the nearby attractions and shopping malls, and lift yourself at Miami's nightlife.
An escape to this quaint hotel is all you need to make the best out of your trip to Miami Beach.
G. Cheap Hotels in Miami Beach :
14. Ocean Spray Hotel :
Address: 4130 Collins Ave, Miami Beach, FL 33140-3211
Nearby Attractions: Holocaust Memorial, The Fillmore Miami Beach, Miami Beach Boardwalk
Specialties: Free internet, air conditioning.
The Ocean Spray hotel is loved by the visitors who do not want to expend much on accommodation. The hotel is adorned in a French classicism style and décor that you'll surely find impressive and be left praising at.
It also does not compromise in terms of providing comfort and amenities to the guests. Indeed the rooms are well maintained and a 24-hour front desk serves your needs in the friendliest manners.
To indulge in the taste of some delicious seafood, restaurants like Juvia, Santorini and Georgios are located close at hand for you to delve in. Dive into the wonders of Holocaust Memorial and The Fillmore Miami Beach at the Jackie Gleason Theater close by during the day, before returning to the soft plush bed in your hotel room at night.
15. Island House South Beach :
Address: 1428 Collins Ave, Miami Beach, FL 33139-4104
Nearby Attractions: The Wofsonian, Holocaust Memorial
Specialties: Air conditioning, complimentary breakfast, baggage storage.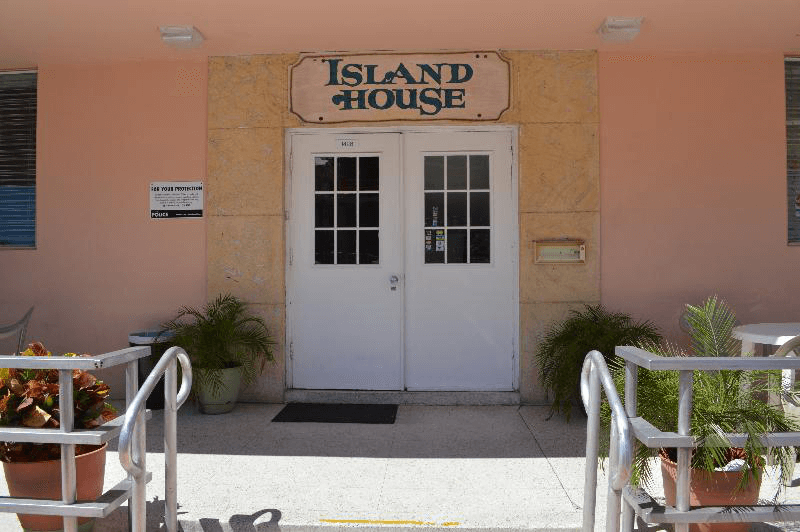 Island House South Beach is another great hotel at a very low price point. After a long day in Miami, rest and refresh yourself at the air conditioning rooms. Even at this low price you get a complimentary scrumptious breakfast in the mornings. If you are fond of French restaurants, do visit the famous Pied a Terre, and Villa Azur Restaurant located nearby.
However, this magical city has no shortage of comfortable, reasonable, and luxurious hotels. Each with more promising hospitality than the other, the Miami Beach hotels await to serve you and make your stay worthwhile. So delay no more. Pick your favorite and make reservations today.