"Are you wishing to enjoy a time-honored Wild West or wander about the Fairytale world of Disneyland? After visit these places you will consider that these are the Best Places to visit in California. The best places are mentioning below. Live in the American dream or travel around picturesque landscapes of the USA? If so, then California State is the ideal holiday spot with your loved ones."
From LA's Hollywood Walk of Fame to every child's dream world of Disneyland. There are many beautiful beaches to hiking highlands, California has endless expedition landscapes for explorers. There are a lot of things to do in California for once in a lifetime holidaymaker. The US's western crown jewel is adorned with the architecture's exemplary Golden Gate Bridge. The state of California is home to significant adventurous territories in regions of North America. Here are mentioned some best places to visit in California. Where tourists can choose their preferred destinations.
The San Francisco Bay Area:
The truth is, there are plenty of best places to visit in California, but out of the lot, the San Francisco Bay Area is its cherry top. Easy pickings right off the tip if you're visiting California's symbolic metropolis for a day or two.
Simply abridged as Bay Area. It is a sprawling 2,737m long suspension Golden Gate Bridge over the unfathomably deep Pacific Ocean. Here you can visit the Ferry Building Marketplace. Explore local street food and souvenirs, or visit Clement Street Farmer's market for handpicking organic fruits and veggies.
Once you reach San Francisco and want to feel appetizingly native. Should try out eating at Hawker Fare, Loló Mexican tapas restaurant & bar, Skool, Olea, and Beretta for delicious Italian savory. In case you're out for a full-scale day jaunt, pay a visit to the Golden Gate Park, the Exploratorium, reel over terrains in cable cars, including other wayfaring tourist spots. Don't miss the chance to take a cup of tea at the Japanese Tea Garden in the evening.
Getty Centre, Los Angeles :
If you're looking for a comprehensive traversing inspiration for art and architecture, then you must visit the Getty Centre in LA. Getty Centre, placed on the hill top in the Santa Monica Mountains, is on of the top beautiful places in Los Angeles.
It is the main campus of Getty Museum and houses other programs of the Getty Trust. Opened to the public on December 16, 1997. It is known for its assorted architecture galleries, gardens, and panoramic vistas over Los Angeles. A few particulars of its dramatic artistic excursions include pre-20th century European paintings, outdated sketches, illuminated manuscripts, antediluvian Asian photography, Greek sculptures, and Romanesque arts.
Hollywood Bowl :
Hollywood Bowl is one of the most longstanding conventional amphitheater set in Hollywood, LA, California. It runs non-stop concerts of popular music bands, solo artists, and other artists from all over the world.
The Hollywood Bowl amphitheater is one of the best places to visit in LA, California, especially if you're a nerdy music lover. Notably, it was nominated as one of the 10 best live music venues by the likes of Rolling Stones magazine in 2018. Built-in the year 1929 with distinct cascades of concentric arches. Until it got revamped after 2003, replaced with a bigger version before the commencement of the 2004 season.
Here you are allowed to bring your drinks and snacks. In case you're on a budget, bring a portable car canopy since the parking lot takes a lot; a staggering $26. Also, bring head cushions and blanket if you're considering an overnight stay.
Lake Tahoe :
What could be more rejuvenating than to pay a visit to a crystal-clear lagoon? This time it's the big freshwater lake nestled in the Sierra Nevada Mountains. It's one of the best places to visit in California during winter. Especially due to its wintry Swiss Alps-like appeal.
Lake Tahoe is a popular tourist attraction for beach lovers. The cliff trail bikers, and those who aspire timberland getaways far away from the busy city life. Exciting wanderlust spots include the Emerald Bay State Park, The Gondola at Heavenly, Nevada State Park, 1929 Nordic-styled manor Vikingsholm, hiking at Rubicon Trail, Tallac Historic Site, Donner Memorial State Park, and others.
Universal Studios Hollywood :
If someone asks you what things to do in California. You should confidently reply to the back: A full-day tour of Universal Studios Hollywood. The best part about it is that it's a fully functional movie studio. Indeed it remains one of the busiest places for Hollywood filmmaking.
The Universal Studio is an all-embracing experience of real-time entertainment incorporated. There are unforgettable themed attractions, exciting rides, toy shops, delightful eateries, movie museums, children's game stalls, and whatnot. The best attractions you should never miss out on if you're going for a once-in-a-lifetime outing include the Wizarding World of Harry Potter, Jurassic World, Fast & Furious, Despicable Me, Transformers, and Springfield – The Simpsons Ride, among many others. Adorned with Universal Studios and other entertainment facilities, Los Angeles has become one of the most vibrant cities in the world.
Santa Monica Pier :
The Santa Monica Pier is an extended dock towards the southern Colorado way in Santa Monica, California. It is famous for housing a progressive entertainment zone. There is a mini amusement park, franchise stalls, fishing dockyards, and spectacular city views.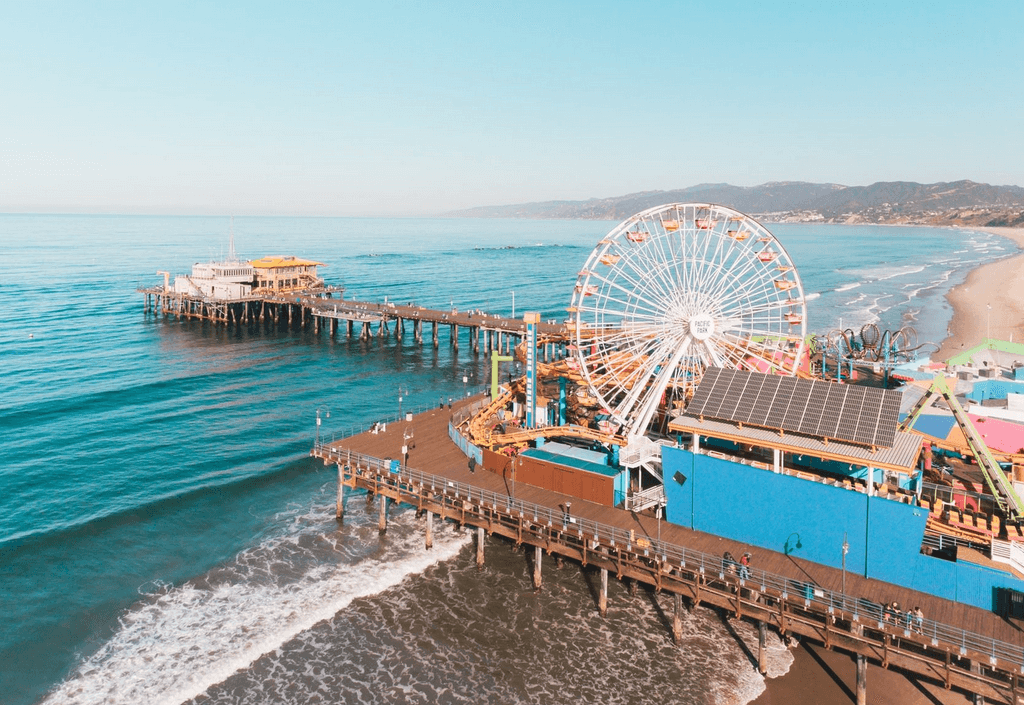 Santa Monica Pier is one of the best places to visit in California. This is the right place for having entertainment, sightseeing, dining and visiting stores at a time. If you're considering an early outing to this popular anchorage. You need to check out the main aquarium, Looff Hippodrome, Yacht harbor Sign, State Beach, and Tongva Park, among others. And of course, a long drive along the spectacular shorelines.
Catalina Island :
The land encircled crown islet of California's Channel Islands. Catalina Island also is a cloudland for all. It's a busy island visited by celebrities, couples, and families all year round famous for its exotic wildlife. There are a lot of things to do in Santa Catalina island, Los Angeles, like diving, snorkeling, kayaking, speed boating, native cuisine, shopping gifts, and buying souvenirs.
Don't forget to go uphill Mt. Orizaba if you love hiking and overnight camping. Here you can also buy special gifts for your loved ones back home. A few major outings you can enjoy at Catalina Island includes parasail riding, evening food tours, trail down the Descanso Canyon, and visiting its iconic museum.
Pacific Coast Highway :
Officially known as State Route 1 is of the sleekest freeways. It is a major north-south state highway that runs through the Pacific shoreline. Extending its pathway trajectory with over 656 miles, it's an extensive motocross state route of California.
This Pacific Coast Highway incepts from South California and ends up in Mendocino County in Leggett. If you're planning a visit someday with your family, then you must see the McWay Falls. Firstly go through Santa Monica Pier. Here you should eat at Solvang Restaurant, visit Hearst Castle, or hit the Pismo Beach Monarch Butterfly Grove.
Hollywood Wax Museum :
Here you'll encounter celebrities every single day. Thanks to life-sized human replicas depicting famous actors and personalities. The Hollywood Wax Museum is located at Hollywood Boulevard in the tourist district of Hollywood, California.
It's an amazing indoor walkthrough and has plenty to offer apart from real-life mannequins. Wear comfy casuals downed with sneakers. comfortably, Visit all the attractions including bystander wax figures, Ripley's Believe it or not, aquarium, and haunt and mirror maze in the building's premises. Some famous personalities waxed in legit-looking lifeforms are Tom Hanks, Michael Jackson, Charlie's Angels, George Clooney, and Johnny Cash, among a few more. And yes, don't forget to take the detoured bus for Hollywood celebrity home tours.
San Diego :
One of the most spectacular coastal cities of California is San Diego. It offers plentiful adrenaline-charged spots for travelers to wander about and is one of the best places to visit in California. It is a major hub for beachgoers and car racers. They always ready to hit high waves of highways respectively.
San Diego is also a popular family recreational grounds. Mostly, It is known for San Diego Zoo, LEGOLAND, Balboa Park, art galleries, picnic gardens, museums, and artist boutiques. Not to forget to mention, Sea World San Diego is an animal theme park and a primary location for families with kids. This amusement park has a variety of fun rides and a life-sized marine mammal's aquarium. This coastal city has pleasant weather during the summer and late spring seasons, thus, making it a great place to spend leisure time during weekends for those living in close proximity.
Venice Beach :
One of the liveliest seaside settlements in California. Venice Beach is a must-visit coastal community if you're visiting this western state of the US. It is popular for its happy-go-lucky serenity and friendly locals if you move away from the beach for a laidback lunch or brunch in the daytime.
On the contrary, beach areas are all about hustle and bustle, as everything seems to be full of beans and energies. Here you'll find ritzy commercial outlets and residential lodges. There are many Funky shops, talented street performers, and inspiring wall art murals and enchanting sea view have made this beach one of the best places to visit in California. To contemplate contemporary art, you must visit the modern gallery LA. Louver. And yes, the skate park and Muscle Beach gym spot is popular among young blood.
There are various popular things to do at Venice Beach. It is one of the kids fun places in Los Angeles for free. You can enjoy surfing at the famous Venice Breakwater, walk up the Venice Boardwalk for panoramic views, enjoy hot coffee, best cuisine, and eat delicious food at the Abbot Kinney Boulevard. Besides, you can take a 45-min stride with your special one towards Santa Monica Pier.
Disneyland, Anaheim, CA :
One of the most stunning Disneyland Parks in the U.S. since it is the first of the two theme parks built at Disneyland Resort in California.
Disneyland opened on July 17, 1955. It is a forever heartfelt dwelling of Disney Park devotees. This is the only theme park designed and completed under the direct supervision of Walt Disney himself. Some of the popular attractions here include Disney California Adventure Park, Downtown Disney District, Sleeping Beauty Castle Walkthrough, Star Wars: Galaxy's Edge, Cars Land, and Radiator Springs Racers, among others. It is a fun place for kids to enjoy a weekend. Now it's turned into one of the best-visited places in California.
Sunny Jim's Cave, La Jolla :
One of the most animated sea caves around the world owing to its shop entrance. How in the world caves entryway start from local shops, I bet not even ten in the world. The Sunny Jim's Cave is a fascinating dug deep fissure among both kids and adults.
This cave was tunneled in 1902 by a few Chinese laborers employed by the famous German artist. It was mining by engineer Gustav Schultz. It was notoriously famous as a watercourse bootlegging gangway in olden times. Also, it operated as a safe haven for pirates who hid and ambush their enemies from its hollow entrance. The Sunny Jim's cave is an approx 15 to 20 minutes of a self-guided detour. As you hold on to the handrails with both hands. Few activities and nearby attractions include snorkeling, sunbathing, visiting La Jolla Cove, Shell Beach to collect shell trinkets. Also sightseeing harbor seals at the Children's Pool Beach.
Monterey Bay Aquarium, California :
This glass-walled marine exhibit opened in October 1984. It is ever since has been one of the most cherished aquatic museums among tourists.
It has a positive reputation among visitors owing to its magical deep-sea species views behind the fenced glass ramparts. There's a lot of variety of fishes and other aquatic animals swimming around the see-through tumbler fortifications. It's also known to stop time at the moment. As visitors plan for an hour to stay inside the aquarium. Somehow they get immersed and mesmerized, thus, leaving after 4-5 hours.
The Golden Gate Bridge :
Soaring stalwartly at 2,737m and hanging over the Pacific Ocean. Golden Gates Bridge (January 5, 1933) is one of the best bay areas, and places for boarding on cruise ships.
Once you cross this monstrous suspension bridge, you'll find yourself in the middle of bountiful must-visit attractions. The Golden Gate Park Recreational Area at the base of Mount Tam. the place offers scenic seascapes including rocky ocean ridges, uphill meadows, and spectacular views. The golden gate bridge is the famous symbol of San Francisco. So tourists come to see this long bridge, which is one of the best places to visit in California.
Big Sur :
This craggy shoreline of California's central coast Big Sur lies between Carmel and San Simeon.
These enchanted serene strands look as if they're reminiscent of long-lost lovers owing to their pristine beach spots and natural topographies. The spectacular Santa Lucia Mountains lying on East and West are swept away by the bottomless Pacific Ocean. It's a popular place for couples looking for a relaxing weekend getaway. This sporadically inhabited expanse incorporates few state parks. Although hiking cliff trails, calm camping spots, and beachcombing for precious seashells and stone minerals are very desirable activities here.
Malibu :
Celebrated as a seaside home of celebrities and stunning beaches. Malibu is a lively coastal city west of Los Angeles, California.
It's ideal for long drives adjacent to magnificent waterfronts. Popular strands include the far-fetched sandy Zuma Beach. The Malibu Lagoon State Beach on the east side, El Matador Beach nuzzling in cove beaches, and Point Dume covering primeval sand dunes, scenic waterfront views, and uphill trails. Also, Solstice Canyon offers a long walk towards hiking tracks and a waterfall.
Sunset Boulevard :
One of the most stardom figurative avenues located in the central and western part of LA, California, Sunset Boulevard.
It's one of the best places to visit in Los Angeles. This is owing to its star-studded domicile territory. The 22-mile long roadway runs through Hollywood's exuberance to the beach settlement of Malibu. Some famous personalities who reside or have lived before on this famous thoroughfare. Perhaps include former president Reagan, George Lucas, Elon Musk, Jenifer Aniston, Elizabeth Taylor, and Joni Mitchel.
Yosemite National Park :
This is an all-season idyllic glacial valley in western Sierra Nevada mountain range. It's one of the most beautiful and unparalleled places to visit in northern California.
It's almost a 7.5 long stretch of jagged uphill terrain that covers astoundingly 3000 to 3500 feet deep sylvan lands. The Yosemite National Park consists of pine woodlands, granite tops like Half Dome and El Capitan. If your visit here for a full-day excursion plan, then you must visit the waterfalls. Hence, look out for black bears and other wildlife. You can discover hidden trails, set up bonfire and camps, climb rocks, and ice skate at Half Dome Village.
Santa Barbara :
Located along the central California coast, Santa Barbara theatrically transforms into a melodramatic settlement due to the Santa Ynez Mountains in the backdrop.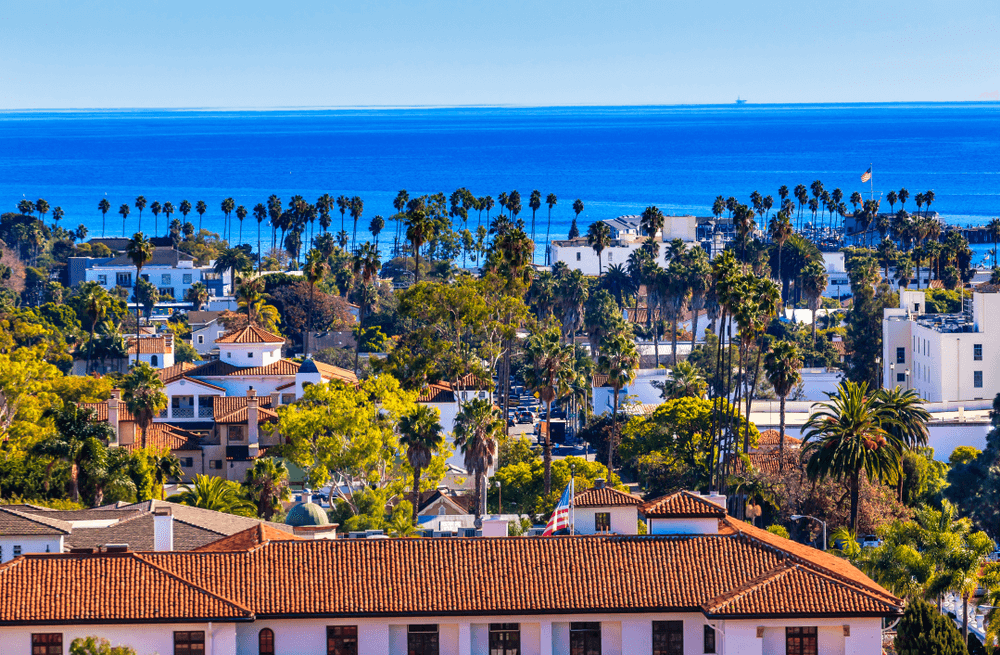 The town center and busy suburbs and street life. The Mediterranean fashioned white stucco constructions topped with red tile rooftops reflect the city's Spanish colonial heritage. This township demonstrates a strong sense of communal harmony swathed with bountiful agricultural lands, profound cultural areas, and many other tourism opportunities, for which it is one of the best-visited places in California.
The Western state of the U.S., California captures deep roots of old Wild West urban myths. To behold the contemporary infrastructure towards modern conurbation revamps. This state has almost everything under its belt to surprise travelers looking to venture across it. This state-owned chunk of land holds great significance. Especially the S A's Golden Gate Bridge, which has become a distinctive landmark and a rightfully rhetorical representation of the state of California.