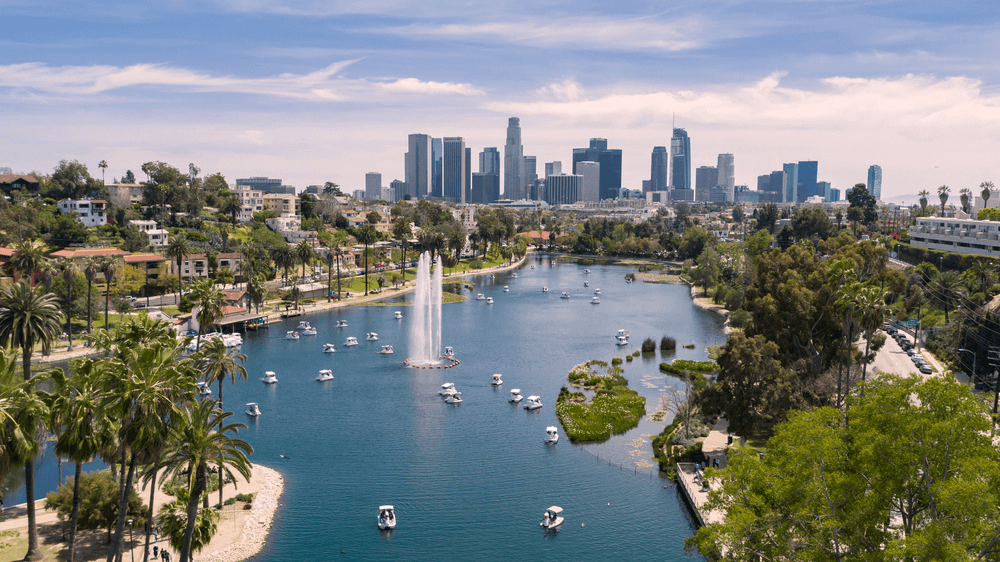 Los Angeles is a popular destination located in Southern California, USA.  LA is ethnically and culturally diverse with the reputation of being the most creative region in America. Hollywood in LA, is well recognized for its prominent film industry. When we picture LA, the classy homes of Hollywood stars are bound to come into our minds. In this article, we will discuss about top Beautiful places to visit in Los Angeles
Los Angeles is full of fascinating locations which appeal to an immense variety of interests. Disneyland and Universal Studios are great fun places for kids and family to spend a nice holiday.
Hollywood film studios, the eye-catching Santa Monica pier, the motivating Hollywood sign, Scenic drive in Mulholland, the west coast, and San Pedro are other tourist attractions in Los Angeles. Here are some awesome places, which will give you a wonderful experience while visiting Los Angeles.
1.Getty Center
Getty Center is one of the most renowned art galleries in the world. It was established in 1997 by well-known petrol- industrialist, Paul Getty. Along with its remarkable paintings and sculptures, the architecture of the establishment is extraordinary as well.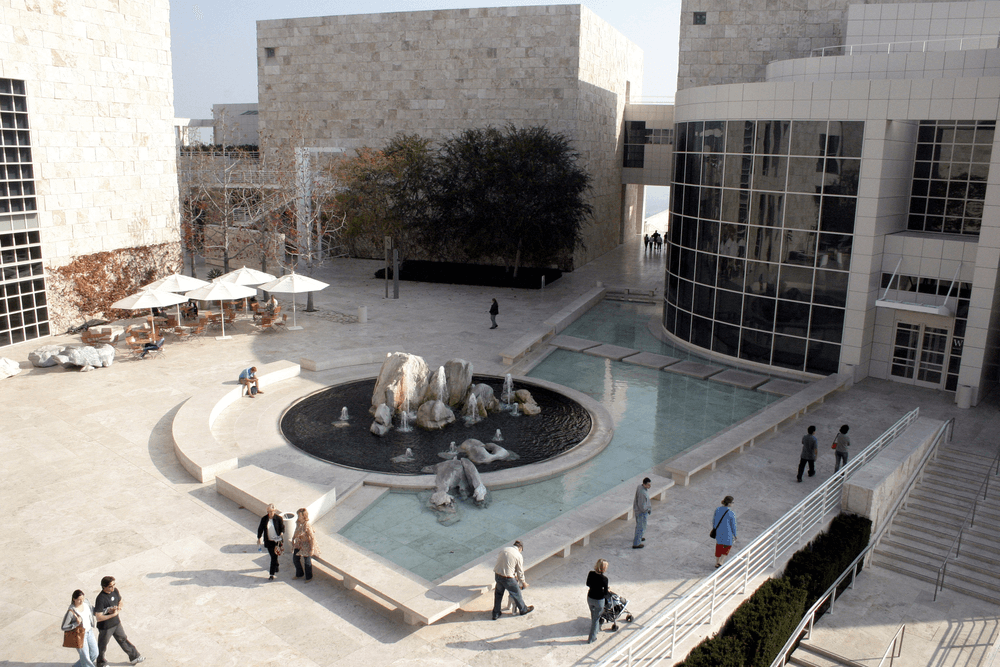 The monumental Getty Center is perched on the Brentwood hilltop of the Santa Monica Mountains. Visitors ride the sleek hover train up to the museum, where an exceptional collection of artwork from the middle ages is exposed.
It includes decorative art, sculpture, drawing, and valuable classic art pieces like Van Gogh's "Irises", Turner's "Modern Romes" and "An old man in Military costume" by Rembrandt. Tourists can enjoy the stunning views of West Los Angeles and a fascinating garden from the hilltop.  
Conceptual artist Robert Irwin designed a 1,34000 square feet garden including a floating labyrinth and more than 500 different species of plants. It has been named living sculpture for the garden's artistic design. This museum has a seven-story deep underground parking garage with 1.200 car parking capabilities. Although admission is free, tourists must get a timed entry ticket before they visit.
2. Disneyland
It is a dream for each child to enjoy in Disneyland during a holiday. This colorful world is an hour's drive from down town Los Angeles in Orange County. Disneyland is the first of Walt Disney's chain of theme parks.
This vibrant theme park feels like a world of its own, dedicated to children and adults alike. Disneyland has distinct segments, each themed and dedicated to a beloved Disney show. Kids enjoy the different sections like Adventure land, Tomorrow land, Frontier land, Fantasy land, New Orleans Square and Critter country. Costumed performers dressed as cartoon characters roam around the park and visitors take pictures with them.
Disney fans of all ages meet characters, board rides, cheer on parades, watch nighttime fireworks, etc. The experience is said to be so enchanting and captivating, the fans feel as though they are right inside their favorite Disney or Pixar movie. These theme parks are surrounded by merchandise shops and many excellent hotels for guests downtown.
3.  Catalina Island:
 Being the closest island to Los Angeles, Catalina Island has always drawn Hollywood stars, hikers, divers, and tourists alike. The island is approximately 22 miles from the coast of Southern California and is specially known for the vast array of activities like cruising, camping, and hiking to shopping.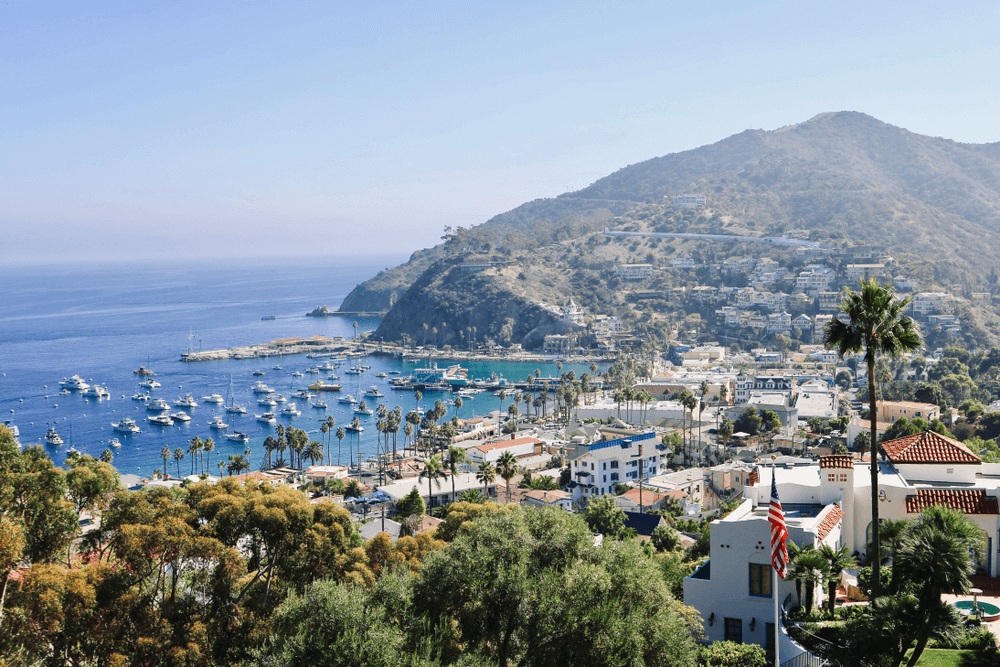 The island's fast ferries called Catalina Express, depart from Long Beach and San Pedro to reach to Avalon, Catalina. Catalina Island nightlife is quite amazing, as there are casinos and night clubs here to enjoy.
The island offers exceptional experience to the adventurers and nature lovers. Tourists can enjoy Ocean Tours to watch Dolphins and sea lions. Besides scuba diving and snorkeling, there are lot of things to do in Catalina island to enjoy the holiday best. There are many surprising events in Catalina island new year's eve.
4.  Universal Studios Hollywood:
Universal Studios Hollywood is popular for its fascinating rides based on blockbuster movies and working film studios. People dream to visit this top tourist attraction in Los Angeles, California and eager to watch movie shooting spots. The rides and amusements aim to highlight the most popular scenes from film and television.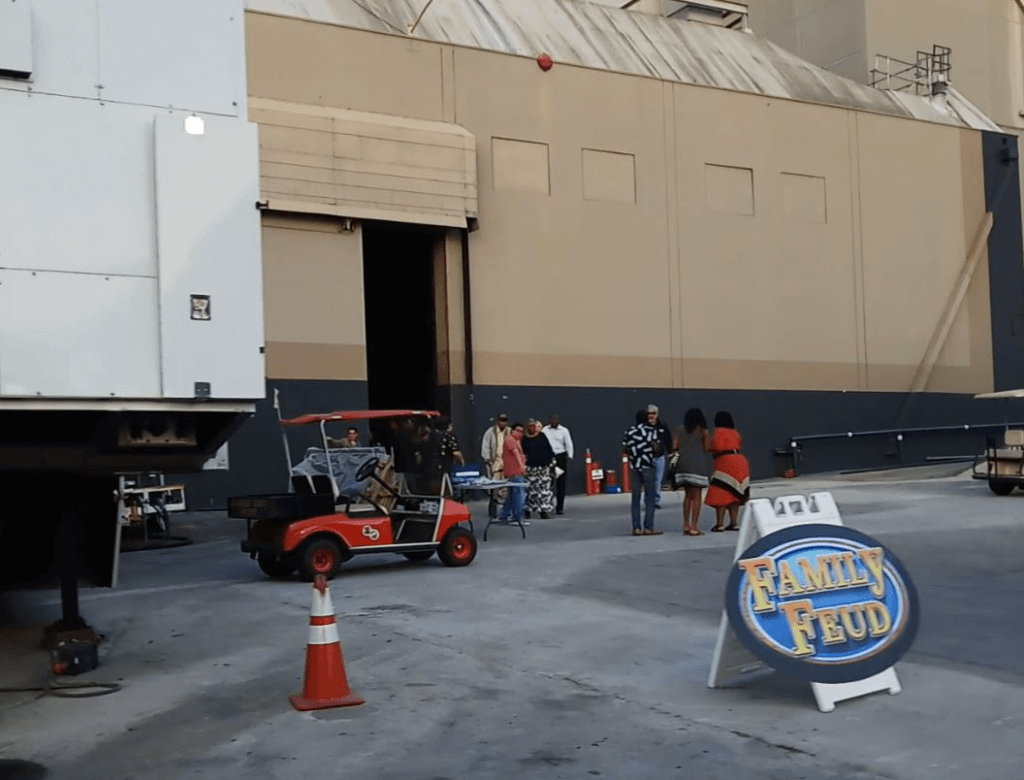 Studio tour is the most incredible attraction in Universal Studios. It offers guests the behind -the-scenes view of a real movie studio. There is a tram ride which takes guests through several movie settings like "War of the worlds", "Psycho", "Jaws" and many more, complementing the experience with a special fiery effect. It also includes Peter Jackson's thrilling "Kingkong " 360 3D which is said to be the world's greatest 3D experience.
Universal Studios Hollywood is divided into two portions which are connected by long escalators. One is the upper lot and the other is the lower lot. Most of the family-oriented attractions belong to the upper lot. Universal Boulevard is a mission revival entrance pathway which is the theme of the upper lot. Universal Boulevard is a venue to a lot of shows including "Universal animal Actors' Show", "The special effects stage" and "Water World". In the upper part of Disneyland,'The wizarding world of Harry Potter' is a fascinating themed ride that is created based on in Harry Potter film.
The lower lot is smaller compared to the upper lot. Visitors have to catch an escalator to reach it. Three exciting rides with height restrictions are special in this section. The rides are "Jurassic World", "Revenge of the Mummy" and "Transformers". This complex also covers Universal City walk, shopping areas, and live performers.
5. Venice Beach Boardwalk:
Along the sea beach in Santa Monica, Venice Beach Boardwalk is fascinating, whacky and wild; kids are restless, having fun in open place. The Venice Beach street market is one-mile-long extended from North Venice Boulevard at the south end to park avenue at the north end.
 Many shops, surfboard rental places, and boutiques are scattered along the way. The beach's volleyball courts, skating square and Muscle beach area are crowed-delight as well. Visitors see youngsters enjoying electric bicycle tours in Venice beach. Tourists, locals, and artists are gathered to this classic spot of LA.
 Venice beach boardwalk has something for everyone; an amusing beach with wi-fi, selling colorful paintings, and shopping designer's swimwear. Visitors watch the roller disco skater's performance. It is a kid's fun place for free in LA. Youngsters rent a beach cruiser or a pair of rollerblades.  Along with these fun activities, people enjoy food in seaside restaurants.
6. Santa Monica Pier:
Santa Monica pier is a scenic coastal leisure spot close to Los Angeles downtown. Santa Monica is a Coastal city fringed with 3.5 miles long beach. People visit this pier often to take in it's majestic view of the Pacific Ocean.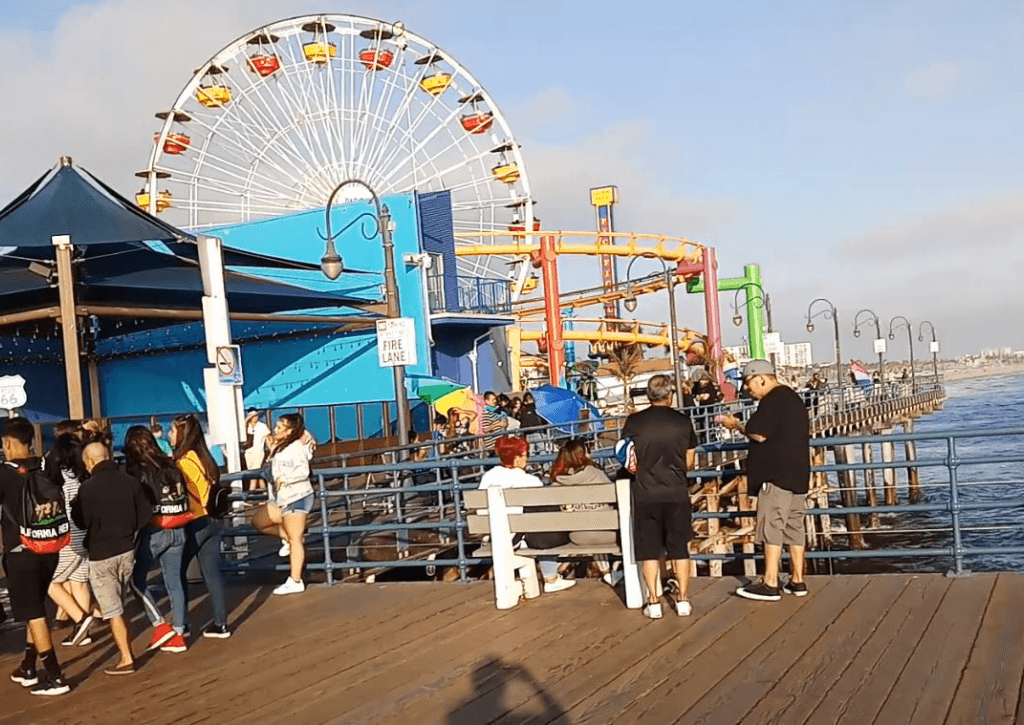 As the weather is sunny majority of the time, people like to sunbathe, swim or walk along the beach. Busy working people come to this spot to sit back, relax and enjoy fresh sea food amidst the serene nature. Kids like to hop onto the Santa Monica pier rides like the Ferris wheel and roller coaster. 
 Visitors are mesmerized by the natural fresh breeze and the calm, steady waves of the ocean. At the base of the slope of Santa Monica pier is the closest parking area. In the north of Santa Monica Pier, an extra parking is accessible at Lot 1 North.
7.  Restaurants with Pacific Ocean view in LA :
 Los Angeles downtown is surrounded by mountains, ocean and tall skyscrapers. Santa Monica, Long beach and Malibu offers some amazing restaurants alongside the charming Pacific Ocean. So new comers in LA should grab the opportunity to enjoy excellent sea views from a sea side restaurant.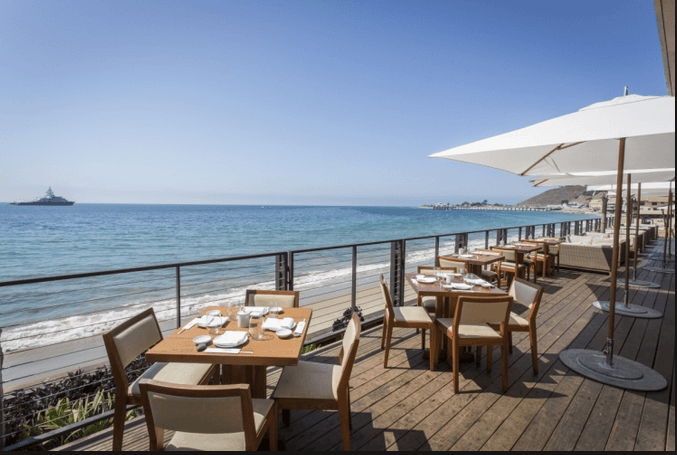 The background of the Pacific Ocean establishes the ideal pace for a light lunch or a night out. The natural mood of an amazing sight really intensifies one's eating experience and adds elegance to any date.
 From the lobster of Santa Monica to  Geoffrey's of Malibu, every restaurant offers a scenic view of the Pacific Ocean. Los Angeles has some nice LA restaurants with a Pacific Ocean view while dining out. The Penthouse at the Huntley, Mar'sel at Terranea Resort, Whiskey Red's, and Nobu Malibu restaurants with great views are pretty touristy.
8.  Griffith observatory and Griffith park:
Known as one of the prominent astronomy centers, the Griffith Observatory is an engaging science facility and one of the most remarkable attractions of LA. It is situated on the highest summit inside Griffith park near Mount Hollywood.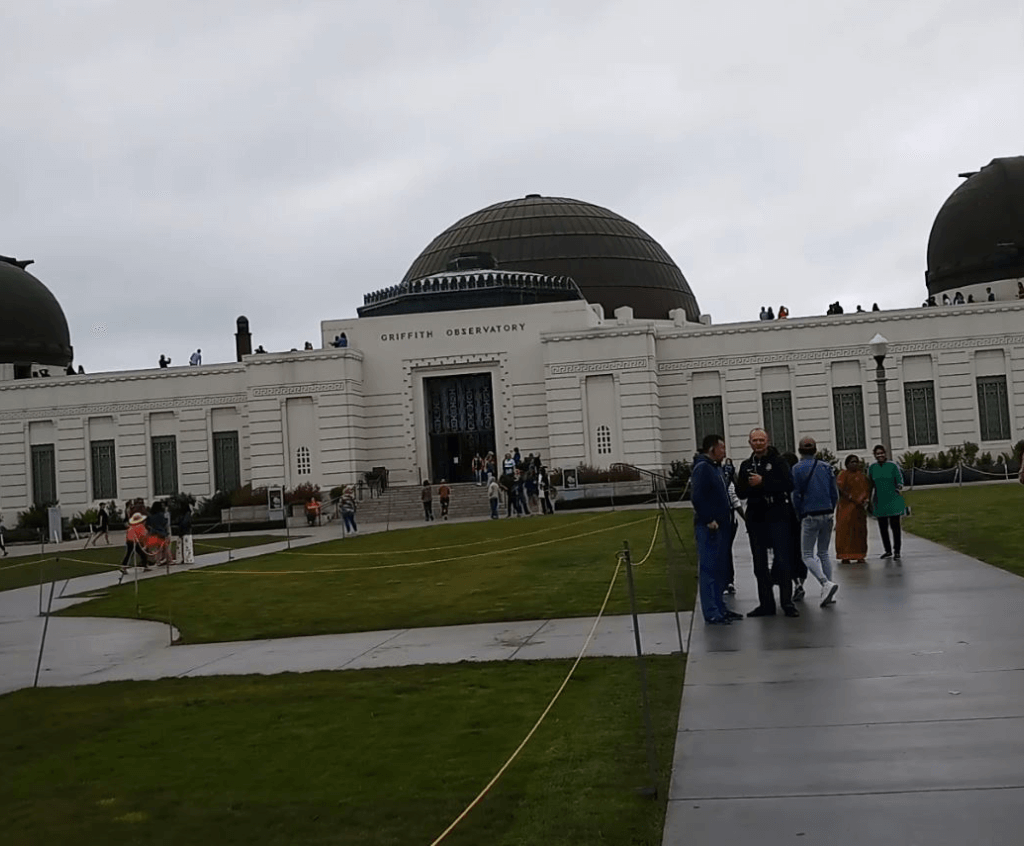 Its position gives visitors spectacular views of the surrounding region, the primary one being the Hollywood sign. Visitors get very much impressed to watch the Hollywood sign which they saw before on Tv or a movie. Griffith Observatory is a proper public observatory, with a planetarium, an observatory, and countless space and science-related displays.
The primary highlight is a look through the Zeiss telescope, used to observe the moon and planets. In the evening the telescope is free to use. The observatory and park are named after Griffith J Griffith, who donated the majority of space of the parkland to the city in 1986 and provided funds to the city for the creation of the observatory.
9.  Walt Disney Concert Hall:
Walt Disney Concert Hall is the leading cultural icon of Los Angeles for world-class performance. It is one of the most remarkable concert halls in the USA, which makes it a recognized architectural landmark.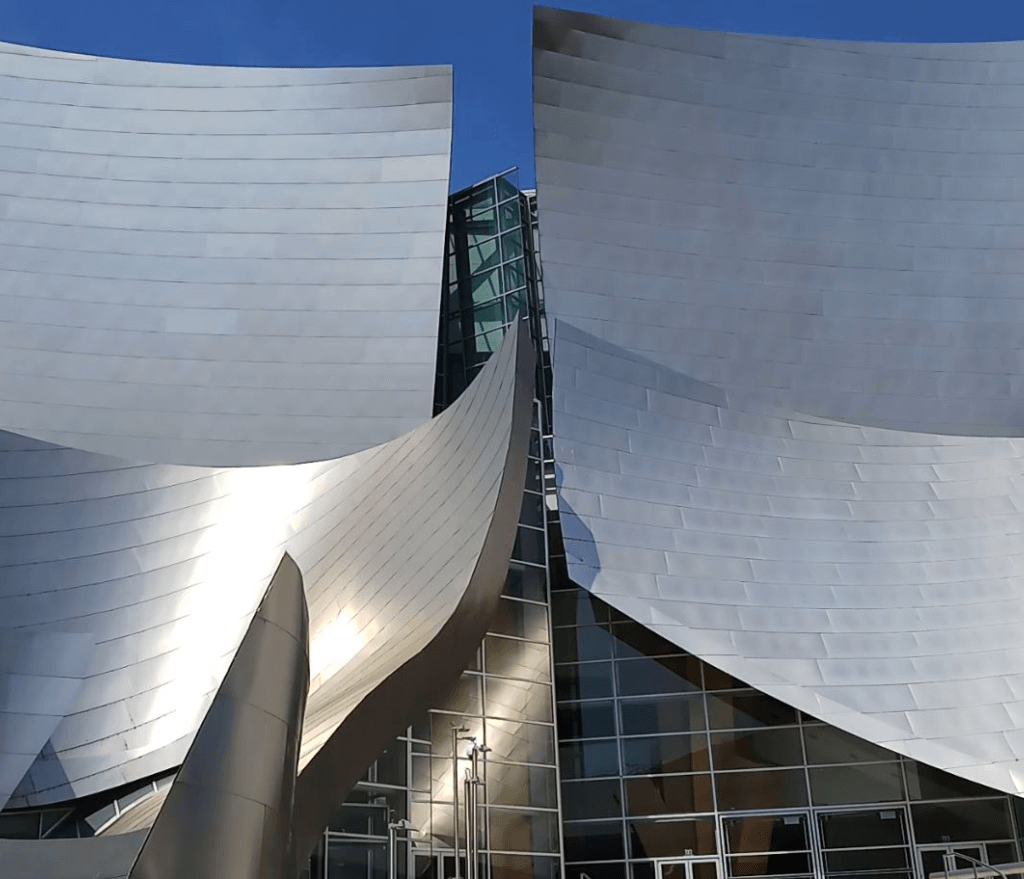 Walt Disney Concert Hall, designed by Frank Gehry, is also home to the Los Angeles philharmonic society, presenting the finest classical, jazz, contemporary, and world music. Philharmonic concerts give pleasure to music fans from the hustle and bustle of a busy city like Los Angeles.
The exterior of the concert hall is remarkable as it made of purely bright stainless steel curves and it seems like a sailing ship. It offers a notably diverse program of concerts and performances year-round. Additionally, the hall offers free daily audio tours and private group tours.
10. Year round Whale watching Cruise:
Curious people take a cruise from New Port beach for whale watching. New port beach is 44 miles away from downtown Los Angeles.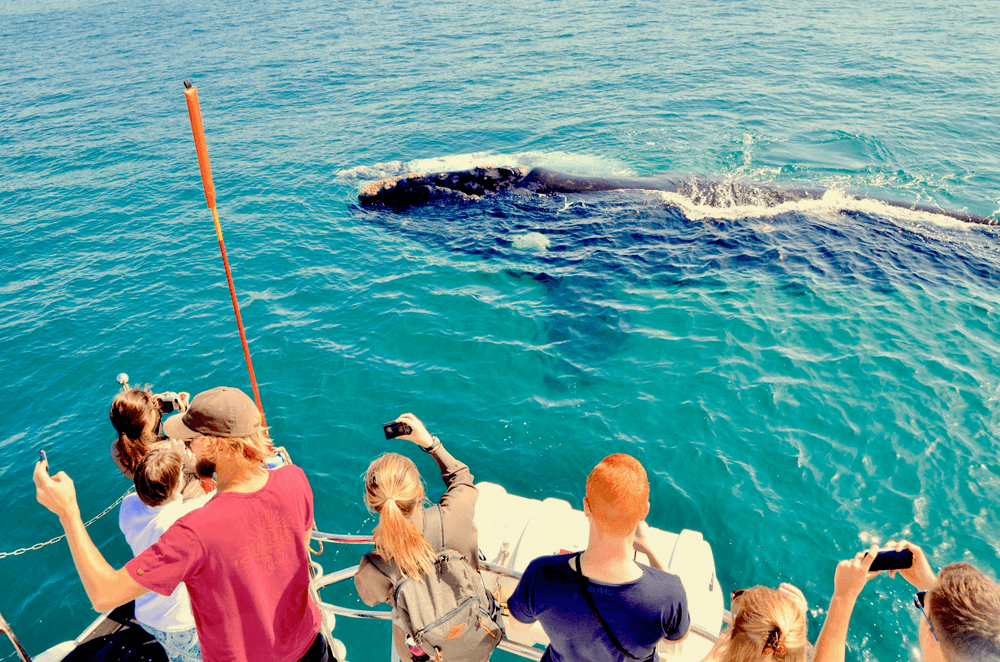 In the voyage, visitors watch the view of the Pacific Ocean as well as listen to the interesting commentary from the crew about the marine existence of California. The noise of blows and tail slaps shows humpback, minke, finback, grey or giant blue whales are close by.
visitors can watch the monster blue whales throughout the summer and gray whales within the winter and spring. Dolphins and marine creatures are also seen during the family-friendly whale watching tour throughout the year.
11. Movie Studio Tours :
Hollywood,Los Angeles is famous for its film industry, as it belongs to many film studios.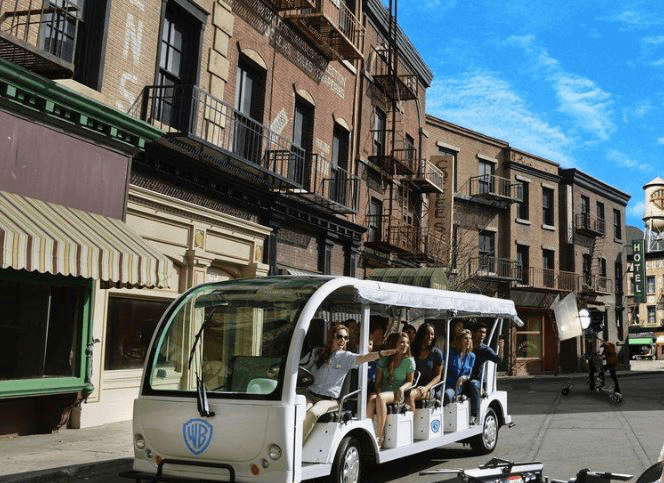 Many of the studios in LA like Universal Studios, Paramount, and Disney studio offer studio tours so that visitors can have a look behind the scenes, location of famous movies and TV shows.
Visitors may know behind the scene facts and explore the real props and set. On a good day, they might watch a famous Hollywood celebrity.   
12. Hollywood Bowl amphitheater for music concerts:
Music lovers wait for a lovely concert to enjoy music in the Hollywood Bowl in the summer months in LA. It is an impressive outdoor amphitheater for musical events in  Los Angeles.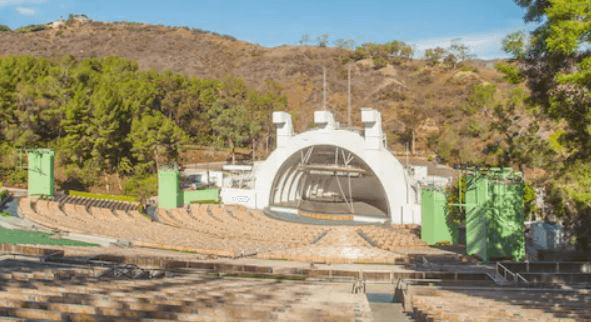 It is the great iconic venue to Hollywood orchestra and the summer entertainment spot of the Los Angeles for philharmonic. People can search for a nice show in the performance calendar according to their interests.
Visitors can enjoy live musical programs like Rock or Pop under the stars. The atmosphere of the Hollywood Bowl is extraordinary, regardless of what show they play. Visitors need to make arrangements for passes well ahead of time to a show and think of stopping or transportation alternatives.  The dining experience here along with living music is also amazing.  
13. Malibu:
Hollywood celebrities and great athletes live in Oceanfront homes in Malibu. People feel curiosity, it seems their favorite stars live in a heavenly place. So is Malibu like a paradise?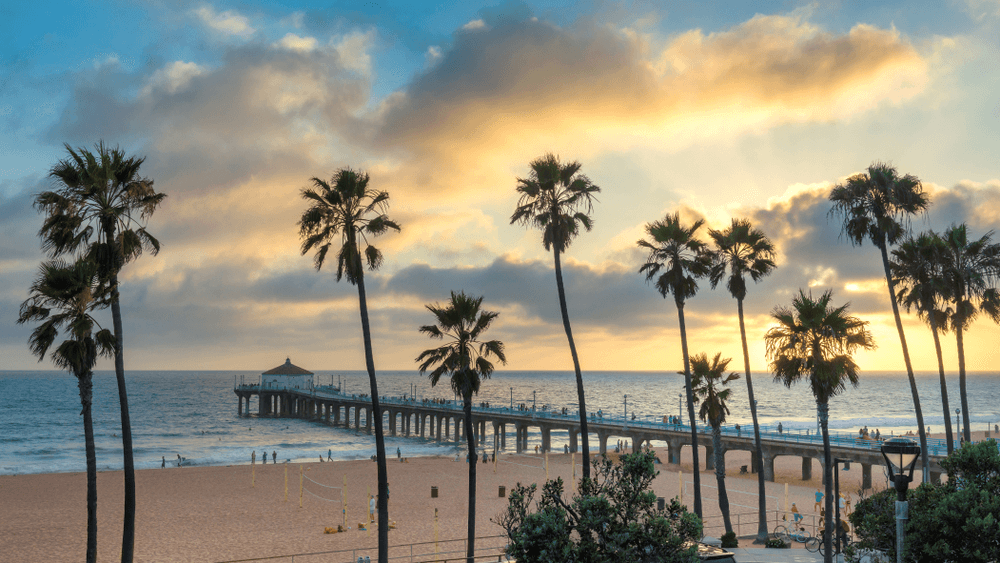 Sunny beaches in Malibu, the world surfing reserve, and Malibu pier have made it one of the top places to visit in Los Angeles. Malibu is stretched 30 miles along the Pacific Ocean and Highway. Driving on the Highway along the shore of Malibu can be very adventurous and the view is similarly great.
From Malibu pier, visitors watch a great view of the coastline and hills. It is amazing to enjoy surfing in Surfrider beach. Malibu pier is comparatively quiet and calm than Santa Monica pier. Some of the popular surfing spots are Zuma beach, Nicholas canyon beach, and Topanga beach. Therefore, Malibu has become one of the best vacation spots in Los Angeles.
Los Angeles is a wonderful destination not only for popular attractions but also for amusement also. Traveling to Los Angeles is worth of visit as it will be memorable to the traveler for the rest of their life.