Nissi beach of Cyprus, a magnificent destination, attracts numerous crowds of tourists all through the year. The beach mainly remains crowded during the summer, as it is used to host vibrant music programs. Party lovers from all around the world, visit Nissi beach Cyprus in the resort of Ayia Napa and enjoy a variety of watersports to the fullest.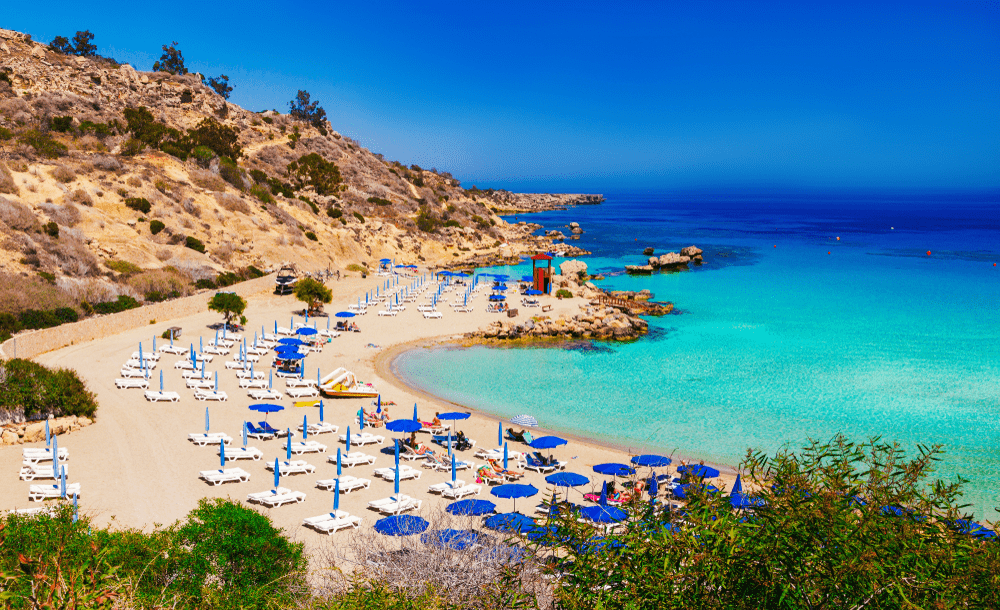 1.Why Nissi beach is so popular :
Situated in the province of Ayia Napa Cyprus, Nissi Beach is easily accessible on foot or by bike/car. The beach looks utterly stunning for its golden yellow sand and crystal-clear water, making it one of the most beautiful places in the world. This beach is stretched 500 meters. A fun fact regarding Nissi beach is that water will never cross one's waist because of shallow depth.
The beach is highly popular for hosting numerous music programs and DJ parties. Moreover, there are plenty of scopes for the young groups of people to experience bungee jumping, windsurfing and pedal boating. To ensure the safety of travelers and local in the beach, security facilities and first aid services are provided by the lifeguards.
2.Things to do in Nissi beach :
Water World :
Near the Nissi Beach, there is an Ancient Greek themed Waterpark with more than 25 exciting rides and attraction points.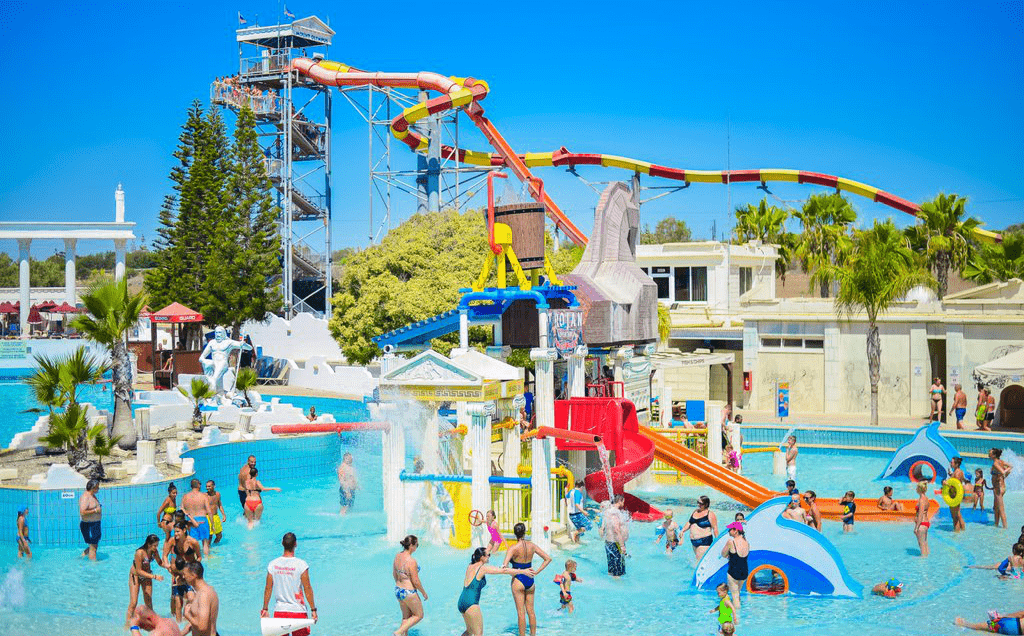 Water World is one of the largest water parks in the continent of Europe and regarded as one of the 12 best water parks of the world. There is a wide range of thrilling rides, souvenir shops and alluring food outlets. This absolute fun spot will require minimum 3 hours to enjoy and relax with one's heart being contented.
Scuba diving :
If you are among those who enjoy exploring the ocean, then you will not want to miss scuba diving in Nissi Bay. The PADI qualified instructors are there to give you all directions regarding the usage of diving equipment. For the adventurous souls, diving is a must at the Zenobia Shipwreck which is listed in the best 5 shipwrecks of the world. To witness all the amazing vantage points in here, it will require two trips.
Submarine Ride :
Fun packed Yellow Submarine boat trip is like a great adventure. Ideal for families, this trip takes you from Ayia Napa harbour to the renowned Ayia Napa sea caves.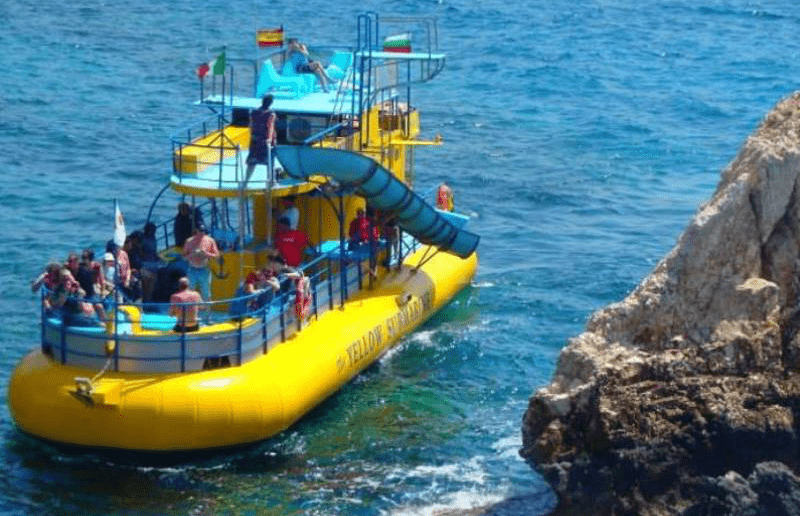 Travelers take a swim in the crystal clear water of the Mediterranean and enjoy Snorkeling. They explore the sea caves with the experienced crew and watch the amazing cliff diving. The crew will take you to discover vintage sea caves at Cape Greco. At the glass bottom of the ship, you can grab a perfect holiday shot of the deep blue ocean.
Trackers Excursion Cyprus :
A half day jeep safari can make you explore the scenic caves and bridges of Cyprus. All the drivers are professionally licensed and cars are commercially insured. In reasonable price, you can catch the sight of a 17th century chapel and go for swimming in the Blue Lagoon. The itinerary includes some amazing waterfalls, mountain villages and secluded bays.
3.Nissi Beach Resort, Ayia Napa :
Aiya Napa, a Mediterranean town with plenty of beaches, is famous all around the world for luxurious resorts. Nissi Beach is a prominent place, which earned much reputation as an authentic peace of paradise on earth. Nissi Beach Resort has its very own features and attributes, that shall provide you an experience of lifetime.
At the Nissi Beach Resort, every accommodation has a balcony or a terrace that gives clear and perfect views of Nissi Bay Lagoon. There are 3 restaurants and 5 beach kiosks in the resort that keeps open throughout the day. In the territory of Aiya Napa, this 4-star Nissi Beach Resort is the  famous and most visited resort.
4.Some nice beaches around Nissi Beach:
Konnos Bay :
One of the most spectacular beaches in Cyprus, is the Konnos Bay with white sand, snack bars and clear water. It is a ten-minute drive away from Ayia Napa. The bay is secluded and there are facilities of great water sports like snorkeling and diving. Water here is clean and calm. If you keep walking towards left, you will find a separate beach for adults which is quieter and with less children around.
Makronissos Beach :
This beach has lovey huts and sun beds. Though the ambience of the beach is hot, the sand doesn't get heated despite the heat.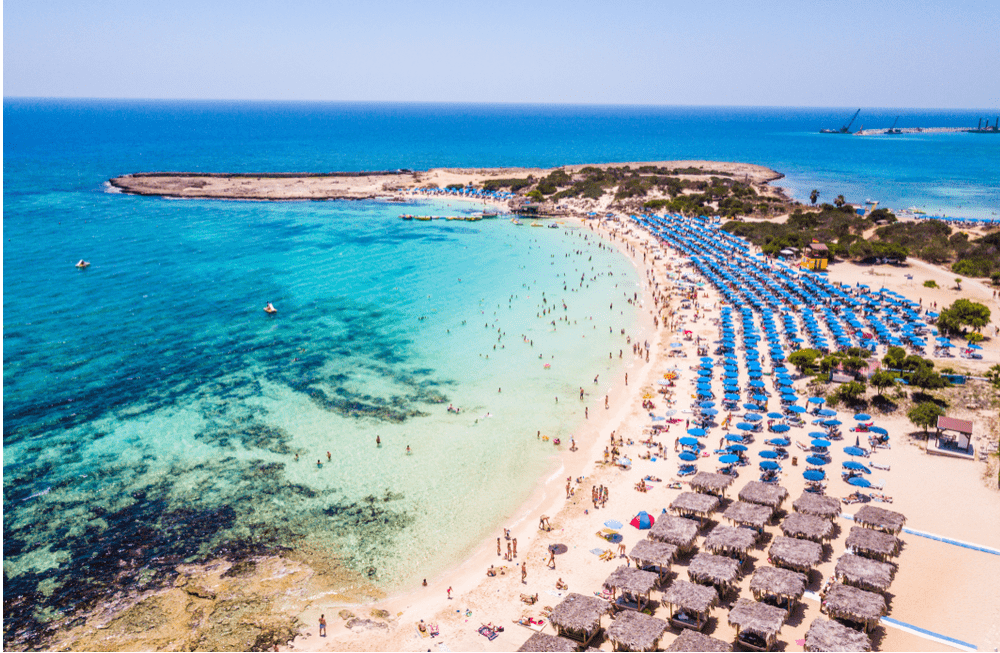 The beach is well maintained and filled with many fancy outlets selling snacks and drinks. Some of the nearby appeasing restaurants are Koralli Seafood Restaurant, the Agrotikon Restaurant & Bar and the Garden of Eden Restaurant. If you look for a more peaceful place for relaxing, then Makronissos Beach is suitable since no loud music is played here compared to Nissi Beach.
Landa Beach :
Located between Nissi and Macronissos beaches, there is a sandy beach named Landa Beach. Locals sometimes refer to it as Golden Beach or Lanta Beach. Landa beach is much less crowded than Nissi but it does get busy during the summer months and on weekends. Landa beach has golden sands and sparkling waters, as well as a fancy snack bar and a good number of watersports.
The beach is accessible via Nissi Avenue and is also on the bus route that runs from Ayia Napa's center to the waterpark. A family friendly picnic spot adjacent to Landa beach, is popular for barbeques and wholesome gatherings.
5.Nissi Beach Bar :
Nissi Bay Beach Bar is just the perfect place to take you to a tiny oasis, located on the south-east coast of Cyprus. Across the peninsula at the famed Nissi-Beach in Ayia Napa, people thrive to party non-stop with the youthful beats of the top DJs of the Mediterranean. Nissi Beach Bar is what makes the Nissi Beach most thrilling! The bar serves a selection of exclusive cocktail spirits and beverages. The welcoming staff will give you exceptional service and just about everything one may require for a delightful experience.
6.Hotels :
NissiBlu Beach Resort, a 5-star luxury accommodation, is a place where one can truly feel extravagant and find comfort in every corner. The environment of the resort is beyond any complaint and it has a modern Cypriot culture. With top notch entertainments and abundance of appealing catering, this resort is worth every penny. One room with 2 guests will cost minimum $118 per night.
If you are looking for accommodation in reasonable range then Evabelle Napa Hotel Apartments is a good choice. It is an easy drive from Protaras. The cheapest rate for 2 guests in 1 room, is $37 per night. There are amenities like gym, sauna and pool.