Explorers seek the most beautiful cities in the world to travel for experiencing the essence of nature and the creations of man. From the historic architecture of Istanbul to the ultra-modern towers of New York, there's define beauty in it all. Whether it's the sandy beaches of Dubrovnik, or the natural ventures of Cape Town, or the cultural exhibits of Berlin, you'll never be tired of exploring.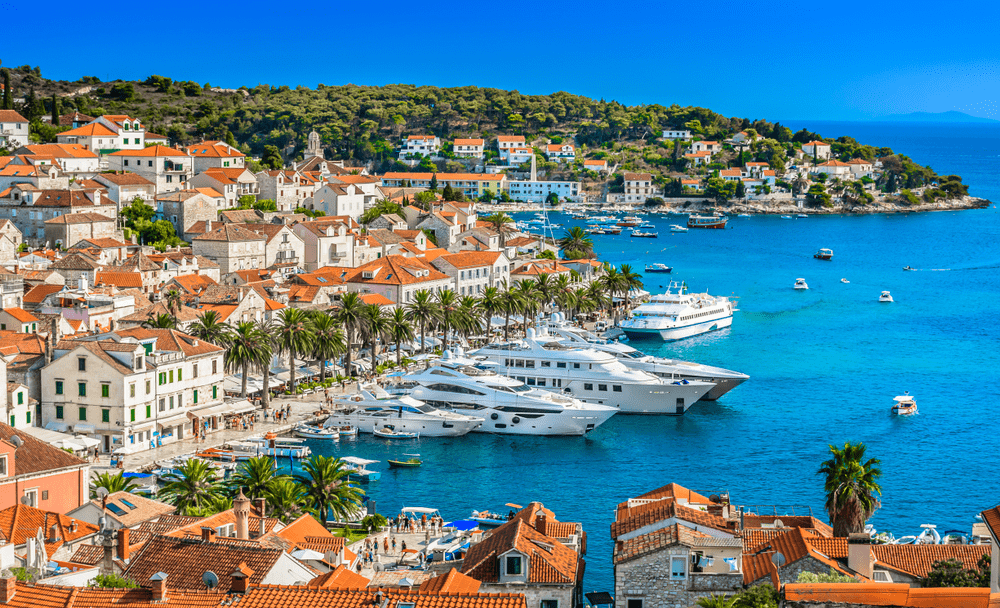 The world homes over thousands of cities, each with its own unique qualities which make them stand out more than others. And hunting for the most beautiful cities in the world to travel to is a worthwhile pursuit. Whether in quest of beauty in the form of arts and architecture, gifts of nature, or people and culture, you'll surely be mesmerized.
There's beauty in the shimmery waters of beachside towns, in the snow-capped mountains of alpine hamlets, and in the hearts of cities adorned with history and culture. Francis Bacon once said, "Beauty is in the eyes of the beholder".
So, if you're working on your next travel bucket list, here are 28 more for you to add. Some of these are also the most vibrant cities in the world. Not only are these cities drop-dead gorgeous, but are also easy to travel to.
1. Most Beautiful Cities in the World to Travel, Los Angeles, USA :
The touristy land of Hollywood has incredible treasures in store for all. It's definitely one of the most beautiful places you'll find in the USA. From long strips of glittering sands and quaint neighborhoods to dramatic attractions for families, couples, and children – LA has it all.
Once you arrive, you'll feel as if the city were truly curved by the angels. Starting with long drives down picturesque roadways to letting off some energy in the opulent nature, there's much to see and do here.
The Hollywood Boulevard, LA's pulsating soul, displays some of the most prosperous cultural, arts, and culinary scenes in the world. Then there's the Walk of Fame embalmed with the most prestigious and beloved celebrities of Hollywood.
Some of the top beautiful places to visit in Los Angeles include the golden Santa Monica and glamorous Beverley Hills. The beauty continues further towards drier parts of the city as well, such as Rodeo Drive with its fantastic retail stores, and Sunset Strip with its famed nightlife. The City of Angels is well worth a visit.
Top Attractions: The top attractions of LA is a rather long list. The Universal Studios Hollywood, Griffith Park, and Griffith Observatory, and Getty Center are amongst the top highlights. Then of course there's Disneyland which everyone loves.
To see where you can take your children for more amusement, check out our article on kids fun places in Los Angeles for free. Moreover, LA's key coastal destinations are Santa Monica, Catalina Island, Venice Beach, Long Beach, and Malibu.
Things to Do: Begin all your sightseeing adventures by hiking up to the Hollywood sign atop Mount Lee. Go museum hopping at Miracle Mile, or stroll through the greens of the Botanical Garden. Bathe in some of the sunshine beaches, and try their watersports, too, like kayaking and surfing.
Buy a ticket to Grauman's Chinese Theatre, or catch a live show at the Hollywood Bowl. Take a cruise to LA's most handsome island, and discover all the things to do in Santa Catalina Island, Los Angeles. Similarly, there're various delightful towns, exotic seaside resorts, and emerald villages located at only short drives away.
Places like sunny San Diego and spectacular Palm Springs provide visitors with the best weekend escapes. You can find out more by clicking here: Top-rated weekend getaways from Los Angeles.
Best Time to Visit: To rejoice in the comfortably warmer climates of LA, you must visit between March to May. To escape the heat, arrive during the months of September and November. However, if you're looking for snowy escapes into the mountainous resorts, plan your travel From December to February.
Places to Stay: In Santa Monica, you can stay at the Shore Hotel and be greet every morning with the glimmering ocean view. If you're a star-struck traveler, the Hollywood Roosevelt is a great choice. For a glamorous beachside holiday with your family, book accommodation at The Beverley Hills Hotel.
How to Reach: The Los Angeles International Airport (LAX) is smoothly connect to all the major routes throughout the country. So rest assured, you can always catch a flight to LA from anywhere inside and outside the states. What's even better, there are scenic driveways all over California. Hence, a long drive to LA will undoubtedly be delightful. Note, there are train and bus routes available, too, picking which will take you to your desired destinations much faster.
2. Most Beautiful Cities in the World to Travel, Rio de Janeiro, Brazil :
Being veiled by some of the prettiest stretches of twinkling sands on earth, Rio de Janeiro is undeniably alluring. Fringes of dense rainforests shape the city flawlessly.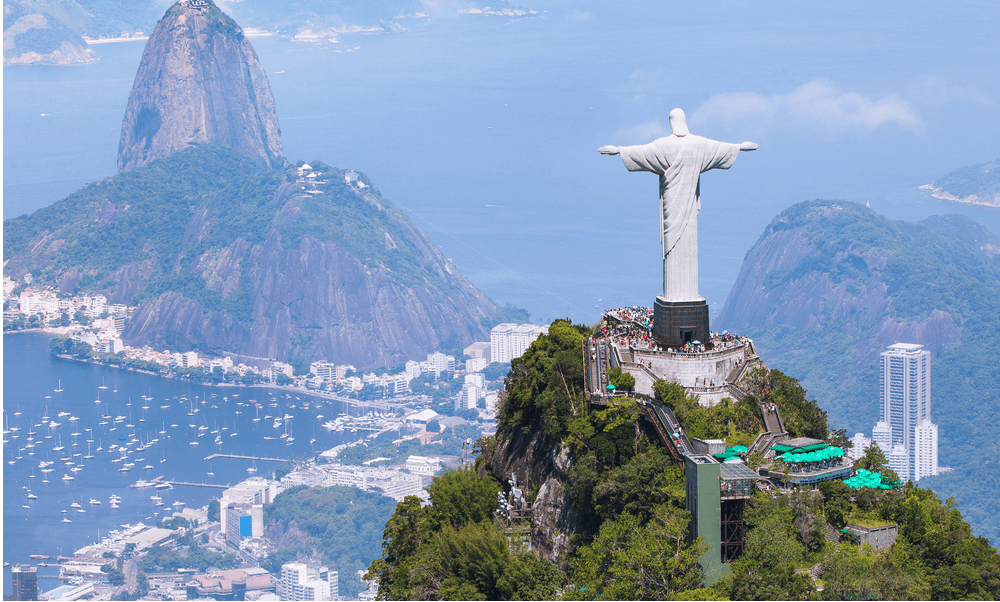 Clusters of small isles rule over the flowing seas. Raging mountains tower beneath the brightest skies. And a myriad of festivals arrives with every season. No wonder it is another of the most beautiful cities in the world to travel.
Then of course, there's the globally acclaimed monument, Christ the Redeemer, as the cherry on the top. Being dominated by one of the Seven Wonders of the World, Rio is certainly amongst the most amazing cities in the world, too.
Top Attractions: Christ the Redeemer, with its gentle eyes and open arms, is crowned at the Tijuca National Park, overlooking the iconic Sugarloaf Mountain. However, these aren't the only famous landmarks.
The Jardim Botânico (Botanical Garden) is ideal for a quick nature's fix, while Teatro Municipal (Municipal Theater) is a great night-out entertainment venue. Also, adding to the city's magnificence even more with architecture and interior designs are the churches and monasteries, such as São Bento and São Francisco da Penitência.
Finally, there's every football lover's favorite – the Maracanã Stadium, which proudly hosts some of the most important games in the world.
Things to Do: A topper amongst the best things to do in Rio is definitely riding the gondola cable up the Sugarloaf Mountain. Your eyes will be blessed with the most gifted sights of nature.
A major surprise for all adventurers and sports enthusiasts awaits at Pedra Bonita, a mountain near Ipanema – hang gliding! Buckle up with a professional and have a soul-reviving trip over the awe-inspiring mountains and beaches.
Moreover, you can hike to the alluring viewpoint of Vista Chinesa, busk in the ivory sands of Copacabana Beach, and do the samba at the thriving Pedra do, Sal. But no trip to Brazil in general, let alone Rio, is complete without attending the Carnaval (Carnival). The most annually awaited celebration of music, dance, and colors – that you cannot miss.
Best Time to Visit: For a beach holiday in this sunny seaside city, visit in between December and March. This is also when locals celebrate Reveillon (New Year's Eve) and Carnival. June to September are also best for touring as temperatures are milder, even though most hotel prices might inflate.
Places to Stay: Unlike most cities, the best locations for spending a few nights in Rio aren't entirely at its heart. Towards the safer beachside neighborhoods of Copacabana and Ipanema, you'll find a better assortment of hotels.
For instance, the Miramar Hotel by Windsor is popular for featuring a striking rooftop pool with even more scenic views to gaze at.
Near Ipanema beach, you'll come across the charming Ipanema Inn, which serves guests with an amazing dining and arts scene. Amongst budget hotels, the friendly Mercure Botafogo Mourisco offers admirable views of Christ the Redeemer on Corcovado from its rooms.
How to Reach: Arriving on the flight you land most likely at the Galeão Airport, both domestically and internationally. If traveling via long-distance bus, you'll initially arrive at the Novo Rio Rodoviaria bus station.
3. New York, USA :
The list of the world's most beautiful cities, which are easy to travel to, is rather incomplete without visiting the ever-flourishing New York. This diverse state with its even more multi-sensory cities blends the contemporary with the old and also the greens seamlessly.
The most prominent feature being the New York skyline, which till this day remains one of the topmost outstanding horizons of the world. Each of the five boroughs, especially Manhattan with its signature buildings and monuments, contributes to beautifying the state.
Then there's Brooklyn with its enchanting neighborhoods, along with Queens and Bronx with their splendid coasts and nature. Lastly, completing the immaculate landscape is Staten Island. Exploring each of these boroughs is a reason enough as to why go to New York City.
Discover more of the vibrant city's intricate details here: New York cities for travel.
Top Attractions: Sightseeing through the state's major attractions is no less than a game of hunt. And while nothing tops the Statue of Liberty, the state has other infinite offerings. Most of the key highlights of NY are staged in Manhattan, such as Central Park, Times Square, and Empire State Building.
As for the natural aspects, there's the glittering Lake Placid, the striking Lake George, and the crystal waters of Finger Lakes. Furthermore, the world-famous Niagara Falls sits on the edges of the US and Canada. However, there are numerous more splendid cascades throughout the state. Check them out here: Best Waterfalls in New York.
Things to Do: There's about everything you can do in the capital state, and sightseeing through the best attractions on a hop-on-hop-off bus accumulates for a few. For starters, go on cruise rides in several parts of the city, or fly on a helicopter over the Big Apple.
Either way, you'll be bestowed with the most epic sceneries. Amongst the top things to do in New York City – cross the Brooklyn Bridge on a cycle, catch a Broadway show at the Theatre District, or go shopping at Fifth Avenue. At Catskills, NY's most stunning rugged countryside full of gently sloping hills and serene lakes, you can be active in hiking, biking, and canoeing.
For all the beach vacationers, there are plenty of golden strips across the state for a good soak and for trying extreme water sports, too. Learn more about these beaches by clicking here: Top rated beaches in New York City.
Best Time to Visit: The Big Apple is prepared to welcome visitors all year-round, but specifically, April to June are amongst the best seasons. Aside from summer, fall is also a great time to visit given its pleasantly delightful weather and blossoming florals. Even though you won't be too disappointed if you travel here in winter, especially since you can celebrate Christmas and Happy New Year.
Places to Stay: For a state as big as New York, there's no doubt you'll find a vast variety of hospitable hotels and inns to settle in. One of the best hotels in New York in good locations is the Ritz-Carlton New York, Central Park. It provides guests impeccable service and exclusive contemporary amenities.
At more reasonable rates under great service and quality rooms, there's the Pearl Hotel located within walking distance from the major attractions. Additionally, you can also consider Econo Lodge Times Square amongst the modestly-priced hotel options.
How to Reach: There're a number of easy ways to reach The Big Apple. Catch either a foreign or a domestic flight and land straight at John F Kennedy International Airport, or one of the other 161 public airports.
The Grand Central Terminal and Penn Station are two of the very commonly used railways to travel to, from, and throughout the state. Of course, there're public buses and taxis that'll take you almost anywhere in the state, too. However, they aren't necessarily the fastest, and then there's also the hassle of city traffic.
4. Zermatt, Switzerland :
As one of the most beautiful cities in Switzerland, you're bound to have an incredible winter holiday at Zermatt. Located at only a two-to-three-hour drive from the picturesque hamlets Grindelwald and Lauterbrunnen, there's much to see and do within its princely valleys. Be prepared to be blown away by the most scenic panoramas of the Alps.
Here you'll be standing beneath the gorgeous blue sky. Towering over you will be Zermatt's most prized possession – the Matterhorn, standing in its full might, and shouldered by its companions. Veiling over it all will be the whitest of snows, cold yet tender under your feet. It's like wandering through the gates of heaven.
Hence why this ultimate Swiss skiing and mountaineering destination is amongst the best amazing cities to visit in the world.
Top Attractions: Besides the crowning Matterhorn, there's also the eye-catching Gornergrat Bahn. It has Europe's highest mountain railroad and climbs 10km atop the summit through Nikolai valley's eastern wing and gets up the Riffelberg slopes within 45 minutes.
Further beyond the village of Zermatt is Hinterdorf, charming home to well-preserved ancient Valais huts of weathered wood. Then there's the Sunnegga sun terrace resting at 2,289 meters high above grounds, from where you can witness epic views. The Gorner Gorge, the Dossen Glacier Garden, and the Theodul Glacier are also key highlights.
Things to Do: In this winter wonderland there are countless thrilling sports activities ready for visitors. Other than ski terrains for year-round skiing, Heli-skiing and Nordic trails are also available. You can even try high-altitude ski tours and night skiing if you wish.
Additionally, you can go skate in the natural-ice skating rinks. Some cool snowshoe trails and several curling rinks are present here, too. Test your inner daredevil at the Forest Fun Park, where you can indulge in zooming down zip-lines, climbing nets, balancing on ropes, etc.
Even more enjoyable are the cableways thousands of meters over the snowy trails and towards the summit of the Kleines Matterhorn. Furthermore, ride The Gornergrat Railway, stroll the walkways of Gorner Gorge, and tour the Zermatt Village.
Best Time to Visit: The best time to escape to this snowy wonderland is summer, which is between June and September. Winter is also a great time to visit with your family and children especially for Christmas, even though hotel costs can be extremely high. It's during the months of spring when you can enjoy the snow with lesser crowds and can get more economical lodges.
Places to Stay: This incredible Swiss ski resort town is rather longer on the pricier lodging options relative to the less costly ones. For example, the Riffelhaus 1853 provides guests with lavish hospitality inside its historic walls.
To enjoy smashing views from your balcony or terrace, stay over at Bella Vista Hotel. Amongst budget-friendly options, there's the immensely hospitable Hotel Artemis Garni, which you'll surely love.
How to Reach: If you're a foreign traveler, you must first arrive at one of the international airports in Switzerland. From Zurich-Kloten, Zermatt is three-and-a-half hours away, while four hours from Geneva-Cointrin. But because Zermatt is a car-free zone, you reach here most conveniently by train. There are also bus and taxi services available, and uniquely there are helicopter rides, too.
5. Vancouver, Canada :
Owing to the seamlessly magnificent setting, Vancouver is hard to ignore when considering the most beautiful cities in the world to travel. It's one of the few major cities on earth which has held on to its blessed gifts of nature. Outlined with green mountains, extensive parks, and urban beaches, Vancouver will heighten the senses and please the soul.
In addition to having well-planned neighborhoods, it also has a pleasant temperature throughout the year. Therefore, it makes Vancouver one of the top cities to visit in the world, alongside amongst the best to live in as well.
Top Attractions: Vancouver has some of the most incredible natural attractions, such as the Stanley Park paved with a seawall path. Then there's Granville Island with its relaxing appeal, and Grouse Mountain with its unmatchable views.
For more laid-back vibes visit the lively Gastown, the exotic Chinatown, and lastly, the calm Kitsilano Beach. Stop by English Bay, if you arrive in summer to join in the Celebration of Light and witness fabulous displays of fireworks at nightfall.
Things to Do: Vancouver is a paradise for sports enthusiasts with a variety of outdoor activities available. Start off by cycling through Stanley Park either during the early morning hours or during the luscious sunset.
Adventures can take a long hike up Mother Nature's Staircase at Grouse Grind. Then conquer your fears at the Capilano Suspension Bridge. You can also go whale-watching with your family at the Salish Sea.
Best Time to Visit: Spring and summer seasons call for the best holidays in Vancouver. Under the smiling sun and radiant sky, the parks, lakes, and valleys are all welcoming.
Also, it rains relatively lesser during the warmer seasons. In contrast, there's more rainfall during the winter than snow, so avoid the months between November to Februarys.
Places to Stay: Staying in Downtown Vancouver will surely give you the best experiences. For example, the centrally located Executive Hotel Le Soleil will provide you with quick access to your favorite attractions. One of the finest accommodations you'll find in Vancouver is the Fairmont Pacific Rim.
Not only will you have a pampered stay, but will also be granted with a supreme view of Vancouver Harbor, Stanley Park, and the North Shore Mountains. At Victorian Hotel near Gastown enjoy contemporary amenities on a budget with family and friends.
How to Reach: If you're traveling via flight, it's at Vancouver International Airport where you'll most likely land. You can also book train tickets from almost every other province and city. Its only drawback, if the unavoidable stoppings at regular transits. Then again, given the enjoyable views down the tracks, the journey overall is elevating.
6. Dubrovnik, Croatia :
Dubrovnik, the Pearl of the Adriatic, is considered by many as the top most beautiful city in the world. As one of the most persistent European jewels, it knows exactly how to delight its guests. This ocher city of stones is like an oyster in a shell – protected by walls built centuries ago of stones that echo the ancient tales.
Once you cross the medieval bridge and enter the grand Pile Gate, you'll be mesmerized. Take a climb up the ramparts to gaze upon the baroque buildings sitting along the limestone streets. Cast your eyes across the stretching harbor, and inhale the breezing harmony. You'll be spellbound by the evergreen beauty.
Top Attractions: Begin your adventure with an anticlockwise tour along the incredible Old City Walls. The Stradun and the Loggia Square are great places to mingle with the friendly locals. Further adding to the city's grandeur is the Cathedral and Treasury, while the Fort Lovrijenac in itself is a vision to uphold.
The flawless architecture of St. Saviour Church is another spectacle. And right in front, there's the Large Fountain of Onofrio where you can pause to make a wish. To reminisce more about the past, The Rector's Palace and Cultural Historical Museum is a brilliant choice.
Things to Do: This enchanting treasure land has plenty in store for you to discover. Take the Old Town and City Walls Walking Tour to see the city's most epic attractions. The Game of Thrones Walking Tour is another must-try.
You can even rejoice in the city's marvelousness by gliding up the rocky slopes of Mt Srd in a cable car. Or, admire the beauty from the sea by paddling in a kayak along the great walls.
Then head to Betina for sunbathing and snorkeling. Additionally, enjoy a refreshing boat ride to Our Lady of the Rocks Island, or a trip to Lokrum Island for exciting water excursions.
Best Time to Visit: Land into this fairytale Place during the months of September and October, as the climate is more soothing. You'll find the ports mostly empty and the blue waters calm. Arrive during the warmer season to attend the annually celebrated Summer Festival held at Fort Lovrijenac.
To find out more, click here: Best Time to visit Croatia.
Places to Stay: Dubrovnik often ranks amongst the best honeymoon destinations in Croatia to stay for couples. That's because of the charming historic alleys and the tender hospitality bestowed by both the locals and hotels. For luxurious nights stayover at the Royal Princess Hotel with an appealing seafront view, located only a few kilometers away from Old Town.
If you wish to live in the outskirts of Old Town with contemporary amenities, check out Berkeley Hotel. Then again, for a more budget-friendly experience, Hotel Perla is a good option for a 20-minute bus ride from Old Town.
How to Reach: You can reach the city easily via flight. The Dubrovnik Airport has multiple international connections, simultaneous to several direct airline services from Rome. Likewise, due to Croatia's excellent highways, journey via the road networks is also smooth.
7. Hallstatt, Upper Austria :
Hallstatt is an astounding settlement that will give you the impression of a storybook land at first glance. Settled along the sublime waters of the Hallstatter Sea, the town is outlined with mesmerizing mountains and green slopes. Hallstatt takes pride in its 16th-century Alpine-styled houses and is an exceptional example of a traditional quaint hamlet.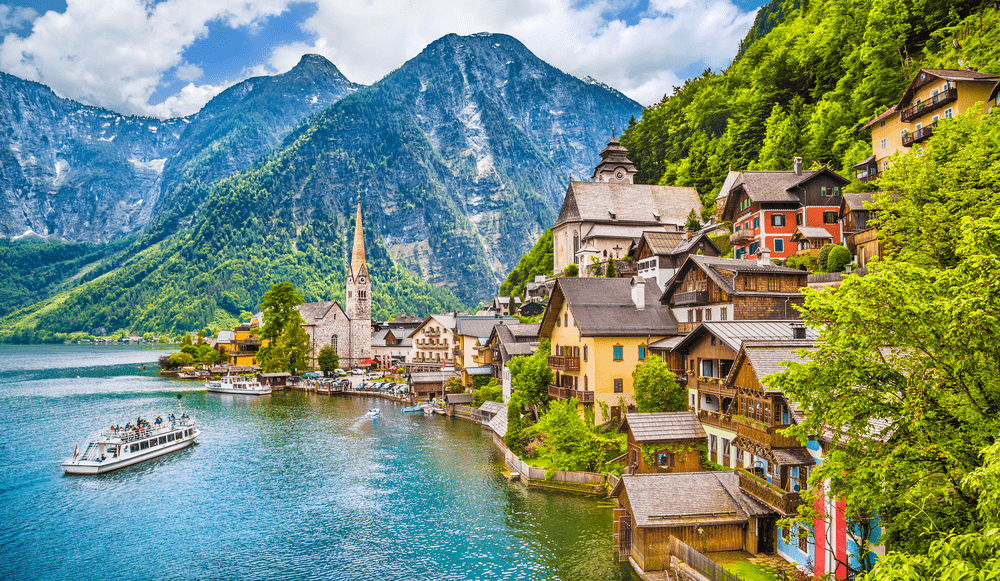 It is also closely located in the beautiful cities in Austria, like Salzburg and Vienna. Once a small mining village, today is also enlisted as a UNESCO World Heritage Site. And amidst the snow-capped mountains and pristine lake waters, you'll find an array of things to experience.
Top Attractions: To begin with, what truly enhances the charms of Hallstatt is hands down The Hallstätter Sea. Staged below the monumental Dachstein mountain range, it's a spectacular glistening lake in the Salzkammergut region.
Also worthy of thorough delve are Hallstatt's Old Town and Market Square, the Hallstatt Salt Mine, and the Dachstein Caves. Also, you might want to add pausing at Dachstein Mountains and the Five Fingers, and sauntering the Hallstatt Skywalk for soul-embracing views.
Things to Do: At Hallstatt, you'll be in for one unique adventure. Visit the Hallstatt Ossuary which shelters over 1,200 painted skulls and remains of humans. Next, dive underground into a 7000-year history at the Salzwelten, which is the world's oldest salt mine.
Add some watersport to your itinerary at Lake Hallstatt by trying stand-up paddleboarding. Additionally, challenge yourself by going on the rope course on the Dachstein Krippenstein.
Best Time to Visit: Although Hallstatt is extremely attractive during the summer months, it tends to get crowded and expensive. Therefore, between September to October is the best time to visit. Even spring accounts for lovely scenarios while temperatures are cooler but more adjustable than winter.
Places to Stay: To stay at Hallstatt in style while also being treated with mesmerizing lake views, check-in at Sevilla Romantik Hotel. AlpenParks Hagan Lodge in Altaussee is a nice choice for friends if you want to be close to hiking and biking slopes.
For families with children looking for affordable and comfy rooms located close to the city center, pick Landhaus Lilly.
How to Reach: The most convenient way to reach Hallstatt from Salzburg, Vienna, or Munich, is definitely via train. The journey is relaxing, economical, and fast.
The even cheaper option includes the bus ride from Salzburg. You can also take a rental car from these three cities, but it can take close to or over 3 hours from Vienna and Munich.
8. Cape Town, South Africa :
With spectacular mountains intense over the imperious seas sprawled beneath the flamboyant sky, Cape Town will cage your senses without mercy. Pulsating with rainbow houses, penguin-thronged beaches, shadowing mountains, and energetic appeal, this city is a must-visit.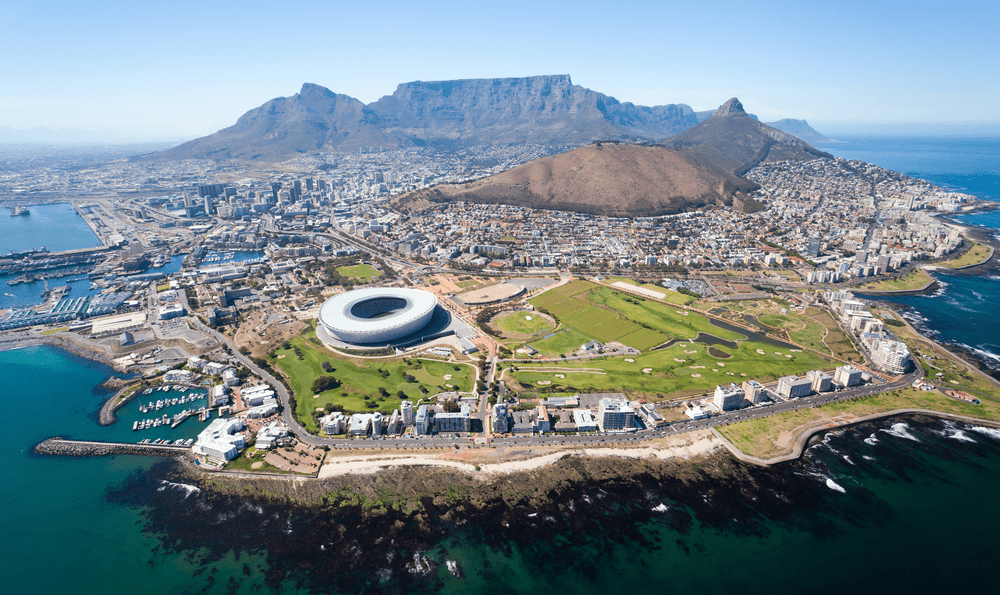 As one of the most beautiful cities in the world to travel, it's easy to reach and exciting to tour. Ripe Winelands, dense vegetation and crystal waters await to delight you. With each passing day, you'll fall more deeply in love with South Africa's Mother City.
People think of safety while planning to travel – Is Cape Town safe?
Top Attractions: Undoubtedly, the Table Mountain is the featured highlight of Cape Town. A stop by the flourishing Kirstenbosch Botanical Gardens mustn't be missing from your itinerary.
For a better nature's fix over an alluring sunset, make a quick drive to Signal Hill and the Noon Gun. The Clifton and Camps Bay Beaches arguably stand second to none when pleasuring its guests.
What's more, uplifting the ancient charisma of the city is the City Hall & the Castle of Good Hope with its European structure. Likewise, there's Bo-Kaap district bursting with colors and rich in cultural history.
Things to Do: A city drenched in adventure, there's just so much to do. Hiking to the Devil's Peak and Lion's Head is a quest everyone aims to accomplish.
But, if you want the phenomenal bird's eye view of the city, ride the Table Mountain Aerial Cableway. Making your day trips even more delightful with penguin-watching at Boulder's Beach, and whale-watching at Hermanus.
For a relaxing vacation, stretch your legs at one of the numerous blonde beaches dotted across the city. Continue with the laid-back thrills by exploring the diverse wildlife at Cape Point, or by sauntering through the markets in Cape Town.
Best Time to Visit: March to May are tourist seasons in Cape Town, as the climates are more soothing. Days are livelier during the months of September to November, too. Additionally, there's a lesser crowd and hotels charge lower prices. Avoid winter though, for the skies are mostly dull while winds blow rough.
Places to Stay: Beautiful Cape Town has incredible places to stay for sightseeing. For instance, the Victoria & Alfred Waterfront with its peaceful blue sea is soul-reviving.
Here, spend your nights with the beachfront views at the elegant Queen Victoria Hotel. For the classic bed-and-breakfast experience, the chic Blackheath Lodge is located at Sea Point, Cape Town. However, if you're on a budget trip with family, Mandela Rhodes Place Hotel is an ideal choice.
How to Reach: Even though driving through the scenic views does sound like a wonderful idea, the driveways of Cape Town are rather risky. So, like most cities, the quickest way to reach Cape Town is by air.
Just land at the Cape Town International Airport directly, which serves both international and domestic flights on a regular basis. Then catch a taxi, bus or a private car to reach your destination.
9. Edinburgh & Perth, Scotland :
Some of the most beautiful natural places in the world to travel are nestled within the depths of Europe. Scotland is one such example, and justifying so are the stunningly breathtaking lands of Edinburgh and Perth. While one has steeped with centuries-old tales, the other shines with the scenic images of nature.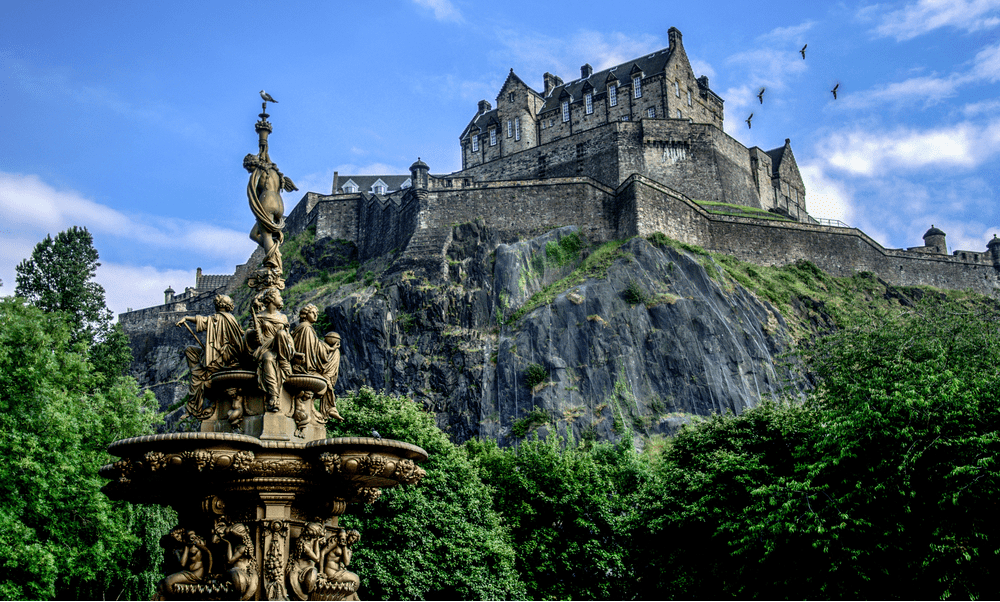 At the classic Scottish capital, delve through the elegance of countless castles and medieval buildings. In Perth, be captured by the romantic vistas of the sun setting behind mirroring edges of River Tay. Both of these heavenly gorgeous cities wait gracefully with open arms to embrace you.
Top Attractions: The grand Edinburgh Castle itself is a top attraction in Scotland. Staged atop a towering hill for all eyes to witness, every letter of Scottish history is written within its walls.
The Palace of Holyrood and The Royal Mile quickly follow the same historically elegant trail. Perth homes some incredibly charming architectures, such as the Scone Palace and the Black Watch Castle & Museum.
Things to Do: Aside from only sightseeing through Edinburgh's most brilliant hotspots, take an easy climb to Arthur's Seat located inside the Holyrood Park. From there you gaze at the old city's extraordinary horizon.
Take your family and children to the Edinburgh Zoo before lunch, and later to the Royal Botanic Garden Edinburgh in the afternoon. If you still crave more, take short day trips to the quaint villages and the green countryside towns located nearby.
You'll also find some glossy beaches close at hand, like Cramond and Portobello. Aside from these there are many more incredible beaches in Scotland, which you must explore.
As for all the things to do in Perth, Scotland, hike to Kinnoull Hill to catch some viewpoint. Furthermore, indulge yourself in boating, water rafting, and yakking at calm River Tay. And later, shop till you drop at the vintage shops on George Street.
Best Time to Visit: The seasons of spring (late March to May) and autumn (September to November) are counted as best to visit Edinburgh and Perth. That way you can enjoy the blossoming gifts of nature under warmer sunlight, and still catch glimpses of snow on the highlands and mountains.
Places to Stay: If you're seeking comfort in the Old Town of Edinburg, book your nights at the lavish Radisson Blu Hotel Edinburgh. Here you'll be pampered by the crafty hands of the expert concierge team.
The Inn on the Mile, a charming boutique hotel, is perfect for a family stay. As for restoring some energy after touring the city center of Perth, do take Parklands Hotel into consideration.
How to Reach: To arrive in Edinburgh comfortably and at reasonable pricing from almost any other nearby city, take the railways. Fortunately, flights are considerably cheap from further distances. Perth is also very easily accessible via train from Edinburgh.
10. Istanbul, Turkey :
Turkey's largest city, Istanbul, is abounding with history and culture. Here, dorms touch the skyline, mosaics shine the surface, minarets command the grounds, and calligraphies garnish the walls. Your mind will be imprinted with gratifying images that will last an eternity.
Divided by the Golden Inlet, the old town in the east is adorned with the wealth of the Ottoman Empire. Whereas, the new town is westward, which chimes with modern business and technology. Certainly, you'll have the best of both worlds.
Once inside this ancient land, do not haste and explore every corner. Not to mention, there are so many unique little things to try. For instance, Begin your days by sipping on hot Turkish coffee. Continue with your sightseeing while munching on flavored Turkish Delights.
Lastly, complete your dining experience with long refreshing strokes of hookah with friends and family. Not only is Istanbul amongst the most beautiful cities in the world to travel. But at the same time, it's arguably a topper for the most beautiful capital in the world.
Top Attractions: Istanbul's most prominent features are its mosques and palaces, built by the greatest of all Ottomans and preserved by the Turks. In the oldest heart of the city are the legendary The Blue Mosque, The Aya Sofya, and The Topkapi Palace. Each a symbol of endurance, faith, and wealth; their walls throb with the most secretive of tales.
Further down the lanes are The Basilica Cistern and The Süleymaniye Mosque with their undying grandness. And last but not the least, The Hippodrome of Constantinople and The Walls of Constantinople – magnificence worthy of only firsthand experience.
Things to Do: Take your time to savor every glance you cast at each divine architecture. Whether by a full-day walking tour or on a hop-on-hop-off bus ride, you'll love delving through the hidden histories.
Climb on top of the incredible Galata Tower to gaze over the poetic city view. Stroll through the Grand Bazaar to collect artifacts and souvenirs. Later, hunt through the aromatic Spice Bazaar. To relieve yourself of stress, head to the famous Turkish Baths of Istanbul.
Highly recommended, including a cruise of the Bosphorus in your itinerary to enjoy even better picturesque scenarios of the city skyline. To add a bit more adventure, take a day trip to the WWI Battlefields of Gallipoli.
Best Time to Visit: If you're planning to tour Istanbul, remember that the months between March to Mays are the best. The days are warmer, and the roads have manageable and cheerful crowds.
For a more budget tour, September and November seasons are better. Avoid periods from June to August as these are typically peak seasons and in case you mind higher-priced accommodation.
Places to Stay: Amongst the few Best places to visit in Turkey, Sultanahmet, Istanbul's Old City, stays top the chart. The city's top touristy attractions are only a few minutes distance.
And here you'll find a wide range of hotels and guesthouses for accommodation. You may stay with your family over at Four Seasons Hotel Istanbul for lavish hospitality and well-equipped amenities. The Beyoglu and Taksim districts, across the Galata Bridge, are excellent locations, too.
Here there's the quaint Mercure Istanbul Taksim for a comfortable stay with lots of cafes, boutiques, and bookstores close by. However, if you want to enjoy the historical sites within a budget, choose the charmingly homey Hotel Peninsula.
How to Reach: If you're a foreign traveler, you can directly land at Istanbul's Ataturk International Airport. Simply catch a Turkish Airlines flight, or another suitable airline available at your reach. To reach the capital from another national city, there are trains, buses, and even cruises perfectly available.
11. Berlin, Germany :
The capital and one of the major cities in Germany offers an unmatched panorama, images of which will remain imprinted in your mind for eternity. Berlin is drenched in diverse cultural, historic, and art scenes, and it's all well reflected by its classic architectures and monuments.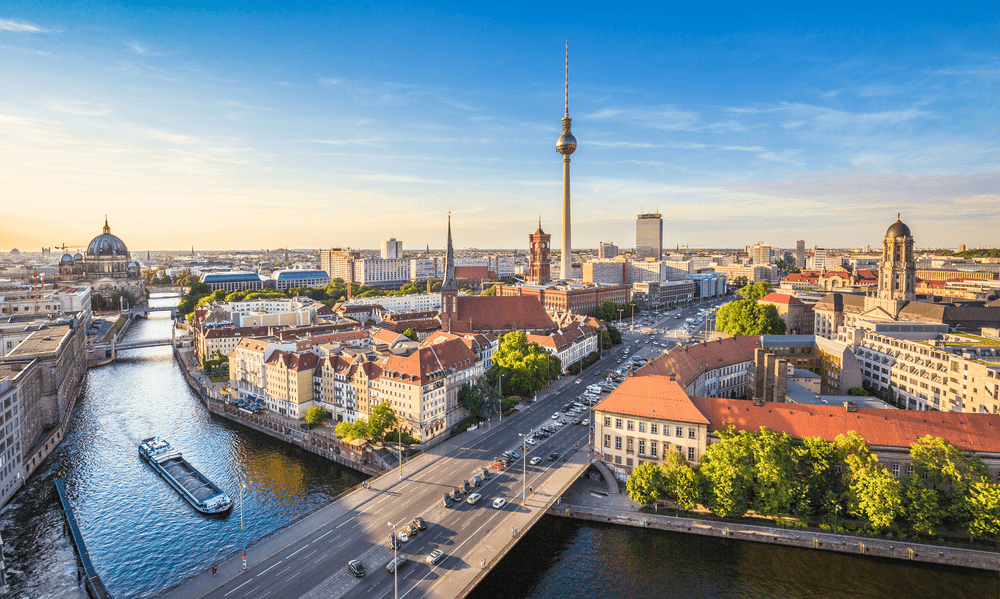 Once you enter through the iconic Brandenburg Gate, you'll be in awe. It is like being teleported back to the 17th century. When standing amidst the marvelous structures of Konzerthaus, French Cathedral, and German Cathedral at the Gendarmenmarkt, it'll be difficult to look away. It's truly one of the most beautiful places in the world that actually exists.
Top Attractions: This story-book land has some of the most exceptional ancient and Victorian-style architectures around the globe. The iconic Brandenburg Gate and the Rebuilt Reichstag are typical examples. Further enhancing the city's brilliance are the attractive Berlin Wall Memorial and its heart-melting tales.
The Museum Island – home to the brilliant structures of Old Museum and New Museum – is also another unique attraction. And lastly, adding a little bit of modernity to this city is Berlin's Television Tower. Standing at 368-meter height, it's one of the tallest skyscrapers in the world.
Things to Do: If you're a lover of history, Berlin is your treasure island. You'll come across a new museum or a gallery at almost every corner. You can hop from German Historical Museum to Checkpoint Charlie Museum to the Jewish Museum of Berlin and to many more you like.
There's the Berlin Zoo and the Berlin-Dahlem Botanical Garden to taking children. For a more peaceful interlude, stop underneath the shades of beautiful trees in the Tiergarten.
And of course, to tour the top attractions with your fellow travelers, hop on one of Berlin's tourist buses and enjoy the ride. For something more interesting, take the Berlin Bike Tour and cycle along the ancient lanes of this magnificent city.
Best Time to Visit: You'll find ideal weather conditions for strolls during the day and dining in the outdoors from May through September. It's best to avoid winter as it gets freezing cold, but Berlin in the snow is a rather enchanting sight.
Places to Stay: To take in all the pleasures of the city, stay at the Mitte district, which is Berlin's historic center. Amongst luxury hotels located centrally near the city's major icons, is the marvelously built Das Stue.
On a more mid-range category to enjoy the nights in with your family, book rooms at Hotel Gat Point Charlie. Although it's true that spending a few nights in Berlin can be rather costly, but there're plenty of budget-friendly hotels, like Motel One Berlin, which provides lovely hospitality.
How to Reach: Like most cities, it's much more convenient to reach Berlin by flight. You'll land at the Bradenburg International Airport from where you can take a taxi or bus to your desired hotel.
Furthermore, for being connected to all corners – north, south, east, and west – Berlin is easily accessible by trains, too. You can also travel by road on a rental car, which can be rather expensive, or by bus, which is more affordable.
12. Hamburg, Germany :
The constantly changing Hamburg beautifies every passing day. It's Germany's second-largest city and has one of Europe's most famous ports. Built next to a gentle harbor by the pleasant creek of River Elbe, it's adorned with charming waterfront attractions, footbridges, and canals.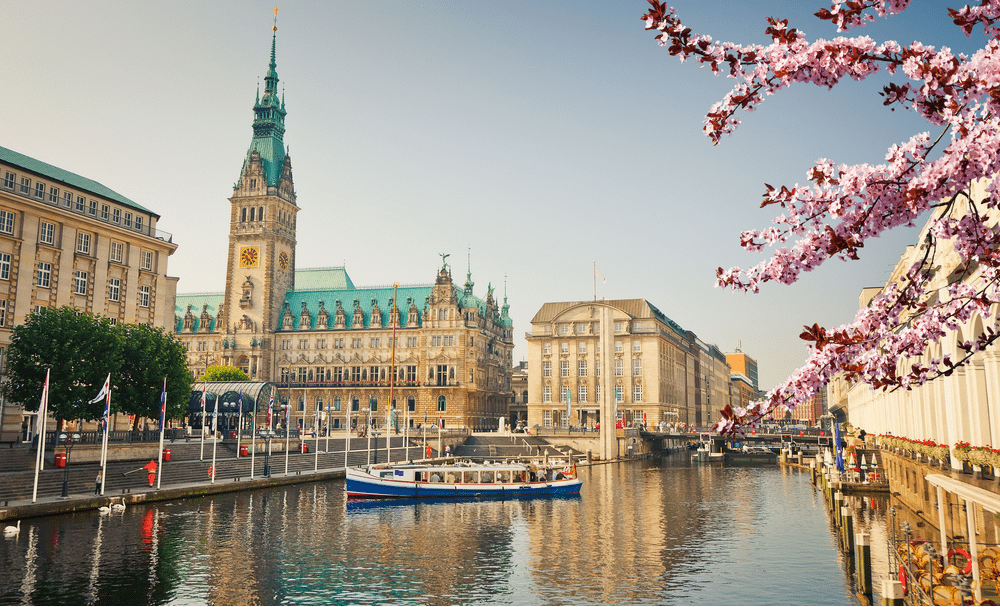 It's that city standing in the center of which you'll hear it all. Like the cries of gulls flying overhead, the long whistles of ships by the harbor, the chattering in the neighborhood, it's incessant, with a sense of completion.
And although Hamburg was born way before the 19th-century warehouses and 21st-century complexes, you'll still catch glimpses of the medieval era. Therefore, Hamburg has the justly earned status of being amongst the most beautiful cities in the world to travel.
Top Attractions: The Speicherstadt, also called the City of Warehouses, is a major hotspot of Hamburg. Along its alluring pedestrian, there's the popular Port of Hamburg, the Köhlbrandbrücke Bridge, and the showstopper – HafenCity.
Combing the ancient and the contemporary well, staged here is the enormous Elbphilharmonie concert hall. Other notable attractions include the eye-catching Hamburger Kunsthalle (Hamburg Art Hall), the majestic City Hall (Rathaus), and the elegant St. Michael's Church. Show your children Hamburg's Miniatur Wunderland, the world's biggest model railway.
Things to Do: Exploring all of Hamburg's splendors is a must, and it's best recommended that you do so on foot. To take a closer look at the red-bricked warehouses of Speicherstadt, take a boat trip around the sparkling harbor. Sunday mornings are best spent at the buzzing Fish Market.
Here you can purchase for yourself a variety of seafood, fruits, and vegetables, flowers, clothes, etc. For some outdoorsy fun, visit the Supper Club where you can go canoeing, kayaking, and paddleboarding.
Best Time to Visit: Considering seasons, throughout May to September are the best time slots to visit Hamburg, given temperatures are higher. But if you're looking for a more budget-friendly trip, arrive in the fall.
Places to Stay: A good selection of accommodation is necessary to elevate your journey, and the Hamburg-Mitte district has a wonderful collection of hospitality in store. Amongst luxury hotels, the Fairmont Hotel Vier Jahreszeiten is a topper with large suites, lavish amenities, and grand views of Alster Lake.
Also worth considering is Prizeotel Hamburg-City, especially if you're bringing your family, as the rooms are spacious and amenities are advanced. For travelers on a budget, Motel One Hamburg Alster is a contemporary hotel close to the city's top attractions.
How to Reach: By flight, you'll mostly arrive at the Hamburg Airport, which is 9km from the city center. There's also Lubeck airport, but it's around 75km away.
There are intercity bus services available as well, which are incredibly comfortable and reasonable to travel via. Hamburg is also further connected well to rail services, such as the InterCity Express, which is a high-speed train service.
13. Ischia, Italy :
Italy is possibly the most beautiful country in the world, and words aren't enough to express its splendor. As for Ischia, its reputed beauty marks it as one of the top places to visit in Italy. An idyllic little island, Ischia appeals to visitors seeking a pleasure-filled holiday.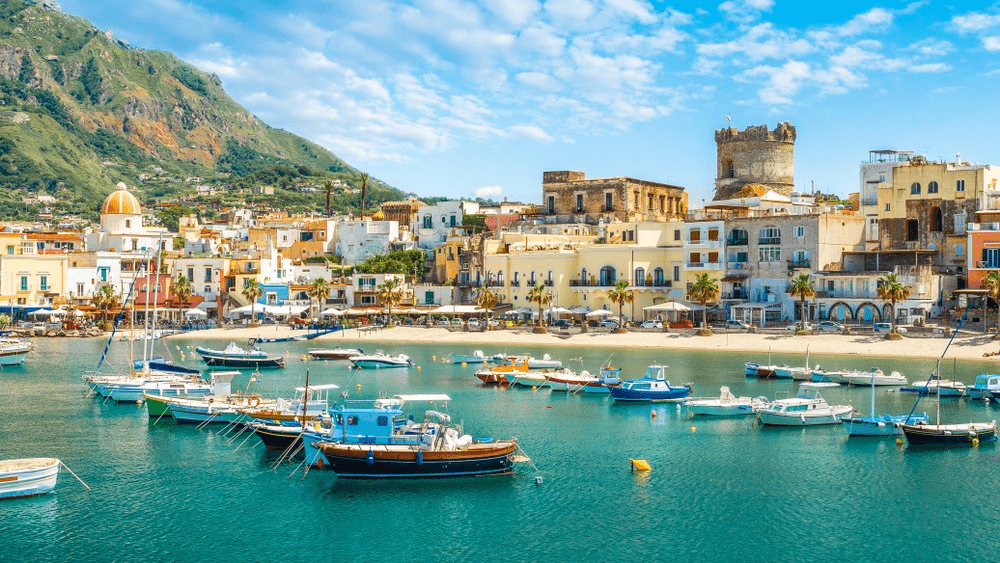 At the northwest sides of this volcanic outcrop are the trendy bars of Ischia Porto, thermal spas of Forio, and manicured gardens of Lacco Ameno. Towards the calmer south, you come across the languid Sant'Angelo with glittering harbors and soothing beaches.
And amidst it, all are the trampled landscape of burnt rocks, bushy forests, and ripe vineyards. With the Italian airs still laying think, you'll be captivated by Ischia's timeless natural beauty.
Top Attractions: For an island so small, it definitely doesn't disappoint when mesmerizing its guests. Firstly, feast your eyes with the soul-blessing sight of Ischia Ponte's crown jewel – Castello Aragonese.
This medieval castle is on a monumental islet which is only a half-hour walk from the port. Secondly, the thermal fumaroles of Sant'Angelo's quaint fishing village will appease your mind to content. Another must-see attraction is the Chiesa del Soccorso in Forio, a 14th-century Augustinian church overlooking the Tyrrhenian.
Things to Do: Begin your day at Piazza Antica Reggia, Ischia's port town neighborhood dotted with cafes, bistros, diners, and more. You can head to Chiaia Beach for a refreshing busk, or visit the lush Giardini la Mortella to while away some time. Continue on your day by shopping on Corso Vittoria Colonna.
Then have the most therapeutic bath at the thermal waters of Ischia's prettiest spas and hot springs. Start your day on a high note by viewing the loveliest sunset in Forio. For active travelers, there are strenuous hiking trails that lead up to the summit of Mount Epomeo.
Best Time to Visit: Tourist seasons begin from the months of May and last till September. However, July and August tend to be crowded due to the pleasuring mild temperatures. To avoid the crowd though, you can arrive during spring. Although it tends, it might be too cold to dive into a pool, you can take warm soaks in the hot springs and spas.
Places to Stay: If you wish to live in a posh accommodation, at Lacco Ameno town, Mezzatorre Resort & Thermal Spa is a topnotch choice. At Sant'Angelo town, be embraced by the dazzling views of the sea by spending your nights at Hotel Casa Celestino.
And amongst the top picks of Ischia Porto for couples, there's the truly exotic Il Moresco hotel with its modern amenities and romantic ambience.
How to Reach: Unlike most other cities you can reach Ischia via ferry or cruise ride from Naples or Pozzuoli. During the touristy seasons from May to September you can also catch ferries from Capri, Sorrento, Amalfi, and Salerno.
14. Marseille, France :
When we think of the most beautiful cities in the world to travel, it's merely expected to add Marseille. Only second to Paris in terms of grabbing the attention of travelers, it's a harbor side city blessed with fine sights and a peaceful ambience.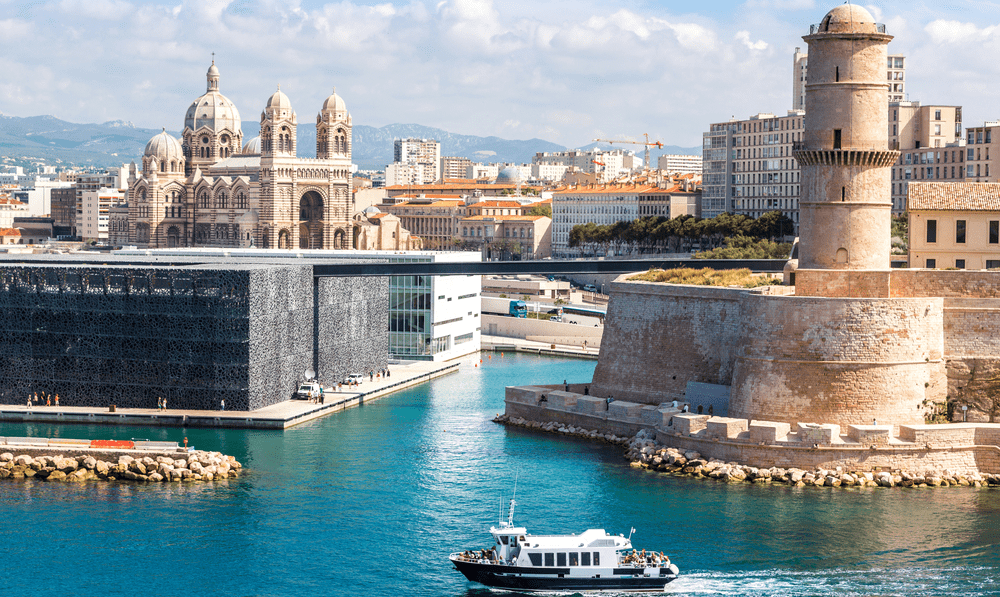 Often ranked amongst the best places to visit in France, Marseille is veiled by pristine beauty from the past. And similar to the whole of France, here, too, is like walking through an enchanting fairytale you'll wish would last an eternity. This refurbished gem of historical attractions in Europe awaits eagerly to win your heart.
Top Attractions: The supremely majestic Basilique Notre-Dame de la Garde is Marseilles' pinnacle, followed by the glorious Abbaye Saint-Victor. Another of the must-see attractions include the Musée des Civilisations de l'Europe et de la Méditerranée, a dazzling ultra-modern museum of wealthy discoveries.
Furthermore, situated amidst dancing turquoise waters in Frioul Islands archipelago is the impressive Château d'If. The bustling Vieux Port (Old Harbor) and the pastel-colored Le Panier (Old Town) are also unique tourist spots and have plenty of surprises in wraps.
Things to Do: If the weather permits, take a pacifying boat ride to the entrancing Calanques. It's a coastal stretch between Marseille and Cassis peppered with scintillating beaches, breathtaking panoramas and cool salted breeze.
As an outdoor enthusiast, you'll surely find lots to do here, for example kayaking, swimming, rock climbing, hiking etc. Stop by Marseille's oldest museum, the extraordinary Palais Longchamp, for some quick history digging.
Additionally, get a slight feel of the French Riviera at the stunning Plage de la Grande Mer on its golden sands and crystal blue waters.
To discover more amazing shorelines, explore the best beaches in France.
Best Time to Visit: The most touristy seasons begin in May and last till November. So it's best to visit between Septembers to Novembers, given not only the weather's suitable for outdoors, but hotels are relatively more affordable.
Places to Stay: In need of some pampering after a long day of completing everything on your itinerary? The InterContinental Marseille – Hôtel-Dieu is chic 5-star hotel includes exquisite dining, outdoor terrace, indoor pool, upscale spa, well-equipped fitness center, and even more modern amenities.
Conversely, if waking up to scenic views of Old Port is what you're looking for, then look no beyond Radisson Blu Hotel. Within a good price range, there's Ibis Marseille Centre Gare Saint-Charles with basic modern facilities.
How to Reach: The best way to reach Marseille is by a train if already inside France. It's fast, affordable and comfortable. In fact there are train service in all of Europe that connect to Marseille.
But if you prefer the flight, the nearest airport to Marseille is the Marseille Provence Airport. It's the fifth busiest airport in France given flights are available on a regular basis.
15. Barcelona, Spain :
There are just so many things that beautiful Barcelona has to flaunt. Iridescent coasts are strewn with medieval quarters and cultural architectures, and lying over it all is the gentle warm air.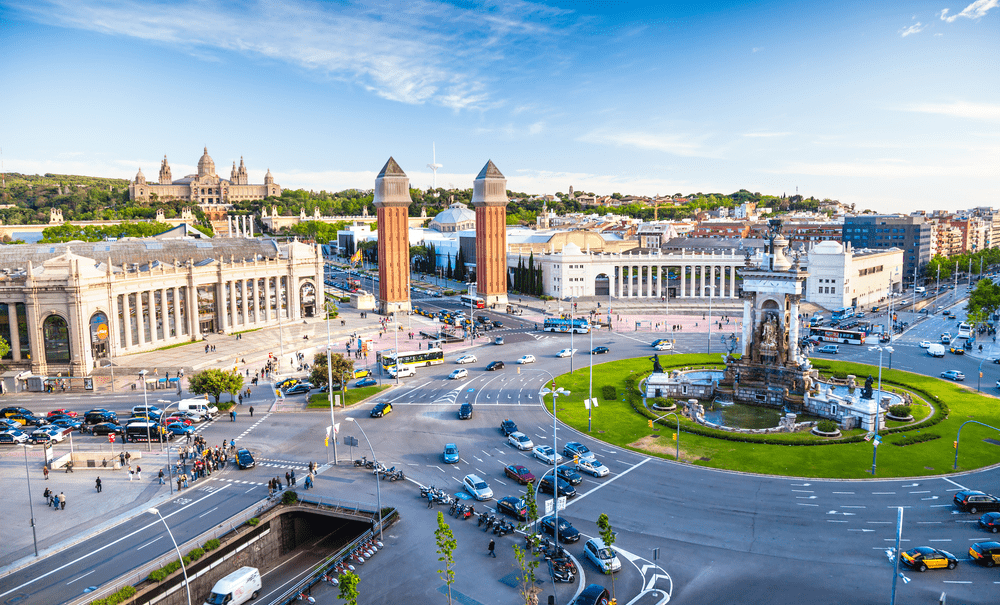 Get indulged in Antoni Gaudí's avant-garde Surrealist buildings. Marvel at the rolling green hills beneath the sultry sky that outline the city. And roam aimlessly through the hidden alleys before stumbling upon a secret café. Barcelona has secrets, which wait to be unfolded.
Thus, it's one of the most amazing places on earth. No matter who you are – a football lover or a history buff – either way, you'll love being in Barcelona.
Top Attractions: Barcelona's main highlight is the majestic structure of the Basilica de la Sagrada Familia, which till this date stand proud in its magnificence.
With its 18 spindly towers it dominates the lands above all and only adds to the city's glory. The other distinguished UNESCO World Heritage Sites includes Casa Mila, Palace of Catalan Music, Parc Güell, and Casa Batlló.
And lastly, there's the spiritual and secular center, the Gothic Quarter. It houses the Cathedral of the Holy Cross and Saint Eulalia, Picasso Museum, and the Plaça Del Rei, which are highly admirable, too.
Things to Do: Start by taking a long stroll down the lively lanes of La Rambla. Then walk to the Boqueria market and purchase yourself some fresh natural produce. Spend a lazy afternoon in the Sant Sebastià Beach or the Bogatell Beach, which is one of the best beaches in Spain.
Then end the day on a high note by viewing The Magic Fountain of Montjuïc. Barcelona is also surrounded by picturesque countryside villages, towns and mountains, which are worth exploring, too.
Best Time to Visit: The best months to tour Barcelona is when frosts turn into dew and then mix with the balmy air that heed the call of festivals. It's after May-June when the real summertime rush begins.
Then comes in fall with lower hotels rates, cooler temperature and lesser crowds. You might've to pass on beach lounging though if you arrive after December, but a winter in Barcelona is well worth the experience.
Places to Stay: Living in or near the atmospheric Gothic Quarter is an ideal choice to enjoy Barcelona's major attractions. And here, a top-class hospitality resides within the ancient walls of the Mercer Hotel Barcelona.
With the bustles of the adjoining Eixample district, the three-star Hotel Europark is perfect for families in a budget. But if your pick of location is near La Rambla, check out the contemporary-styled Hotel Curious.
How to Reach: Similar to most other cities, Barcelona, too, is commonly reached by plane. The El Prat Airport connects Barcelona with the capital and other major cities as well.
For those who prefer traveling by land, you'll be interested to know that there're both domestic and foreign bus services available also. They will drive you straight to either Estación Nord or Barcelona-Sants Station; both are very busy bus stations.
16. Madrid, Spain :
Feel the real Spanish grandness in the vivacious streets of Madrid. Upon arrival you'll be greeted by a modern metropolis exhibiting an endless array of royal masterpieces. You'll be walking on roads that bustle with people and traffic. Yet amidst it all, you'll find shades under lush trees of the most beautiful gardens.
While there isn't anything too charming about this urban sprawl, it's the undying social vibrancy on which Madrid's beauty lies upon. It's where delightful surprises abound at every turn. Hence why it's only reasonable to add Madrid to our list of the most beautiful cities in the world to travel.
Top Attractions: Amongst Madrid's major highlights the Prado Museum, with a collection of 8000 paintings and 700 sculptures, is a top favorite. It's followed by the glamorous Crystal Palace staged at the fascinating Buen Retiro Park. But that's not all.
There's the Royal Palace and Gardens, too, with its everlasting splendor. Furthermore, the elegant Plaza Mayor with its immense square is a popular gathering spot for locals. Lastly, the magnificent Temple of Debod, an ancient Egyptian temple, is also well worth a visit.
Things to Do: You can always start by exploring through all the museums. And once you tire out of your history excursions, while away some time relaxing amidst the greeneries of the parks.
Spare some time to go boating on the lake of El Retiro Park. Rejoice in the twilight at Puerta Del Sol, the heart of the city, while munching on some delicious squid rolls.
You can have a shopping spree at the streets of Gran Via, which are peppered with high-end boutiques and iconic shops.
Best Time to Visit: Both spring and fall are great months to visit Madrid. You'll be hugged by balmy days and there will blooming gardens to revive in. Then again, if you love traveling during winter, then you'll be on the luckier end as hotels charge lower rates.
Places to Stay: The Catalonia Las Cortes hotel is an ideal choice if you're looking for exclusive hospitality inside an 18th-century palace near some major attractions.
If your family prefers more contemporary-style guest rooms, then you should definitely check out Artrip Hotel. A reasonable hotel at a more appropriate location is the Mayerling Hotel that offers comfortable rooms and modern amenities.
How to Reach: Adolfo Suarez Madrid Barajas Airport is one of the bests in Europe and is the main one in the city. You're most like to land here if by a domestic or international flight.
Simultaneously, road networks and railways are also very well connected to other cities in Spain. Thus making journey via trains, buses and cars is smooth.
17. Lisbon & Oeiras, Portugal :
Lisbon, one of the most splendid looking Portugal cities, is blessed with wealthy historic monuments, warm sunshine and pulsating ambience. The capital's so radiant with outlining valleys and river disposition that it's hard to do justice to its beauty in only a few paragraphs.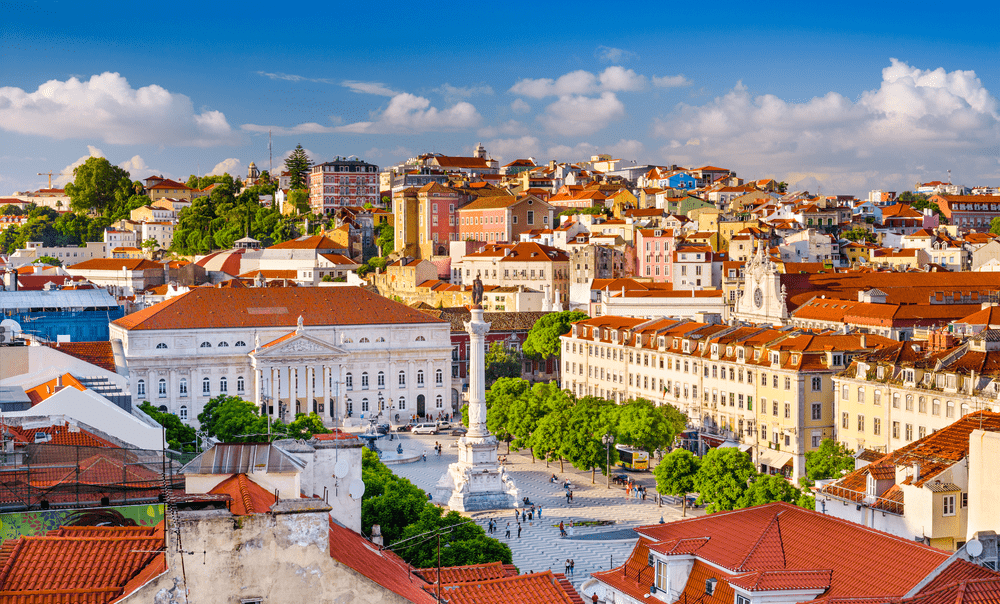 Inextricably merged with the mouth of the celestial River Tagus, Lisbon is engraved with beguiling coastal strips and charming riverbank promenades. One such highlight being the Oeiras, which touts this modern metropolis as a rival to many European cities.
Top Attractions: Amongst Lisbon's plethora of iconic landmark, St George's Castle takes a commanding standing atop a hill overlooking the alluring Alfama District.
Taking second place is the 16th-century Jerónimos monastery boasting immense cultural significance. Radiating Portugal's extraordinary Age of Discovery are the historic tower, Torre de Belém and the angular monument, Padrão dos Descobrimentos.
Things to Do: Start by exploring the city on Lisbon's famed Tram 28, which will take you up the old cobbled roads of Alfama. Hop off the tram and get lost in the compact lanes of this wondrous district.
Later, make a quick trip to the glorious town of Sintra, which sits atop the mythical Mountains of the Moon. Have an underwater adventure at the colossal Lisbon Oceanarium. I
t's where they house numerous exhibits of marine life including puffers, sharks, moray eels, penguins, etc. You can also go museum-hopping from the National Tile Museum to the National Museum of Ancient Art, and more.
Best Time to Visit: Lisbon is welcoming throughout the year, but you'll surely find its beauty the most appealing during spring. Also September to October period is quite suitable as days are milder and hotel rates are cheaper. Although summer is splendid for beach vacations, prepare for bigger crowds and higher room rates.
Places to Stay: One of the top luxury hotels in Lisbon is the Heritage Avenida Liberdade Hotel. It's surrounded by glamorous views and features even better amenities. Amongst very hospitable mid-range hotels the boutique My Story Hotel Rossio provides charming rooms overlooking the stunning views of the plaza.
Oeiras, too, has a good assortment of hotels and resorts lined up along its coasts. The Lagoas Park Hotel, for instance, is a family-friendly contemporary hotel with fine furnishings and superb amenities.
How to Reach: By air you'll land directly at Lisbon's Humberto Delgado Airport. It's very easy to reach given it's around 2-3 hours away from the major European capitals. Likewise, you can also catch a national and/or international train which will lead you straight to Santa Apolónia station. From central Lisbon you can either take the subway, or simply a taxi to reach Oeiras. Anyhow, it'll be smooth ride.
18. Brighton, UK :
Brighton is an incredibly gorgeous seaside destination on the south coast of the country, and is often remarked as the party-capital of England. Revamped from a fishing village to touristy hotspot, it boasts today as a thriving cultural and environmental inspiration.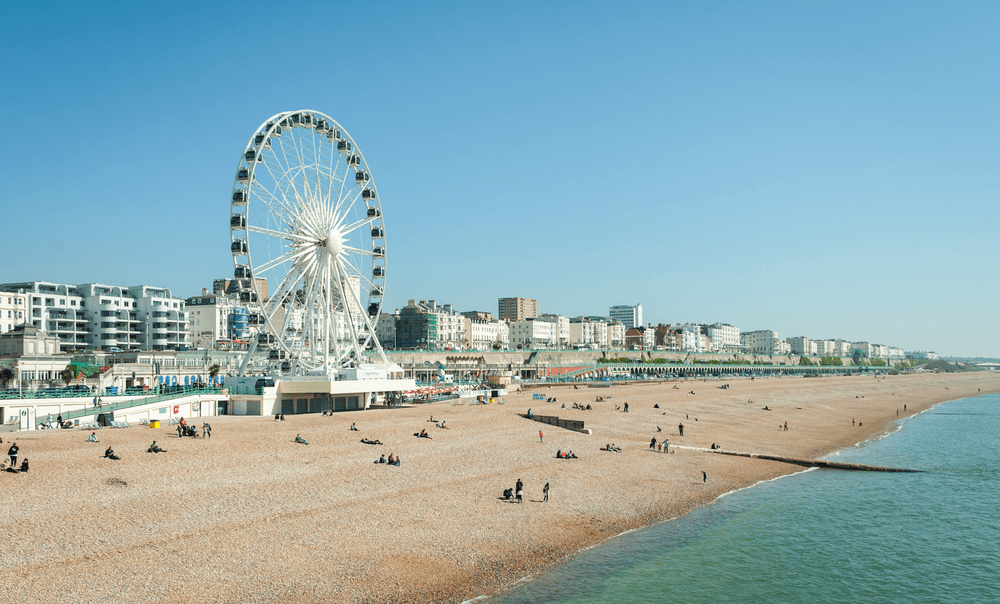 Sophisticated, advanced, yet with traces of history; Brighton is one of the top charming cities in the world. It has a laid-back vibe and winding lanes packed with a variety of things to see and do.
What makes this elegant vacation spot even more catchy are its vivacious pebble beaches. The seafronts bring locals and tourist alike together to rejoice under the sun for music, sports, food and more.
Top Attractions: The elegant Brighton is home to the magnificent Royal Pavilion and Brighton Museum. Shining right at the city's heart, for a second you might almost believe to be in India instead while gazing at it.
Further making marks with its fine structures are the Regency Houses with their terraces and squares. The Brighton Toy and Model Museum is a unique attraction, which your little ones will surely love. But even better than it all is the Brighton Palace Pier with all its seaside attractions, which are a must-do in your itinerary.
Lastly, towering over the rest is the supremely built British Airways i360 Viewing Tower on the sea front in Brighton. From atop the world's first vertical cable car and tallest moving observation tower, receive epic seafront panoramas that you'll never forget.
Things to Do: One you must do with your family and friends is pay a visit to Brighton Palace Pier. It's an amusement park over the blue water and includes fairground rides, traditional games, arcades, franchise stalls, and more.
Spare some leisure to busk in the youthful energy at the Brighton Beach and Seafront. You can even go sailing, kitesurfing, and diving at the coasts, too. To get on some tough hiking trails or even go biking, visit the Stanmer Park.
Later, explore through the bakeries and cafes at The Lanes, or go shopping at North Laine. If you arrive in May, you mustn't miss out on attending the Brighton Festival. It's a three-week long feast of arts, music, dancing, theatre and much more.
Best Time to Visit: In case you prefer warmer seasons, visit Brighton during May to September period. For cheaper accommodation and lesser crowds, you can visit during March. Avoid winter, which is usually between Octobers to Januarys, as it mostly rains.
Places to Stay: Brighton has an amiable array of accommodation along its polished lanes. If you're into lavish hospitality, check in at Hotel Una located in Regency Square.
With a delightful ambience and comfortable rooms, the boutique Blanch House is ideal for large families. Amongst affordable options, Artist Residence Brighton features modern amenities and offers incredible views of the sea.
How to Reach: The most common way to reach Brighton is by traveling via train from London or any other major cities in England. Brighton is also easily accessible through road networks, although it can be rather longer journeys from most cities.
19. Bregenz, Vorarlberg, Austria :
Capital of the mountainous Vorarlberg, charming Bregenz reverberates with elegant beauty right next to Lake Constance. As one of the most beautiful cities in the world to travel, it shelters a wonderful promenade and captivating architectures to lure visitors.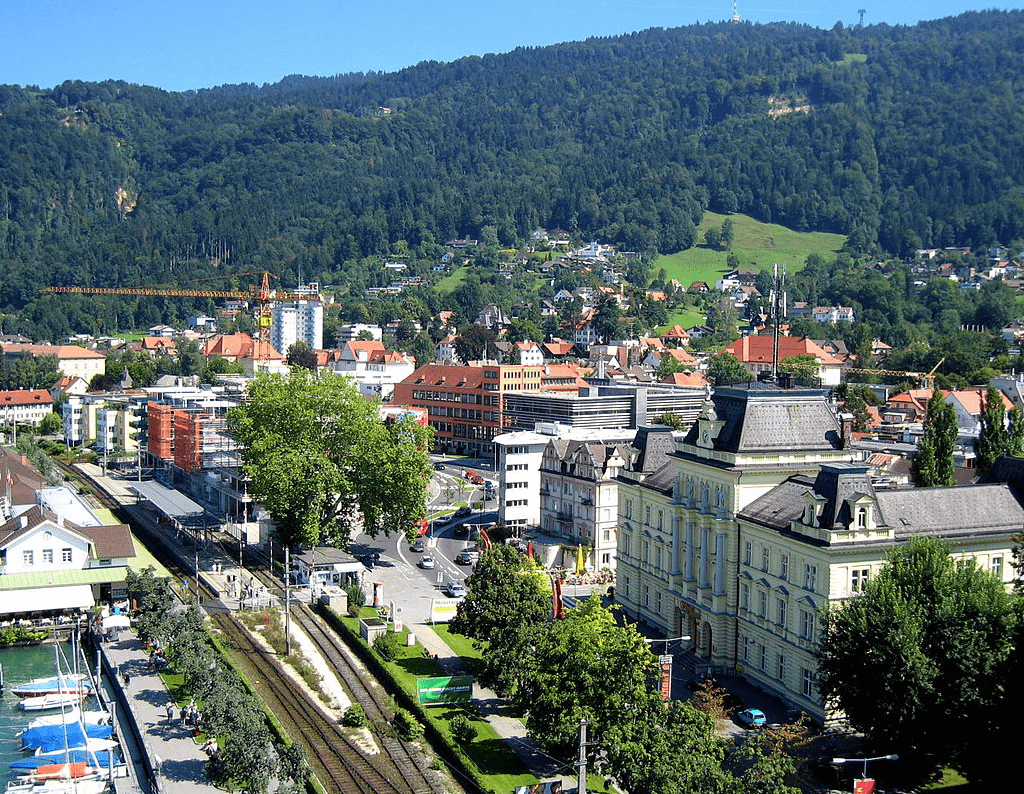 Drawn with the views of marvelous mountains underneath the sunny sky all mirrored by the glassy lake, the beauty is inexpressible. No matter at which corner you stand, you'll be at the exposure of the loveliest views.
Lazy afternoon strolls by water, opera under the stars, and small glances at avant-garde art – it's all a treat for the soul. At this mini capital, you'll have a taste of it all.
Top Attractions: The most vibrant part of the city is the Bregenz Promenade, sat right beside the idyllic Lake Constance. It accounts for one of the top most scenic beauties of Austria. Further adding to the glories are its charming little settlements.
One is Upper Town (oldest part) with Old Town Hall as its highlight, and the other is Lower Town (newer part) with Kornmarktplatz at its heart. Two other notable attractions are the Vorarlberg Museum and the Kunsthaus Bregenz.
Things to Do: Commanding over the town is the majestic Pfänder, the summit of which is reached by the amazing Pfanderbhan cable car. You'll be confronted by enticing views of the epic landscape.
Similarly you'll be greeted with fascinating views at the Rappenlochschlucht. It's a large canyon with several sparkling cascades and hiking trails. For a more relaxing holiday, go boating at Lake Constance, or simply amble down the Promenade.
If you visit during July and August, make sure to celebrate culture with the locals at the Bregenz Festival Stage.
Best Time to Visit: Between April and October are the best if you're looking for reasonable hotel prices and tour packages. The most popular months to visit include July and August, and in recent years September, mostly due to sports and festivals. Summer calls for a lot of rain, so outdoor activities can be difficult.
Places to Stay: One of the grandest accommodations is featured by the Hotel Schwarzler. Located near the city center it has in store exclusive amenities including a swimming pool with saunas and a steam room.
A more moderate hotel near the harbor is Hotel Weisses Kreuz with casual amenities such as a swimming pool, sauna, and buffet-style breakfast. Amongst the best budget hotels Ibis Bregenz is a common favorite and is close to the station, hence making sightseeing easier.
How to Reach: There aren't any direct flights to Bregenz, but all the nearest airports are connected to the city by rail. Whether from another country or a local city, you're most likely to arrive at the Central Station.
From Vienna and Berlin you can reach by bus, but journeys can be long and exhausting also with multiple stops.
20. Kuala Lumpur, Malaysia :
The glittering gem of Malaysia's crown, Kuala Lumpur, prospers with a futuristic urban air blending smoothly with a rich past. It strongly boasts a plethora of landmarks and a miscellany of nationalities, such as Tamil, Chinese, Malay, and indigenous inhabitants. And it's this cultural diversity which makes Kuala Lumpur one of the most beautiful cities in the world to travel.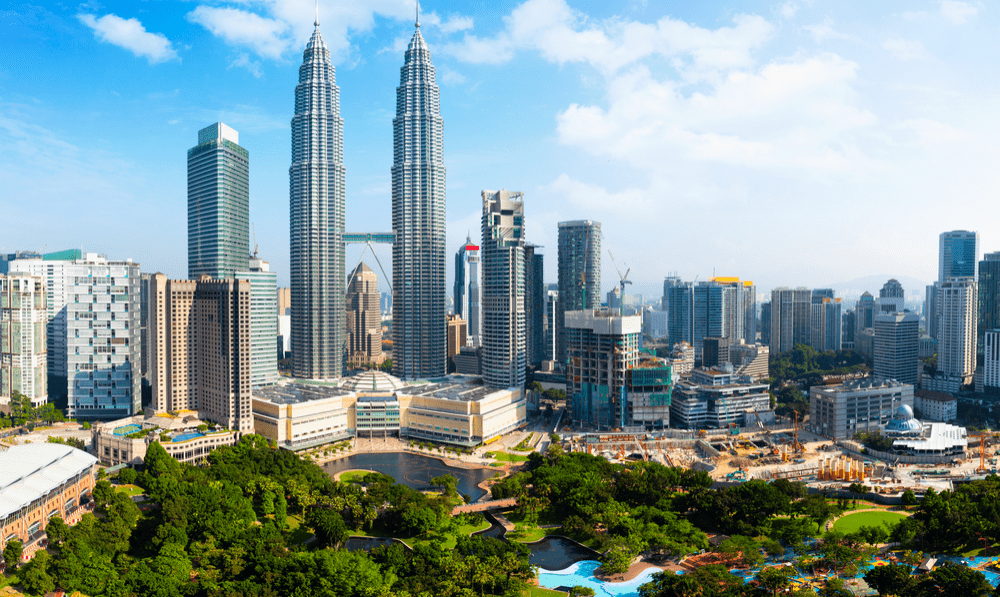 This dynamic city is outline with a skyline which is the epitome of 21st-century modernism. And hidden within it all are colonial buildings, hillside temples, local markets and street food. Whether for a shopping spree at multi-story mega mall, or for a lazy afternoon amidst greeneries, you can do it all.
Top Attractions: The Petronas Twin Towers, being amongst the globe's top ten tallest skyscrapers, is undoubtedly the country's trophy. Not as grand, but the Kuala Lumpur Tower holds its own fascinating record in the world.
Both the Batu Caves and the Sri Mahamariamman Temple are great for some culture and history digging. Other architectural grandeurs include Sultan Abdul Samad Building, Kuala Lumpur Railway Station, Jamek Mosque, and Istana Negara.
Things to Do: Kuala Lumpur has a feast of parks, each of which you must check out. Begin with a visit to the astonishing KLCC Park, where you'll find intricate manmade structures and over 2,000 species. Inside there's also a theme park for children and one of Asia's best aquariums.
More fun and outdoor adventure await at the Sunway Lagoon Theme Park. It houses an Amusement Park, a Wildlife Park, Scream Park, Extreme Park, and Nickelodeon's Lost Lagoon.
Furthermore, you must head to the Kuala Lumpur Bird Park and the Kuala Lumpur Butterfly Park to make some feathery and fluttery friends.
To indulge in souvenir shopping, traditional food, fresh produce purchase, and photography, stop by China Town, Petaling Street, and Central Market.
Best Time to Visit: As Malaysia is a tropical country, you'll experience better days with lower humidity from May to July. Between December to February is also convenient for all sorts of outdoor activities in moderate weather.
Places to Stay: A glorious 5-star property is the Four Seasons Hotel Kuala Lumpur. It features ultra-modern rooms, a spa, a swimming pool, hot tub and other lavish amenities.
What's better is that kids can stay for free. Another trend setter with satisfactory hospitality is The Chow Kit – An Ormond Hotel, with amenities like onsite restaurant, complimentary breakfast, and yoga classes.
If you're a solo traveler or in a small group and require more budget-friendly options, consider 3-star Travelodge City Center.
How to Reach: Both Kuala Lumpur International Airport (KLIA) and KLIA2 are two of Southeast Asia's largest transport hubs. You can reach here easily by all domestic and foreign flights. Similarly, the railway service in all over Malaysia is provided by the Keretapi Tanah Melayu, and provides comfortable journey to passengers.
21. Aarhus & Copenhagen, Denmark :
Copenhagen and Aarhus are two of the largest and amongst the top most beautiful cities of Denmark. While the initial is a Nordic capital, the later was once traversed by Viking ships.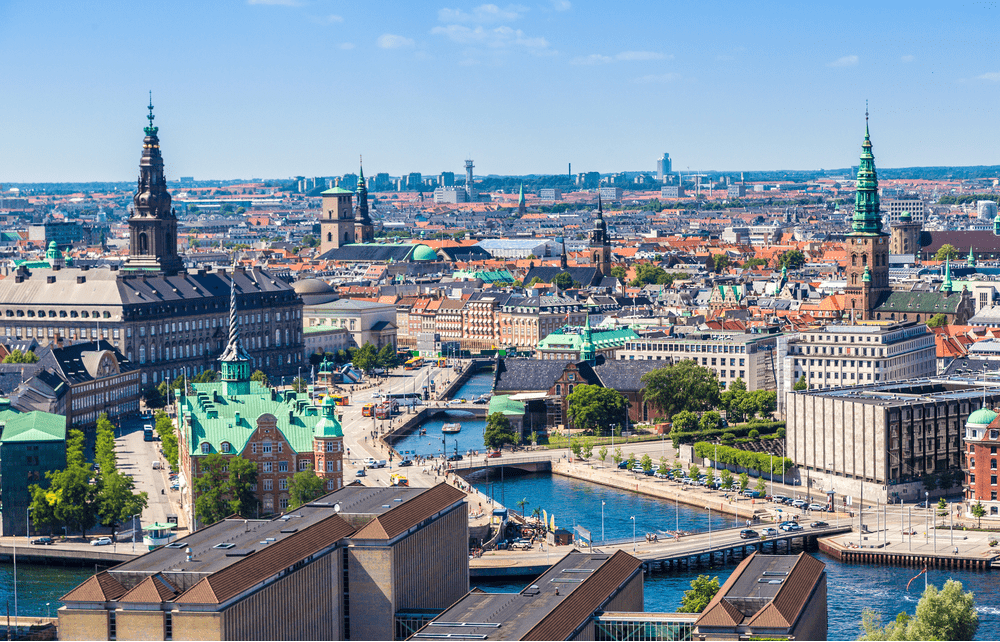 Copenhagen is recognized for its front-line restaurants speckled amidst cobblestoned pathways and alluring canals. Its ageless charm is beguiling and historical heritage is worthy of discovery.
In the bustling enclave of Aarhus you'll find some of the world's happiest people. Its narrow stone-paved streets are dotted with dainty boutiques, cafés, and restaurants. And clouding over it all is a soothing essence that will fill your heart with peace.
Whether you're a culture vulture or a die-hard vacationer, these Danish cities will keep you returning back for more.
Top Attractions: Copenhagen's top most touristy attractions include the whimsical Tivoli Gardens, the timeless Christiansborg Palace, and the lively Nyhavn Harbor.
The 36-meter-high Round Tower and the Amalienborg Castle with serene waterfront gardens are must-visits, too. As for Aarhus, nothing is more gorgeous than The Old Town (Den Gamle By).
With historic monuments and buildings dotting over the authentic town, it's no less than an open-air museum. Speaking of museums, The ARoS Aarhus Kunstmuseum and The New Moesgård Museum are brilliant hotspots, too.
Things to Do: To make the most out of your sightseeing experience, climb up on a tourist bus and explore through all of capital's splendors. Pamper yourself with some goods at Strøget, then treat yourself at a waterfront café by the Nyhavn Harbor.
With your companions rejoice in the natural fresh air of the blooming Botanical Garden, or take your children to the Bakken Amusement Park. On the other hand, at Aarhus begin your tour by going museum hopping.
Wander through the charming cobblestoned streets of the Latin Quarter, and take plenty of photographs. You can go boating across the harbor, or simply go on a wonderful day trip to Samso or even the Mols Bjerge National Park.
Best Time to Visit: To enjoy both warmer days and inexpensive touring expenses, travel to Copenhagen in spring and to Aarhus in fall. Summer in both Aarhus and Copenhagen tends to draw bigger crowds thanks to various festivals.
Places to Stay: If you don't mind spending some extra cash for your accommodation, book rooms at the Nimb Hotel. Within its castle walls and extravagant suites overlooking Tivoli Gardens, expect to be treated like royalty.
Next, the Andersen Boutique Hotel is arguably amongst the best accommodations to stay for value. It provide guests with cherishing hospitality and is close to many major attractions. Similarly, at the Scandic Aarhus City you'll be welcomed by friendly concierge and with modern amenities.
How to Reach: Many domestic and international flights connect to The Copenhagen International Airport. Likewise, there are multiple bus routes as well as railways which connect the capital to all major the corners of the country.
From Copenhagen you can easily reach Aarhus via shuttle bus and/or train. Either ways, it's very comfortable and tickets are reasonable, too. For those who prefer to fly, the Aarhus Airport is locally active throughout most seasons.
22. Auckland, New Zealand :
Scenic Auckland is New Zealand's "City of Sails", for nurturing the largest number of boats. Sitting on the lap of two natural harbors, Manukau Harbor and Waitemata Harbor, Auckland is veiled by an unspoiled nature. You'll get to witness an infinite stretch of coastline and hidden coves to explore. Therefore, it's one of the most beautiful cities in the world to travel.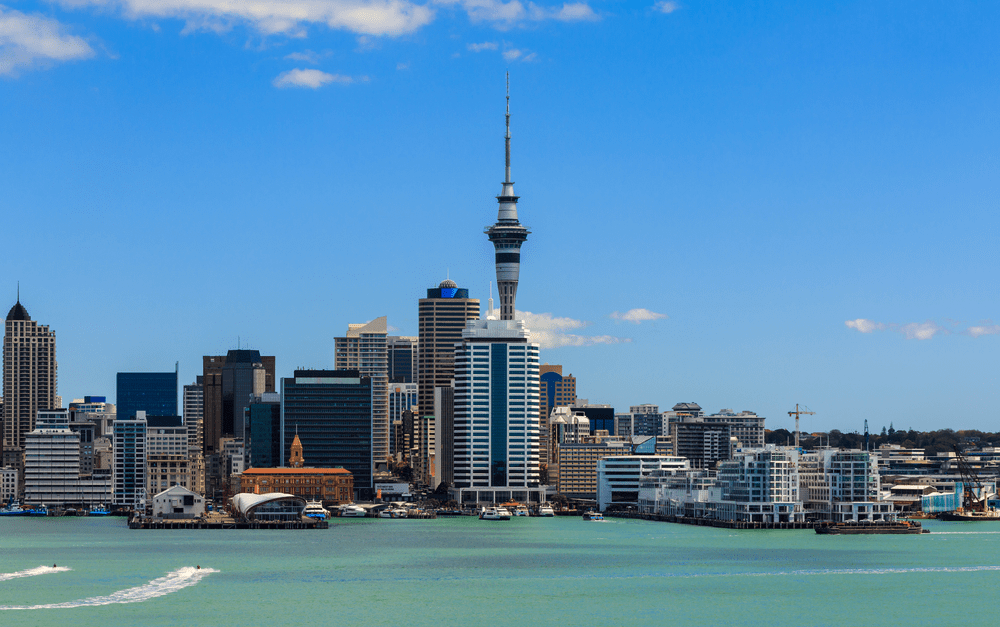 This largest metropolis asserts a vibrant economy, too. The land sprawls with ultra-modern malls, emerald urban parks, and delightful cultural scene. Auckland continues to remain appealing with its ivory beaches, historical wealth, and an easygoing lifestyle.
Top Attractions: Auckland's most prominent highlight is definitely the Sky Tower. This needle-like structure dominates the skyline at 328m high above grounds with an observation deck overlooking tremendous panoramas.
Waitemata Harbor is the other breathtaking landscape, the aerial views of which you'll surely be smitten with. Amongst top natural features, you must see Mount Eden (dormant volcanic cone), and One Tree Hill (volcano that serves as an important memorial place for Maori).
Elevating the city's charisma even more are the pristine islands, like Waiheke Island and Hauraki Gulf Marine Park Islands. For an Auckland Beach experience, visit either the East Coast Beaches or the West Coast Beaches.
Things to Do: The best things to do in Auckland accounts for all kinds of extreme outdoor sports and daring adventures activities. Start by grabbing a cycle to mountain-bike around the whole of Auckland.
You can try kayaking at the Goat Island, or swim with some underwater creatures at Kelly Tarlton's SEA LIFE Aquarium. Have a rejuvenating zip-lining tour over the vines at EcoZip Adventures located on beautiful Waiheke Island.
Awaken your daredevil spirits on a tree-top course at Tree Adventures and Woodhill Forest. Get your heart pumping by leaping off the Sky Tower or by taking a deep plunge down the Harbor Bridge. If the adrenaline rush isn't enough, take a freefall with Skydive Auckland in Parakai from 20,000ft above!
Best Time to Visit: Auckland's peak tourist season is between December to February, as the daytime temperatures make it very suitable for outdoors. However, it's also when crowds swell and travel packages aren't cheap.
So, it's best to travel from March to April, or between September and November periods. During both seasons you'll be able to rejoice in delightful local festivals under the warm sunshine.
Places to Stay: To spend your nights on a plush bed in an extravagant suite, make reservations at Cordis, Auckland 5-star hotel. For warm hospitality near the city's central business district at mid-range pricing, stay at the family-friendly Scenic Hotel Auckland. Pick Greenlane Suites if a high-standard comfort on budget is your preference.
How to Reach: Typically, you can reach Auckland by air and you'll land directly at New Zealand's busiest airport – Auckland International Airport. Locally you may take either the bus or train, both of which's routes are well connected to other cities and regions in the country.
Then again, it's recommended to take the train, not only for comfort and speed, but because you can admire the beauty on your way.
23. Sydney, Australia :
Nurturing a waterfront culture as being home to one of earth's most stunning harbors, Sydney's so attractive – you'll be dazed! Impressive headlands are encircled by the rolling waters of the Pacific, and has blessed Sydney with hundreds of sandy beaches. Every landmark is bathed in year-round sunshine and an unforgettable vitality.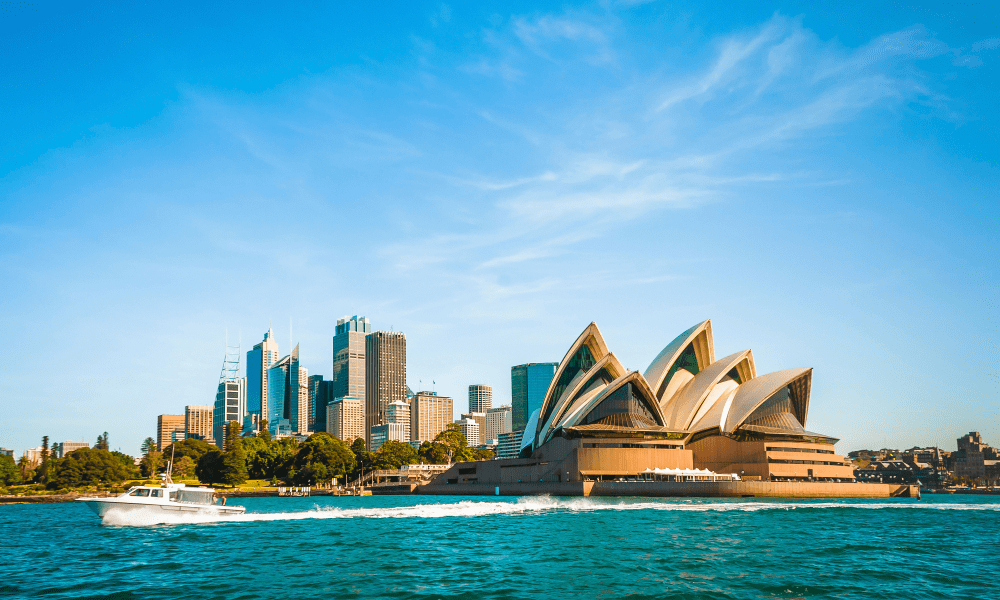 Nestled amidst its contemporary lanes are Victorian architecture and blooming gardens. What's more, dotting the lands further are leafy suburbs, waterfront neighborhoods, youthful coastal pathways and beachside communities. Thus, Australia's capital is amongst the top most beautiful cities in the world to live in.
Top Attractions: The capital's star-attraction and a UNESCO World Heritage Site, the Sydney Opera House, is staged right by the sparkling harbor. However, ruling over its waters is the world's largest steel arched Sydney Harbor Bridge.
The other highlights include the bustling Circular Quay, the pulsating Darling Harbor, the Romanesque-style Queen Victoria Building, and the 309-meter-high Sydney Tower Eye.
Things to Do: Get to know the city with the popular "I'm Free" Walking Tours. Watch a display of beguiling panoramas from atop the Harbor Bridge by simply strapping on a safety harness to join the Bridge Climb Tour.
Catch a mind-blowing show at the Opera House, or visit the iconic Paddy's Markets for some unique souvenirs. Get tanned at one of the sugary beaches, such as Palm Beach Sydney, or surf the waves at, for example, the Bondi Beach.
To make your holiday more relaxing, take soul-reviving pause at the Royal Botanic Garden Sydney. Amongst other things to do in Sydney with family includes an afternoon trip to either the Taronga Zoo or the Luna Park.
Best Time to Visit: There are two best slots to visit Sydney – from September through November, and between March to May. These months skirt Sydney's best daytime and nighttime temperatures, and offers accommodations and tour packages at reasonable charges.
Plus, the crowd tends to be more manageable as well, as right in-between these months is the peak tourist season. Winters are also outdoors-worthy thanks to Sydney's year-round warm climates.
Places to Stay: One of the best exquisite accommodation, which offers a pampering hospitality, is provided by the Park Hyatt hotel with a stunning harbor-front view. The boutique Harbor Rocks Hotel welcomes families with children with warmth, and features modern amenities and standard service. If you're a cost-conscious traveler, book a room The Australian Heritage Hotel, and you won't be disappointed.
How to Reach: Flying to Sydney is definitely the best way to reach the capital. And Sydney Kingsford Smith International Airport takes flights both domestically and internationally.
Sydney is also linked by bus services with other parts of the country, and they feature high-end safety and comfort to make traveling convenient. Same goes for the train services.
24. Delhi, India :
Painted in the colors of arts, music and history, Delhi is meant to be revered. The capital of India is simple, yet vibrant. Starting from its traffic-clad highways to the aged landmarks, the city can appear to be rather typical. Yet, with is rich history and overflowing mix of culture, you'll be unable to ignore the drape of unpretentious beauty.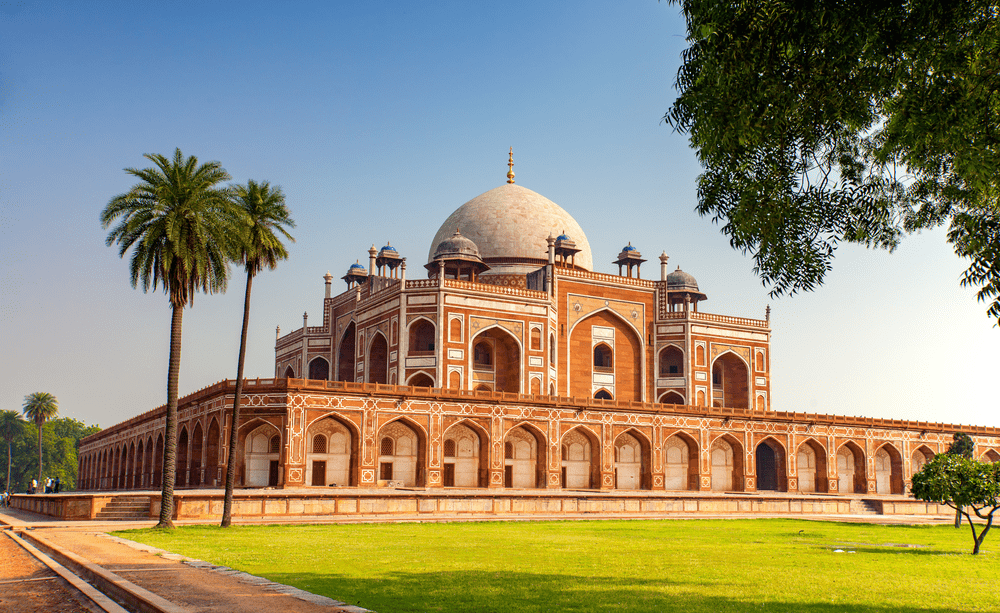 Whether to admire its iconic buildings, or to attend one of the numerous festivals, or to taste some spicy Indian cuisine, people flock here from all corners of the globe.
More importantly, Delhi isn't just easily accessible from almost anywhere in the world, but also comprises of a journey that's very economical. Therefore, it has become one of the most beautiful cities in the world to travel for cheap.
Top Attractions: The world famous symbol of the Mughals, The Red Fort, yet another built by Emperor Shah Jahan, is an outstanding landmark. Then there's the beautiful Qutub Minar with India's tallest minaret.
The iconic architectures symbolizing Delhi's religious diversity are the Gurudwara Bangla Sahib, the Lotus Temple, and Jama Masjid.
Some of more notable landmarks include Humayun's Tomb, Akshardham temple, Purana Qila (Old Fort), the Rajpath and Rashtrapati Bhavan.
Things to Do: Delhi triumphs in its simplicity. So start by touring the narrow lanes on a rickshaw. There's no better way to experience the crowd and ambience in than Chadni Chawk.
Stop at any vendor's stall and try some mouthwatering street food, such as chaatpapdi, golgappas and jalebis. More interestingly, you can listen to heart-touching qawwalis (devotional music) at the dargah (tomb) especially that of the Sufi saint Nizam-ud-din Auliya.
Best Time to Visit: The most pleasant days arrive between October and March. These months make up for fall, winter and spring, hence making it easier to remain outdoors. Summer can bring extremely hot days, and so is best if avoided.
Places to Stay: Delhi is quite a big city, so it has some good locations to stay at. To start off with, the Leela Palace New Delhi, a luxurious 5-star hotel, will pamper you with a grand stay.
A modern mid-range hotel and best for families is the Le Meridien New Delhi, perfectly equipped with rooftop dining, outdoor swimming pool, and an exquisite spa. Amongst hospitable hotels at reasonable price ranges, Hotel City Star is a good pick, especially being close to the New Delhi Train Station.
How to Reach: The Indira Gandhi Airport is well connected to both domestic and foreign flights. From any other major city outside Delhi and beyond India, you can easily reach via air.
Not only that, but intercity trains are also very popular and reasonable for travel. Even more inexpensive are bus journeys, but are not always the most comfortable.
25. Bugibba, Malta :
Bugibba is an alluring little hamlet settled on the northern coast of Malta, right in-between Quwra and St Paul's Bay. Crammed with must-see attractions, the three villages share an effervescent promenade by the rolling Mediterranean waters.
Sandy beaches sparkle the edges of Bugibba, while several of adorable shops and bistros line the sidewalks. Myriad of bars, pubs and nightclubs add to its pulsating nightlife. Here you'll be hugged by the breeze, kissed by the sun and greeted with smiles every day.
Once here you'll realize, Bugibba is the perfect haven for an inexpensive spell of hedonism for all.
Click on the following link to learn more about Malta and its best places: Cities in Malta.
Top Attractions: Bugibba's star attraction is its ever-gleaming seafront promenade. It's perfect for a lazy stroll to relax in the calming atmosphere while admiring breathtaking vistas.
The Malta National Aquarium is a must-have in the itinerary. It's uniquely design interior and collection of marine creatures are excellent. To absorb some history, visit the well-preserved Wignacourt tower. Other highlights include, the Bugibba Harbor, the Bugibba Temple, and the Bugibba Square.
What's even more interesting for a quick stop is The Classic Car Collection. It's a wonderful little museum displaying a good collection of cars from different eras.
Things to Do: "Big surprises come in small packages" – that's what you'll witness in Bugibba. At first, get on a bike and explore the breathtaking countryside beauty surrounding the village.
Later move to one of the sunny beaches for a good soak. You can even go snorkeling. For short day trips, include Malta's lovely capital, Valletta, in your travel plan if you may. But a boat trip to the beautiful islands of Gozo and Comino, and the magical Blue Lagoon, is definitely a must-do.
Best Time to Visit: Summer in Bugibba is one to experience. It's especially best if you're here on beach vacation. Although yes there's a bit more crowd during warmer days, but there isn't much to do on winter. Then spring is a good choice, too, especially if you're traveling on a budget.
Places to Stay: The DB San Antonio Hotel and Spa is a grand lodging option and provides guests with lavish hospitality. A mid-range hotel near the harbor The Gillieru Harbour Hotel.
Not only will you be in comfortable rooms with contemporary facilities, you'll also be away from the square's hustles and bustles. Lastly, the San Anton Hotel is an ideal choice if you're only looking for a bed to crash on after a long day on the outdoors.
If you want to find out more about the accommodation details, click on our article link right here: Where to stay in Malta?
How to Reach: The most common means of transportation in Malta is via the bus. It provides a comfortable journey at affordable ratings. Also, you can board a taxi directly from the Malta International Airport to reach Bugibba if you like.
26. Addu City, Maldives :
Maldives' heart-shaped Addu City is flavorful southern community featuring rare beauties of the Addu Atoll and its inhabited islands. Outlined with a scenic lagoon and six alluring beaches, it is surely one of the most beautiful cities in the world to travel. Under the tropical sun you'll be greeted with unbelievable views and will experience rejoicing environment.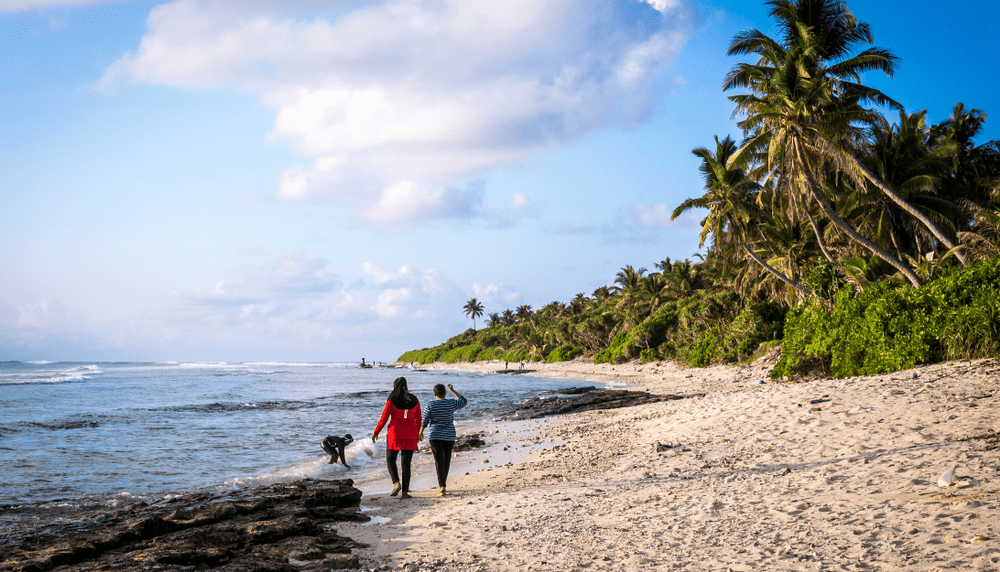 What truly makes travelers fall in love with this awe-striking city is its unlimited adventurous offerings. Addu City is the base for all things exhilarating. From swimming in the beaches to tasting Maldives cuisine, you'll get to make here a bag full of memories.
Top Attractions: The Gan Island is the most common and touristy destination, as it's the first place visitors reach once in the city. It's where you can discover Maldives' long history, and also at the British memorials, The Bonda Badi and British Base Area. One of the top natural places you must visit is Koattey. Habitat to wondrous species, Koattey is treat for the eyes.
Things to Do: You'll find some of the best Maldives Beaches here in Buggiba, so it's only evident that there'll be loads of watersports to try. Aside from swimming and snorkeling on the pristine waters of the sparkling beaches, you can also go surfing and scuba diving.
For a bit more adrenaline rush, go skydiving. There's also the option of bird watching in the freshwater lake in Hithadhoo.
Best Time to Visit: The best time to visit Bugibba, like the whole of Maldives, is the dry season. Between the months of December and April you'll be welcome with sun-kissed days, which are perfect for outdoor activities.
Avoid the wetter months (May and November), as the rain can disrupt your plans.
Places to Stay: For a luxurious stay with onsite restaurant, bar, outdoor swimming pool, fitness centre, and evening entertainment, make reservations at South Palm Resort Maldives.
The beautiful Equatorial Divers Lodge features family rooms at reasonable rate and a friendly concierge team waiting to please you. To stay on a budget check out Rekidhiye Inn in Hithadhoo, which offers rooms with private balconies and a variety of amenities.
How to Reach: To reach Addu City you catch a flight from the Velana International Airport and land at either Gan Island or Maamigili. This process is in fact both cost effective and comfortable, even though the flights themselves can take around 15-16 hours. And although there are bus, train and ferry services available, the journeys will take much longer.
27. Argostoli, Kefalonia, Greece :
Charming Argostoli is a capital on Kefalonia's southwest coast, and one of the Most Beautiful Cities in the World to Travel and is knitted with impeccable natural beauty. Although nothing beats the undying magnificence of Athens, the capital city of Greece, Argostoli's appeal, too, is everlasting.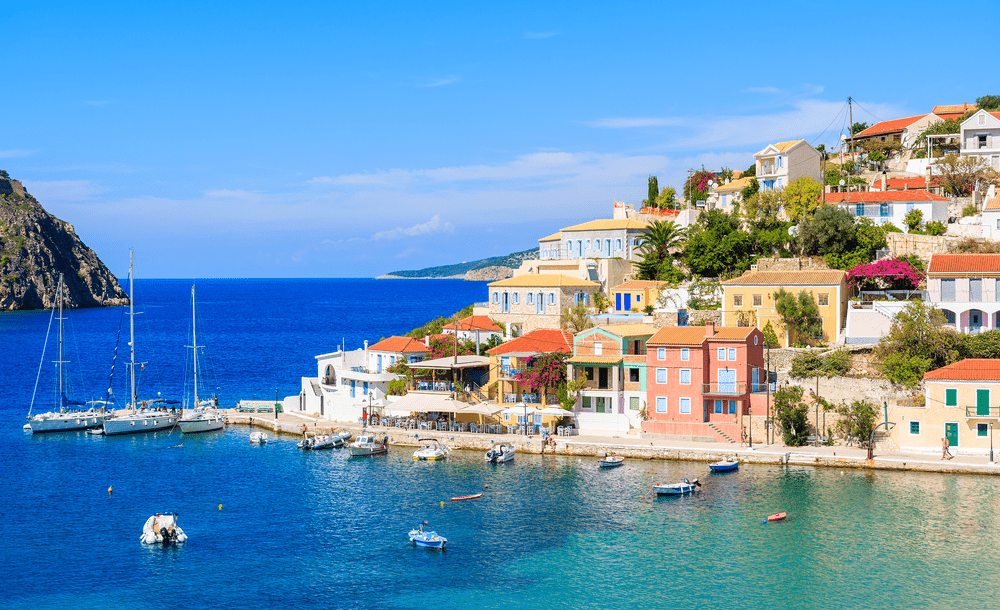 With a history predating since 1950s, and rebuilt in 1953, this picturesque place is like another paradise. It homes some of most captivating palm-lined seafronts, the bluest harbors, and the most invigorating beaches.
Broad streets with vibrant cultural displays, lively crowd at the promenades, and an awe-inspiring ambience makes it one of Greece's great cities.
Top Attractions: Argostoli is made beautiful with a myriad of attractions. The achingly stunning Assos Village, for instance, with palm lined waterfronts, scenic greenery, charming houses and mooring boats.
The Petani Beach and the Myrtos Beach are dramatically captivating. Likewise, the Mount Aenos and the Melissani Cave, both a natural marvel, are equally impressive.
Lastly, the two mesmeric harbors, Argostoli Harbour and Fiscardo Harbour, are worth your time, too.
Things to Do: Start at one of the spectacular beaches. Soaking up some sun amidst lush green hills along with swaying waters mirroring the sky as the view – nothing will elevate the senses more.
If you love watersports, you can even try diving, snorkeling and sea kayaking at some of the beaches, too. Then move to either of the harbors for delightful delicacies, shopping treats, and some boat rides, too. Fun fact: at the Argostoli Harbor you can actually view the unique sight of endangered loggerhead sea turtles.
Another must-do is exploring the mythic Melissani Cave on a guided boat tour to discover all its secrets. Add more adventure by hiking in Mt. Ainos National Park.
Best Time to Visit: The best months to visit Argostoli are April and May, as these are a dry seasons with warmer climates. June to August are the hottest months and calls upon larger crowds and higher hotel prices.
Furthermore, given it's a Mediterranean climate, winters are milder and isn't a bad choice for traveling either.Tourists seek Best time to visit Greece for a great holiday.
Places to Stay: If you're one a honeymoon in Greece, make reservations at the adults-only F Zeen resort in Lourdata Village. It's a top-notch exotic resort featuring modernized suits with well-furnished balconies and patios viewing the sensual nature.
The elegant Hotel Aggelos Kefalonia provides economical rooms with a sophisticated hospitality right in the heart of the capital. For classy stay on a budget, consider Fiscardo Studios located at a walking distance from the scenic harbor.
How to Reach: You can very easily reach Kafalonia by plane, as you can directly land on its international airport from Athens, Thessaloniki and other European countries, too. The second option is ferry. It starts from Killini and arrives in Poros within an hour and a half.
28. Most Beautiful Cities in the World to Travel, Mykonos, Greece :
What makes Mykonos one of the most beautiful cities in the world to travel is its whitewashed architectures with blue doors. From the quaint marbled pavements of Little Venice to the Monastery of Paleokastro, this is "the Ibiza of Greece". Amiable windmills, tiny domed churches, historic remains and glittering beaches, all reverberate by the Aegean Sea.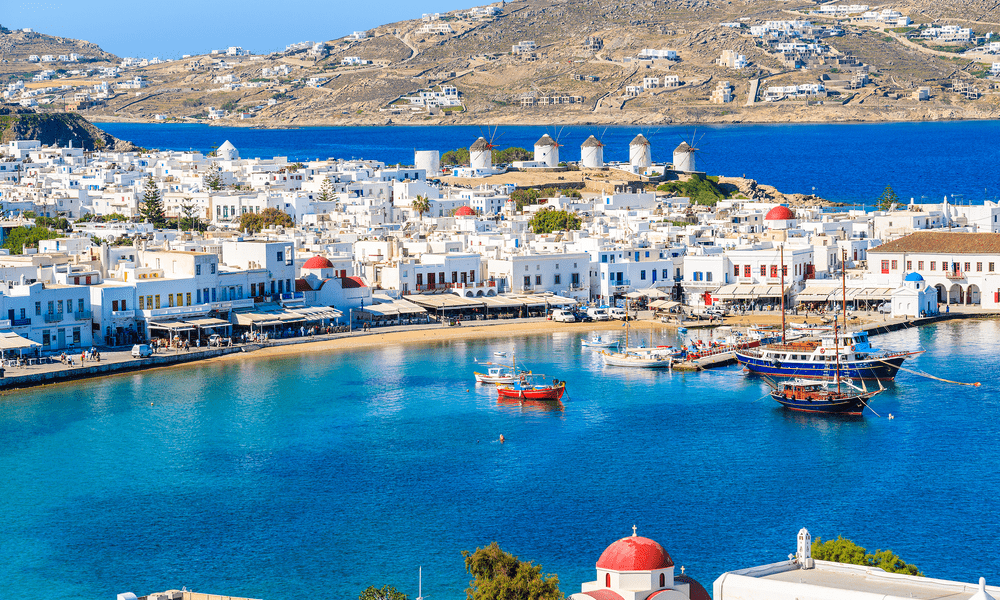 This fashionable and arty cosmopolitan has a fun-loving ambience that invites people to lounge and party.
Top Attractions: Once you reach the harbor, the first thing that will hove into your admiring gaze is the row of seven white windmills. One of Greece's most treasured archaeological sites is the island of Delos, featuring the Terrace of the Lions, the Doric Temple of the Delians, the Minoan Fountain, several market squares, and the Theatre Quarter.
Other notable tourist hotspots include Matogianni Street, Alefkandra (Little Venice), and the Old Port.
Things to Do: Wondering around the town in itself is a journey, for there're too many eye-pleasing sights to catch and places to explore. Delve in the tranquility by sailing to Delos or gazing up at the windmills.
Head over to Agios Sostis Beach to enjoy some seclusion, to Elia Beach for jet-skiing, Kalo Livadi Beach to play with your children, or to Kalafatis Beach for wakeboarding. Interestingly, Mykonos is a great spot to party with your friends.
Simply walk in to a trendy bar or pub, and stay up till dawn. Also note, Santorini is quite near, so you can make a quick trip via cruise, too. While comes to several hospitable accommodations availability, people think – Where to stay in Santorini?
Best Time to Visit: Visit during brief shoulder season, September to October, as this is when the crowds are slim and you'll get more room to party. Also you'll be able to save good money by making hotel reservations around this time of year.
Similarly, November to March period will also greet you with lower tour packages, but lower temperatures can prelude your beach days.
Places to Stay: If your choice is for a classic stay at the Old Port, White Memories is an ideal pick. You'll be offered lavish apartments with open balconies facing iconic views of the port.
At the Little Venice, you can make reservations for your family at the elegant Vencia Boutique Hotel. Its best feature is its infinity swimming pool overlooking the oceanic views. For a high-end hospitality at a budget, consider Petinos Beach Hotel located at Platis Gialos.
How to Reach: Accessible by domestic flights, you'll land at The Mykonos Island National Airport. Additionally, you can avail ferries or cruise rides from the mainland of Greece.
These are the only two options available given Mykonos is an island. Fortunately both provide with very comfortable journeys while rates can vary from seasons and distances.
So our list of most beautiful cities in the world to travel has finally come to an end. So have you decided where to go yet? Well, hurry if not! Or you might miss out on the best seasons.