Cities in Switzerland for travel are amusing, as every nook and corner has something great to offer. Set spectacularly amidst beautiful scenery, cities in Switzerland blend the old and new perfectly. Plethora of museums, art galleries, bars and restaurants keep the cities lively and cheerful.
While you love the sights of castles, churches and red-rooftops, you will discover exactly why the tourists get enchanted with the beauty of Greece. Luckily, you will find beauty in every corner of the cities and can nourish your soul in places like Geneva, Lucerne, Bern etc. So, without delaying, let's take a look at the list of some of the best cities in Switzerland for travel.
1.Geneva :
Geneva is regarded as Europe's one of the most beautiful cities in the world with a diverse history. Acting as a cultural centre, Geneva features top notch entertainment, numerous scopes for recreation and top-class restaurants.
World's tallest fountain, Jet d'Eau, is Geneva's most distinguished monument. To get an aggregated idea on Swiss culture, you can choose one from more than 30 museums and art galleries that beholds the rich history of Switzerland.
In order to have a glimpse of Switzerland's past living, one can take a short tour in Geneva's Old Town. While exploring country sides, one can wish to bike, hike or boat.
When it comes to choose hotels, Geneva offers a wide range of options that are easily accessible and provide good services. While short listing the cities in Switzerland for travel, Geneva is such kind of a city that must be included.
2. Zurich :
In every corner of this famous cosmopolitan city, there awaits something exquisite for the travellers. Zurich is one of nicest cities in Switzerland for travel, since it consists of numerous beautiful parks and historical buildings.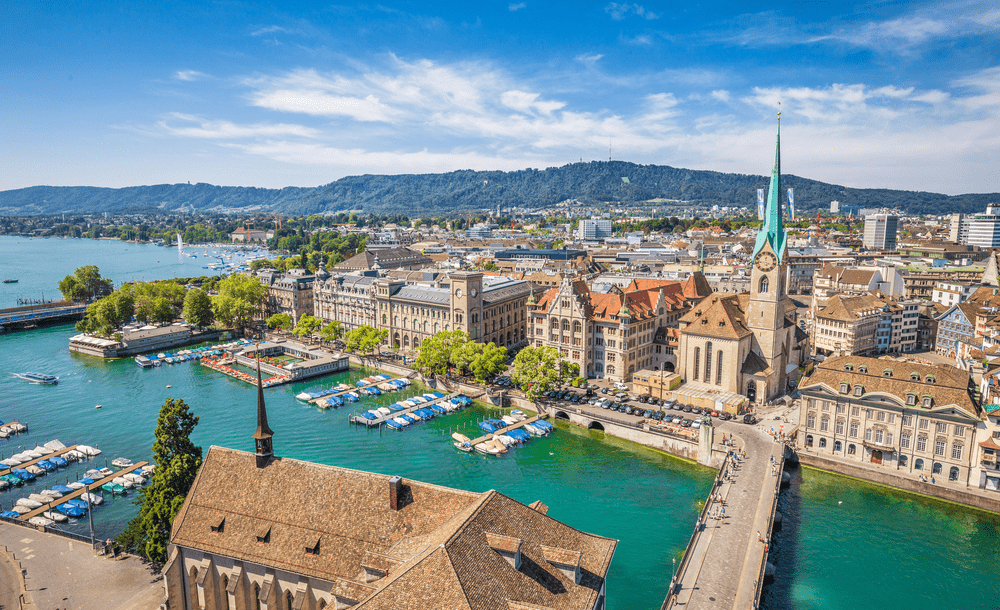 Its relaxed atmosphere is a bonus for the tourists. The city is located on Lake Zurich, very near to the Swiss Alps. The transport system of the city is well efficient and every function is operated with acute smoothness.
While venturing Zurich, start with Lakeside Promenade for stunning views and appealing meals. The Zurich's delights available in the Old Town are bound to astound the tourists. Kunsthaus, a prominent Swiss Art Museum, offers free entry facilities on Wednesday.
Roaming the city for an hour in private tuk-tuk tour will provide great insights of the city to its traveller. Being regarded as a little village, Niederdorf is a placating place filled with alleys. The time period of June to August is considered as the best time to visit Switzerland for exploring the distinct shades of various seasons.
3. Lausanne :
Lausanne set itself apart from the other cities by offering a more medieval feel. Situated on Lake Geneva, this place will surely charm you with its enchanting Swiss beauty.
It has an idyllic backdrop consisting of hills, plenty of charming vineyards and dazzling Lake Geneva spread out below. Lake Geneva weather is usually wet and heated during summer; freezing during winter and cloudy rest of the time.
Art and cultural excellence of Switzerland is perfectly showcased by the museums and monuments there. Besides, there is a wide range of fun activities for you to indulge in.
This charming city consists of numerous prominent museums that are expected to add delight in your Switzerland tour.
4. St. Moritz :
Saint Moritz, the most famous place in Switzerland for skiing and Winter sports. The land is filled with towering mountains and crystal-clear lakes that automatically draw tourists towards it.
St. Moritz is chosen as a favourite place to outdoor sports enthusiasts for the availability of windsurfing, tennis, golf, horse riding and hiking. Piz Rosatach is the most renowned peak of St. Moritz standing between the Inn valley and the Val Roseg.
There is a funicular extending 2.1 kilo-meters from St. Mortitz to Corviglia that offers picturesque views and great restaurants to dine in. A cabin cable car from here will take you to Piz Nair within 10 minutes.
To witness Switzerland's most symbolic mountain rail, pay a visit to the Glacier Express that crosses some bridges of great height. Combining multi various scenic beauty and scopes of enjoyment, St. Moriz is one the best cities in Switzerland for travel.
5. Bern :
Reorganized as a UNESCO World Heritage Site, Bern is a very peaceful city that has so many to offer to its tourists. On planning to visit the cities in Switzerland for travel, one must not miss paying a visit at Bern.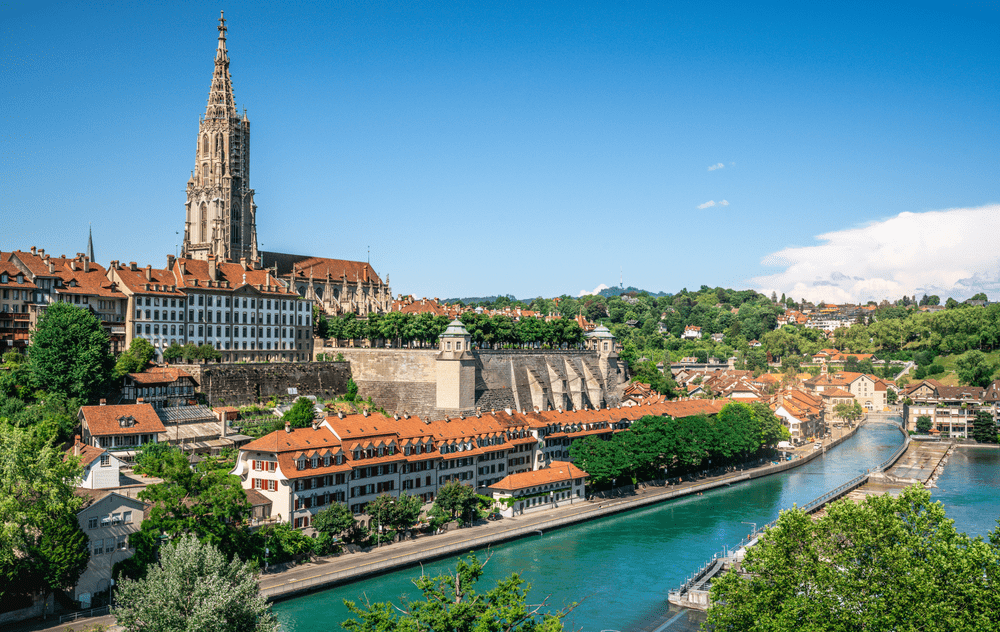 A direct train from Zurich will take you to this beautiful city of Bern. The city is highly celebrated for the beauty of its fountains. The Zentrum Paul Klee is a fantastic undulating construction which leaves its viewer speechless.
One of the most prominent places to visit is the Bern Historical Museum, the largest in Switzerland. Here, you can get to learn a lot about the life history of the great scientist, Albert Einstein.
In the canton of Bern, there is Lauterbrunnen, a delightful village with mountains and valleys. In summer, visitors can join excursions from any valley of Lauterbrunnen to the villages in Jungfrau.
Another peaceful village in the canton of Bern is Grindelwald, that has mountain resorts and many idyllic views. To witness the Grindelwald Glacier, one can take cable-car rides which are easy to access.
6. Basel :
Surrounded by Germany and France, Basel is truly one of the most unique places to visit in Switzerland. Tourists get an insight into the culture of Germany and France along with that of Switzerland.
It's not only intriguing but also gorgeous! With over 40 museums there, the art lovers will be in for a treat. Sitting over the river Rhine, Basel offers you fabulous places to see, scrumptious food to taste and many exciting things to do.
This city just cannot be left out when you pick your cities in Switzerland for travel. As a tourist, one can spectate many historical buildings alongside advanced architecture. Roaming around the city, you can spot both traditional and modern trends.
7. Montreux :
Many people recognize Montreux as the place where Charlie Chaplin lived for 25 long years, or where Queen, the famous rock band produced few of their best-selling albums. So, it can already be assumed how important it is to unwind and relish the exquisiteness of this town when in Switzerland.
Start your tour in this little piece of heaven by paying a visit to Chateau de Chillon, and then go on to see Freddie Mercury's statue and make sure to stroll around the Old Town in between.
In every corner, you would find tranquillity, magnificence and beauty. The authentic grace of this city makes it a piece of paradise and thus attracts many travellers and writers.
8. Lucerne :
Lucerne is a small, yet marvellous city situated in the heartland of Switzerland. This is one of the best choices when you are searching for cities in Switzerland for travel as it offers you many exciting Swiss sites starting from Mount Rigi to Rütli Meadow.
At the annual summer festivals, many people across the world come across just to hear out live orchestral performances. Lucerne earned fame when the St. Gotthard pass was opened around in 13th century, making it an important trading centre.
As a mountain lover, you will consider Lucerne as the foremost choice, since it is a place that gives sensational Alpine rides. To have a splendid experience, you shall spectate the view from Mt. Pilatus and Mt. Rigi.
A very distinct tourist site is the Kapellbrücke, a wooden bridge constructed in 1333 that depicts beautiful scenes. Some timber-framed houses are still there in the Old Town of Lucerne that creates the ambience of fairy tale.
9. Winterthur :
If you look for a place in Switzerland that is packed with art and history, then Winterhur is your perfect shot. It is a small city convenient for travels to get around the markets, cafes and parks.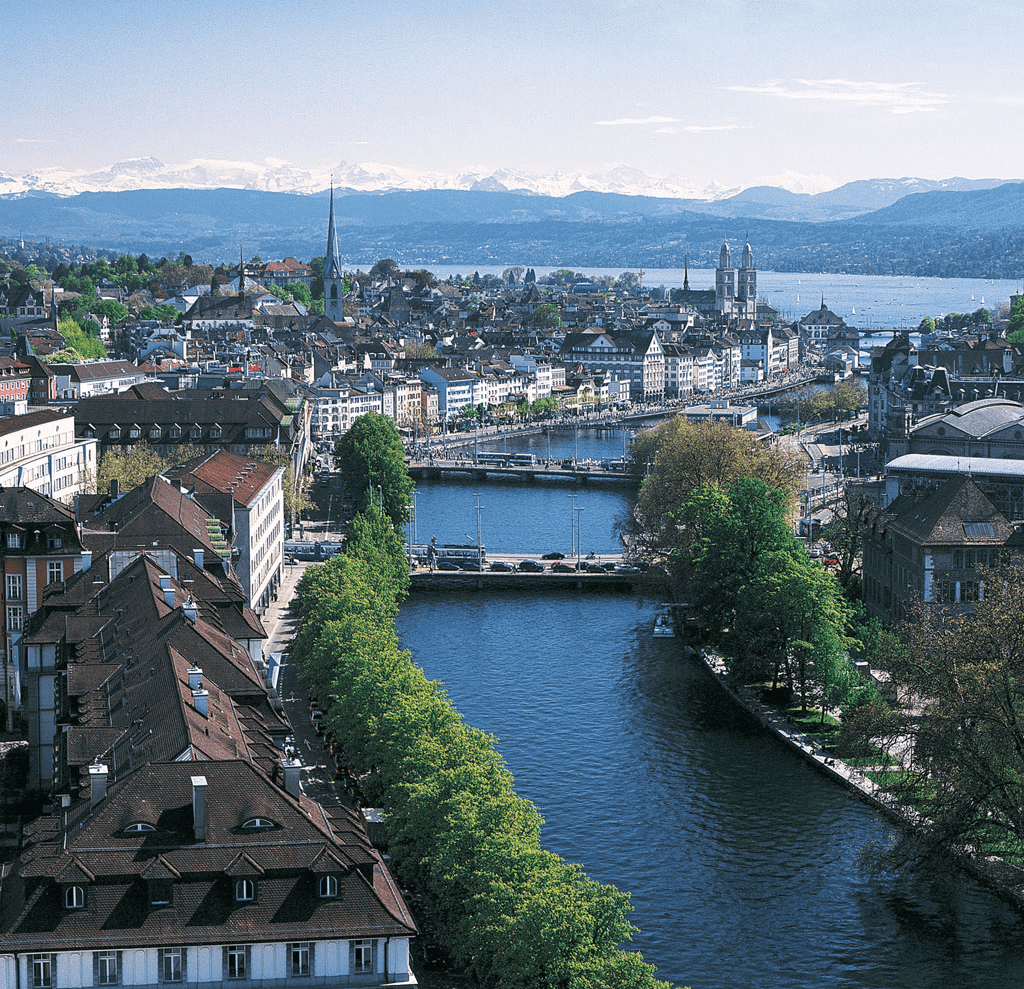 Festivals are arranged all through the year during various occasions that causes the Old Town to rejuvenate. Winterhur is a popular destination for its pleasing environs of the gardens and parks. This medium sized city has the biggest German Swiss winery, several theatres and the very first golf course of the country.
Some of the highly rated places for staying are Sorell Hotel Krone, Plaza Hotel Winterhur and Hotel Watermann, which leave no stone unturned to ensure your comfort and convenience.
To have a wholesome meal by outdoor seating, check out places like Restaurant Trübli, Sporrer and Nachbarsgarten. For enjoying fine dining and local cuisine, Restaurant Schloss Wülflingen can be a good choice for its appealing food, service and ambience.
Switzerland has much to offer all year round. The magnificent cities and towns are like perfect winter playgrounds with scenic landscapes, lakes, and not to mention the Swiss Alps.
The cultural and artistic opulence of the cities will charm you equally. Moreover, people in Switzerland will welcome you to their paradise and will leave you in awe with their heart-warming Swiss hospitality.
Each city has in store a huge number of attractive spots and a myriad of fun things to do. No matter which city you plan to visit, you will surely have a lot of experiences to cherish all lifelong.