Lauterbrunnen, Switzerland has captured the eyes of numerous travelers as the most wonderful village in the Jungfrau Region of the Swiss Alps. It's nestled within the impressive trough valleys of waterfalls, and radiates pulsating seasonal appeals and iconic locales. There're wide ranges of things to see and try, besides hospitable accommodation, which account for an ideal holiday destination.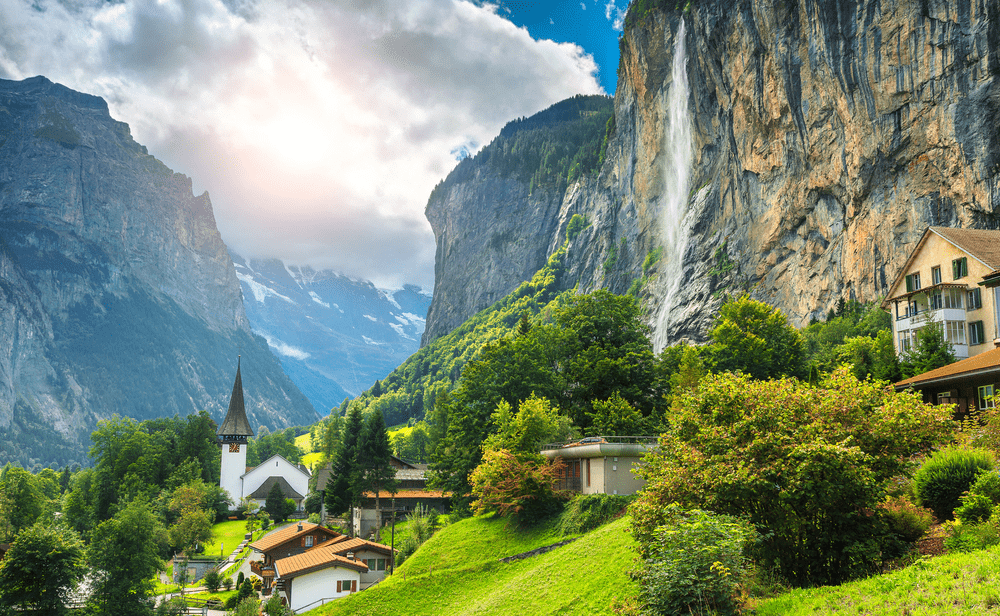 The gorgeous municipality of Lauterbrunnen, Switzerland is, as the name suggests, a land of many fountains. It's located closely at a less-than-half-hour drive from the stunning village of Grindelwald, Switzerland and Interlaken, one of the finest cities in Switzerland for travel.
Right in the background drops the majestic Staubbach falls amidst the secluded valleys, giving Lauterbrunnen its unique outline. Enhancing its beauty even beyond are the textured alpine meadows, gigantic rock faces, mountain peaks and their lonely inns. This explains why the quaint village has become one of the most sought after social media hotspot.
The Lauterbrunnen Weather :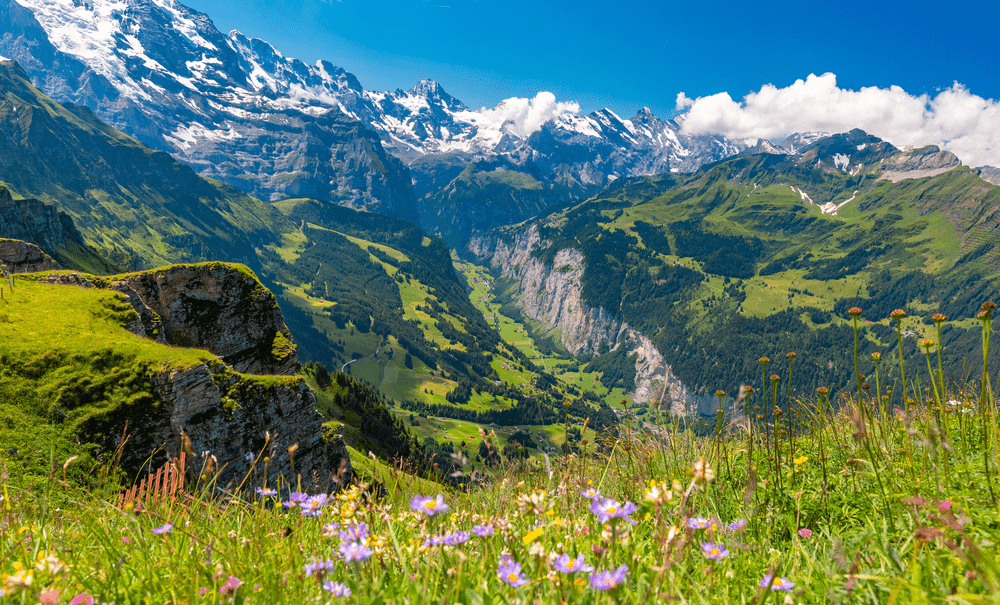 Summer :
Similar to the best time to visit Switzerland, summer is ideal to tour Lauterbrunnen. The weather is delightful all throughout the months of June to September and the waterfalls are most powerful from the melting of snow and ice. You can hike the lively trails and catch picturesque vistas. It's the peak tourism season, so accommodation can be expensive. Plus, it's also the wettest season, so pack for unpredictable rainfalls.
Fall :
If you wish to avoid the crowd and steep prices, visit Lauterbrunnen, Switzerland during the fall season. The views of the changing nature and also the hiking trails, are just as welcoming as always. Chances of precipitation are also very low, so it's very enjoyable overall.
Winter :
Lauterbrunnen, Switzerland weather in winter, has successfully attracted millions of tourists, who love snow. The frigid temperatures and frequent snowfalls, can make traveling difficult. But the sight of newly transformed winter wonderland, is worth admiring. Additionally, with miles of snowy hills to ski and snowboard on, winter sport enthusiasts will surely enjoy their time here.
Spring :
After the frosty winter, the following months bring along fresh environment with remains of chill in the air. Spring is short, so only lasts between April and May. If you arrive during this period, you'll be greeted with blooming floras and lovely daylights. However, it too can get busy and prices of both Lauterbrunnen, Switzerland flights and hotels may vary.
Things To Do In Lauterbrunnen :
Discover Waterfalls :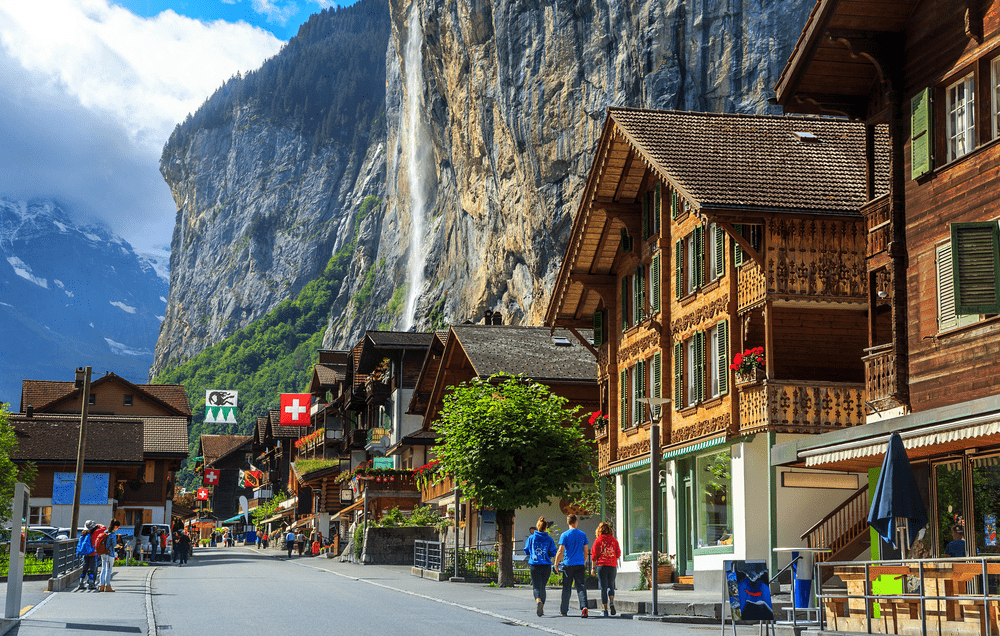 Being home to 72 thunderous waterfalls, Lauterbrunnen lives up to its title as being the land of fountains. With each plummeting fall more magnificent than the other, you'll definitely enjoy hiking the tranquil trails and discovering hidden caves. Two of the signature cascades include Staubbach Falls and Trümmelbach Falls.
Soar Above the Velvet Valleys :
If you want to quench your thirst for paragliding, then this mountainside village is certainly the place to be. Amongst the best things to do in summer in Lauterbrunnen, Switzerland, base jumpers and sport enthusiasts from all over the world, make pilgrimages here to leap off her sides and surrender to gravity.
Conquer the Mountains on a Bike :
Add to your adventure by riding a bike across the additional distances on the grounds and mountains. Wengen and Murren are the best descents for the most rewarding experiences, especially, if you're a skilled biker. Also do note, in case you're an amateur biker avoid the steep valleys in Murren, and try on the gentler slops in Stechelberg.
Skiing at Mount Schilthorn :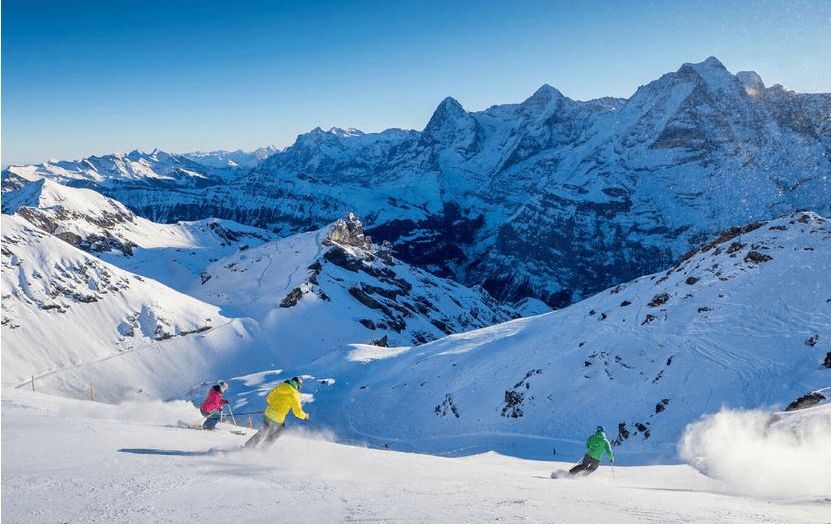 Amongst the best things to do during winter in Lauterbrunnen, Switzerland, skiing at the fantastic resort of Mount Schilthorn, is an easy favorite. Enveloped amidst the soaring mountains of the Jungfrau region, Schilthorn offers spectacular stretches of soft snow to ski and snowboard.
Take a Hike :
Lauterbrunnen is the ultimate hiker's hive. With numerous walking and hiking trails to uncover, there's a kind to cater to every skill type. And with every mile you accomplish, there'll be an astonishing view at your waiting.
Up on a Cable :
One thing you mustn't miss out on adding to your Lauterbrunnen, Switzerland travel diaries is taking a cable ride up Schilthorn. The cableway will take you up the summit, from where you can admire the charming views of the Swiss Skyline. From 2,970 meters above ground, the earth underneath your feet will appear no less than heaven.
Jungfraujoch Train Excursions :
Another interesting way to admire the beauty of the village, is by hopping on the Jungfraujoch train. You'll start at the station hailed on top of Europe, which 3,454m above sea level, before being ridden through serene landscapes.
Best Hotels in Lauterbrunnen :
Luxury Hotel: Hotel & Spa Silberhorn Wengen :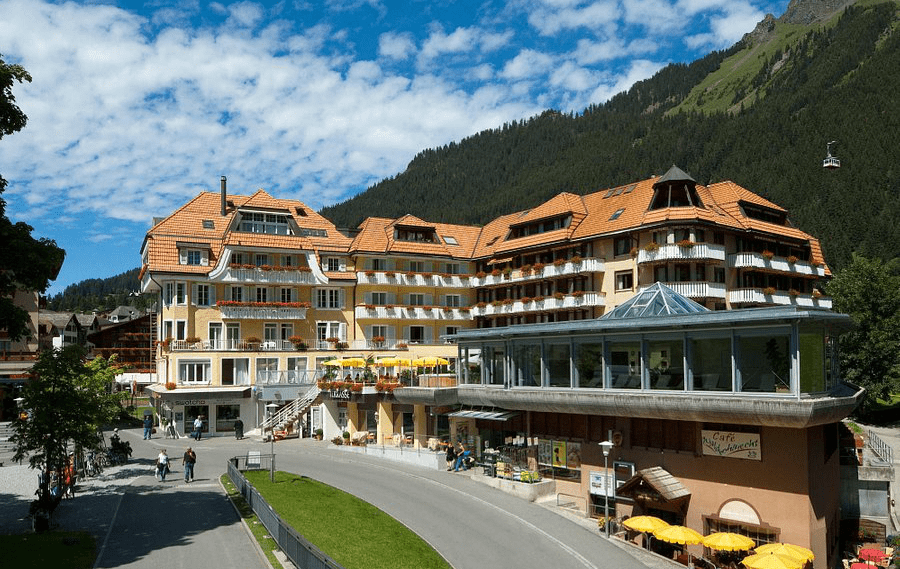 Hotel & Spa Silberhorn Wengen is a 4-star luxury hotel in Lauterbrunnen, Switzerland. It's situated right at the heart of Wengen offering exclusive spa facility and fine cuisines at its on-site restaurant. It also features spacious suits with plush bedding and balconies overlooking breathtaking views. To further elevate their hospitality for guests, they also have a steam bath, a Finnish sauna, a Kneipp pool, a whirlpool, a solarium, a relaxation area, a fitness room, a convenience store, a skiing school, and a cozy bar.
Budget-Friendly Hotel: Hotel Oberland :
One of the top Lauterbrunnen, Switzerland hotels found within a budget, is the charming Hotel Oberland. Set on the main street within a walking distance from Staubbach Falls, it suits families and couples looking for an unpretentious base. The hotel, furthermore, has a friendly ambience, featuring comfortable rooms with breathtaking vistas and equipped with modern amenities.
Inexpensive Hotel: Hotel Staubbach :
A very common pick amongst most travelers, is the historic Hotel Staubbach. It's best for those looking to only spend a few hours on a comfortable bed after long hours of tour and hike. Located 600 meters from the Lauterbrunnen station, it provides simply furnished rooms with basic amenities. And due to being framed by the Bernese Alps, you'll be greeted with magnificent views all throughout your stay.
So, do add Lauterbrunnen, Switzerland to you travel-bucket list, if you're in search for a remarkable break. Whichever the season, and whatever the purpose, this scenic village will help you create lasting memories.