Best beaches in Cyprus entice the vacationers to revive from the Mediterranean beach life in Cyprus. The major coastal towns remain alive with visitors sunbathing and swimming during summer.
The third largest island in the Mediterranean Sea, Cyprus covers a great number of beaches.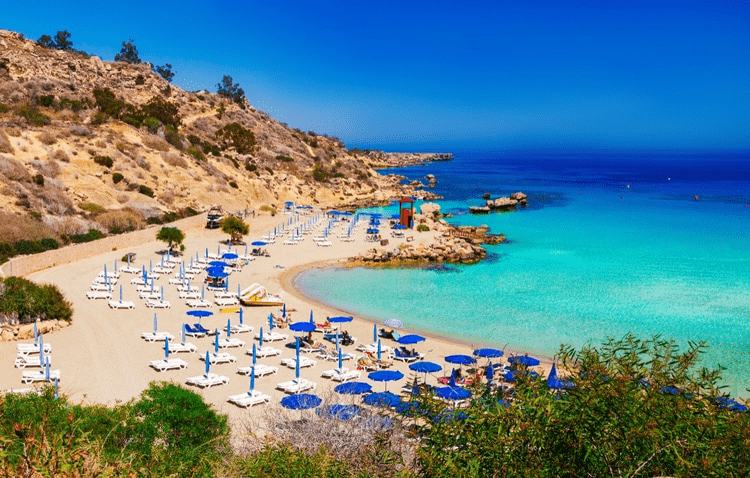 With numerous Blue Flag awarded beaches, Cyprus has earned its name as one of the best seaside spots in Europe. From dark sands and still waters to wild seafronts, you will find everything here. Craft your best Cyprus beach experience by selecting your slice of sand from the list of best beaches in Cyprus.
1.Mackenzie Beach:
Mackenzie Beach is incredibly popular with locals and vacationers. The locals spend their weekends relaxing at this serene beach.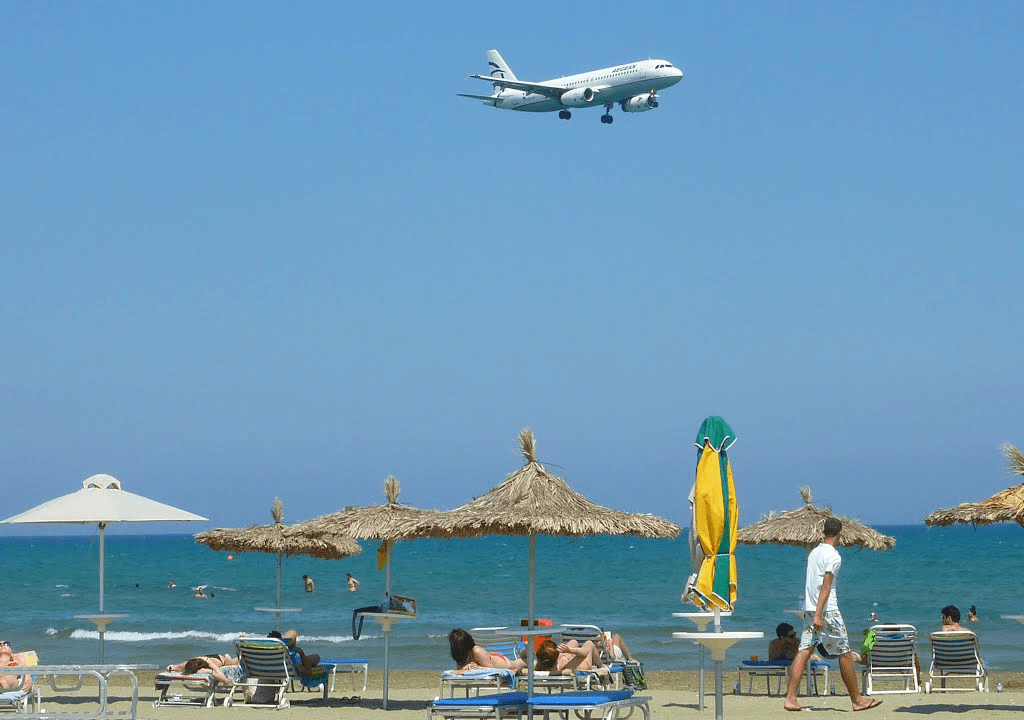 The beach is mainly renowned for its safe and shallow waters making it apt for visiting with family. With a tropical backdrop reamed with palm trees and a long stretch of fine grey sands, Mackenzie beach has become one of the favorites of the vacationers.
Each year millions of tourists visit the magnificent beaches in Cyprus, which is one of the most beautiful places in the world to enjoy the sun in the beaches. To have one of the best vacations of your life, choose the best beaches in Cyprus from this guide that you want to visit.
2. Nissi Beach :
Nissi Beach is undoubtedly one of the most beautiful beaches in Cyprus. This beach is a sheltered inlet, filled with white glittering sand and turquoise colored water.Only three kilometres west to Ayia Napa,Nissi beach has many wonderful places for you to stay.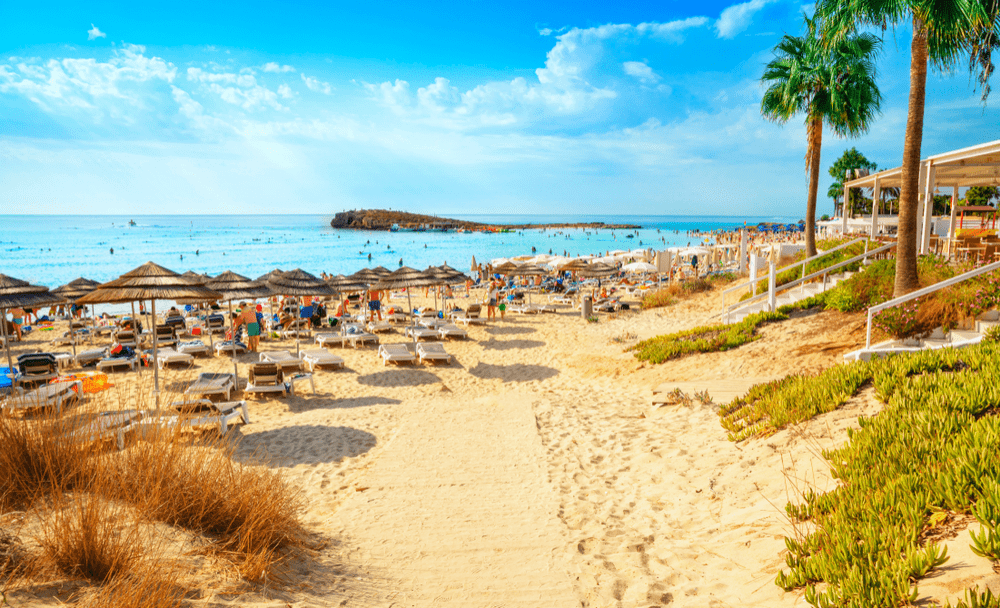 Pavlo Napa Beach Hotel and Grecian Bay hotel are some of the best hotels, if you prefer to stay near this beach. It's one of the major tourist attractions in Cyprus and in summer it is packed with vacationers from all around the world. Sun-seekers from Ayia Napa and Larnaca cram this beach and hence this beach is crowded during tourism season.
The live music events keep the beach vibrant and lively during summertime. Moreover, you can spend a day swimming and soaking in the sun on this beach and then eat at the shore-side cafes and restaurants.
3. Konnos Beach :
In Cyprus,Only five kilometres south of the Protaras, Konnos beach is a sheltered cove sitting on the brink of Cape Greco National Park. With a backdrop rimmed with pine trees and soft white sand, Konnos Beach has become one of the top destinations in Cyprus.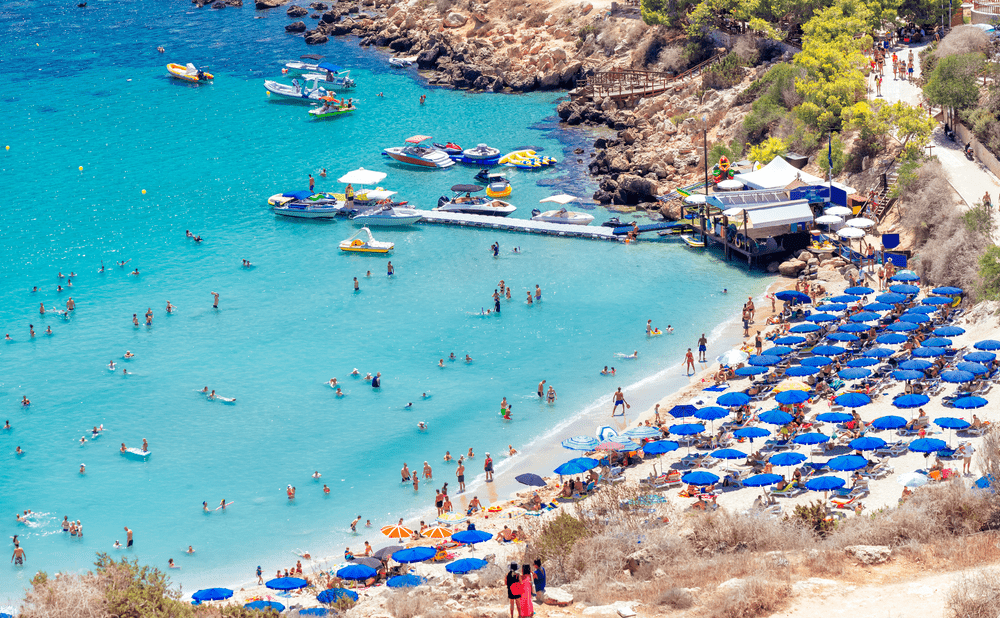 For refreshments and meals, you can head over to the cliff top restaurant, where you will be able to enjoy panoramic views of the sea along with the gastronomical delights. Konnos beach is one of the most best beaches in Cyprus for families spend some time with your family. The shallow waters here make it easier for the little ones to be splashing about.
All facilities from sun-loungers, shades to lifeguards and bathrooms are easily accessible. Moreover, note that you will find no shortage of water sports and other fun activities to do here on this beach. Grecias Hotel, Narcissos Villa Doria and Chloe Luxury Villa are some great nearby hotels to stay at.
4. Lara Beach :
Lara Beach is the most appropriate for the vacationers who want to spend some time away from the shores near the main towns. Set on the wild Akamas Peninsula, Lara Beach is a home to Mediterranean's green and loggerhead turtles.
With a view to keeping the beach all natural, there are no chairs or sun-loungers on this beach. Keep in mind to pack a picnic while coming to this beach you will find no restaurants or cafes nearby.
You can opt to stay at Olivia Beach Villa or Azzurro Luxury Holiday Villa, if you want to stay near this splendid beach. As Lara beach is in a bit secluded position, this makes it one of the best beaches in Cyprus for couples.
5. Golden Beach :
One of the island's most gorgeous and pristine slices of shore is the Golden Beach. Golden Beach, also called Nangomi Bay, has its name after its golden hued sand that lines the coast for numerous kilometres.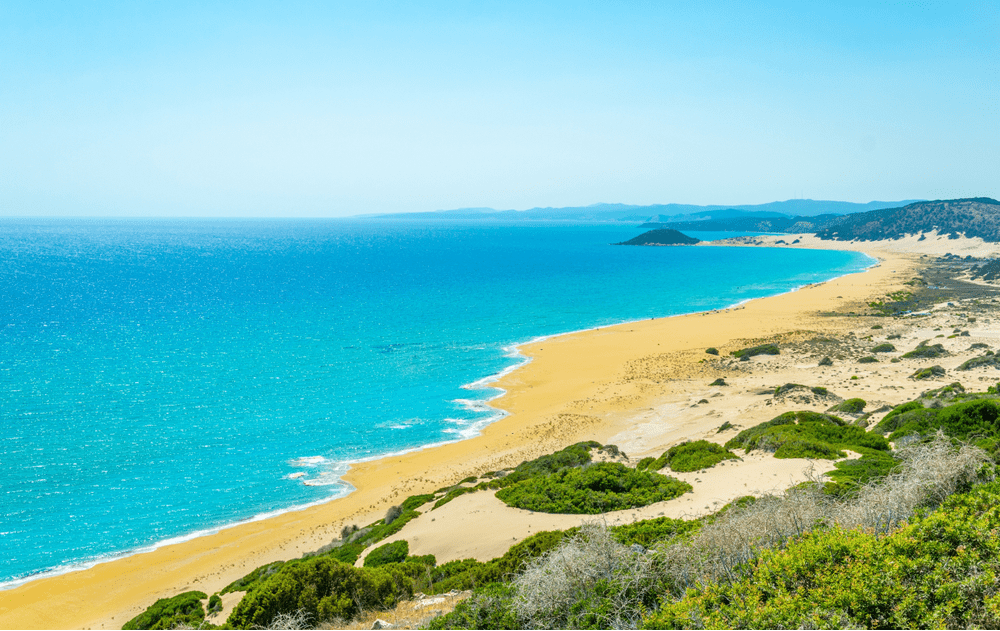 So peaceful and so stunning a beach with wild surroundings, is known to be a favourite with nature lovers. One of the most interesting things here, is to spot wild donkeys in the nearby hills. A small number of small boutique hotels here like Marina Grand Beach Hotel and Hotel Admiral, offer serene stay.
6. Fig Tree Bay :
Another serene beach at the south end of the Protaras seafront promenade, Fig Tree Bay is loved by snorkelers and vacationing families. In fact, this is one of the best beaches in Cyprus for snorkeling. While the snorkelers love it for the clear water and abundance of fish, the families love it for its exceptional sheltered position.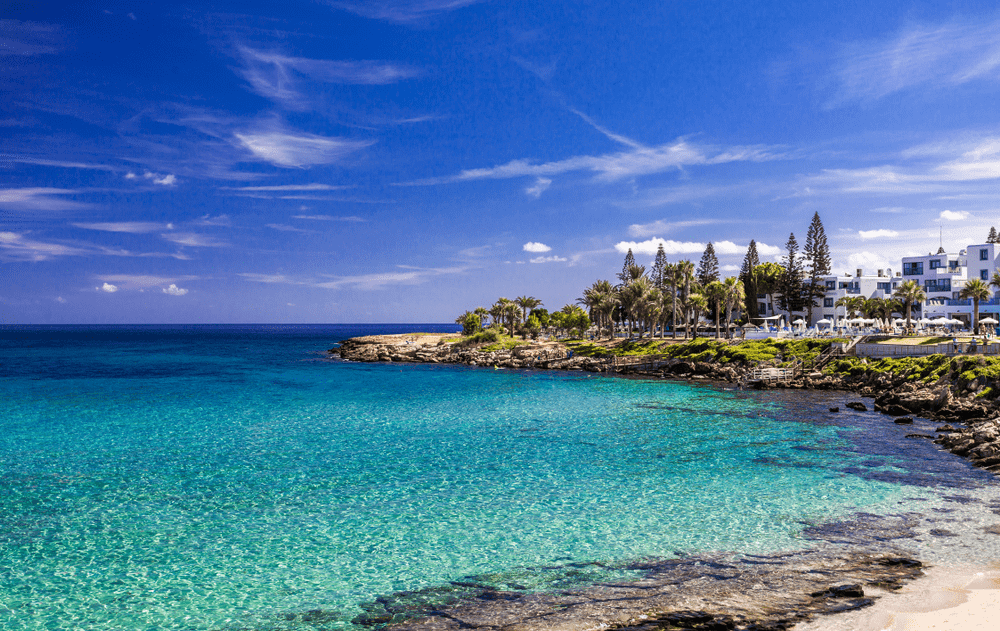 Fig Tree Bay is where you should visit for spending a day lying in the sand and splashing in the sea. While get hungry, you will find the numerous cafes and restaurants situated just a jump away from the sand. Among a huge number of nearby accommodations, Sunrise Jade and The KIng Jason Protaras are mentionable.
7. Coral Bay :
Coral Bay is another busy shore that is crammed with sunbathers in the summer months. Coral Bay is a major attraction for several summer vacationers of Paphos due to its easy accessibility.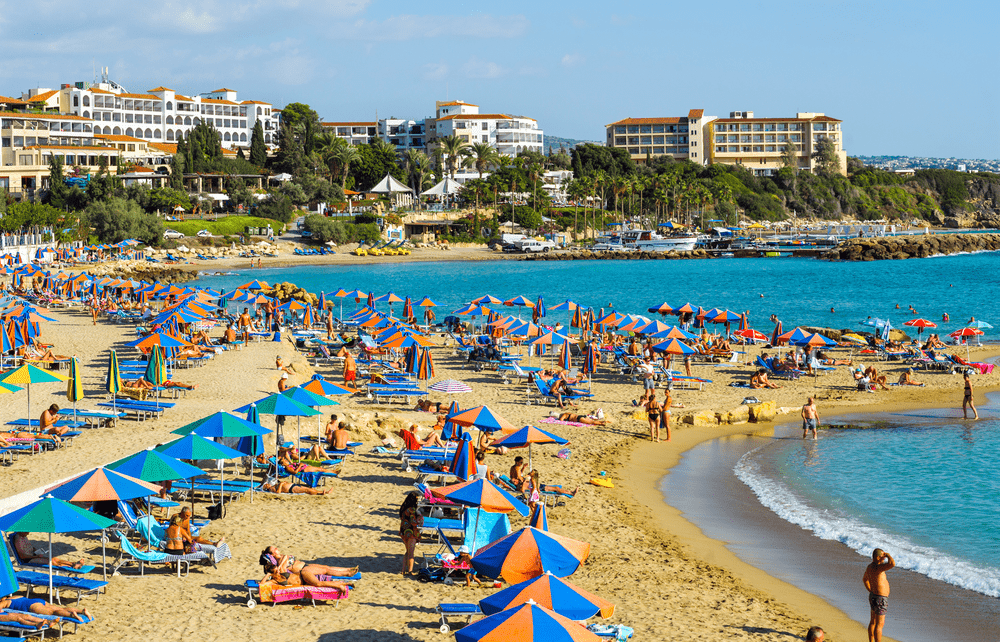 The golden sand is a specialty of Coral Bay. Fun activities are here available at your fingertips. Sun-loungers and shades are available in plenty. After a fun filled day at the beach, fill your tummy by snacking or ordering full meals at the nearby cafes and restaurants.
8. Makronissos Beach:
When looked from above, this cape looks like a dolphin tail. You'll find a walkway formed of chalky white sands leading to the ocean. A two-minute walk into the lush shrubs, will take you to a secluded part of the coast.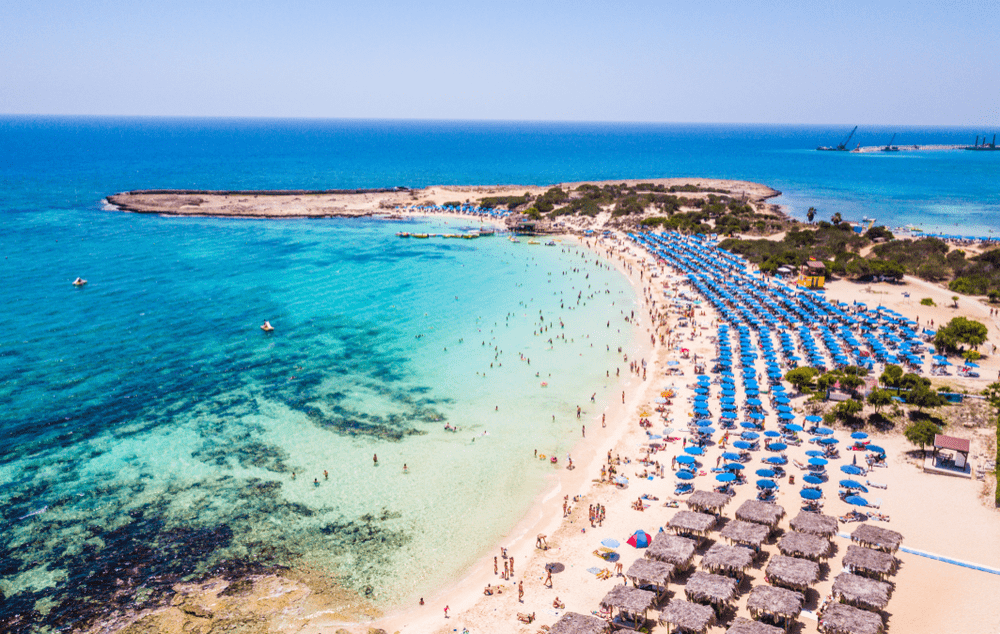 Various interesting rock formations and some ancient tombs, here make it even more interesting. Scuba diving and sightseeing in Blue Lagoon Cruise are some of the best fun activities that you can do here.
Napasol Boutique Hotel, Asterias Beach Hotel and Adams Beach Hotel and Spa are some of the best hotels near Makronissos beach that offer a comfortable stay.