Travelers seek the top-rated weekend getaways from Los Angeles to have a fulfilling holiday. Arrive at Palm Springs for a pleasant treat. Escape to the Big Bear Lake or even the Sequoia National Park for the sprawling nature. If nothing more, go on an adventurous cruise to the majestic Catalina Island. And heighten your senses to the fullest.
One of California's crown jewels, Los Angeles welcomes its visitors very warmly. As one of the most vibrant cities in the world, the City of Angels has some surprises for everyone. With top-notch entertainment options, a thriving cultural scene, and never-ending routes dotting the city, choosing where to stay in Los Angeles might be your only concern.
Nevertheless, even a striking metropolis like the LA can pull you down. And a quick weekend getaway might be the best solution to uplift your spirits again. What's even better is that there are a good number of top-rated weekend getaways from Los Angeles, most of which are located close by. For experiencing all the offerings of Southern California, LA is a great launching pad.
Just grab your backpack and head down the scenic driveways. In no time you'll be celebrating your best weekend.   
1.Catalina Island :
At the paradise-like Catalina Island, you're sure to have a soul-rejuvenating trip. Amongst the quickest getaways from LA, be prepared to have some of the best coastal experiences in your life.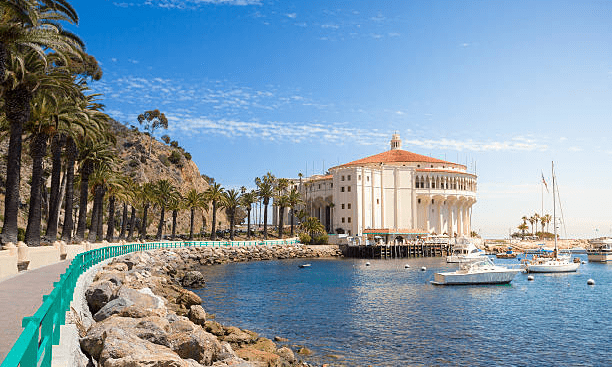 Start off with the most popular 90-minute Catalina Express ferry ride from the mainland. Then dive into all the top things to do in Santa Catalina Island, Los Angeles. For instance, have a camping night out by the beautifully rugged shoreline of Starlight Beach. Or spend a refreshing afternoon at the Wrigley Memorial & Botanic Garden.
Likewise, you can rejoice at the moment with your mates at the Descanso Beach Club. It's a private beach peppered with unlimited entertainment and lined with loungers, restaurants, and bars. It's perfect, not only for daylight lounging but also for enjoying the best of Catalina Island nightlife. That's partly also because the Catalina Casino and the Avalon Theater are right next doors.
The island has a Zip Line Eco Tour packed with a range of five zip lines for all wild adventure lovers. Have yourself fastened in one and get a high-speed, exhilarating ride down through a canyon.
Not motivated enough? What about the idea of going sea kayaking off the shore among whales and sea otters? Not only that. You can even go museum hopping at this majestic island, get on boat tours, and even try diving excursions.
Yes, Catalina Island is all set and waiting to give you an unforgettable escape.
2. Whale Watching Cruise from Newport :
If you're in desperate need of a last-minute trip to enjoy the weekend, you should definitely consider whale-watching at Newport. Often ranked as one of the top weekend getaways in California, where you're sure to receive a completely unique experience.
You'll have two options at hand: Newport Landing and Davey's Locker. Both offer regular cruising over deep glistening waters to view some of nature's most incredible mammals all year-round.
However, there's a new surprise at every season. Arrive during summer and fall, and get the views of beautiful giant blue whales. In contrast, the grey whale season is normally throughout the cold December to April. Regardless of the seasons though, you'll be greeted with the pleasing sights of cheery dolphins and majestic seals, too.
So, just grab your friends and climb aboard!
Then again, if cruising isn't your thing, you can always hit Newport Beach. Even better, the ever-so-popular Laguna Beach is only a 20-minute drive from here.
3. San Diego :
What many might not realize is how close San Diego is to LA. A quick drive along the picturesque coastline of Southern California will lead you to this sunny city.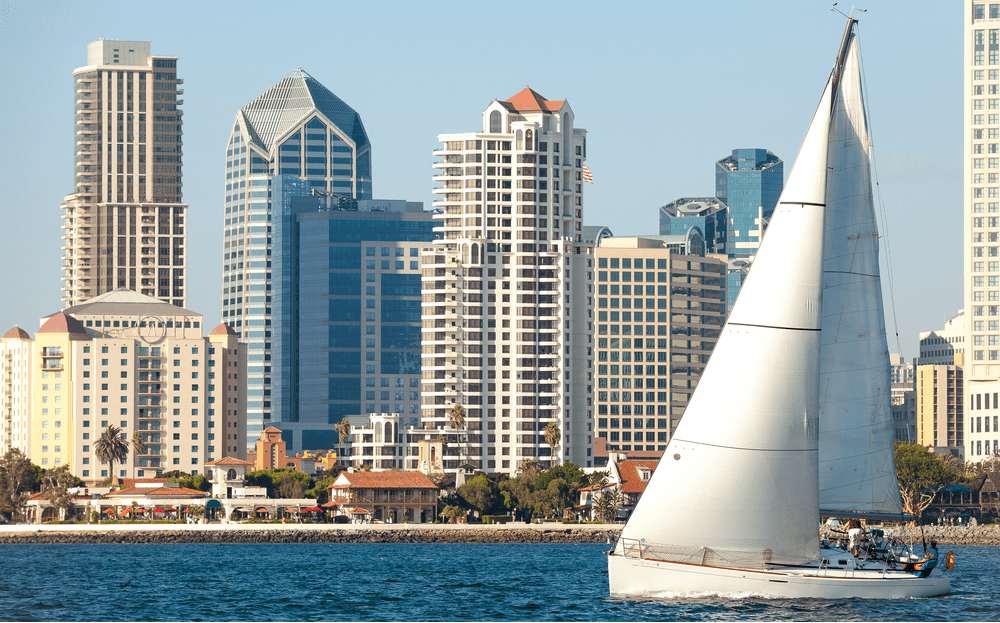 Because San Diego has much to offer, it's counted amongst the top-rated weekend getaways from Los Angeles. The San Diego Zoo, located in Balboa Park, itself will take away most of your day. It's a great place to spend some quality time with your family and children since there are plenty of options to interact and learn about animals.
To indulge in some delicious meals and trendy pubs, pass the evenings at Gaslamp Quarter. And of course, there are beaches for all you sun worshippers. The Pacific Beach is a common favorite, where you can devote yourself to lazy afternoons or even try water activities. If you don't want your beach fix to end, drive down to Rosarito Beach and infuse in some Mexican vibe.
4. Ventura :
You don't necessarily need to scrape every penny in your bank account to have a splendid weekend out of the city. And a few nights at Ventura will prove you so.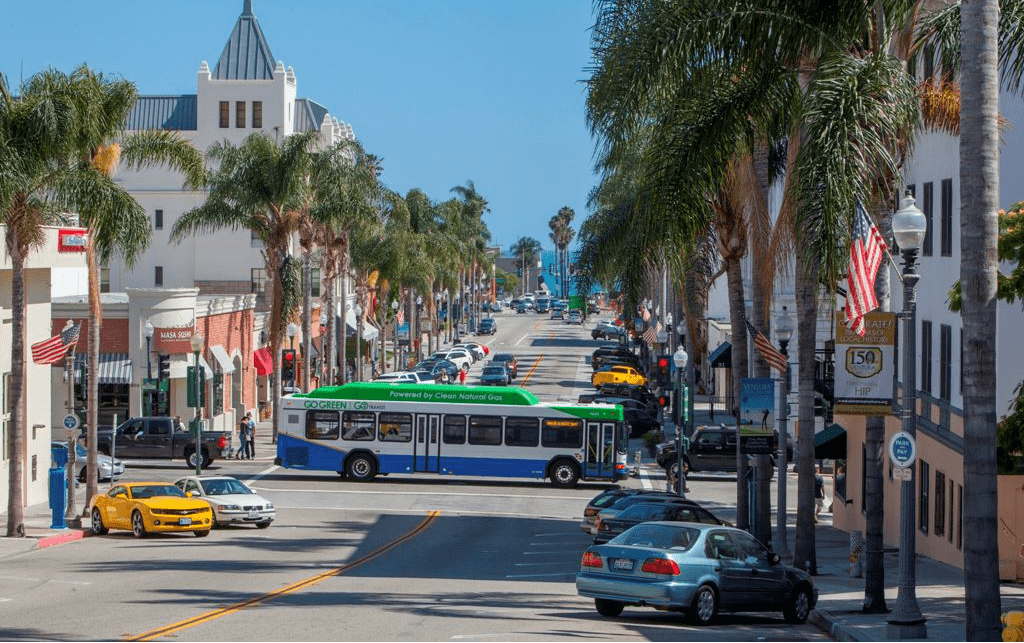 Only an hour away from LA, this small beach city with a quaint downtown area is a land of blissful pleasure. Its wide uncrowded shorelines will treat you with gentle breezes and warm ocean waters. Additionally, the old-school boutiques and cafes along the streets of downtown will engulf you in their wonders.
Revive throughout the day at the Ventura Pier. If you may, then embark on a short trip to the Channel Islands National Park for an even more exciting adventure. Later, enjoy a supreme sunset at the San Buenaventura State Beach. End the day on a high note by savoring delicious seafood meals served at the Ventura Harbor Village diners.
It'll be one of the best inexpensive weekend getaways in Southern California you'll ever experience. Also note that the small town, Ojai, boasting a unique California aesthetic, is only a short drive away from Ventura.
5. Big Bear Lake :
Had enough of LA's buzzing traffic? Need a quick nature's fix? The Big Bear Lake awaits to heed your presence.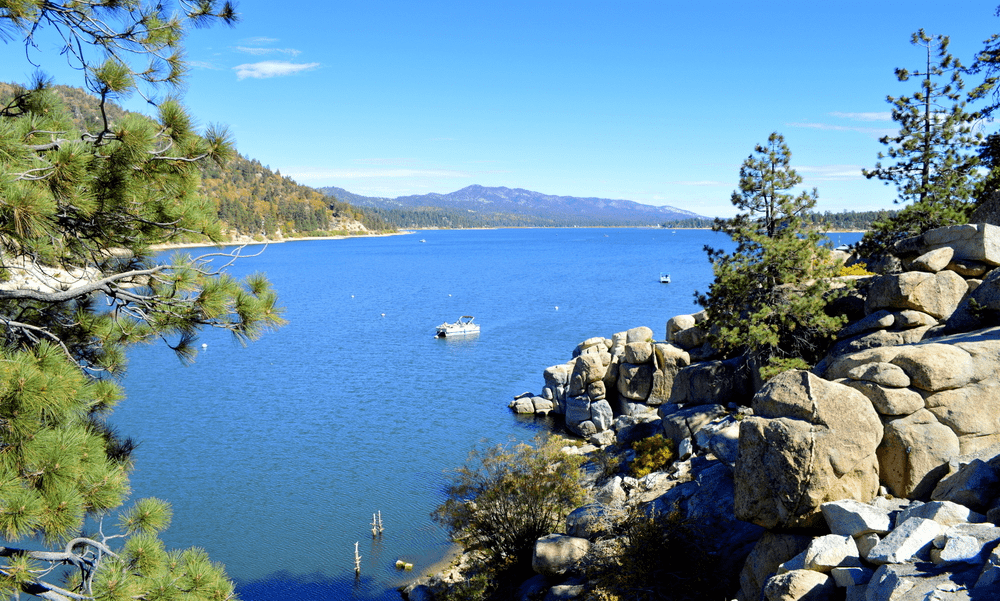 Only at a two-hour drive down the city, you'll find this beautiful landscape cushioned within the San Bernardino Mountains. Visit in summer and you can lodge by the glistening cool lake. And even try some exciting watersports like jet ski and kayak. During wintertime, you'll realize that the Bear Mountain and Snow Summit are two marvelous skiing destinations. Moreover, the pine forests are great for a hike in autumn.
Try renting a lodge or cabin near the area during your trip to add more to your relaxation. At short walks, you'll even come across some homely diners and brewing bars.
No wonder it's among the best mountain getaways near Los Angeles.
6. Santa Monica :
Santa Monica – the place where the Californian sunny lifestyle is epitomized. Sand, water, and ambiance are so beautiful, it's definitely amongst the top-rated tourist attractions in Los Angeles. There's so much to see and do here; it's almost thrilling.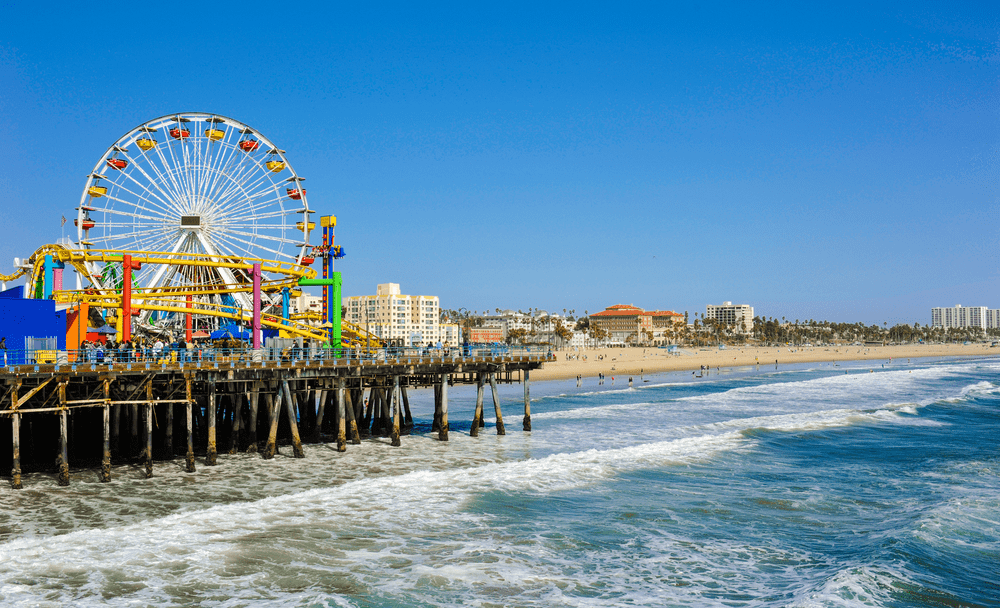 Start at its heart – Santa Monica Pier, where there are cool rides, like Ferris wheel and rollercoaster, and loads of picture opportunities. Later, you can simply hit the beach for a good bask or beat some waves with surfing. Numerous sports activities, such as beach volleyball and bike riding, are also available.
Head down the street, passing several casual shops and restaurants, and you'll be at the Third Street Promenade. Thanks to various street artists showcasing their talents, its effervescent aura further adds to Santa Monica's glories.
At Downtown Santa Monica it's all quintessential California, overflowing with golden beaches, charming inland attractions like farmers' markets, and much more. Therefore, it's one of the top-rated weekend getaways from Los Angeles.
7. San Luis Obispo :
The moment you step into the 'Happiest City in America', you'll be embraced by its friendly ambiance. While strolling across the streets you'll be greeted with smiling faces of fun-loving people. Join them through their everyday lives on the paths of the historic downtown.
Gather with them at the Farmers' Market held weekly on Thursday evenings. Celebrate over flavorsome food and refreshing drinks while gliding to rhythms of live music.
Only a little more than a three-hour drive down LA, San Luis Obispo is where nature abounds. There're picturesque landscapes to marvel at, interesting attractions to delve in, and sunny beaches to rejuvenate at. Moreover, get the true feel of the California Central Coast beach at Pismo Beach. Or try some watersports at Avila Beach
.
Although the weather in San Luis Obispo is always inviting, its outlook in fall is especially admirable. Hence, marking this quaint town as one of the best fall getaways from Los Angeles.
8. Palm Springs :
Even though only a hundred miles away from LA. It'll feel like being in a totally different country at Palm Springs. As a dessert oasis that refuges Hollywood elites, it's an ideal location for a reviving weekend. Rich in resorts and golf courses, this part of Coachella Valley is especially favored for its seasonal festivals.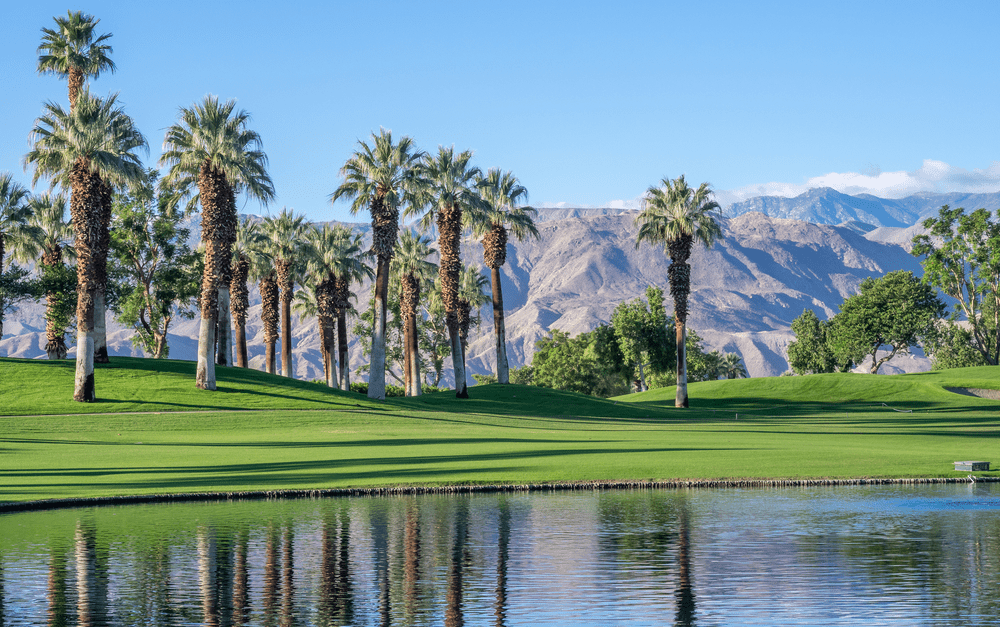 This phenomenally beautiful landscape is very much admired for its mid-century modern architecture and sun-shined mountain vistas, too. Touring through the world's largest collection of mid-century modern buildings is amongst the best things to do in California. Modernism Week, held annually every February, is popular among architecture and design fans across the globe.
Simultaneously, you mustn't miss out on visiting the Palm Springs Art Museum. Also, do check out the Palm Springs Aerial Tramway to get a ride over hot desserts. And cool mountain settings from 8500ft above grounds. Alongside enjoying spectacular panoramas, you can also dine at the casual cafes atop. The whole feel of it all is absolutely splendid.
9. Cambria :
Cambria awaits to please your senses with its nature, a stunning seaside village tucked neatly between tumbling Pacific waters and a myriad of Monterey pines. Sheltering some of the most serene shorelines, there isn't a beach you won't love.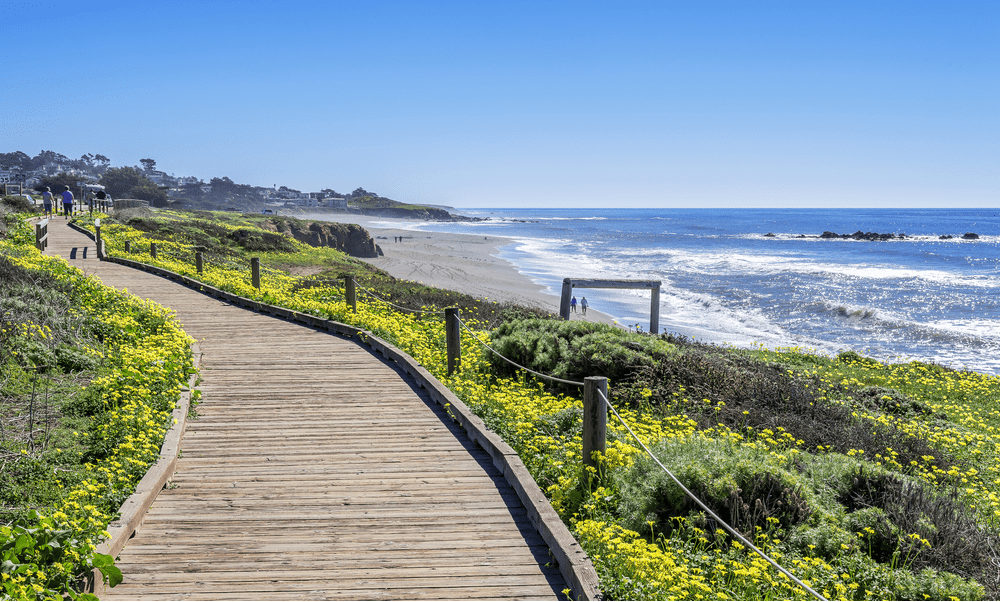 Saunter down the sandy path of Moonstone Beach. And let your mind drift off with the soothing sounds of the waves. Later, head towards the pristine Fiscalini Ranch Preserve to absorb some of its effervescence. While also indulging in hiking, biking, and even horseback riding. To exalt your vision with a unique picture, observe the lifecycles of countless elephant seals at the Piedras Blancas Elephant Seal Rookery.
Your beach hunt doesn't end here. In fact, you can continue down the sandy trails till you reach the San Simeon Pier. And located nearby is America's most famous castle – Hearst Castle. Visiting this magnificence, especially during fall, will make your weekend trip even more rewarding.
Further contributing to making Cambria amongst the top-rated weekend getaways from Los Angeles are its vineyards, too. Take a short wine tasting tour at Stolo Family Vineyards & Winery to add more pleasure to your weekend.
10. Santa Barbara :
Staging itself near the bluest waters of the Pacific, this is the "American Riviera". Have a feel of the South of France in this gorgeous palm-lined seaside city – Santa Barbara.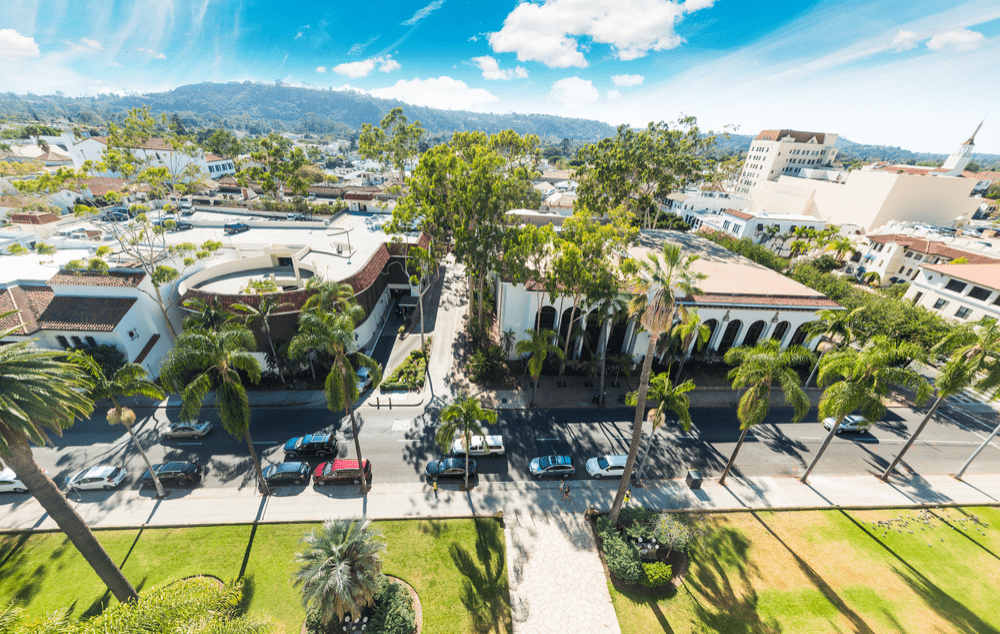 Adorned in glamorous Spanish-style architecture, it's easily one of the best places to visit in California. A great many houses, eateries, and galleries with red-tiled roofs and whitewashed facades pepper along the sandy beach curves.
Take your children to the zoo during the daytime, before spending a delightful evening with your family at the Funk Zone. Get some time off sun-lounging and watersports to get on the scenic hiking trails.
Go on boat tours or cruise rides and admire the shore from new angles to please your inner adventurer. But, if you're a wine-lover, you'll love going taste hopping along the nice rows of vineyards and wineries. For a quick day trip from Santa Barbara, visit Solvang to have a little taste of Denmark in the US.
11. Morro Bay :
Looking for a beachside town blended with mysterious Spanish history? Your search will end in less than a three-hour drive from LA. The quaint town is underlined by the striking curve of sands and sparkling bay water.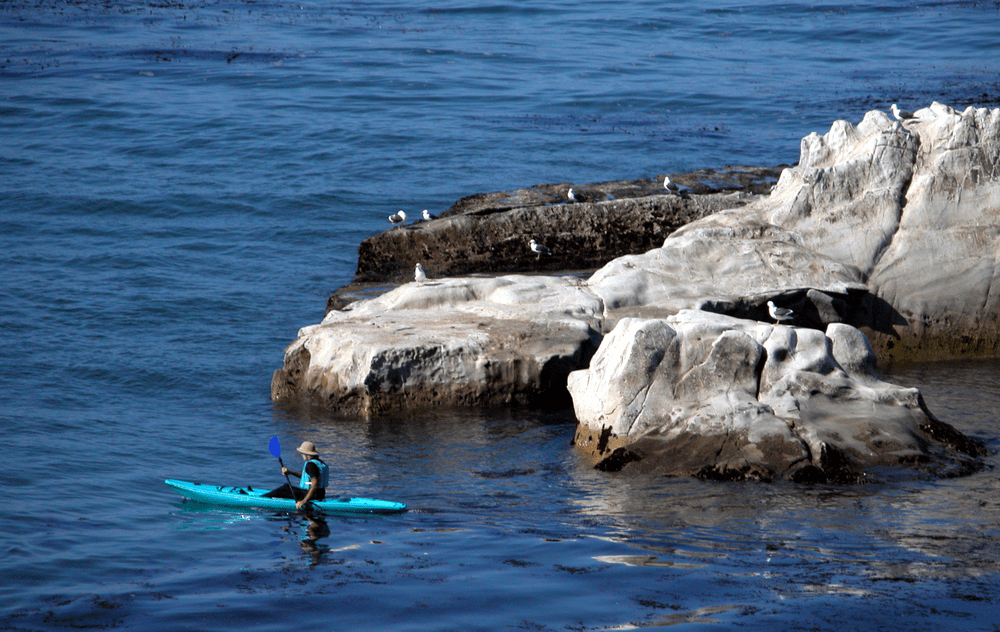 Stand ashore and let the tranquility of the calm waves engulf you in its warm embrace. Let your eyes drift across the never-ending blues and inhale the salty freshness. Flocks of white pelicans, striking geese and ducks, and occasional appearances of the blue-belted kingfisher and peregrine falcon will further appease your sight.
To add to the adventure, go all out with the aquatic sports, such as kayaking and diving. Get more active in the outdoors by golfing, biking, and hiking, especially at the majestic Montaña de Oro State Park. And while strolling through all the splendors, you'll realize what a magnificent weekend escape from LA you're at.
12. Paso Robles :
For all oenophiles, Paso Robles is their haven in Central California. This compelling wine and food destination have over 200 lush vineyards and appealing restaurants. Aside from its wineries and historic hot springs, its ever-so-buoyant downtown further adds to the town's charm.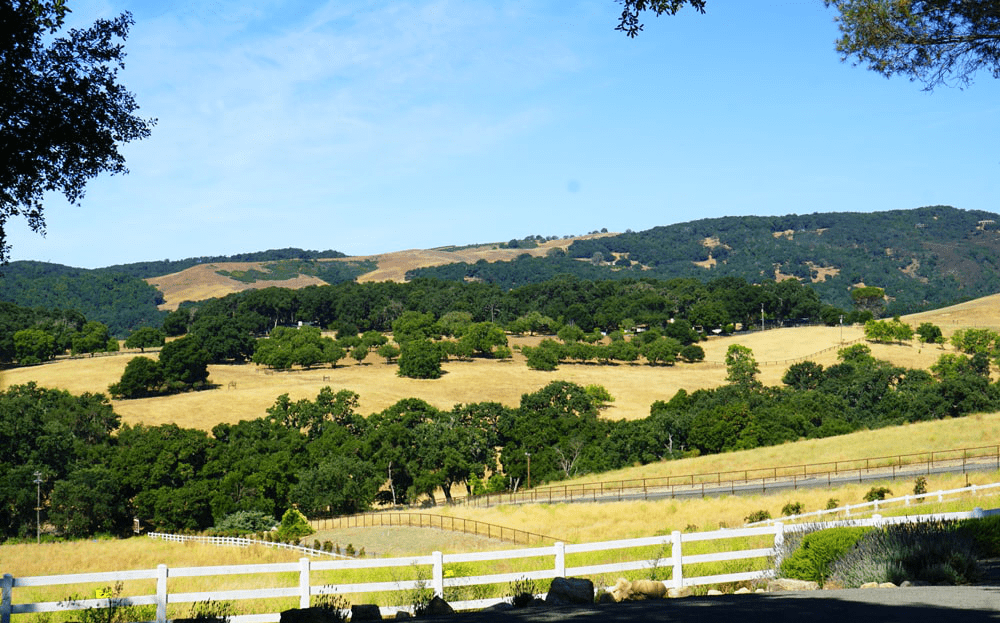 Explore Paso's wine tasting rooms, such as Herman Story Wines, and awaken your hidden wine-lover. You can also try the olive oil tasting tours for a completely new Californian experience. During your visit, include sightseeing through the farms and ranches in your itinerary as well.
It's a pleasuring trip well-worth with a walk in the blossoming gardens and a chance to pick an heirloom variety of fresh fruits. Such unique and relaxing excursions in nature make Paso Robles one of the top-rated weekend getaways from Los Angeles. And by the end of your weekend, you'll realize it has become your favorite.
13. Manhattan Beach :
Wondering where to take your family for a weekend? Give the wondrous Manhattan Beach town a go.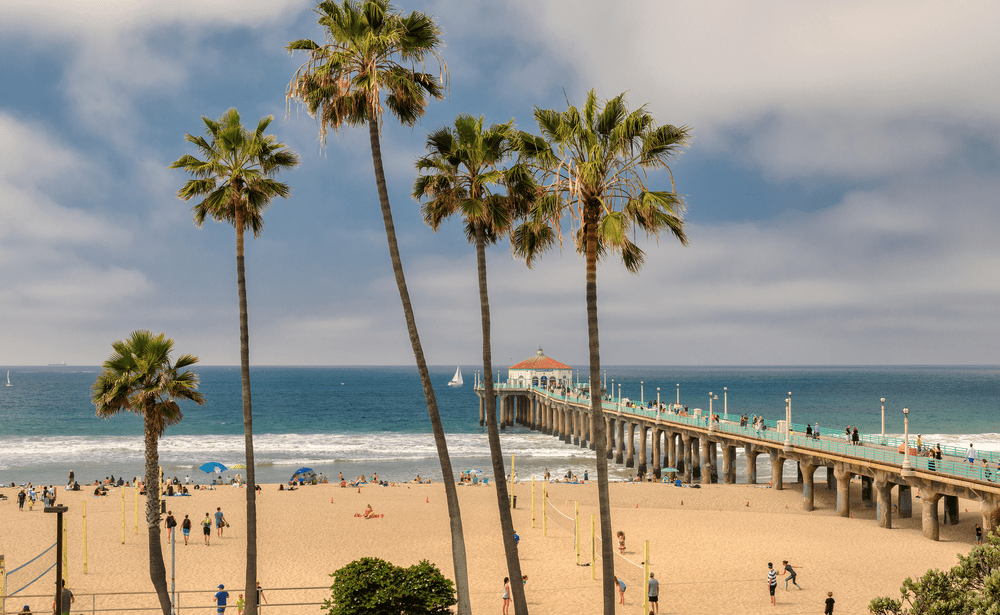 Make time to delve through downtown's marvelous shopping and restaurant scenes whenever you can. Join travelers and locals alike on the pier and enjoy typical, yet scenic, photoshoots. Along with your children visit the nearby Roundhouse Marine Studies Lab and Aquarium and be enlightened. Or simply bathe in some breeze at Oak Park over a small picnic.
Then again, what truly accounts for this striking town amongst the top weekend getaways from Los Angeles for families are its beaches. Its golden shoreline is warm and inviting all throughout the seasons. These family-friendly beaches are also well equipped with numerous volleyball courts, paved pathways, and surfing facilities.
Even the shortest walk down The Strand during twilight will entice you. No doubt, you'll leave the town with the promise to return again soon.
14. Sequoia National Park :
This amazing bucket-list landscape is another of the several weekend gateways from Los Angeles. That too for good reasons.
The Sequoia National Park is the best place to experience an abundance of California's ancient miracles. Named after one of the earth's three largest tree species, its lands are dotted with plantations ranging more than 2000-3000 years of age.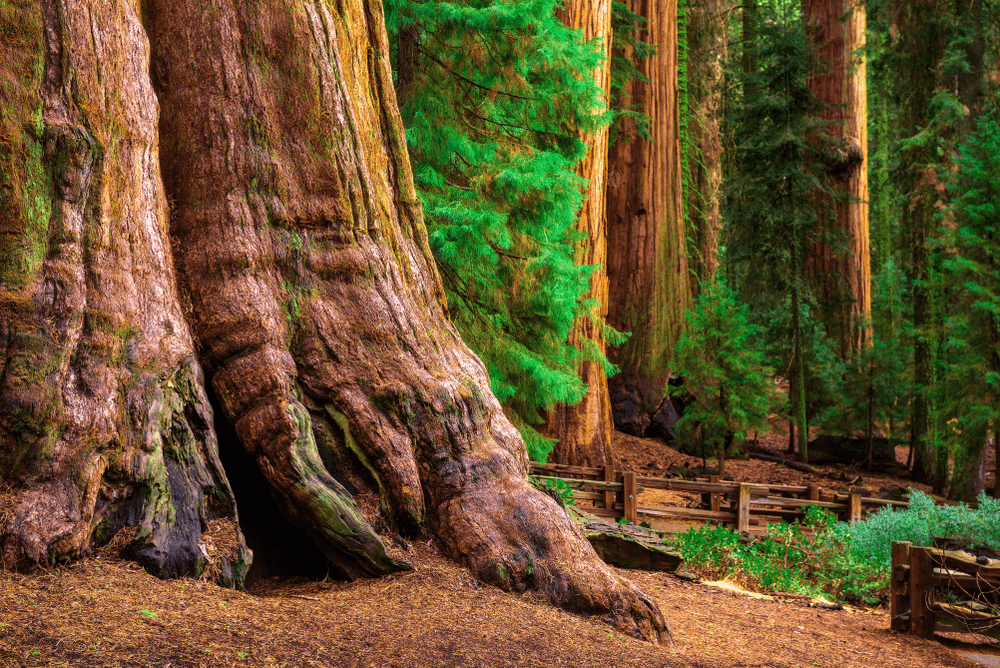 Aside from sheltering one of the country's highest mountain peaks, there are also deep gorges, lakes, rivers, and forests to explore. Additionally, there are vast campsites under the dappled shadows of leafy trees here, too.
Follow down the sunlit foothills through the conifer zone, before pulling over at the Tunnel Rock. Meander your way into the depths of the Crystal Cave while the tender rhythms of the Yucca Creek lure you.
Dig into the history of sequoia trees at the Giant Forest Museum. Then climb up the 400 steps of the Moro Rock and say hello to the world below. From atop gaze towards the east at the Great Western Divide, then towards the north at the neighboring park.
The Kings Canyon National Park is the other spectacle adding to the phenomenality of it all. With fertile valleys molded by the Central Sierra Nevada snow-fed waterfalls, these two parks are held together.
The sheer scale and spirit of this nature's gift to humankind can only be felt firsthand. So step through the doors for one enchanting getaway.
15. Mammoth Lakes :
Looking for a snowy escape with your favorite buddies for the weekend? End your search at the Mammoth Lakes. This all-year-round inviting playground is a sensational landscape with nature's most phenomenal marks.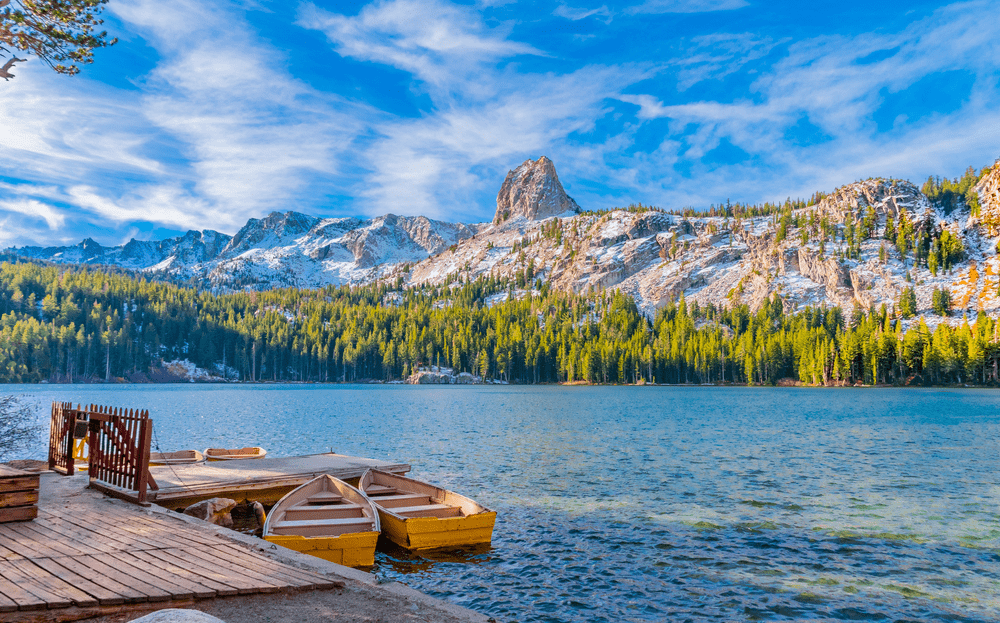 Burrowed on the east of Sierra Nevada Mountains, you'll feel it boasting a soul-bracing aura right at the entrance. Undoubtedly amongst the finest and top-rated weekend getaways from Los Angeles, this four-season destination is well-worth a visit.
Visit the ski resort in winter to conquer the snowcapped peaks of the Mammoth Mountains. Reach Minaret Vista viewpoint, and be awed by the immeasurable displays of the blue sky and white clouds looming over the rugged earth below.
Camp and fish at Convict Lake, or go boating across Lake Marry during the hotter months, and hike by the Rainbow Falls. Flaunt yourself next to the towering Devil's Postpile and rejoice over your victory after a hike to Inyo Craters.
And the list goes on, and on. Surely one weekend isn't enough to glorify all of its escapades. But, there's all no questioning – you'll be returning back to explore these verdant valleys again very soon.
16. La Jolla :
Considering a visit to La Jolla with your beloved? Here's why you should.
Sultry beaches with tantalizing waves and exotic sunsets – that's what you'll find here at La Jolla. A little romantic escapade indeed, where you and your partner can splash around while the sparks fly.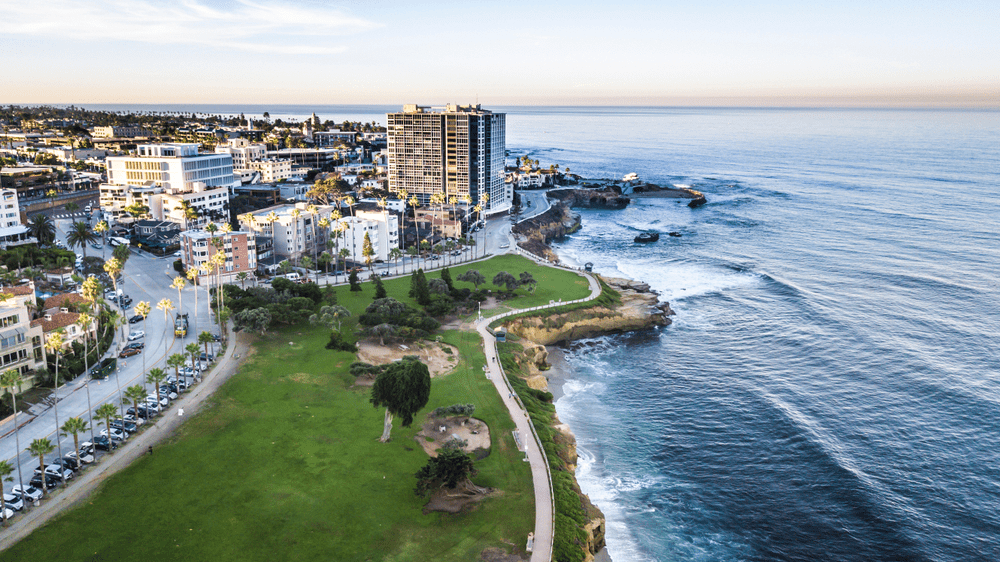 Once a fishing village, today it's a joyous town exuding natural elegance worth admiring. Take each other's hand, and amble down the sandy lanes of the La Jolla Cove. Then stop by the Sunny Jim Sea Cave to view the cheery sea lions.
Furthermore, be succumbed by the soul-gripping views of the ocean while standing beneath the Scripps Pier. Together take exciting aquatic excursions, like snorkeling and kayaking, to explore more of the marine life.
What's more, you'll get to experience a Mediterranean sensation with quixotic seaside feasts at the American harbors.
For a town so small, it sure knows how to pack a punch. Makes sense why it's one of the best weekend getaways in Southern California for couples.
17. Idyllwild :
If La Jolla intrigued you for more romantic weekend getaways in Los Angeles, take a turn towards Idyllwild.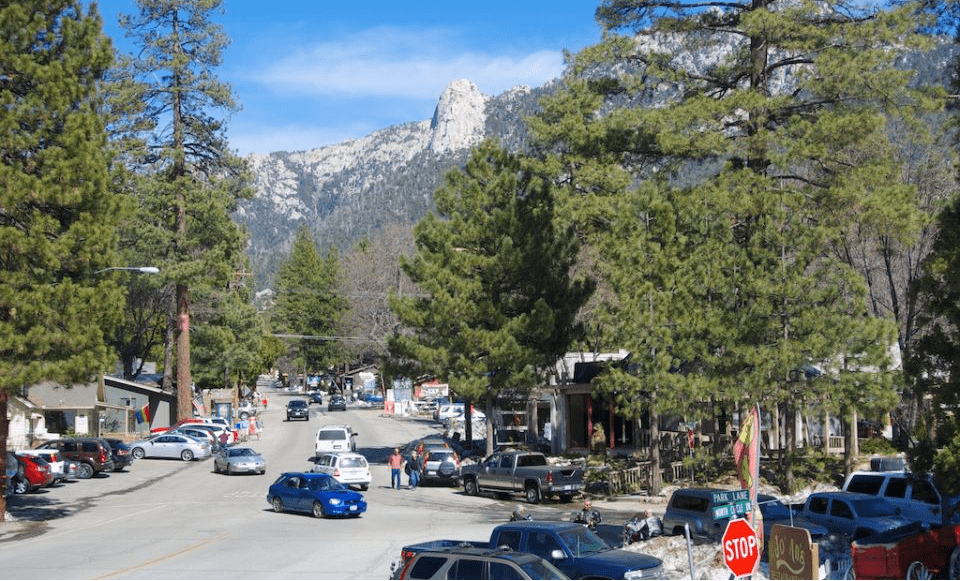 A quick escape to the mountains with your partner might just be the perfect way to spend your weekend together in solitude. Its distinct aura and greeneries make it unlike the other mountainous locations near LA.
Cradled amidst towering pines and rugged cliffs, the town boasts striking hiking trails and an even more relaxing atmosphere. At this alpine retreat, delve through each wonder with your partner in your arms. Meander through the town and make occasional stops at the charming cafes and wooden shops dotting along the sidewalks.
To bask more in the green, hike at the Mount San Jacinto State Park, and visit the Idyllwild Nature Center. Or simply spend a calming afternoon at the Idyllwild Regional Park. Away from the city hurdles, under the bluest skies, and swamped by pine-aroma wind, your soul will find solace.
Idyllwild has a jovial character, one that you'll feel radiating off its smiling people. But more importantly, from its mayor, Max – a Golden Retriever! Together they fill their homeland with bliss and positivity and lend helping hands to those in need.
18. Redondo Beach :
Your journey through the top-rated weekend getaways from Los Angeles is incomplete without a visit to Redondo Beach. Sitting on the South Bay, it projects a carefree aura, nurtures an evergreen beauty, and shelters several unique attractions.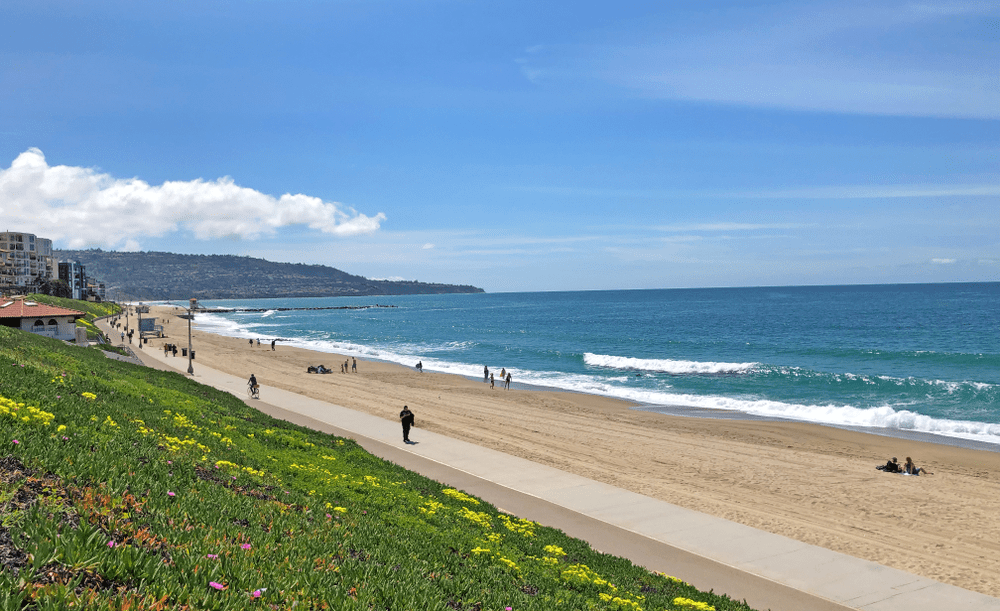 Starting from learning local history, to rummaging through shops and dining at seafronts bistros, you'll have your hands full. Make your way underneath the shadows of Dominguez Park, before hitting the volleyball courts at the county beach, or riding the waves over the surf. However, it's near the Horseshoe Pier where you'll reprieve.
The striking view of the sun smiling down over the untamed blues will lure you in its arms. Until give in to your temptation, and slowly inhale the salty freshness. Instantly, you'll feel the tranquility surging from the waves engulf you in its warmth; reviving the senses at last.
The feeling is unreal. It's pure bliss!
19. San Clemente :
Contemplating where to go this weekend from Los Angeles? If you love to admire the gentle sway of the ocean mirroring the fiery sky during dusk, then you must drive to San Clemente.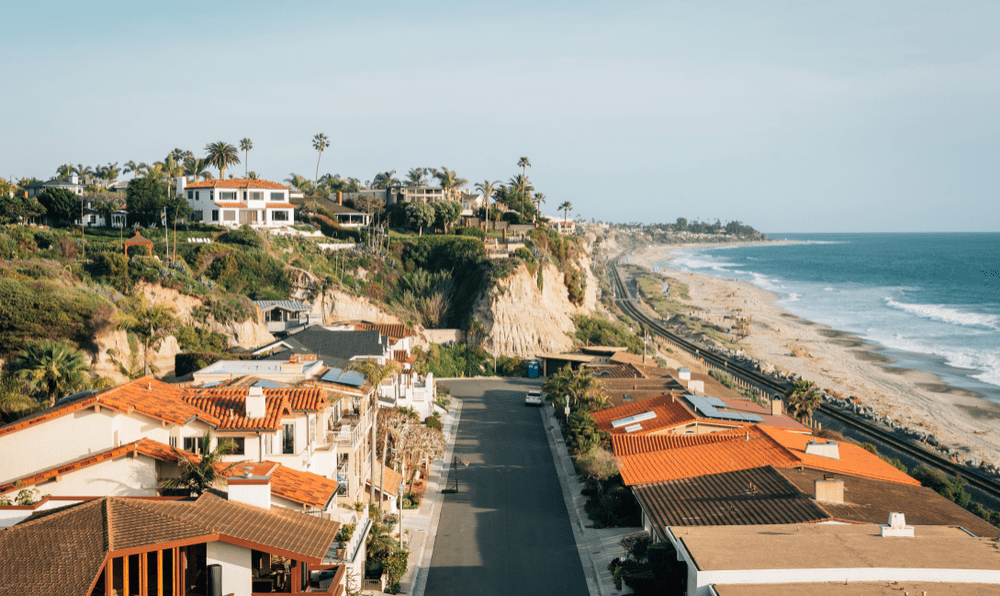 This quaint beachside town's vibrantly colored with cultural attractions, small galleries, green parks, antique shops, and charming restaurants. Fondly called Spanish Village by the Sea, you'll especially enjoy coming here during the festival seasons. For instance, the San Clemente Ocean Festival hosted in July, and San Clemente Street Fiesta held in August are highly recommended.
Early in the morning hit the sparkling beach, and catch some waves with the lot. You can even hike and bike along the coastal trail. Or simply stand alongside the San Clemente Pier for soaking in the oceanic views.
Later, move towards downtown where you'll be greeted with a plethora of activities to try. The Del Mar Street itself is full of surprises. Here you can shop and eat as you please, and mingle alongside sun-kissed locals.
To add more adventure to your stay, tour the Casa Romantica which celebrates the best of California's culture, history, and ecology. End your weekend on a cheer over some well-brewed craft beer and singing locals.
20. Carlsbad :
This Village by the Sea is an affluent seaside community cushioned tenderly between San Diego and LA. Combined smoothly with European city appeal and typical Californian character, it's only a matter of minutes before you fall hopelessly in love.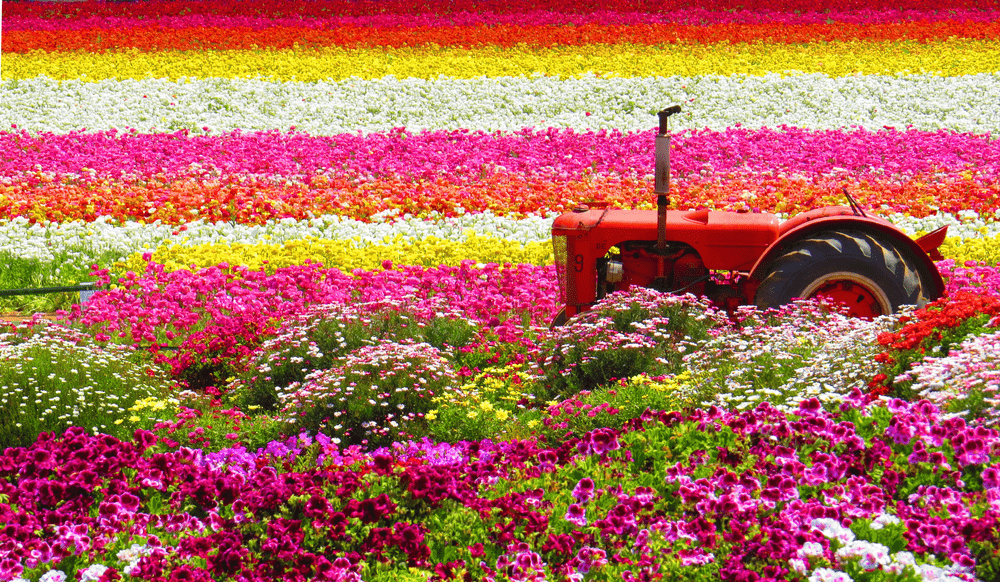 An easy start to your retreat is definitely at the breathtaking South Carlsbad State Beach. You'll be swept off your feet once your eyes befall on the glittering white sands vailing alongside the foaming ocean. Towering coastal bluffs staggering beneath the cotton candy clouds further complete the picture. Not only will you leave with imprinted scenarios in your mind, but with thrilling experiences, too. For there's a galore of watersports to thrive over – starting with swimming and snorkeling, then all the way to surfing, scuba diving, and fishing!
Venture your way through Carlsbad Village, where you'll find a myriad of shops, cafes, diners, and bars to dive through. Celebrate music with the locals at The Museum of Making Music. You can have family time at the Sea Life Aquarium, or even a night out at New Village Arts Theatre. No matter how you wish to spend your days at Carlsbad, you'll still have lots of fun. Hence, why it's one of the top-rated weekend gateways.
The top-rated weekend getaways from Los Angeles are indeed full of surprises. From day trips throughout pulsating destinations to sunsets by the beach and music under starry nights – you can escape anywhere. All that without even having to board a plane!