There are several best places to visit in Florida, most of which have mastered the art of pleasing its visitors. For most, it's about their favorite Disney World and Universal in Orlando, while the rest recline more towards Miami's glamorous beaches. But that's not all. There are natural escapades hidden throughout Everglades and Naples, and vibrant neighborhoods in Tampa and St. Petersburg.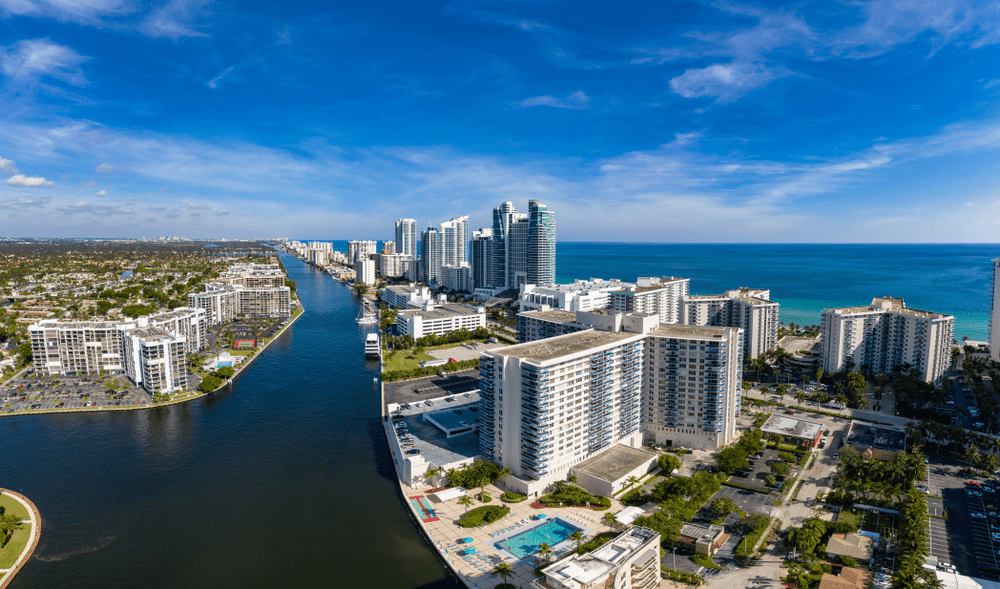 Every traveler touring the south of USA must have an itinerary of the best places to visit in Florida. One of the largest and unique landscapes in America, Florida is also blessed with a year-round sunny climate. Glittering sea beaches, thrilling amusement parks and unique natural attractions, make Florida as one of the most beautiful cities in the world.
Aside from 8,000 miles of shoreline, there are diverse neighborhoods with friendly ambience, scenic docksides with fishing and diving, and modern cities with active lifestyles. With its rich culture and recreational activities, Florida is ready to welcome you all throughout the seasons.
And hence why, among million more reasons, these ten cities should be one of Sunshine State's stopovers.
1.Walt Disney World, Orlando :
Florida's theme park city, Orlando, is a common favorite amongst all ages. Here you'll come across some of the world's best amusement parks – starting with Universal Studios, Gator World, and SeaWorld. Visit each one and you will see exactly why these wonders are amongst the top things to do in Florida.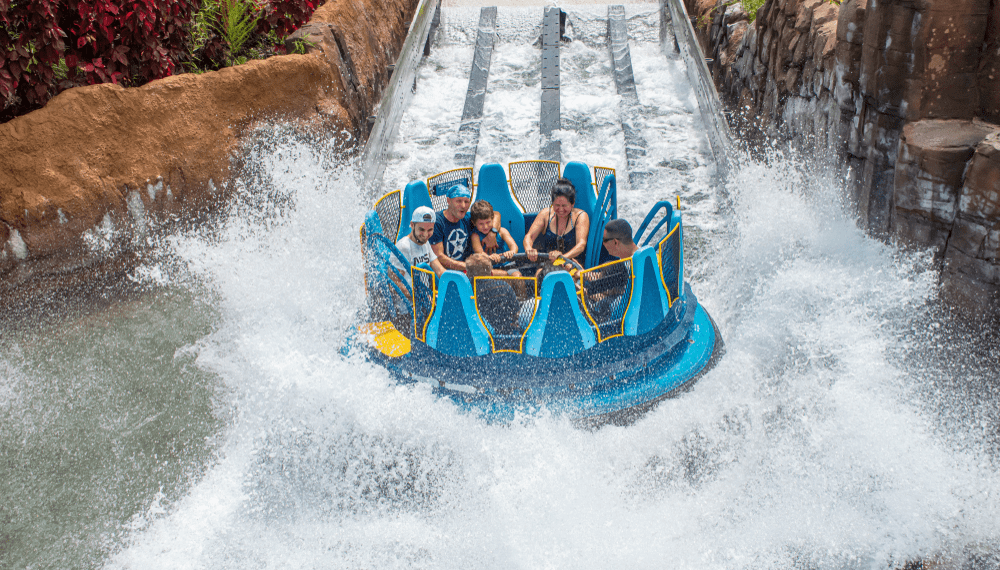 Orlando is in fact a topper amongst the best places to visit in Florida with kids. But what truly entitles this Sunbelt city as one of the best places to visit in Florida, is the Walt Disney World. Inside this fantasyland of your most beloved Disney characters, bathe in its blissful ambience with your family and friends.
The Walt Disney World features a collection of attractions, such as Magic Kingdom, Epcot, Disney's Animal Kingdom and Disney's Hollywood Studios. Children also love playing in the water parks – the Disney's Typhoon Lagoon and the Disney's Blizzard Beach.
2. Everglades :
The Everglades is amongst Florida's best natural treasures with subtropical days and endless stretches of wetlands. This evergreen World Heritage Site and International Biosphere Reserve features a plethora of ecosystems.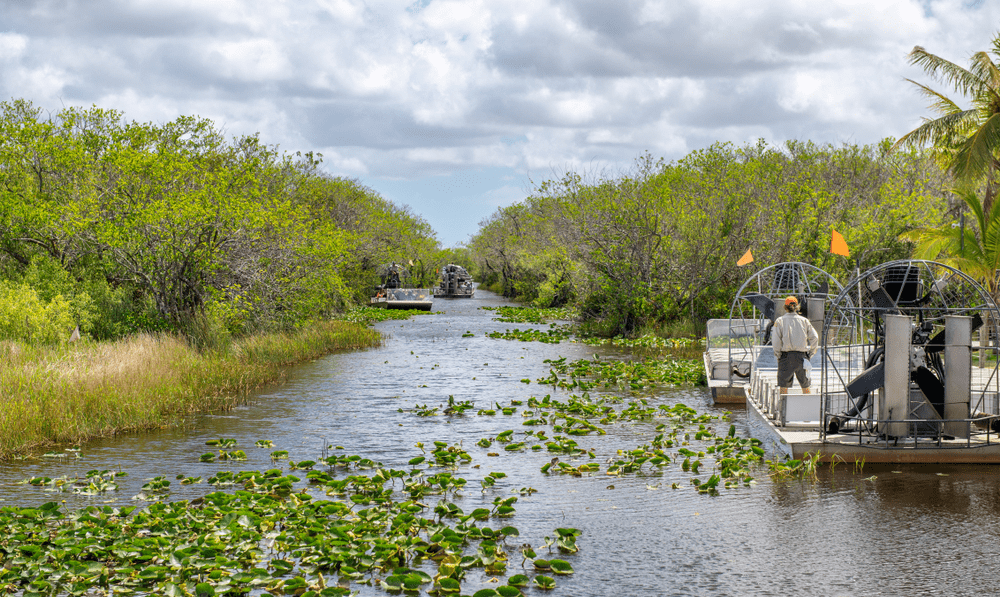 Sawgrass swamps, coastal mangroves, velvet prairies, and pine flatwoods abundantly veil the lands of Everglades. Hence why it's home to a myriad of species including rare and vulnerable kinds, such as the Florida panther and the American crocodile.
While enticing boardwalks await your steps, its charismatic wildlife anticipate your admiration. Take a tour around the Ten Thousand Islands and the Florida Bay on a boat to have a remarkable experience.
Add to the excitement with a tram ride through the mesmerizing Shark Valley, or a hike through the glades, gumbo limbo forests, and even to secluded beaches. All these contribute to ranking Everglades as one of the best places to visit in Florida for nature lovers.
3. Miami :
Florida's melting pot of ethnic cultures and tourist spots, Miami, is a vibrant city. It's amongst the best places to visit in Florida, because of the thriving modern centers contrasting with its laid-back ambience.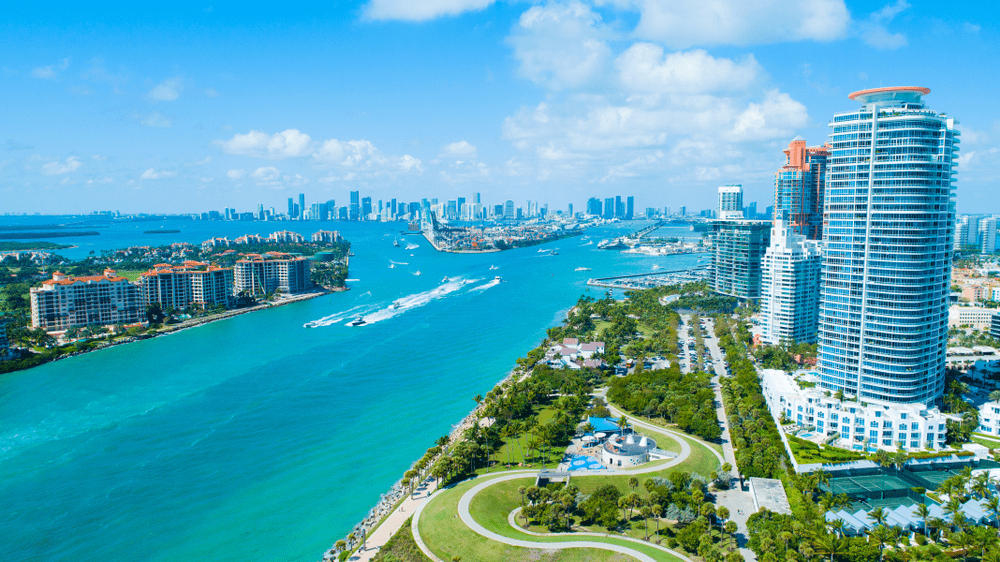 Downtown Miami with its signature skyline and historic centers are a major call for millions of visitors year-round. Colorful houses of the Art Deco District, Latin festivities of the Little Havana, and the sunny coasts of the Miami Beach complete the city.
Speaking of beaches, Miami shelters some of the best beaches in Florida, such as the South Beach. And in many of these sandy strips you can partake in numerous sport activities like playing volleyball, golfing, snorkeling and diving.
Further contributing to its versatility are high-end shops of Brickell neighborhood, fancy eateries of Design District, and friendly locals of Little Haiti.
4. Fort Lauderdale :
Set on the Atlantic Ocean only some miles north of Miami, this is the Venice of America. Fort Lauderdale is a sophisticated tourist destination, which is immensely admired for its picturesque beaches and expensive boating canals.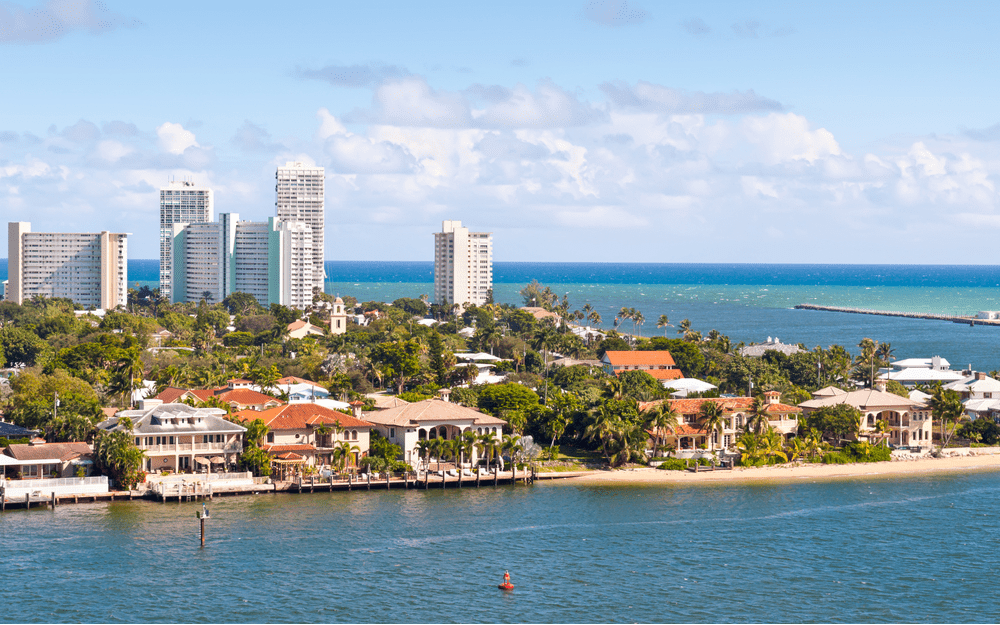 The city is outlined with plenty of contemporary architecture, golf courses, posh resorts, and an increasingly upmarket social scene. Having smooth route networks also marks Fort Lauderdale amongst best places to visit in Florida "without a car".
You can begin your adventure from the Strip, a vibrant promenade running right along the ocean. Later stop for a break at Port Everglades to view some of the most magnificent megaships stirring the breathtaking backdrops.
Standing at one of world's busiest cruise-ship ports and absorbing the radiance, you'll feel blessed.
5. Naples :
Naples, the Gulf of Mexico City, is another of the best places to visit in Florida due to its stunning setting. It's an upscale beachside city with white-washed towering buildings and contemporary houses. These account for ranking Naples as one of USA's wealthiest cities.
Additionally, there's a quaint city centre bustling with shopping and dining districts. But tourists are mostly attracted by the glittering stretches of sands by the shallow waters of the gentle bay.
The refuges of wildlife surrounding the area is another plus point of this high-end golf resort town. And the best part: it's one of the safest cities in Florida.
Amongst its notable attractions, the Naples Pier, where you can spot dolphins without riding a boat, is a must visit. Some of its unique nature parks include the Corkscrew Swamp Sanctuary and the Fakahatchee Strand State.
Thus, if you're interested in spending more time in Naples, check out our article on Resorts in Naples, Florida for more information.
6. Florida Keys :
The Florida Keys is a coral archipelago that stretches amusingly between the Gulf of Mexico and the Atlantic Ocean for 120 miles. It boasts a long chain of tropical islands, such as the Key Largo, the Marathon, the Key West, and many more.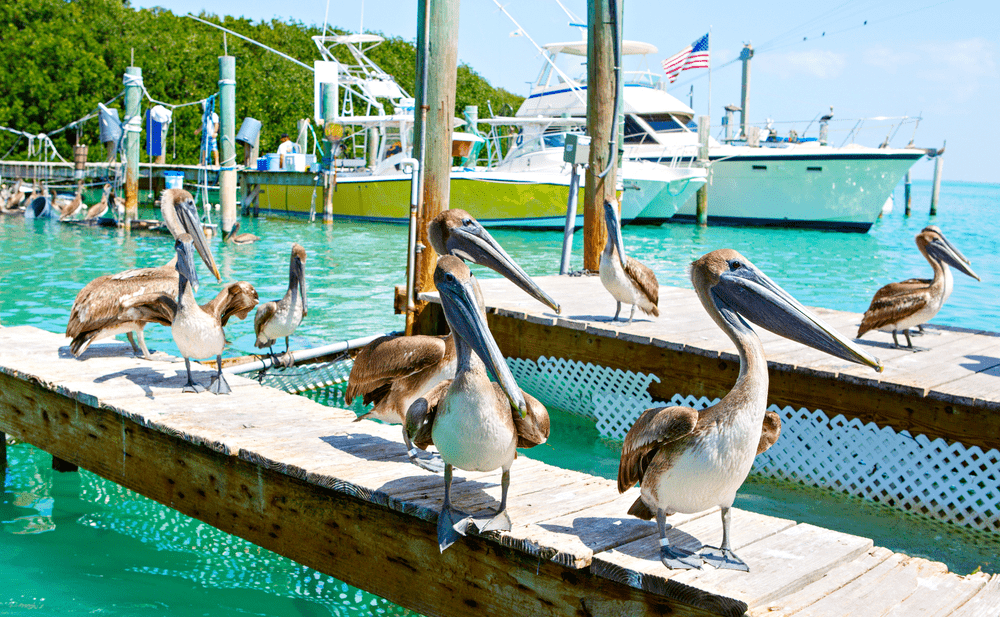 Additionally, there's a series of bridges, like the spectacular Seven Mile Bridge at the Lower Keys, each with their iconic presence. Thus, Florida Keys is amongst the top special places to visit in Florida.
To explore the best of the Keys, simply charter a boat. For even better experiences try to go fishing, snorkeling and even diving. You can also rent a kayak to delve through the dense mangroves.
You'll also enjoy sampling delectable local cuisine, strolling down quaint streets, and soaking the rustic energy by beach bars.
7. Key West :
Florida Key's most inhabited island, and also that of the USA, is improbably alluring. The Key West is very much intriguing, lively, and totally unforgettable. At this southern tip of the continent expect nothing but a relaxing ambience, friendly locals, interesting architecture, and an influential cultural mix.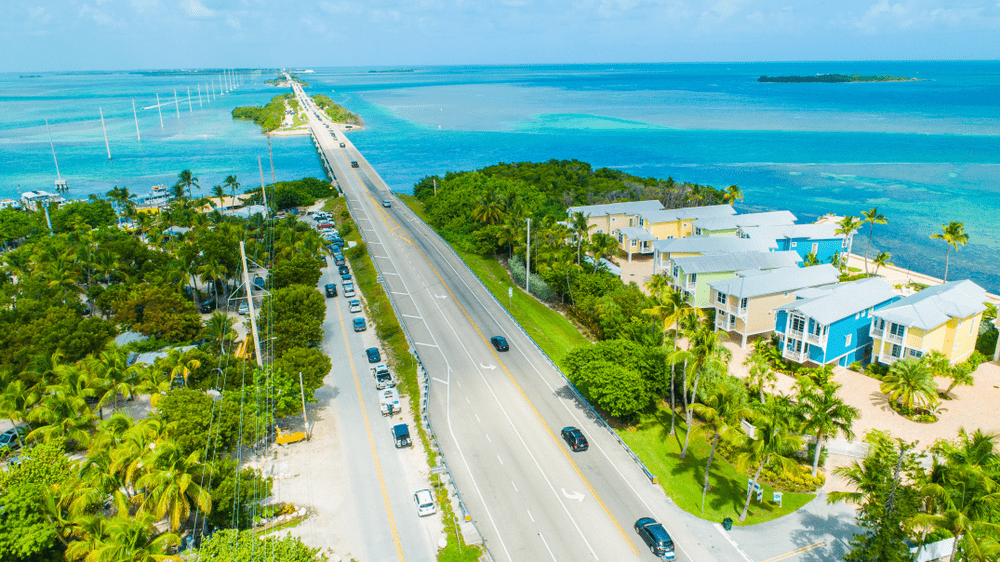 Head straight to Duval Street, and you'll surely realize why Key West is in our list of the best places to visit in Florida. Dotted with old-fashioned houses, souvenir shops, boutique hotels, quaint bistros, homely restaurants and more, this is the tourist hotspot.
Here you can visit a famous shipwreck museum, the Key West Butterfly and Nature Conservatory, and the Key West Aquarium. Additionally, there's the Dry Tortugas National Park, where you can dive and snorkel seven spectacular reefs.
This fiercely romantic tropical oasis is also amongst the best places to visit in Florida for couples. So, be certain to take in the pleasures of aromatic moonflowers under the night skies with your beloved one.
8. Tampa Bay Area :
For any wildlife-adventurer, Tampa Bay Area has the most secretive mysteries hidden and in waiting to be discovered. One of the best places to visit on the west coast of Florida, the city of Tampa has aplenty to offer the nature-lovers.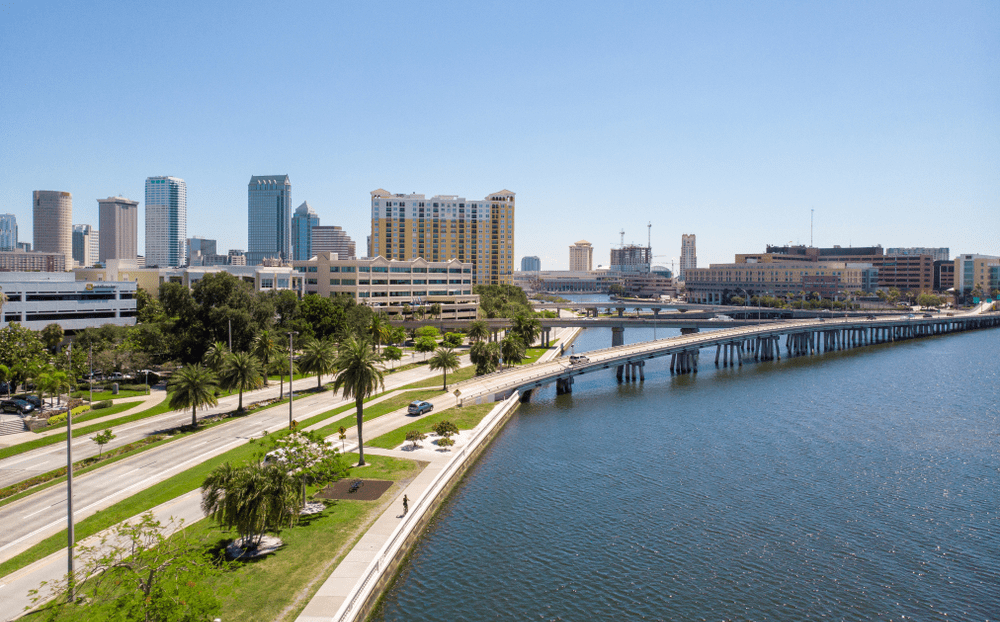 Its most popular attractions include the Busch Gardens, the Tampa Zoo at Lowry Park, and the Tampa Aquarium. For just a little more adventure have a kayaking or canoeing excursion at the lush, wild Little Manatee River.
Additionally, being amongst the largest cities in Florida, Tampa is also an incredible destination for family vacations. At Ybor City spend a quality afternoon with your loved ones by exploring through its historic aspects.
Later take your children to Glazer Children's Museum, where they'll surely love learning through active playing.
9. St. Petersburg :
St. Petersburg, Florida's Sunshine City, is a perfectly warm city with a modern appeal gleaming right between Tampa Bay and Gulf of Mexico peninsula. It's another of the best places to visit in Florida with friends and family to escape the cold winter days.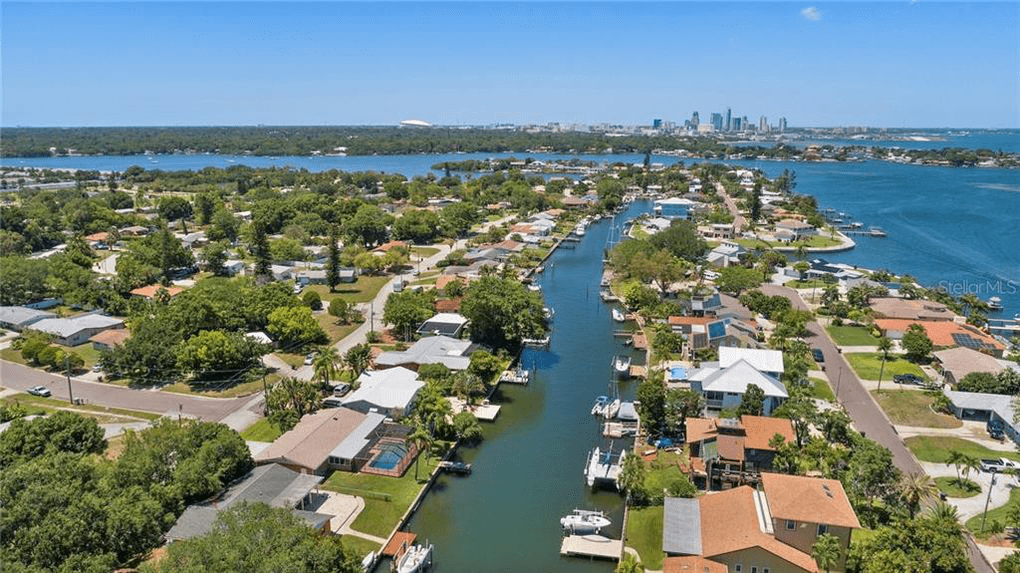 Visitors love to indulge in the fine sands, especially at Clearwater, as well as in golfing courses and fishing charters. Simultaneously, it is home to the world-renowned Dali Museum and also several theaters, such as the Mahaffey Theater.
As a nature lover you'll also appreciate spotting dolphins while cruising. A stroll at the lovely Caladesi Island State Park is equally reviving.
However, the most unique of all is the St. Petersburg Pier offering scenic dockside views. Visit during dusk, and your eyes will be blessed by the evening mural across the sky.
10. Panama City Beach :
No matter whichever kind of beach holiday you're looking for, Panama City Beach and its 27-miles worth of white stretches will surely please you. One of the more splendid cities in Florida, it has much to offer to families and children. From sandy beaches to soak some sunshine in, to waterparks for little ones to frolic in – it's a wonderful summer holiday venue.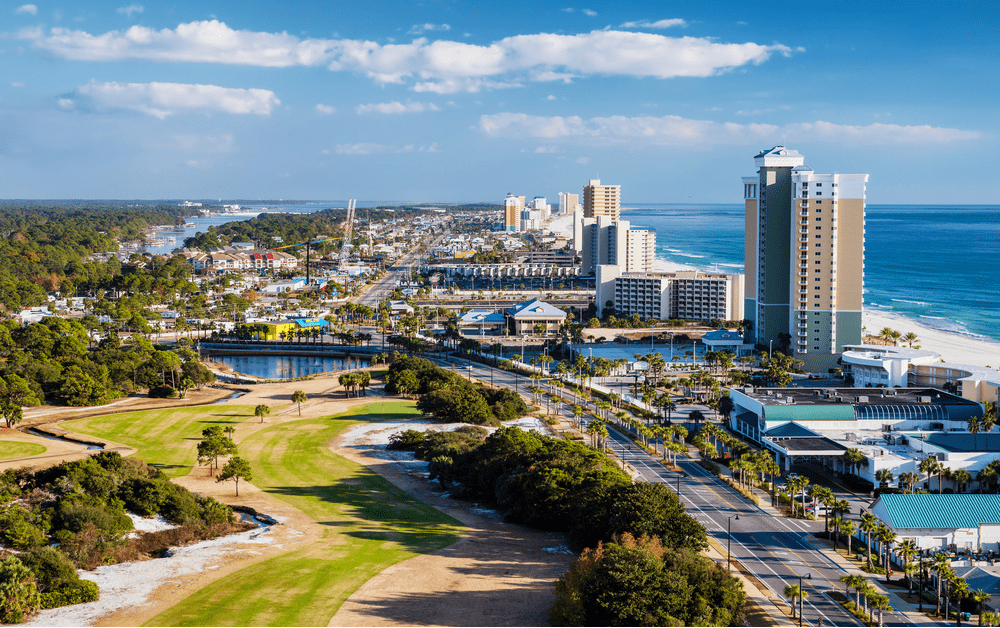 Cushioned within conservative areas are two popular state parks, such as the St. Andrews State Park and the Camp Helen State Park. Each of these exude a variety of ecosystems and wild species, alongside superb camping grounds, hiking trails and available watersports.
Moreover, adrenaline junkies can also partake in jet skiing, parasailing, airboat touring, and scuba diving.
So, which are your top picks from these ten best places to visit in Florida? Deicide on your favorite and get packing. The Sunshine State is calling!