The best beaches in Florida are all ready to welcome visitors during the year. From the secluded bays of Pensacola to the heated beaches of Naples, you surely will find your favorite beach vacation here. Most beaches along the Atlantic coast, such as South Beach, visits by surfers and water sports enthusiasts. While those in the Gulf, like Clearwater Beach, tend to be less crowded and preferred by families. All in all, Florida has a beach for everyone.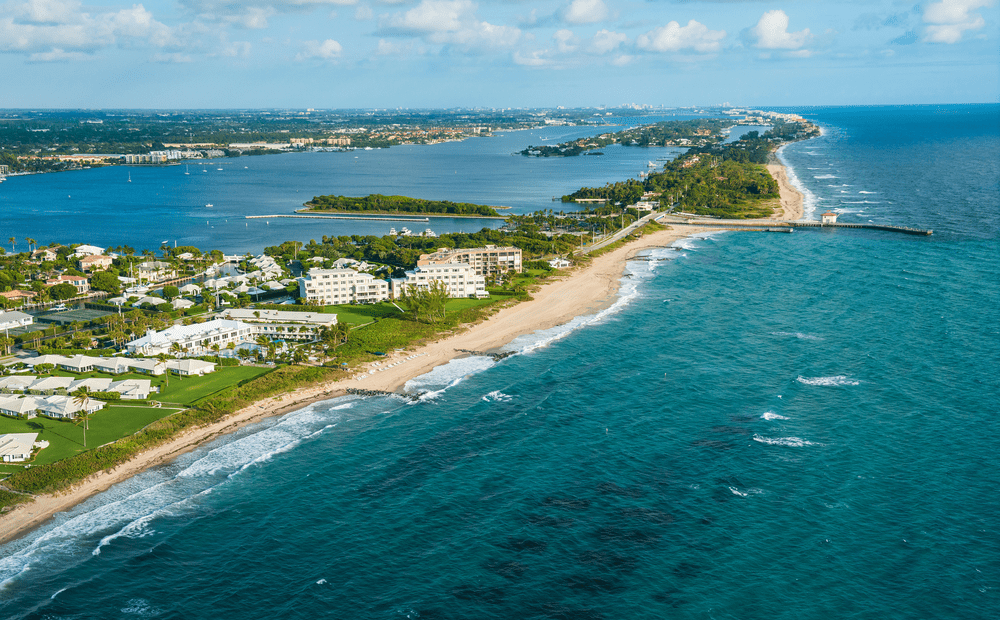 The best beaches in Florida are most popular for water sports activities and cruising. With over 1,200 miles of shoreline, Florida is a year-round getaway for all kinds of vacationers. Its diverse mix of resorts and activities make it a must-visit destination for everyone, as well as amongst the top things to do in Florida.
The beaches of Sunshine State are commonly known for their soft white sands, gentle turquoise waters, and great sunset views. Northern Florida's beaches are also popular for their dolphins & sea turtles and are even amongst the best beaches in Florida for families.
With its endless beach days, Florida is the perfect place to take a break from the monotonous pace of your everyday life.
1.Siesta Key Beach :
Known for its finest white beaches and turquoise waters, Siesta Key Beach is a must-see for families. Likewise, it's amongst the best beaches in Florida for couples.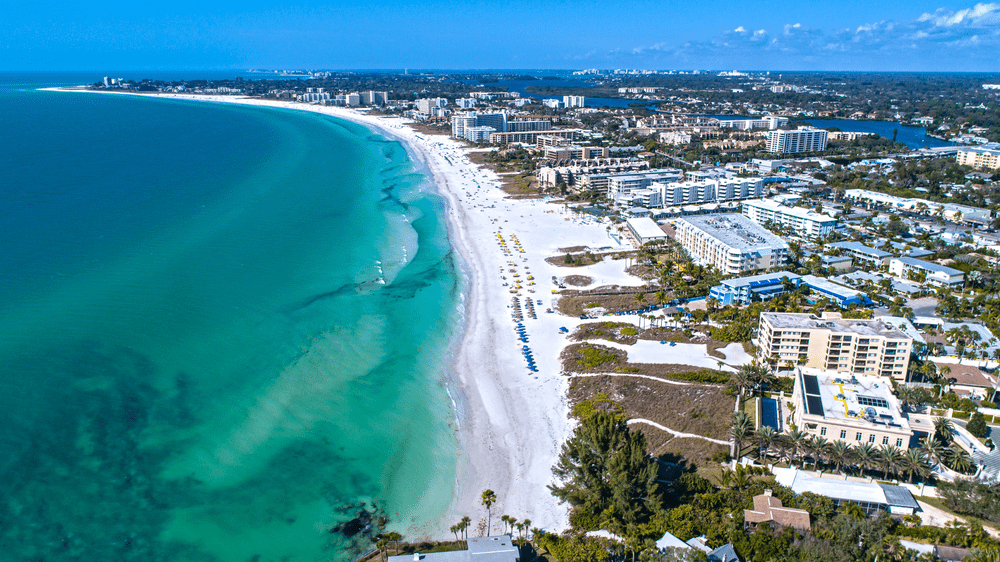 Located in Florida's Gulf Coast, Siesta Beach considers one of the best beaches in USA, as well as in the world. Its fine white quartz sand is so exceptional that many people love to revel in its coolness even on the hottest days.
There are also plenty of other options, such as dining, shopping, and nighttime entertainment, within a 45-minute drive from Sarasota. Here you'll surely have a fulfilling holiday.
2. South Beach :
South Beach is a vibrant neighborhood in Miami Beach that's full of fun and has the trendiest places to visit. It attracts millions of visitors every year and is also globally recognized for its art deco architecture, fine dining, and extravagant nightlife.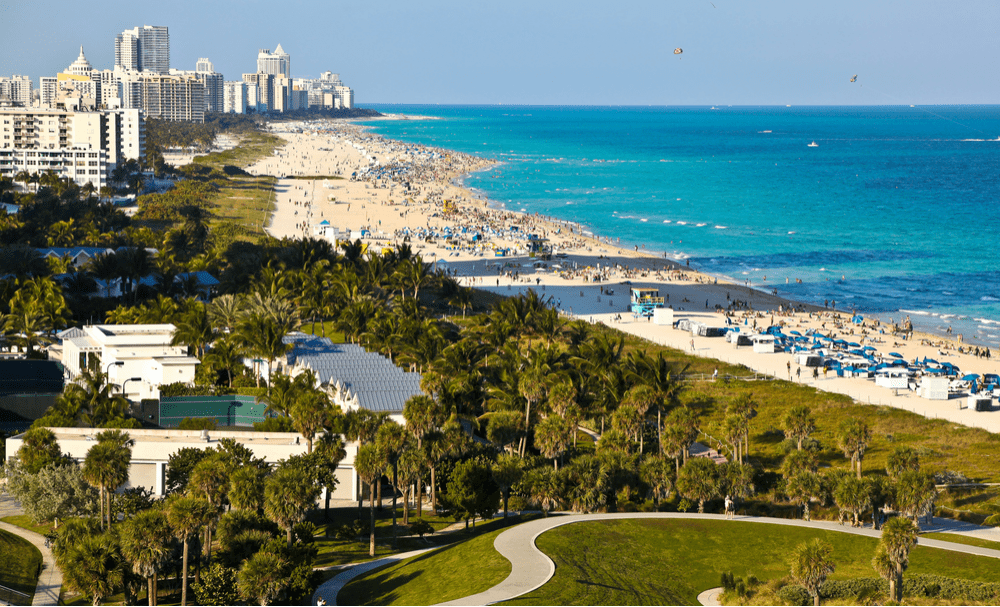 Indeed one of the best beaches in Florida east coast, it's a must-visit for every traveler. With a variety of seasonal events and open attractions, it's hard to not experience every aspect of South Beach. Additionally, there are plenty of water activities available along the glittering shorelines, such as surfing, snorkeling, diving, and sailing.
If nothing more, you can simply wander through the various bars and clubs, and rejoice in life. Hence, South Beach often marks a place amongst the best beaches in Florida.
3. Clearwater Beach :
Located on a small island off Florida's west coast, Clearwater Beach is a beautiful place to visit. It's right between St Petersburg and Tampa, two of the best places to visit in Florida. Perfect for both swimmers and surfers, Clearwater Beach has earned numerous honors for its quality.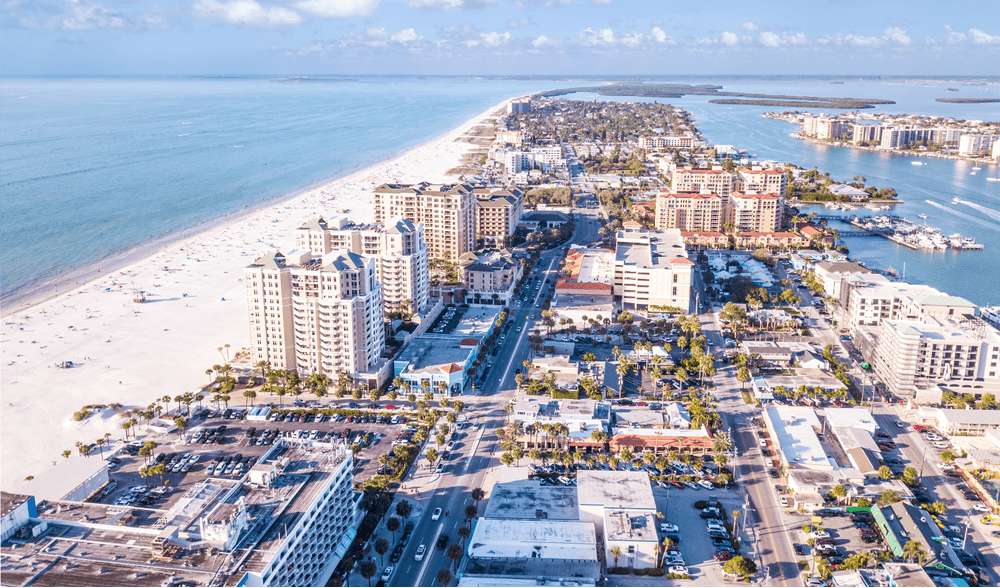 From being named one of the best beaches in Florida for sunbathing to being surrounded by beautiful sunsets, it is a must-visit for anyone looking to relax. Aside from all these though, you'll also find a variety of quaint restaurants and attractions, like the Clearwater Marine Aquarium, here that caters to both active and non-active visitors.
4. Pensacola Beach :
The beaches in Florida are extremely lively and stunning, and Pensacola Beach is further proof. Located in the heart of Florida's Panhandle, known for its family-oriented atmosphere and numerous attractions. More importantly, it features a variety of activities, including snorkeling and swimming.
Pensacola Beach is a haven of white sandy beaches and turquoise waters. The shorelines are secluded and are not overcrowded, hence, are amongst the best beaches in Florida for privacy seekers. From admiring the sunset at the Pensacola Beach Pier to attending exhibits at the National Naval Aviation Museum, there are plenty of things to see and do here.
5. Grayton Beach State Park :
Some of the best beaches in Florida Gulf Coast are located at Grayton Beach State Park. This Gulf Coast retreat features white sandy beaches with greenish-blue waters and borders by streets adorned with crushed oyster shells.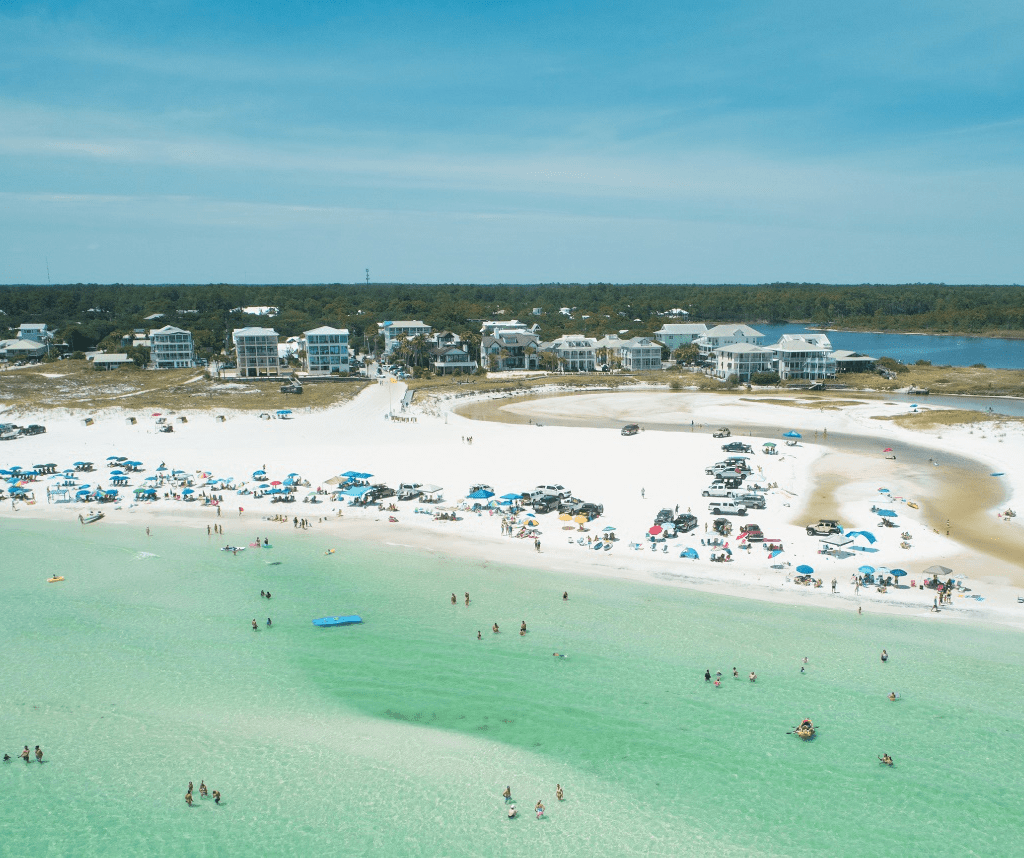 Moreover, you'll get to discover the 2,000 acres of unspoiled nature. While enjoying the captivating views from its numerous vantage points, just remember to breathe.
Grayton Beach State Park is also home to one of the most scenic dune lakes in the state, alongside a vast array of activities like hiking, camping, kayaking, etc. Also, take a long dip at the Underwater Museum of Art, to admire the seven large-scale underwater sculptures made by skilled artists from around the world.
6. Naples Beach :
Naples, one of the safest cities in Florida, is a great place to relax and enjoy a day out in the warm waters of the Gulf. Plus, Naples' beaches are stunning and are undoubtedly amongst the best beaches in Florida.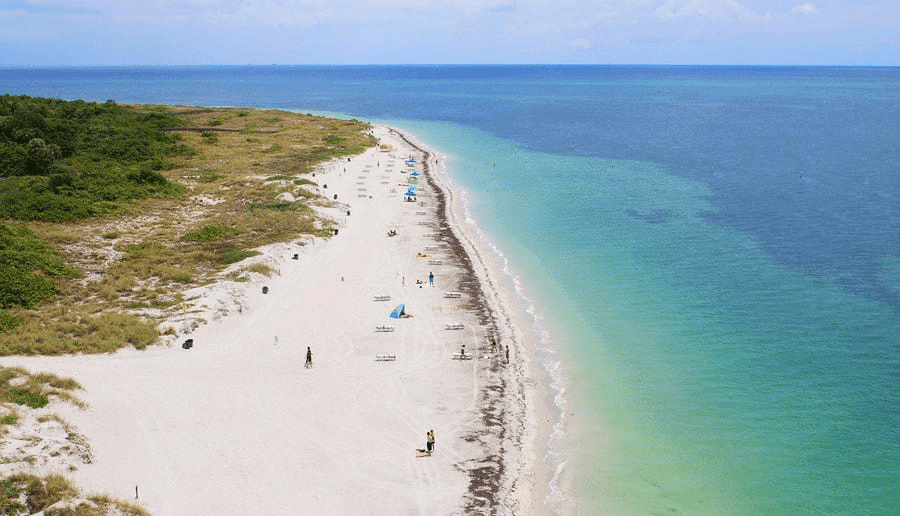 The city's streets are lined with soft white sand, and the waterside areas are peaceful and soothing. Furthermore, there are numerous activities here to keep the whole family busy; from fishing to kayaking, and even snorkeling. Thus, it's ranked amongst the best beaches in Florida for water sports.
So, which of these best beaches in Florida are you adding to your travel itinerary? Well, hurry up and add them, in case you haven't already.