Relish your holidays enjoying the views of the Atlantic Ocean in the Sea point, Cape Town. The only seaside suburb of cape town, Sea Point, offers you sandy beaches, kids' playgrounds, tidal pools and mesmerizing views of the sunset. In order to enjoy the views of the Atlantic, it is advisable to take a walk along the promenade. Along with these, sea point offers you a wide range of tourist attractions that can make your stay there worthwhile. So plan your trip to Sea Point, Cape town without any delay.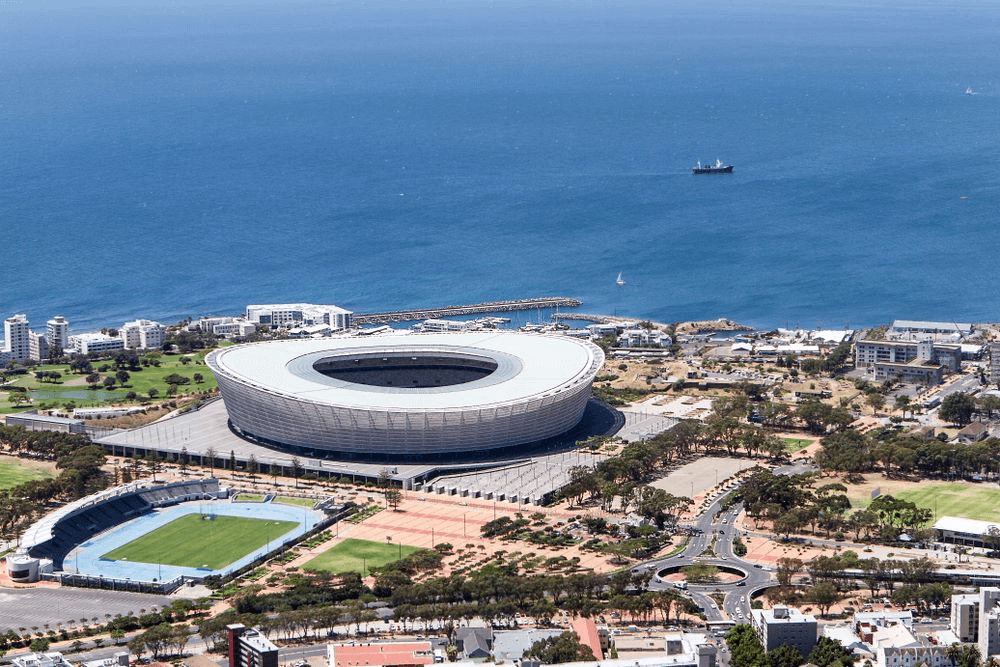 How to get to the Sea point, Cape town:
The distance between Cape Town and Sea Point is only 6km. You can go to the sea point from Cape town by bus, by taxi or on foot.
By Bus: There are direct buses from Cape Town Convention Center to St John's Road. The buses are available every 30 minutes.
Journey time: 1 hour 8 minutes
Fare: 20$
By Taxi: Travelling by taxi from Cape town to sea point is the cheapest and fastest option.
Journey time: 5 minutes
Fare: 4$-5$
On foot: You can also walk to sea point and it will take around 55 minutes to reach there by walking.
Tourist attractions and things to do in Sea Point, Cape town:
There are a lot of places to visit and things to do in cape town. Chances are you would not be able to accommodate all the places and activities in one trip. The best among the list of places to visit and activities to do are suggested below-
Sea Point Promenade:
The sea point promenade, which is 7km long, will surely cast a magical spell on you with its surreal beauty stretching from Mouille point to Sea point. A stroll along this beautiful promenade is what we all long for. You can experience the multiculturalism of Capetonians there. Children's play in the parks and benches are placed at regular intervals in this promenade. If you are looking for some activities in the sea point promenade, a maze, a mini-golf and a kids train situated close to the historic lighthouse on the Mouille point side can help.
What to do at the sea point promenade?
Take a stroll by the sea.
The kids can play in the parks while you enjoy the sunset.
Get to know more about the local neighborhood and their lifestyle.
You can explore the promenade by renting a bicycle.
The Sea Point pool, which is very close to the promenade, is suitable for swimming.
1.Boulders Beach :
The range of small inlets between granite boulders extending along the beach, have formed the stunning boulders beach.
Located on Cape peninsula near Simon town, boulders beach is a popular sea beach for preserved Penguins colony. In 1982, a colony of African penguins was settled in boulders beach, which is close to Cape Town, South Africa. African penguins roaming in their natural habitat beside the sea are allowed for close encounters from the elevated walkway. Watching penguins from so close is an incredible experience for the tourists while visiting Cape Town. This beach is a portion of Table Mountain National Park and 30 KM away from Cape Town. Boulders beach is also a family-friendly beach, where visitors can swim after penguin watch. The children can enjoy here watching penguins, exploring the rock pools, and swimming in the warm protected sea.
2.Robben Island:
Robben Island, situated in Cape Town, is a heritage site of South Africa.
This island is well known, for famous leader Nelson Mandela was kept in prison here for 18 years long. From Capetown, visitors have to take a ferry ride to get to Robben Island.
The South African government is dedicated to the conservation of this island as it is of historical importance. This island was home to many of the disadvantaged, sick, poor, unprivileged, and imprisoned people. Thus conserving it also comes with unique challenges.
3.Saunders Rock Beach:
Saunders Rock Beach is named after its prime feature, granite rocks.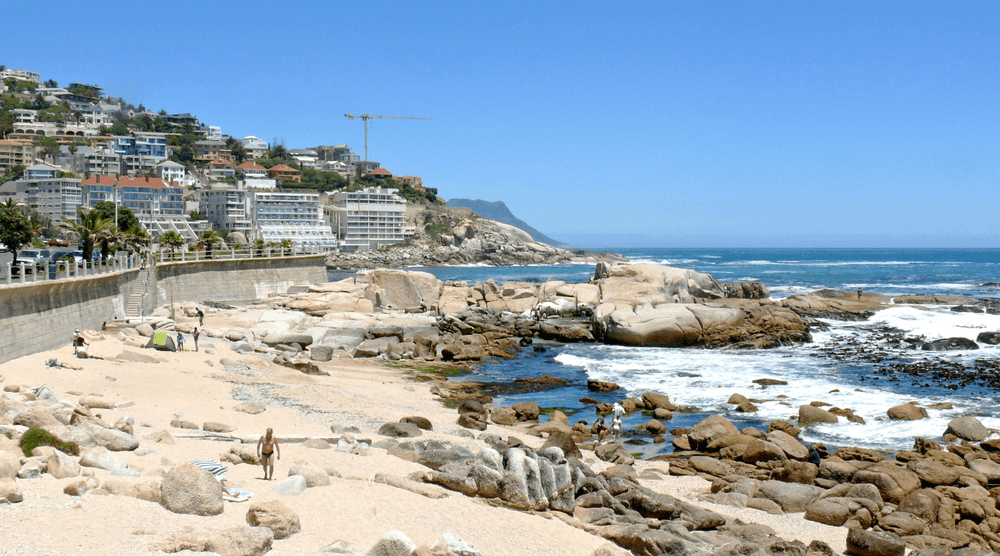 This beach is the closest to Bantry Bay and is the last beach at sea point. The beach is not overly crowded except on weekends and holidays and so is a great place for those who want to spend some time in solitude. The rock pools and gullies are home to many marine lives. The small tidal pool there is also ideal for swimming.
Saunders Rock Beach has parking facilities. It also has a tidal pool that is suitable for swimming. You will also find toilets there.
4.Queen's beach:
Queens beach is another popular beach, which is frequently visited by the locals and foreign tourists.
It is relatively more secluded from the sea point promenade than the other beaches. Queen's beach is in a perfect location. Free parking facilities are available here. On top of that, visiting Queen's beach is really convenient because chances are high that it will be near to where you are staying. This beach is close to many popular accommodation spots.
5.Milton Beach:
Another beautiful beach in Sea point that is sandy and has a large tidal pool is the Milton Beach.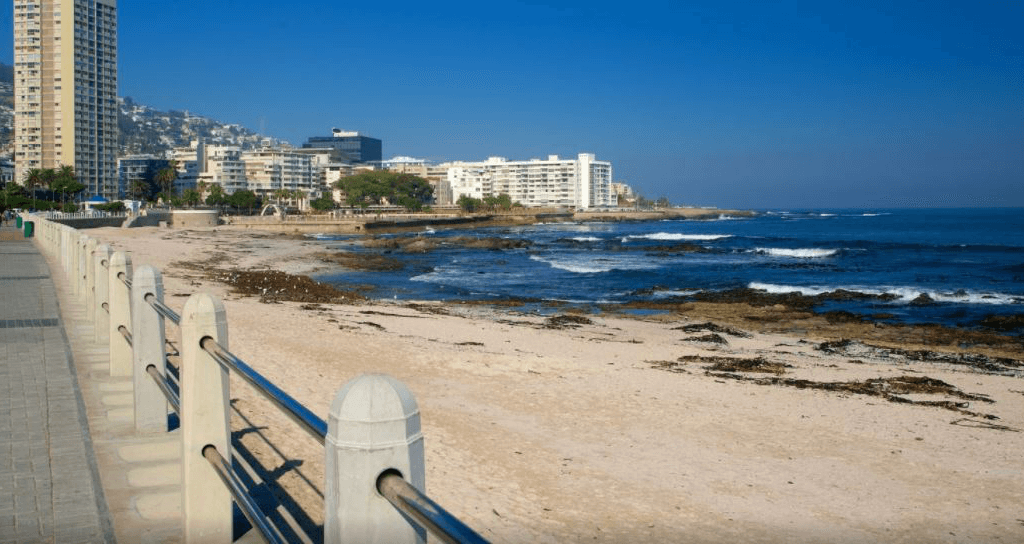 The tidal pool is rocky and popular for safe swimming. There are toilets and drinking fountains at a short distance from the beach. The children can enjoy the swings and jungle gyms at the beach. If you want to swim in a pool instead of the sea, then you can visit the Sea Point Pavilion.
Milton's beach also has parking, tidal pool and disability access. You can swim in the tidal pool.
6.Broken Baths Beach:
Broken Baths Beach, one of the seven beaches of the Sea Point, is named after its broken tidal pools.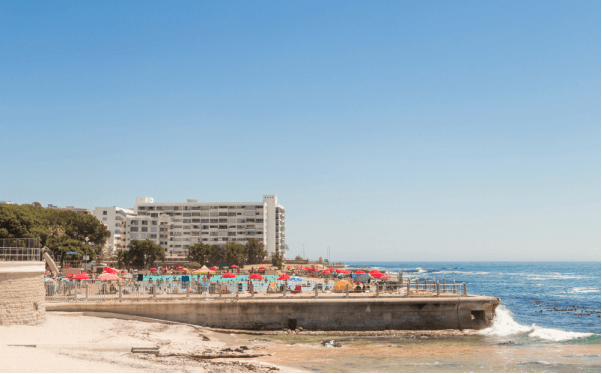 If you are staying somewhere close to the Sea Point Pavilion, broken baths beach will be the nearest beach. The Broken Baths Beach is a great place to relax and enjoy with the kids when the weather permits. At certain times of the year, you can experience a nasty smell on this beach which is caused by the seaweed washed onto the rocks.
Broken Baths Beach has public parking. It also has toilets. You can sunbathe, splash in the rockpools and swim also.
7.Maclear beach:
Another beautiful beach of cape point is the Maclear beach. It is slightly longer distance from the cape town.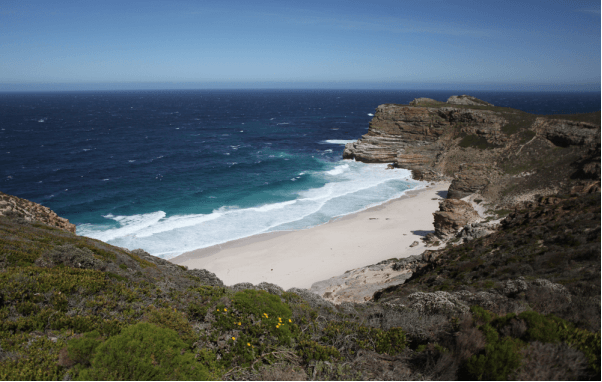 This secluded beach offers couples to spend a wonderful time. The artists and photographers love this place due to its amazing views.
The location of Maclear beach is also very convenient as it is close to many accommodation spots. It has parking facilities.
The best time to visit this beach is in spring for low tide, as the rock pools are in their prime, brimming with fascinating creatures and filled with abundant exploring opportunities.
Maclear's beacon:
Maclear's Beacon is a national monument that has become a tourist attraction over the years. You can view the whole city of Cape Town standing in this beacon.
You can ride in a cable car when in Maclear's beacon and also opt for hiking.
Some fun outdoor activities in the Sea point, Cape town :
Kayaking:
One of the best ways to explore Cape Town's magnificent coastline is in a sea kayak. Atlantic Seaboard and False Bay, the two coastlines of the Mother City, are two spectacular treats offering the different aspects of the city from the sea. The best time to paddle False Bay is during sunrise and the best time to paddle Atlantic waters is during the evening. If luck permits, you can even witness dolphins, penguins, seals, and whales.
Best Kayaking trips in Cape Town:
Location 179 Beach Road, Mouille Point, Cape Town
Time Everyday, 6.30am – 8.30am; 9am – 11am; 11.30am – 1.30pm
Duration 2 hours
Cost 30.09$
Good to know If you make the bookings within a three-month time frame, then you can book the kayak and hike tours separately and receive a 15% discount.
Duration The duration of hikes is different for different routes. Kayaking will take 2 hours.
Lion's Head Kayaking Combo: After a 15% discount, the Lion's Head kayaking combo will cost you only 47.80$
Table Mountain Kayaking Combo: With a 15% discount, the Lion's Head kayaking combo only costs 56.97$ (with a 15% discount)
The penguin experience : Details about the Penguin Experience are as follows –
Location Wharf Street, Simon's Town, Western Cape
Date You can enjoy this activity at any time of the year.
Duration The whole experience takes only 2 hours
Cost This experience will cost you only 23.46$
Location Wharf Street, Simon's Town, Western Cape
Date You can enjoy the full-moon adventure during March – October, 6pm – 8pm
Duration This activity takes 2 hours
Cost The full-moon adventure will cost you only 26.36$
Duration 2 hours
Cost 26.36$
Duration 2 hours
Cost 30.09 per person
Helicopter tours:
You can enjoy the oceans from up in the sky in Cape town. The beautiful city can be enjoyed on a helicopter ride. These helicopter tours start from around 160$ and can range to 2000$.
Diving:
There are many scuba diving spots off the coast of South Africa. The diving in Cape town is some of the most thrilling in the world. The underwater environment there offers white sharks. Diving spots of Cape Town remain in the False Bay, the South Coast, and the Atlantic Seaboard.
Cost 20$-100$
Other than these, you can also opt for cycle tours, Submarine dives, Climbing Tours, Horseback Riding Tours, River rafting, Speed Boat Tours, Hiking tours, Biking trails, etc.
Shopping in Sea point, Cape town:
Shopaholics need not worry when in Sea Point, Cape Town. Moreover, this Sea Point has many places for shopaholics. We are listing down the best places to go shopping.
1.Victoria wharf shopping center:
Victoria wharf shopping center, one of the most popular malls in Cape Town, is the shopping hub of Cape Town Victoria and Alfred waterfront. This complex was designed by Adrian van Vyer. You can shop from over 450 retail shops that this complex has. Fashion, homeware, jewelry, leather goods, and audio-visual equipment are available here. You can indulge in a shopping experience that ranges from international brands like Lois Vuitton to local craft shops.
2. Cape Quarter Mall:
For buying expensive gifts, unique keepsakes, and special indigenous treats in your homecoming baggage, you must visit the Cape Quarter Mall. The Cape Quarter Mall houses not only the most exclusive interior but also fashion stores that are both well0known local and international labels. There is an open plaza inside the mall. The favorite meeting spots in this mall are Vanilla, Voila, and Lazari. The mall also has good parking facilities.
3.The Point:
The point is a unique shopping mall in Sea Point, Cape Town that offers you everything ranging from coffee shops, premier gyms to grocery stores. This mall is an all-in-one destination. It has everything under one roof.
4. Artem Centre:
The Artem center, situated on Sea Point's Main Road, was inaugurated in 1974. It has good parking facilities and offers 24-hour security. The center houses over 50 shops including supermarkets, plenty of boutiques, banks, coffee shops, specialty stores, etc. This mall is a great option for you if you want to shop in a less crowded environment.
5. Golden Acre Shopping Centre:
This shopping center houses almost 100 tenants including Shoprite, KFC, Wimpy, McDonald's, Hungry Lion, Markham, Foschini, Totalsports, and more.
Accommodation in Sea Point, Cape Town :
You can choose from the numerous accommodation spots in the Sea Point, Cape Town. We are recommending down below the ones we think are the best.
For luxurious accommodation:
1.The Peninsula All-suite hotel:
Are you looking for suites that offer you Great Cape hospitality along with incomparable service? Then book your stay at The Peninsula All-suite hotel right now. Situated on a prime stretch of Cape coastline, this hotel offers magnificent views over the Atlantic Ocean and Robben Island. Enjoy five-star luxury catering suites, delectable cuisine, and banqueting venues. Relish the superior service at The Peninsula. An accommodation here starts from 200$ per night.
2.Hotel on the Promenade:
Hotel on the Promenade is another beautiful hotel that offers you the luxury and magnificent views of the Atlantic and Sea Point Promenade. This is a grand hotel which is located on the Arthurs Rd in Sea Point, Cape Town. The visitors here have given excellent feedback about great comfort, great hygiene practices, and convenient location. Hotel on the promenade offers you all amenities like free parking, free Wi-fi, airport shuttle, bar, room service, restaurant, currency exchange, language flexibility, etc. Rooms here start from 150$ per night.
For budget-friendly accommodation:
1.Atlantic Affair Boutique Hotel:
Located at the Claren Rd, Sea Point, Atlantic Affair Boutique Hotel stands as a great option for those looking for a budget hotel. Accommodation here starts at 83$ per night. It has many amenities like free Wifi, parking, air conditioning, bar, kitchen, business services, etc. The visitors of this hotel have commented that they had a comfortable stay there and the staff was also very helpful.
2.President Hotel:
President Hotel is another great option for budget-friendly accommodation in Sea Point, Cape Town. It is situated on the Alexander Rd of Bantry Bay, Cape Town. It has all amenities like a pool, spa, restaurant, gym, air conditioning, bar, etc. Another amazing feature of this budget-friendly hotel is its beachfront location. It is indeed very well known for its amazing breakfast, excellent location, friendly staff. The costing here starts at 60$ per night.
Some commonly asked questions about Sea Point, Cape Town :
Which areas in Cape town are not safe?
Basically, Some areas in Cape Town are known for Robberies and Muggings. These areas include the city center, train station, and Bo-kaap. So it is best to stay vigilant when in these areas
What is the best time to visit Sea Point, Cape town?
The best time to visit Cape Town is from March to May or from September to November. During this time, you can enjoy friendly sea point weather, lesser crowds, and lower prices.
How many days do you need to explore Sea Point, Cape Town?
You need around 7-10 days to explore Sea Point, Cape Town.
What is the hottest and coldest time in Sea Point, Cape Town?
The temperature in Cape Town is the highest in February making it the peak of summer month. June is the coldest month when the average temperature is 12.5°C in Capetown.
Is Sea point, Cape Town safe?
Crimes can occur at any time in this place. So do not forget to stay vigilant at all times and we suggest not to walk around at night because crime rates there are usually higher after dark.
The Sea Point, Cape Town is a popular tourist spot and it is deservedly so, the natural resources, heritage, multi-culture and diversity of people of Cape town will surely mesmerize you. With all the amenities there for the tourists, we can ensure that you will have a delightful trip and make your vacation worth remembering.