Maldives is an amazing tropical country which is Comprised of 1,190 islands that sit on 26 reef atolls. Maldives is a heavenly place for recreation, romance, and luxury. A beautiful string of coral islands in the Indian Ocean, the islands of Maldives are also a paradise for divers and sun seekers alike.
Maldives is a superb destination for those warm lovers who want to escape the cold and snow during winter break in December. Maldives is a tropical country, where sunny warm weather always remains at 27-30 C. Rainy season starts from Mid-April to October. Best time to visit there is dry season from November to April. There is a variety of accommodations suited for travelers, whether they look for a romantic gateway, group hangouts, water adventure, or just the tranquil atmosphere of the marine world.
Maldives beaches are unique for crystal clear sea water and fantastic coral reef. The fabulous beaches offer scuba diving, windsurfing, parasailing, boat cruise, and jet skiing. The lion's share of the resorts is on their own private island, with beaches circling the outer edge. Holidaymakers can select beaches according to their preference from the following list of marvelous beaches.
Cocoa Island Beach as a romantic venue :
Cocoa Island, a captivating island with coral reef, is placed on the South Male Atoll in the Indian Ocean. Visitors can reach in this island from Male International Airport by seaplane or speed boat, which takes only 40 minutes.
It is an amazing island with a spectacular lagoon full of marine life, exhibiting various tones, shades and structures. The ocean in the lagoon is quiet, perfectly clear of incredible turquoise tone, which permits to do diving and snorkeling all year round. Travelers can view giant sea turtles, stingrays, rhinoceros fish and other fascinating underwater sea animals. Cocoa island beach provides the view of the magnificence Marine life associated with Kandooma channel and Guraidhoo channel.
Como Cocoa Island resort is a luxury over water resort with 34 water villa, which is a paradise for romantic couples. This resort offers spa and yoga facilities for relaxing and meditation.
Hulhumale Beach for undersea Submarine tour :
Situated in Kaafu Atoll, Hulhumale is perhaps the best sea beach in Maldives for water adventures. Tourists can easily access to this island, as it is located at a distance of 2 km from Maldives airport.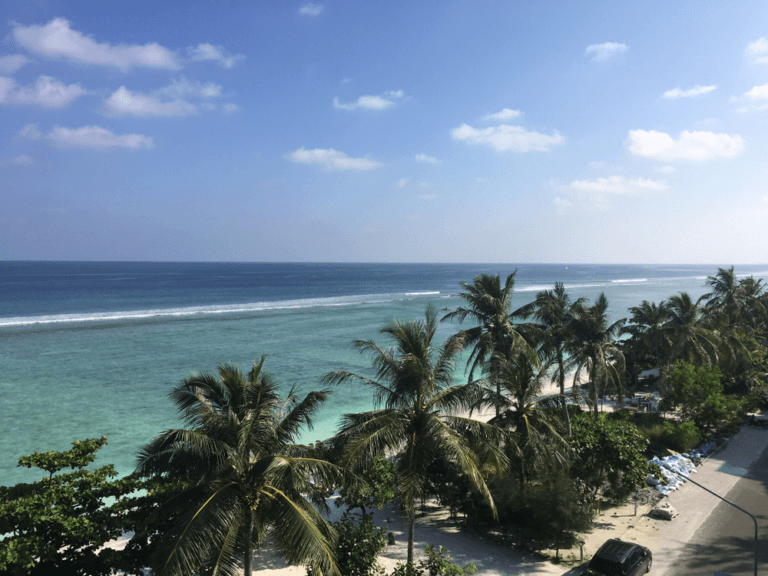 The island's excellence and splendor are unparalleled for turquoise blue water and captivating nature. It is a superb tourist destination as it offers snorkeling, swimming in the sea, parasailing, jet skiing, scuba diving and speed boat cruise.
Tourists gain an incredible opportunity to explore sea underwater world by taking a submarine trip. This exciting 45-minutes dive will take you the underwater of Indian ocean through an exotic fish-filled marine world. The submarine will get down 145 feet under the sea surface to a lovely coral reef zone affluent with fish in dazzling and bright color. Through this exploration, visitors see blue and yellow-striped snappers, yellow boxfish, the lionfish and more.
Rangali Island beach near Underwater restaurant:
Rangali is a beautiful island located in Alif Dhaal Atoll in Maldives. Tourists enjoy lush tropical greenery and unparalleled views of the Indian Ocean from the Rangali beach. Visitors walk on the soft white sandy beach to enjoy the serene nature. Rangali island beach is surrounded by blue turquoise water and sprawling coral reef.
This island is renowned for a classy Conrad Maldives Rangali Island resort that charm the guests. Tourists from around the world come to stay in this exceptional world class resort as well as to enjoy the enchanting sea view. This great resort has a private beach for their guests to enjoy this comprehensive water world.
This island has a surprising underwater restaurant named Ithaa which seems like a miracle to the visitors. Five-meter under sea water, guests become acquainted with the Indian ocean's spectacular diverse marine life and green coral reefs. It is an awesome experience for visitors to get close to the colorful underwater marine life in Rangali Island.
Mirihi island for Whale shark encounter:
Tourists are welcomed to Mirihi island by truly paradise charming sea beaches encompassed by palm trees. Adventurers get fantastic diving and snorkeling opportunities in Mirihi island located at South Ari Atoll in Maldives.
Mirihi island offer an excellent opportunity to join a whale shark safari off South Ari Atoll with an expert team. Whale sharks do not harm to humans, although they look daunting with their huge size.
Tourists get amazed when they observe blue light near the sea beach in the dark at night. The presence of Bioluminescent Plankton glows in blue color when it come attached with something. Those plankton glows at any time at night and in any season. Mirihi island resort comprises 37 villas over water with a high standard amenity. Romantic couples rush to Mirihi island for a luxury vacation in a magnificent nature.
Veligandu Island Beach a romantic paradise :
It is located on the North Ari Atoll, Veligandu Island is an excellent gateway for romantic couples. It is not only a peaceful vibe, but also offers budget accommodation in a private resort. Veligandu Island Resort & Spa is a wonderful resort, which has a private eye catching beach.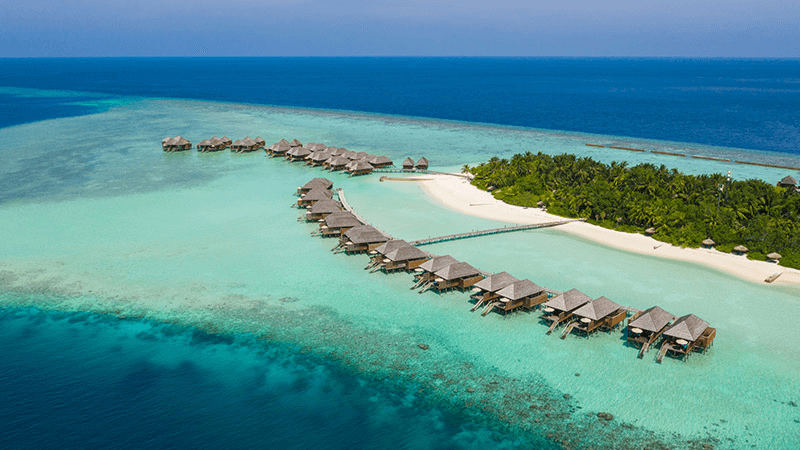 Veligandu has a wonderful underwater lighting, where reef shows colorful light at night and create a breathtaking atmosphere. This island has a narrow passage through which turtles and other uncommon marine fauna enter the lagoon. Fantastic entertaining events are seen in this beach like Maldivian traditional parties and disco for guests.
Veligandu Island Resort & Spas is a beautiful resort offering luxury . This is the prime spot of the island, outfitted with sunbeds, umbrellas, awesome outdoor swimming pool and a sea beach bar. Restaurant food is very tasty with lot of options and spa is amazing here. Tourists may have an experience of both water villa and ocean villa.
Fulhadhoo Beach offers privacy and budget travel :
Situated in the Baa Atoll, Fulhadhoo Island is a quiet peaceful island, which does not offer excess luxury. It is quite distant from the bustling travel places. It is 120 km far away from capital and isn't crowded with tourists, so it keeps up its own appeal.
This island's nature and marine wildlife here is untouched and pristine. It has an affluence of coral reefs, turtles, dolphins and marine colorful fish that aren't hurt by humans.
Fulhadhoo is ideal place for budget travelers, as this island provides handful of reasonably-priced guesthouses. 3 Hearts (Guesthouse) is a popular place to stay with private beach access. Maldive's special features like plenty of palm trees, white sandy beaches and amazing blue lagoons give a wonderful experience to the city folk. In this beach, while sightseeing, trees provides the shade to the tourists instead of umbrella and the local people of coastal guest houses offer all kind of amenities.
Bandos Island beach for a budget stay :
Bandos is a picturesque island, which is comparatively large in size with a total area of 18 hectares. Bandos island is popular among tourists for its convenient location. This island is situated on North Male Atoll and seven kilometers away from the capital of Maldives. Tourists reach to this island within 15 minutes by speedboat from airport.
Bandos island is filled with abundant greenery and its white sandy beaches are swept away by crystal clear water. This beach is well organized with comfortable sun loungers to relax in the beach and to enjoy sea view. Outdoor water activities like water skiing, jet skiing, kayaking provides a delightful experience here to explore the sea and marine creatures.
Bandos Maldives, a 4 star resort on Bundusi, is a budget hotel offering a private beach. It provides an outdoor pool for swimming with enjoying sea view. It offers more amenities for having fun like paradise club, a playground and a kids club.
Dhigurah Island to explore marine life :
Dhigurah Island is a little resort island situated on the southern edges of Ari Atolls, around 110 km south of Male. It is one of the best islands suited for the marine life enthusiasts.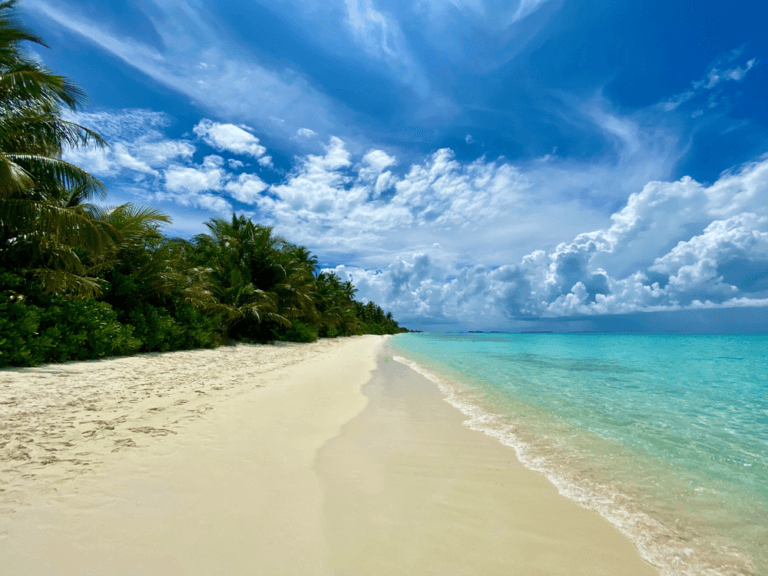 Because Dhigurah island boasts some diving centers, where the visitors can book to dive trips to explore giant whale sharks, sea turtles and colorful marine life. The whale shark tours costs USD 70 excluding equipments to swim with those monsters.
Dhigurah island is not a crowded with tourists, so they can find their personal oasis of solitude here. This island is also alluring for families, as children can swim here in shallow water near beach and can play with sand. There are 30 dive sites near Dhigurah island to watch whale sharks as well as parrot fish, clown fish, napoleon fish and many other marine creatures also.
Baros island beach best for snorkeling:
Baros Island, a lovely beach in Maldives, is situated in the center of North Male Atoll. The whole island is possessed by a 5 star hotel Baros Maldives, which is a renowned hotel of Maldives. It is easy to reach to this island from airport within 20 minutes by speed boat.
Proximity to the airport and convenient location is the great advantage of the hotel Baros Maldives. Now this grand resort is the most favored place of the honeymoon couples and a true paradise for the romantic couples.
Snorkeling is the best water entertainment here and one can have best snorkeling experience in Baros island beach. The underwater marine world is so wonderful that explorers pass a long time in water to see the colorful aquatic animals and the reefs. This resort provides free masks and flippers for the snorkelers and help the interested people to learn snorkeling.
Reethi Rah Beach with magnificent sea view :
The beach of Reethi Rah island is appealing, encircled by clear waters and coral reef, which add a fantastic dimension to the unparalleled views. Located on a little island in the Baa Atoll, this sprawling beach is striking in its uniqueness.
Reethi Rah Island is located in South Male where tourists get in 45 minutes by speed boat. This sea beach is a laid back vibe for the families to enjoy the magnificent sea view. The reef around the Reethi island gives the water numerous shades of green and blue.
Reethi Beach Resort is undoubtedly an enticing place which offer a private sea beach for newlyweds to pass their romantic times. The sea beach is generally known for the leisure spots like bars and clubs that encompass it. Visitors can explore this island sea beach by taking private excursions or strolling around the beach.
Fihalhohi Island to explore the nature :
Filhalhohi island is a tiny beautiful island located in the south of capital city Male. It is a quiet peaceful island enriched with lush green vegetation. This island comprises two different looks in nature. One portion looks sandy, visitors get sunbathe and snorkeling here. The opposite side has a rocky portion, where nobody swims, but there are shady romantic corners for privacy.
Visitors get the sight of a lot of animals like lizards, herons flying foxes, birds etc. This island is enriched with fish, turtles and sharks. From the pier tourists can watch the dolphins and reef sharks chasing the small fish.
On the beach, there is an arrangement to play badminton and volleyball. Tourists feel pleased to hear the birds singing, while they are out for morning walk, which usually we do not see in our city life, so it is a pleasant experience for the visitors, that birds wake up everybody in the morning with their sweet song.
Velassaru Island beach popular among couples :
Velassaru is a beautiful private beach in South Male Atoll enclosed by lovely white beaches and coconut groves. This lucrative island is 12 km away from airport, so tourists can easily get to this island resort. It is now a popular place for lovers and romantic couples, who prefer seclusion.
This luxury resort, enclosed by greenery, has amazing sea beach. The coastal vegetation stands a bit far away from the sea beach and it is the sanctuary of birds, reptiles and animals.
The beaches are well arranged with sun loungers. Visitors watch various sea birds, while sitting on the loungers. It is the common phenomena, colorful fish and crabs swimming in the shallow water near the beach. The charming atmosphere and access to the beach has made this resort popular among the romantic couples as well as families.
Tourists expect to visit a heavenly place during their vacation. Maldives beaches are really fascinating to delight their soul. The magnificent scenery, water activities, and exploring a heaven-like new water world impress the tourists in such a way, that they cannot forget the Maldives. They wish to visit Maldives again and wait for visiting Maldives. But for those who really like the beach, we will continue our exploration, Perhaps your next destination is Phuket, and there you can relish the best beaches in Phuket.