Top-rated beaches in New York City are waiting to fulfill your summer holidays with unlimited delight. Start at Brooklyn's Coney Beach for the perfect sunbath. Then move to Cooper's Beach at Long Island and have a run down at the concession stalls. Beat some waves at Queens, or just party on the sands at Bronx. Anyhow, your vacation at a New York beach is likely to be unforgettable.
Top-rated beaches in New York City are every bit of a traveler's interest point as are the bridges, monuments, and buildings. The 14miles-long stretch of warm, lively seashore further adds to the city's charms.
Hence why, unsurprisingly, New York still continues to rank a spot in the list of the Most Vibrant Cities in the World. This supreme diverse city has everything!
Basking at one of the many stunning beaches located at various ends of the city is amongst the top things to do in NYC. For the locals the beaches are the easiest escape from the city's daily hassles. And once you step on these sparkling, sunlit strips, you'll instantly realize why. One of them will surely become your favorite, if not all.
Coney Island, Brooklyn :
There's no questioning that Brooklyn is amongst the best New York cities to travel to. Whether that would be for its historic architectures or sunny beaches, you mustn't miss out on visiting Brooklyn. Especially, Coney Island.
Busking in summer's sun at the Coney Island Beach is a New Yorker's favorite pass time. You can easily reach this sandy tip via subway, either to raid the amusement parks or to walk the boardwalk.
But of course, there's more here, like the giant Ferris wheel for the pleasure of visitors. The legendary Nathan's Coney Island Restaurant still continues to stand proud since 1916, serving its ever-so-delicious hotdogs. Get here during the 4th of July and take part in the notorious Hotdog Eating Contest.
Arrive a month earlier (in June) and join in the celebrations of the grand Mermaid Parade. Probably not real mermaids, but you can definitely enjoy vibrant colors and music spread across the city.
To get a detailed insight of marine life, visit the nearby New York Aquarium – the oldest one in the country. Fun fact: amongst the 350 various marine species featured by them, are also 18 species of sharks!
Manhattan Beach, Brooklyn :
Busking at Manhattan Beach is definitely a must-do amongst the several things to do in Brooklyn. Take your time to explore, and you'll soon learn why it's among the favorite Top-rated beaches in New York City.
A short stroll from Brighton Beach will bring you at the Manhattan Beach Park. At this end of Brooklyn Peninsula you can relish in its secluded serenity. Spend your leisure over some good games of tennis, basketball, and handball, too.
On an interesting note, have a visit during the summer and watch movies for free at the parking lot with your companions.
Long Beach, Long Island :
Take the Long Island Rail Road, and within an hour dangle your toes at one of the best beaches in Long Island. The three-miles of soft white sands stretches along the Ocean Beach Park boasting its pulsating boardwalk. Conquer the boardwalk on foot, or join the bikers in their style. If nothing more, then simply enjoy the breathtaking views of this brimming part of Long Island.
At Long Beach, you'll have an endless list of things to do. Grab your friends to catch some waves or have a fun game of volleyball. And while your children build sandcastles, bask under the sun and watch seagulls glide in the air. Vacation during the summer to attend live concerts.
Need surfing lessons? Head to Skudin Surf. Get rid of your hunger by raiding the Shoregasboard food truck market. And cool down over yummy flavors of frozen yoghurt from Tutti Frutti. If you're visiting on a Saturday, visit farmers market at the Kennedy Plaza for some quick shopping.
Cooper's Beach, Long Island :
Often amongst Top-Rated Beaches in New York City and in the US, Cooper's Beach can provide you with the best summer holidays. Delve in its glistening backdrop of ancient mansions, surging sand dunes, and tempting ocean waters, and forget your sorrows.
You can feel the soft sands tingling under your feet while letting your eyes drift as far as the end of the Atlantic. The gentle sway of the waves will lift your spirits. In contrast, the warm sun will calm your nerves.
While breathing in the salted air, hunt through the small concession stalls and pick your favorite souvenirs. Take a relaxing pause at a bathhouse before enjoying the mouthwatering seafood at one of the several eateries.
Main Beach, Long Island :
When bored of the south, head to east Hampton for the Main Beach. For many years it's been ranked amongst Ney York's best beaches after Cooper's. Being a vacation spot to the rich and famous, called upon much of the attention. At this clean slit of white sand, you can bask all you like before hitting the cool water. Other than just swimming, you can even rent kayak, surfboard and paddleboard here.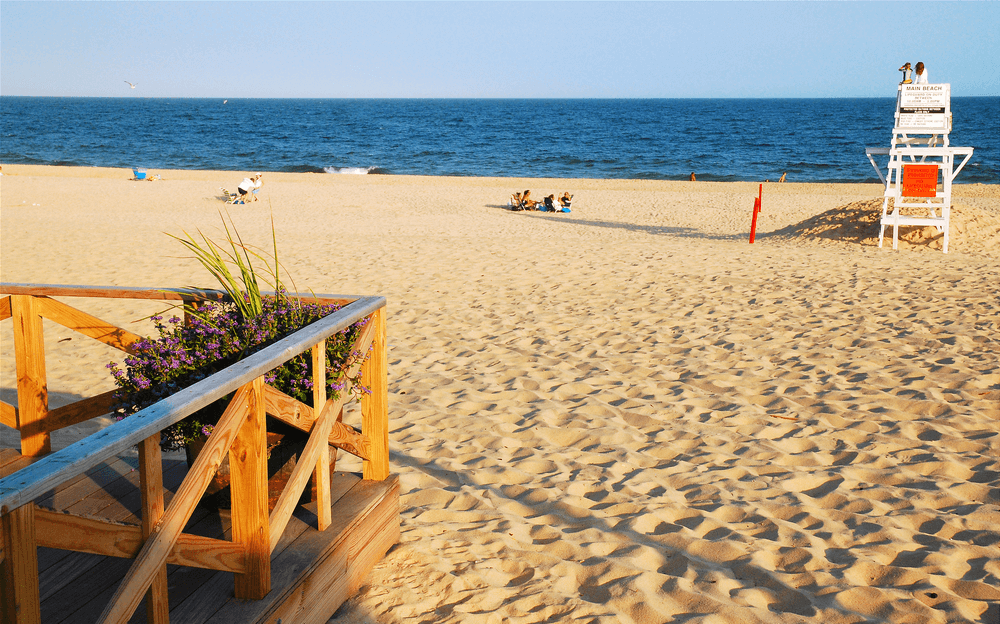 Besides, its location makes it very convenient for a beach day. You'll have access to numerous classy hotels and comfortable restrooms close at hand from the beachfront. Furthermore, there are abundant restaurants and shops lining the grounds for you to explore.
The best attractions nearby are the Home Sweet Home Museum and the archaic Old Hook Mill. Make sure to include these in your sightseeing itinerary for a completed tour. Have a short visit to Montauk Point State Park, too, if you may.
Jones Beach, Long Island :
Another of the Top-Rated Beaches in New York City, Jones Beach is ideal for a family outing at the beach. At this finely-shaped sandy oasis, you can entertain yourself at one of the many amenities adorning the boardwalk.
Venture through the sports and musical lots, or treat yourself at one of the Art Deco bathhouses. Of the several interesting artsy attractions is the huge water tower standing at the park's entryway. It'll remind you of the campanile of St. Mark's Basilica in Venice.
When vacationing during the summer, catch the vivacious concerts held at the Northwell Health outdoor arena. On the 4th of July, you can even attend the Bethpage Air Show and rejoice in the fireworks or over other sports tournaments and entertainments.
Sunken Meadow Beach State Park, Long Island:
A three-mile long sandy strip, the Sunken Meadow beach is hugged by beautiful hills and wilderness. Framing the whole outlook are the scenic views of Connecticut in the distance. Near the calm blue waters and take deep breaths of the briny freshness. Let your eyes drift afar, while the nature's work imprints itself into your mind.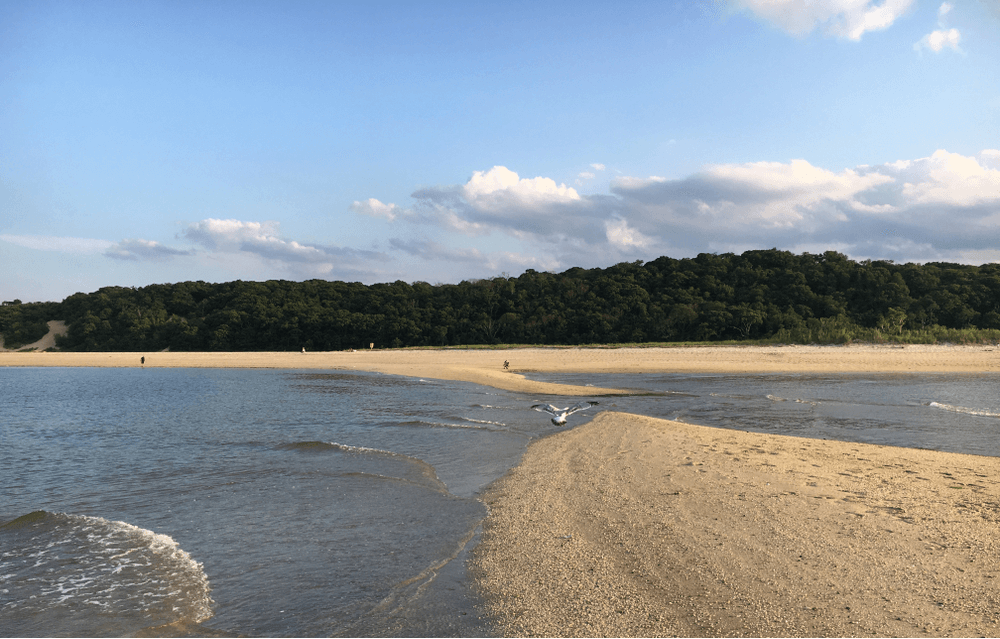 Aside from its tranquility, the beach also provides ample space for picnic with your family and friends. It also features three large playgrounds, sports fields and nature's meandering trails. You can troll the towpath, taste some street food, and simply rejoice in a sunlit beach day.
You can go for adventures on the calm waters by kayaking, canoeing, windsurfing, and paddle boarding at any regular day. But visit on Thursdays for the popular "Burgers, BBQ, and Blue Moons" event, and exult at live beats of country music.
Rockaway Beach, Queens :
Grab the subway from downtown and go ride the waves of Rockaway Beach at one of the lovelier New York cities – Queens.
It's a six-mile-long band of bliss with not only intense waves, but also lesser crowd and livelier ambience. Surrounded with eight playgrounds for children and the busy boardwalk, this beach is both pleasing and entertaining.
If you want to learn surfing, there are the New York Surf School and Rockaway Beach Surf Club for you to sign up at. The later also houses the infamous mural-lined bohemian joint with the beloved food stand Tacoway Beach. Take a bite of their fish tacos and you'll fail to stop licking your fingertips.
Jacob Riis Park Beach, Queens :
At "The People's Beach" get more than just a sunbathe. Its new Riis Park Beach Bazaar and Art Deco boathouse are ready to entertain you with live shows and food. Probably the cleanest beach in New York, it'll make you feel as though you're not in busy New York city anymore.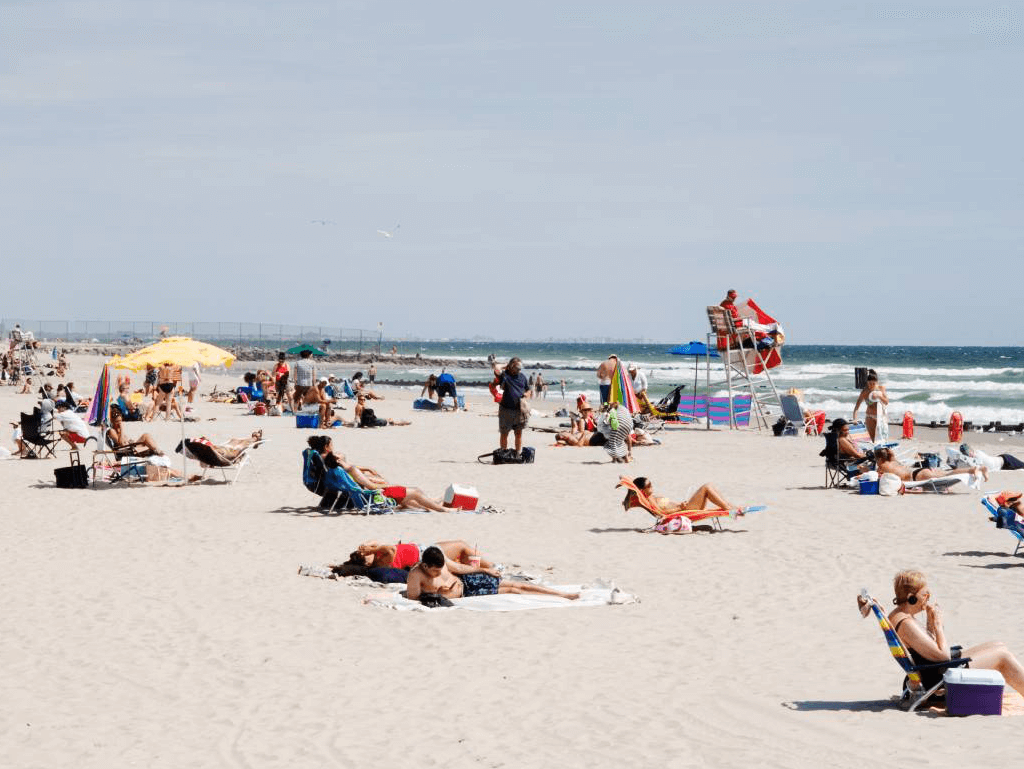 You can easily reach Riis Park via train, bus or ferry. After a good soak and swim, you can drown on some delicious food. Try the Ample Hills Ice Cream for some interesting frost flavors, or grab drinks at the Rockaway Clam Bar. For seafood visit Oaxaca Tacos.
Dotting the area are also ball courts and golf center for some effective playtime. Simultaneously, there are numerous vendors and concession stands for you to buy clothing, shoes and souvenirs from.
Fort Tilden Beach, Queens :
Take a ten-minute walk from the Riis Park Beach, and you'll come across the serene, scrubby stretch of sand where you can simply unwind. With little infrastructure covering the area and no life-guards on petrol, the beach is all yours.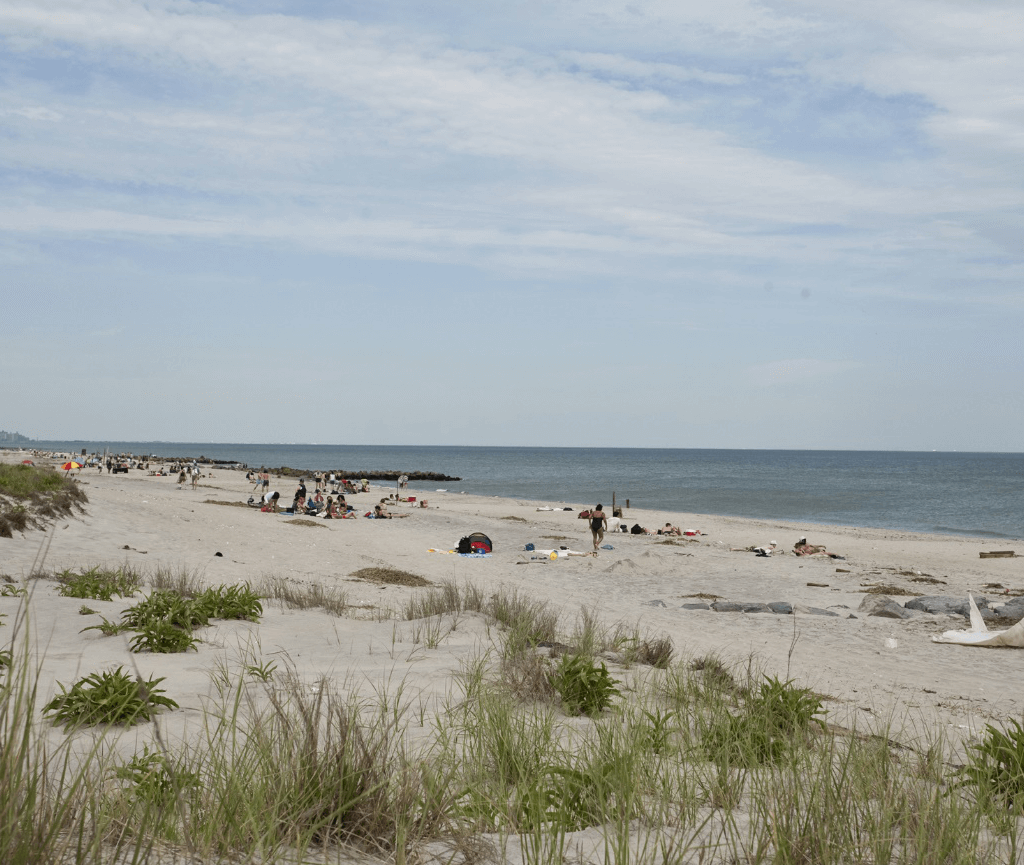 Fort Tilden Beach isn't the most popular beach in NYC, but its appealing seclusion makes it very convenient for relaxing. Bend in the salty breeze and enjoy the sight of green grasses poking through the white sand against the steady blue waters.
Just remember to carry your own umbrella, food and water.
Robert Moses State Park, Fire Island :
Another of the lovelier beaches in New York, the Robert Moses beach can actually induce shrills of peace through you.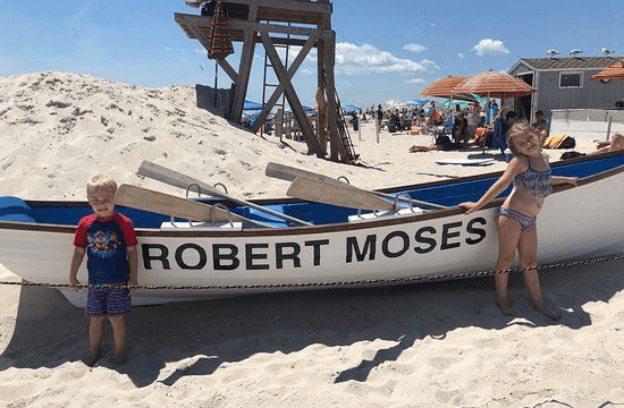 Situated in the western ending of Fire Island National Seashore, this beach has incredible views to offer.
Graced by the iconic 200-year-old Fire Island Lighthouse, climb atop 192 steps and take in the city's beauty. To try some sports, check out Field 2 that has a volleyball court and a golf course, too.
And after you're done exploring this wonderful part of Long Island, do make some time to visit the Sagamore Hill Historic Site. There you can explore the legacy of President Theodore Roosevelt.
Cherry Grove Beach, Fire Island :
The Cherry Grove Beach sits cushioned between Sailors Haven and Fire Island Pines. Even though it's not always ranked among the top rated beaches in New York City, it's still very pleasant for a holiday. Since the very start it's been most popular amongst the LGBT community and clothing optional seekers.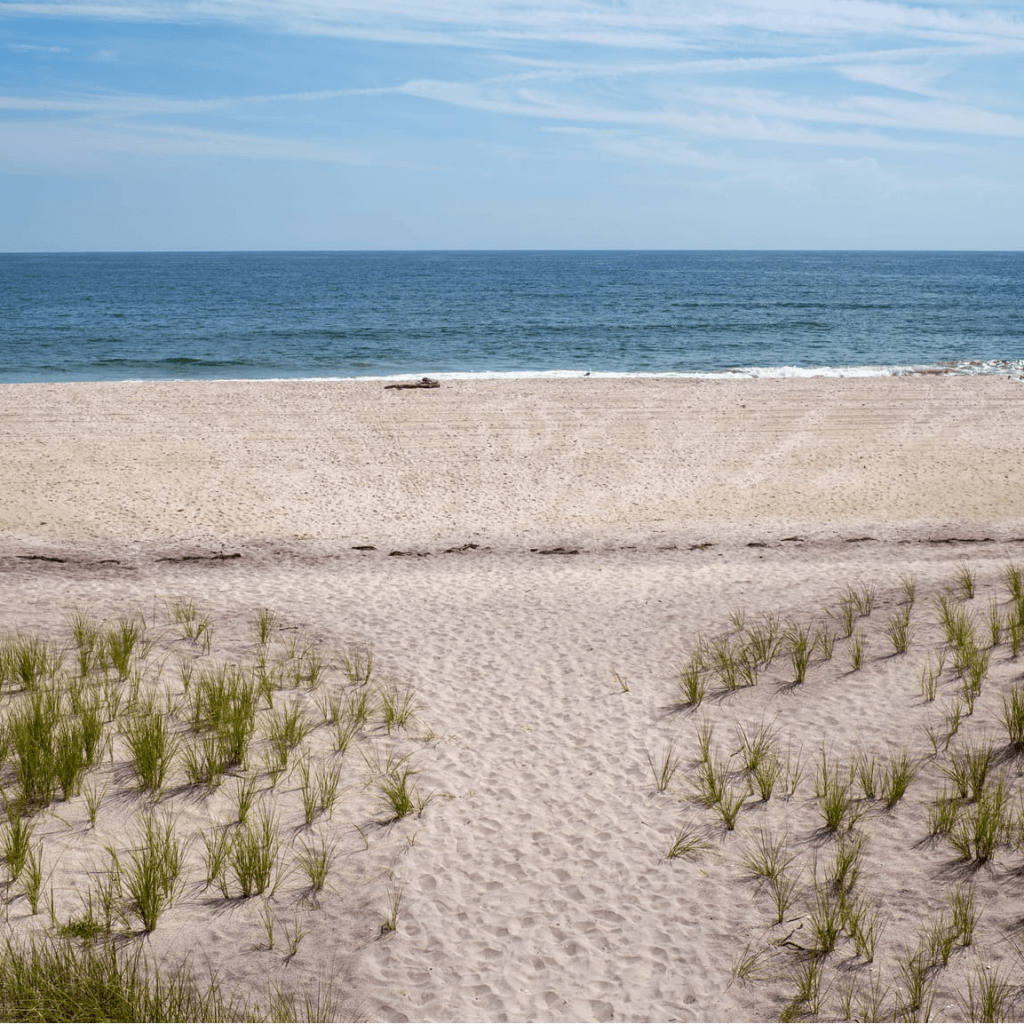 You can easily reach the beachfront via ferry or water taxi from Robert Moses State Park. Destress yourself under the warm sun and with a cool dip. For food and refreshments you'll find multiple diners and bars peppering the area.
The Cherry Grove hamlet itself pulsates with small cottages, wooden lanes, and mural and mosaic covered walls. You'll automatically gravitate towards its laid-back and serene ambience.
Another more secluded beach located nearby is the Watch Hill. You should definitely make a stop there.
Midland Beach, Staten Island :
Lying at the east central coast near South Beach and overseeing Lower Bay is the locals' favorite sun lounging spot. More on the secluded part, Midland boasts not only a tranquil character but also a buoyant towpath full of street vendors, food stalls, and music.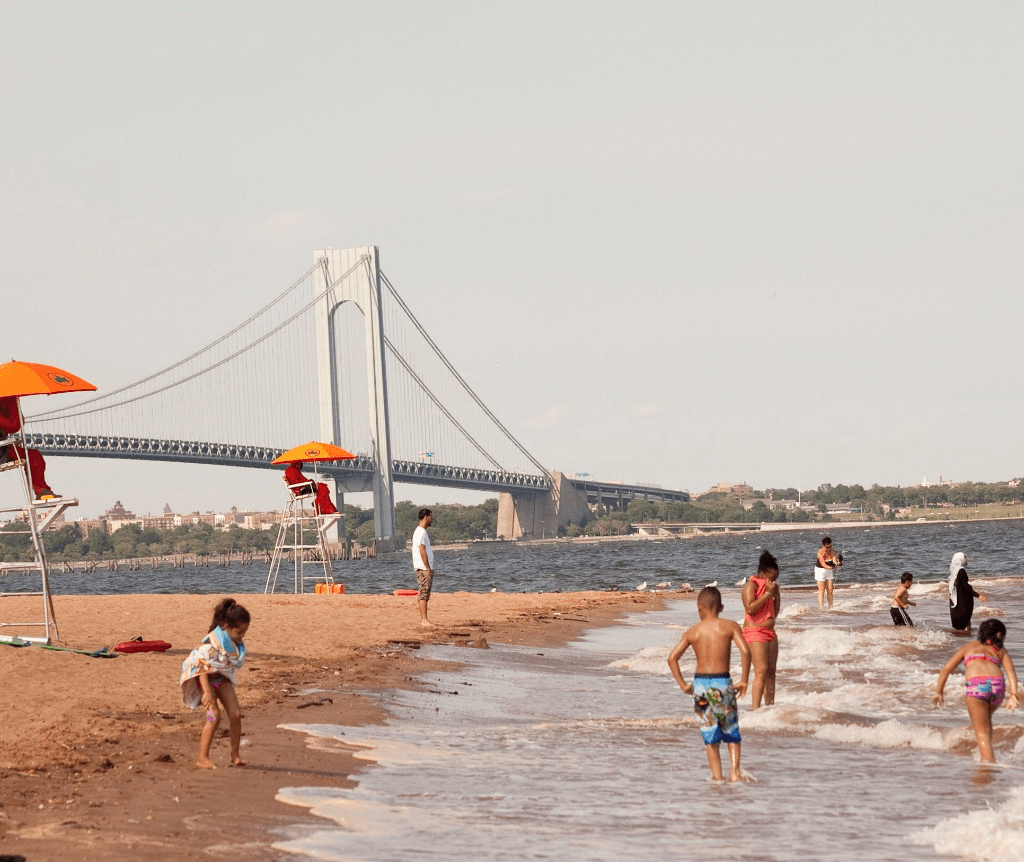 Take your children to the Sea Turtle Fountain where they can play amongst water sprinklers. Concurrently, have a good sweat over shuffleboard and handball with your friends. Want to try something different? Go for fishing to the Ocean Breeze Fishing Pier and catch yourself a winner.
For sightseeing wander the lanes of Father Capodanno Boulevard, or visit the Miller Field.
South Beach, Staten Island :
Sharing the Franklin D. Roosevelt Boardwalk with the neighboring Midland Beach is the quaint little South Beach.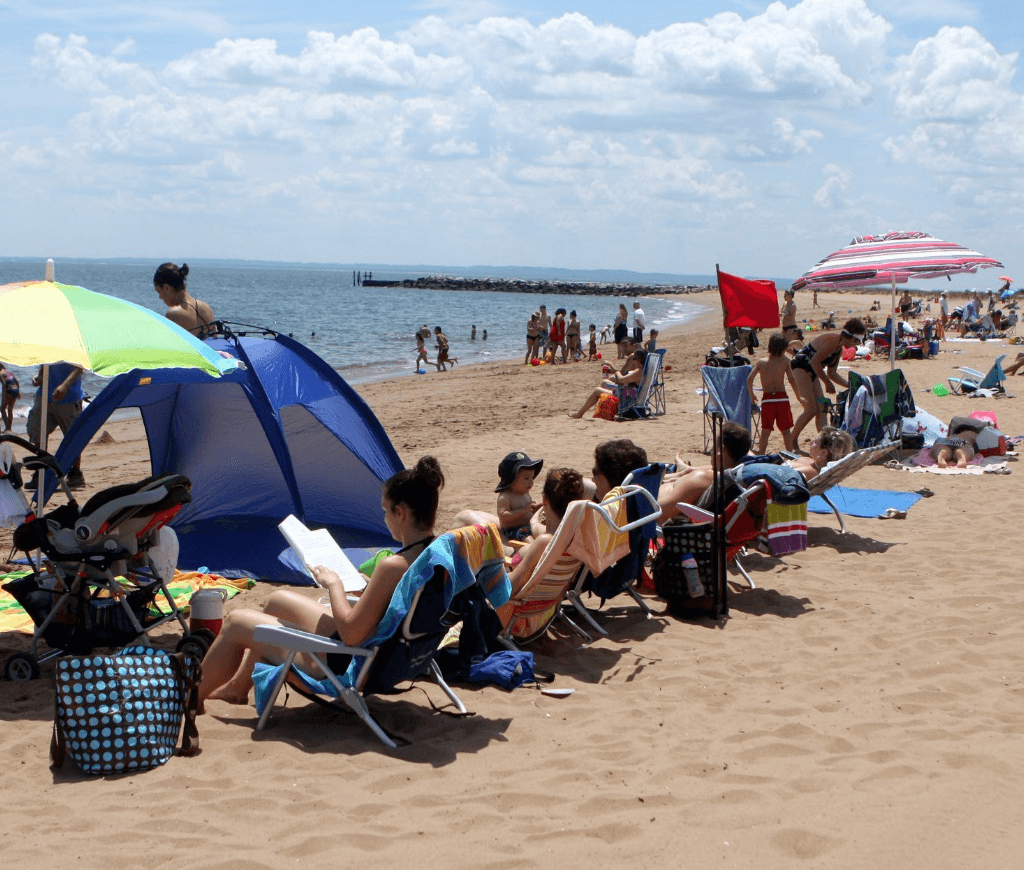 Positioned right at the south of Verrazzano-Narrows Bridge, you'll be acquainted with the amazing views.
Especially if you jog or bike the trail during either dawn or dusk, you'll feel blessed. The atmosphere is so fresh and the gentle waves of the water so pleasing, that it makes up for what little the beach has to offer.
While here, you can dwell in kayaking, playing tennis, or touring the Fountain of Dolphins – whichever you like.
Orchard Beach, Bronx :
Another of Robert Moses' builds from 1930, the Orchard Beach continues to be one of the most Top-Rated Beaches in New York City. As Bronx's only public beach, you surely can't expect it to be quiet and isolated. However, it buzzes with life thanks to the several concession stands and souvenir stalls lining the streets.
Midweeks may be a better option for sun lounging, if not a quick dip in the shallow waters. Yet, that's not all this clean stretch of man-made beach has to offer. Being fully equipped with 26 courts for basketball, volleyball and handball, and two picnic spots, you're in for a treat.
While away some of your leisure happily at this beautiful crescent-shaped beach in Pelham Bay Park. Take in the marvelous views of the City Island, while following the nature trails or digging in the local food.
Brighton Beach, Brooklyn :
Brighton Beach is a family-friendly sandy coast with cool turquoise waters and soul-pleasing views of the Atlantic. It's only a walking distance from the Coney Island. During the day, have a small picnic with your family, or play few rounds of volleyball with friends.
After a good sunbath, go explore the surrounding neighborhood. Called the "Little Odessa", you'll be amidst the lively ambience of the prevalent Russian community in eastern US. Shop some eastern European products, try pierogis at a deli, or down a few vodka shots. That'll surely give you a good taste of what's it like to be in New York City at night.
At last, take a turn towards east, and Manhattan Beach Park will be at your feet.
If you haven't yet spent a summer at one of these top-rated beaches in New York City, then you're surely missing out on tremendous joy. So don't delay any longer. Grab your backpack and treat yourself to a sunny getaway in America.