Dining at one of the Best Rooftop Restaurants NYC while watching the Manhattan skyline, is a classic New York scenario. There are certain wonderful rooftop restaurants. Where you can pass a wonderful night out over dinner and a glass of wine while enjoying the breathtaking view of New York City.
New York City, known as one of the busiest cities across the world. Besides, NYC's exquisite view fascinates most people. There some exciting best rooftop restaurants in NYC, and bars. Where you can enjoy delicious meals or drinks, spend some quality time with your beloved one. And experience the breathtaking skyline views, which absolutely considered one of the Top things to do in NYC. If you are looking for the best places to eat with dazzling New York City's skyline views, check out our complete guide for the 12 Best Rooftop Restaurants in NYC.
1.Loopy Doopy Rooftop Bar (Rating: 4.0) :
Location: Located on Conrad New York's 16th story in Ground Zero of Lower Manhattan. This chic terrace bar features a magnificent view over the Hudson River, Liberty Statue, and the New York Haven.
Popular dishes and drinks: If anyone wants to soak up the views of Lower Manhattan with some innovative cocktails, then this seasonal bar is their place. Their most popular choices for cocktails include Prosecco & Ice Pop cocktail- a fruity Ice Pop topped with chilled prosecco. Some of their other fruity flavors are Strawberry Lemongrass, Emire Apple, and Blueberry Peach. The bar's flavors rotate with new and fun stuff every month!
Why popular: Besides offering some breathtaking views of the New York skyline. This roof is available during non-operational hours for photos, intimate weddings, social meetings, and outdoor conferences. For private events, with an accommodation capacity of 75 persons during regular working hours, full buy-out options are also available.
2. The Met Roof Garden Bar (Rating: 4.2) :
Location: The Met Rooftop Bar, which is conveniently named, sits atop one of the world's most renowned museums, The Metropolitan Museum of Art. You cannot get enough of the kind of setting of this bar, even if you are a jaded local. This rooftop bar is located right on top of the tree canopy in Central Park, offering a magical view of the park and the city skyline.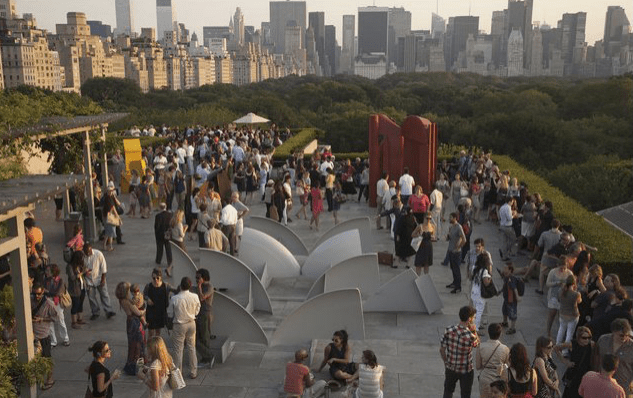 Popular cuisines: Only in the summertime, this bar open, and the specialty cocktails celebrate the season, such as a spicy Margarita melon or a frozen mixed-berry mule on the rooftop after a rough day can unwind you. In the summer, a variety of $18, poptails- popsicles served in a glass of bubbling Prosecco works like a stress reliever. Snacks like chips, pop corners, fresh watermelon, mint, and Sahale nuts are available; though minimalistic, they are sure to tide you before dinner. Additionally, there a variety of options for non-alcoholic beverages too, like Hubert's Lemonade, High Brew Iced Coffee, Dasani Flavored Sparkling, and Gold Peak lemon tea. So, even if you are a teetotaller, you can still go to this bar and enjoy the heavenly view of the Manhattan skyline with a drink in your hand.
Why popular: Anyone can visit the bar without even paying a cent. You can just go for a panoramic view. But you have some fantastic options if you're here for a drink. You can have some stunning pictures with the New York skyline; you just might need to be a little patient since space can be a little bit crowded sometimes. One can go there either as a break during the Museum tour or to enjoy a cocktail and sightseeing with friends, admiring the splendid view of Central Park.
3. Spyglass Rooftop Bar (Rating: 4.2) :
Location: With a nice location and the Empire State Building as its point of focus. The Spyglass Rooftop Bar offers a classic New York experience, filled with craft cocktails and shareable bites from celebrated chef Charlie Palmer. Which is perched on the 22nd floor of the Archer Hotel New York.
Popular Menu: Like another fancy, upscale rooftop restaurant in Midtown Manhattan, the drinks are commonly expensive. The price of their specialty cocktails like Archer Palmer, Princess Charming, Blue Eyes and Hudson Breeze range from $17 to $21.
Why so special: Although it is an expensive rooftop bar, it's a perfect outdoor-drinking alternative. And this one is undoubtedly one of the coziest places to chill with your friends and colleagues. Though the outdoor space is small, it still offers fabulous views of the Empire State Building. Drinks pricey, as one would expect in Midtown, but they well mixed. If you come after-work hours in the evening or a little later. Then you can hope for a spectacular view of New York City at Night. As well as a great view of the Empire State and Chrysler buildings. And this place is a perfect choice for little groups or a one-by-one date.
4. Rooftop Reds :
Location: In Google Maps, you will see that you've arrived at Rooftop Reds. But when you look around the Brooklyn Navy Yard, all you'll see are warehouses and construction sites. Then after ascending the stairs of Building #275 towards the back of the grounds. You'll find an amusing wine bar with one of the city's most unique rooftops. This rooftop bar is both New York City's and the world's first commercial rooftop with vineyard.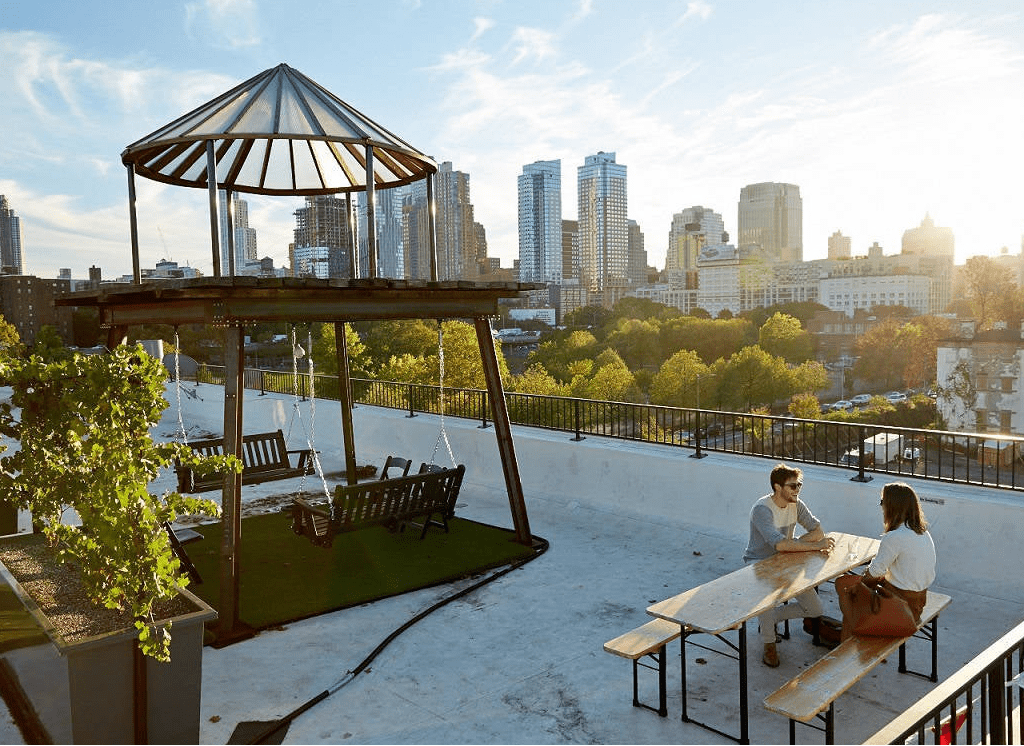 Popular dishes and drinks: This is one of the best rooftop restaurants in NYC. It has a rich collection of luscious wines, which prepared from the fruits of their vineyard. Their wine collection is divided into three different sections: wines on tap, dessert, and sparkling wines, and the regular collection (white, red, and orange wines). Some of the popular choices from these collections are 2019 Rooftop Reds Sparkling Rose, 2020 as if "Gratitude" Pet-nat, 2018 Rooftop Reds Traminette (white wine), and Rooftop Reds Sweater Weather. The price of these wines ranges from $11 to $ 85, depending on the amount of wine you grab. Hot Spiced Mulled Wine and Mimosa Carafe are their specials. But this place has a minimal option for non-alcoholic drinks, beer, and snacks.
Why so popular: Being New York City's only operating vineyard system, which is located on an industrial complex in the Historic Brooklyn Navy Yard, this place offers a totally unique, classy Brooklyn setting with amazing city views. At nighttime, the rooftop is illuminated by the beautiful city that it overlooks when it is lit up. It is the perfect location for an afternoon vino, with hammocks, cornhole games, picnic tables, and even a large screen for outdoor movie screenings. And without a doubt, this rooftop bar is a very lovely and unexpected place to find a vineyard.
5. Castell Rooftop Lounge (Rating: 4.3) :
Location: Leading with an iconic cocktail program rooted in NYC history, this cozy rooftop bar of Midtown Manhattan is located on the 21st floor of AC Hotel New York.
Popular dishes and drinks: It is a perfect place for a drinking situation since it is a cocktail lounge, but there is an extra emphasis on the martinis. Since it is the place for drinks, so the food options quite limited. The amount of food they serve is very small in portions and not preferable for a big meal. But one can try the dry-aged beef sliders with blue cheese and caramelized onions and chicken skewers as snacks to nibble on with drinks. Some of the trendy choices for cocktails are The Caddy, The Perfect Sangria, The ACGT, Vesper, and The Smoked Manhattan (if you want a little stronger drink).
Why so special: Sitting high above the busy streets of the Garment District, Castell is a chic haven from the chaos below, perched atop the new lauded AC Hotel New York Times Square on West 40th Street. This lounge showcases large windows, comfortable banquette seating, and an open patio with booths and a view of Midtown Manhattan. Castell offers a lively experience and relaxed ambience in a delightfully nice location, led by a great cocktail program engrained in NYC history, excellent service, modern décor and quintessential New York skyline views. The venue's contemporary décor is enhanced by classic views in an elegant but comfortable atmosphere. Here one can also enjoy the amour of a fireplace lounge displaying abstract art. The cocktails here can cost up to $20, but since not many people know about this spot, so it's fairly easy to get into.
6. St. Cloud Rooftop Bar (Rating: 4.4) :
Location : With ostentatious and modern furnishings, and stylish indoor and outdoor seating options, St. Cloud Rooftop is an upscale New York rooftop bar positioned at the five-star Knickerbocker Hotel, just off Times Square.
Popular dishes and drinks: St. Cloud Rooftop provides local beers, a relishing cocktail menu and set menu for a New York City experience. Margarita, fruity pina colada mocktail, Smokey Earl, and Lilly Blue are some of the savories and Instagram-worthy drinks of this rooftop bar. They have created a fun menu for summer cocktails as well: Bryant Park Spritz, Sweet Dreams, Havana Affair and Fly Me to the Moon. Short rib beef sliders, Wagyu beef sliders, Lobster Roll, Blistered Shishito Pepper, and Charcuterie Board are some of their toothsome bar bites.
Why so popular: The terrace provides a beautiful view of all amazing towers. In fact, you are among them. It is an exclusive rooftop bar with opulent and sophisticated furnishings, a great place for social media influencers and photography enthusiasts. In the bar, you can choose from a wide variety of well-formed cocktails, champagne and craft beer. There is also a seasonal menu , as well as an exclusive rooftop living room. The terrace has an open and airy feel to it, and despite its popularity, it is rarely overcrowded.
7. Gallow Green (Rating: 4.4) :
Location: If you are looking for an escape from the hustle and bustle of the big city, need some moment of peace and refreshment, and want to enjoy a brunch or dinner in a cozy place without the extravagant décor and furnishings, then you can visit Gallow Green without stress. This verdant rooftop bar is situated in 27th St, New York, above the McKittrick Hotel.
Popular dishes: The menu offers a diverse selection of dishes, ranging from pizza and salads to swordfish and steak skewers. There are specialty cocktails, such as honeydew melon, the 'Honey Pot,' made of gin, soda, cucumber and draft beers and various types of wine. They are famous for their brunch and dinner menu, so one can select their bowl from those wide ranges of options. Besides, their burgers are also recommended by the visitors. The buffet has four different types of salads, a whole salmon, omelet & waffle station, shrimp cocktail, an entire suckling pig, roasted chicken. And after the main course, once an try the lime pie as dessert, which will be a very pleasant ending for their dining experience.
Specialty: Gallow Green is the Best Rooftop Restaurants in NYC and a comfortable place, with many plants and wooden benches and tables. On such a rooftop, you're near to green nature, even though your surroundings are full of high-rise buildings in busy New York City. Gallow Green, the green rooftop bar above McKittrick Hotel, is a delightful wonder in this city full of hidden treasures. Among all of the greenery, there is also a stunning view of the New York horizon, which adds to this location's uniqueness.
8. Bar 54 (Rating: 4.4) :
Location: Bar 54 at Hyatt Centric Times Square in New York City's tallest rooftop bar and one of the best rooftop restaurants in NYC, as well as the tallest in Times Square. The rooftop, as the name implies, is nestled on the 54th floor of the Hyatt Centric Times Square and offers a truly spectacular view.
Popular cuisines: Though the prices of drinks quite hefty like a regular New York Rooftop bar, the bar has a splendid drink menu, which includes a large selection of well-crafted cocktails like Big Apple Pie, Golden Hour, Santana Sour, kiss me Kate, and many more, which made with farm-fresh home-made ingredients. There are 'Shaken and Refreshing,' 'Bubbles and Fizzes,' and 'Tropical Excursions,' as well as beers, wines by the glass and bottle, and a large selection of whiskey. The bar also offers some tasty bar snacks like Margherita Flatbread, Seared Steak Skewers, Slow Cooked Short Rib Sliders, and their special Bar54 Burger.
Why so special: Bar 54 is an enthralling venue with modish, familiar indoor space and an immense outdoor patio – ideal for sipping delicious craft cocktails, light gourmet fare, and tasty wines. This lounge, perched atop a 54-story tower, invites you to take in the expansive views that span Manhattan from the Hudson River to the East River. The breathtaking views include the Chrysler Building and the entirety of lower Manhattan. The Best Rooftop Restaurants NYC is the place to enjoy drinks and a phenomenal place to enjoy the city.
9. Zona de Cuba (Rating: 4.2) :
Location: Think of your living room with a casual candle-light dinner, and then think of the polar opposite. It will give you a sense of what Zona De Cuba is like. This large rooftop at the Bronx's Caribbean point has a live salsa ribbon and tons of palm trees and candlesticks.
Popular cuisines: Zona de Cuba uses meek, basic ingredients, which genuinely Cuban and commonly used in the Spanish Caribbean for the senses, taste, smell, vision, and touch. Among their rich selection for Platos Fuertes which is for their dinner menu, the popular choices are Me Comi la Vieja Con Ropa, Mis Lindas Pechugas, Ropa vieja and Comete Mi Falda. Some of the mouth-savory appetizers are Cuban Sandwich, Black Beans, and Yucca Fries. Some of the must-try beverages of this place are the Sangria, Passion Fruit Mojito, the Martinis, and the tequila.
Why so special: In this massive restaurant in the Caribbean, you will find a dance floor, gaudy chandeliers, a stand made from the back of an old-escolar Chevy, and individual igloos for private groups. They take reservations for weekend brunch and dinner. So you can reserve a seat for yourself and avoid the hustle of waiting in a queue. Besides, this place offers an unusual experience that will take you to Abuela's dining room as the whole family will sit at their dining table, enjoying home cooking with their grandmother. One can enjoy good chats and colorful beverages to make them feel at home in the bar.
10. 230 Fifth Rooftop Bar (Rating: 4.3) :
Location: The 230 Fifth rooftop bar, named for its location at 230 Fifth Avenue. It is one of New York City's biggest and most reviewed rooftop bars. The terrace accommodates 1000 people at a time and provides some absolutely stunning views of the NYC skyline (The Empire State Building acting as the main focal point) while serving a wide range of food and drinks.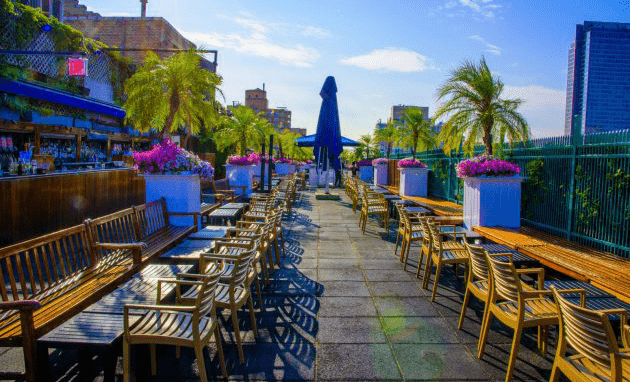 Best menu: Even though, all the delicacies offered by the bar are good. The 230 Fifth brunch buffet is highly preferred. You can have it on any weekends between 10 to 4 p.m.
Why so special: Besides, The 230 Fifth roof terrace has a broad indoor lounge that is completely enclosed with panoramic windows to take in the views. It's also famous for private events such as Corporate Events, Conferences, and Film shoots, etc. In short, Experiencing the 230 fifth Rooftop bar's views and foods is the definition of satisfaction.
11. Refinery Rooftop (Rating: 4.4) :
Location: If Classic Industrial interior design attracts you, Refinery Rooftop is available for you. Refinery Rooftop is the crown jewel of the Refinery Hotel, ranked America's no. 1 Rooftop Hotel & Bar for three years in a row by USA Today.
Specialty: When the culinary director is the famous chef Jeff Haskell, you can't doubt whether the food, served by Refinery Rooftop, is delicious or not. Refinery's Signature cocktails can lure you.
Why so special: If you have limited choices to enjoy the exquisite view of the NYC skyline. The Classical Interior with appetizing cuisines and signature cocktails, well, Refinery Rooftop is one of those limited choices.
12. The Skylark (Rating: 4.5) :
Why popular: Skylark is most of the famous Vloggers' first choice. If you are an enthusiast for photography, you will definitely find Skylark as a haven of skyline photography. The views may fascinate you at a level that you can't imagine.
Outside view: The Skylark has both indoor and outdoor seating which makes the restaurant suitable for any season. It's one of the Best Rooftop Restaurants in NYC where you can see both the Empire State Building and New Year's Eve Ball.
Best Menu: Whenever you go to Skylark, don't forget to order Pineapple Mojito. Having a Pineapple Mojito and experiencing the aesthetic beauty of New York City at night may be the cure for your monotonous life.
Sanitary views of the port, awe-inspiring skyline views, and often unexpected water towers entirely compatible with New York – and some of the most stunning views can be seen from these Best Rooftop Restaurants NYC.