La Jolla is a hilly, seaside neighborhood in San Diego, California. The beautiful beaches are La Jolla's biggest draw for locals and visitors alike. Surfers get gentle waves during summer time and La Jolla shores are really welcoming for the first time surfers. Swimmers, snorkelers, scuba divers, kayakers and surfers can enjoy the golden sands of La Jolla Shores, the Cove and Windansea.
Beautiful beaches with abundant marine life, breathtaking views, entertainment, and a wide variety of outdoor activities are available at La Jolla, California. You must include these top things to do in California if you are going for a day trip. Tourists visiting La Jolla for beach outdoor activities, may find an appropriate hotel according to their choice from the below list:
1.PB Surf Beachside Inn (89$):
The Pacific Ocean neighborhood of San Diego is home to the PB Surf Beachside Inn, which is close to the beach.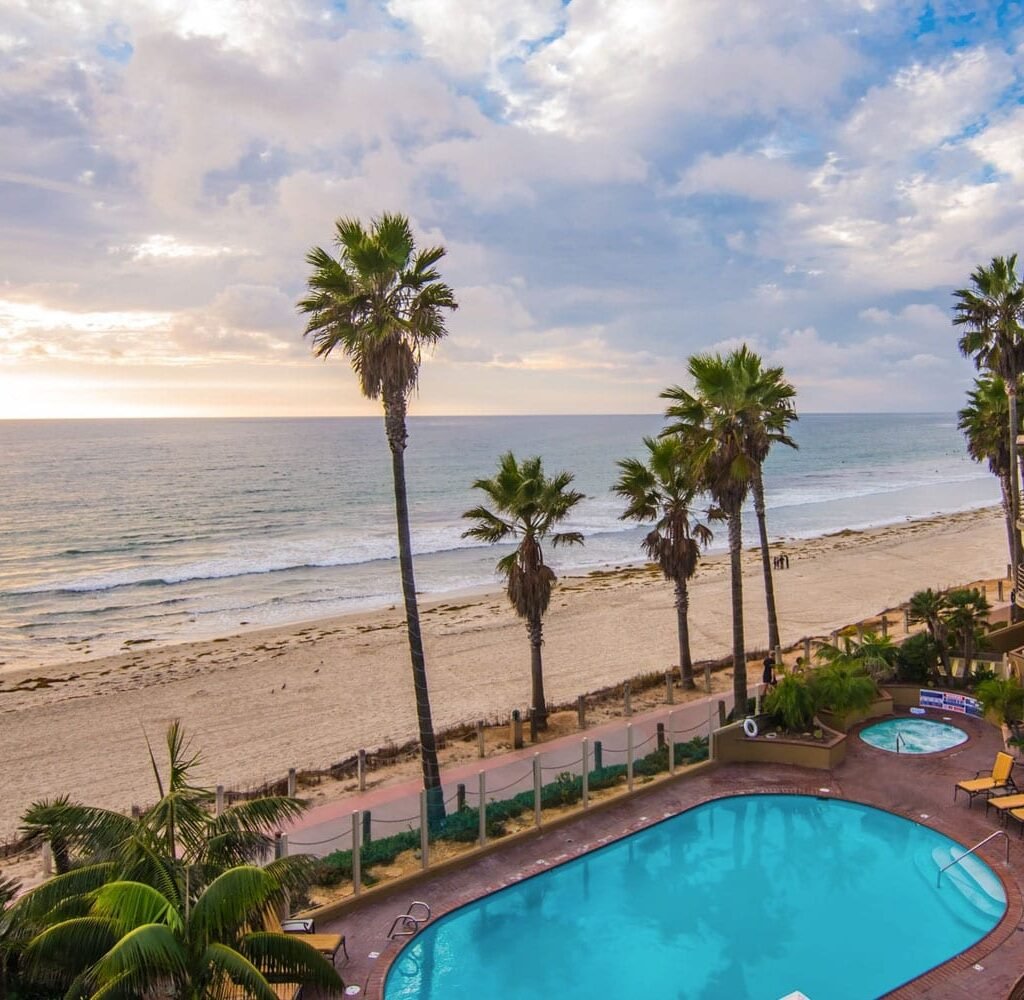 This hotel offers a charming fusion of style, environment, and service with surfer-inspired decor and contemporary amenities in an ideal seaside location. You can walk down the fine sands of the beach and take in the salty sea wind in only a few short steps.
Mission Beach and Mission Bay are excellent places to view the area's natural splendor too. The variety of local restaurants that are close by, will astound you. Visitors may unwind in the heated pool at the hotel and on the rooftop balcony.
2. Pacific View Inn (111$):
Many tourists visit La Jolla, one of the best places to visit in California, for Pacific Ocean View. This hotel makes your stay delightful through enjoying the sweeping ocean view.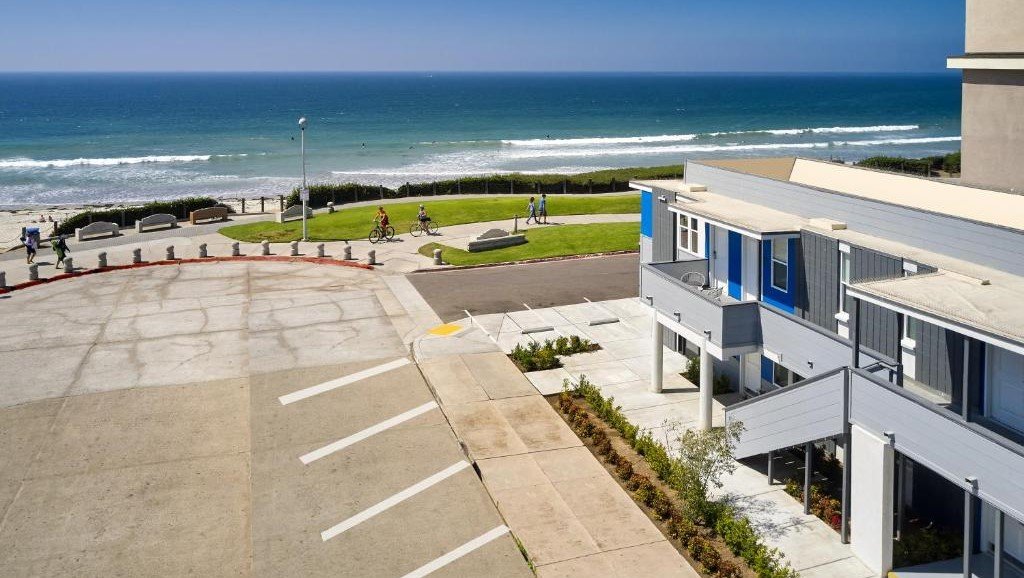 This hotel in San Diego is beside Pacific Beach, right on the Boardwalk, just across the ocean. The rooms are well furnished with essential things like A flat-screen TV and a refrigerator. Free internet is offered also in the guest rooms at Pacific View Inn.
Grab some snacks and drinks from the lobby market while taking in the coastal breezes. From breathtaking sunsets to the excitement of Pacific Beach and the soothing sound of the sea, it is within easy reach of the Pacific View Inn. This hotel has everything to offer its guests.
3. Pacific Shores Inn ($105):
At the northern edge of Pacific Beach, you'll find the charming inn known as Pacific Shores Inn.
Nearby restaurants and stores are only a short walk from the hotel. Most rooms of this hotel provide stunning ocean views. You may find Mission Beach's renowned Belmont Park, seaside stores, and eateries as you stroll the boardwalk.
There's no need to bring your bicycle or surfboard, because you can rent them within two blocks of here. Additionally, each room provides a refrigerator, coffee maker, and microwave for your convenience. Some accommodations even include complete kitchens. Visitors with private cars will get the convenience of free parking.
4. La Jolla Cove Suites (177$):
Take a vacation at an oceanfront resort on the azure beaches of La Jolla, California.
This hotel in San Diego, situated on the La Jolla Cove coastline, offers a luxurious stay and the city's laid-back vibe. This hotel in La Jolla cove offers magnificent sights of La Jolla Cove and the California coastline. Each suite has a balcony with seats, so visitors can relax while enjoying the stunning Pacific Ocean views.
Moreover, the fitness for guests is met with complimentary guest tickets to the La Jolla Sports Club. La Jolla Cove Suites is some Steps away from the Torrey Pines Municipal Golf Course, the Salk Institute and SeaWorld San Diego.
5. Ocean House:
Staying beside the sea, makes visitors refreshing and delighted. Ocean House beside the seaside offers a captivating sea view also.
This hotel is close to Prospect Street's upmarket shops and restaurants. In addition to an outstanding view, Ocean House offers a trendy living experience. The apartments feature innovative home technology, such as a front door lock that can open remotely, a contemporary kitchen, a balcony, and many other features.
Visitors also have access to the pool. Enter the verdant sculpture garden to sip wine while enjoying the scenery. Your fitness room at Ocean House has access to the sundeck.
6. Hilton La Jolla Torrey Pines:
This California hotel, located on the La Jolla bluffs, has stunning vistas of the Torrey Pines Golf Course and the Pacific Ocean.
All Hilton La Jolla Torrey Pines rooms feature cable TV, subscription-based channels and air conditioning. A desk and bathroom with a hairdryer are also included in each room. The Torreyana Bar & Grille serves breakfast, lunch, and dinner with cuisines from the Americas and the Pacific Rim.
Besides, guests of the Hilton La Jolla Torrey Pines can hire bicycles and pedal around the neighborhood or head next door to the Torrey Pines State. Nearby attractions include Birch Aquarium, La Jolla Shores, and the Del Mar Racetrack.
7. The Sands of La Jolla (109$):
The Sands of La Jolla is a beachfront resort in the La Jolla area of Bird Rock. Mission Beach and Mission Bay are excellent places to view the area's natural charm.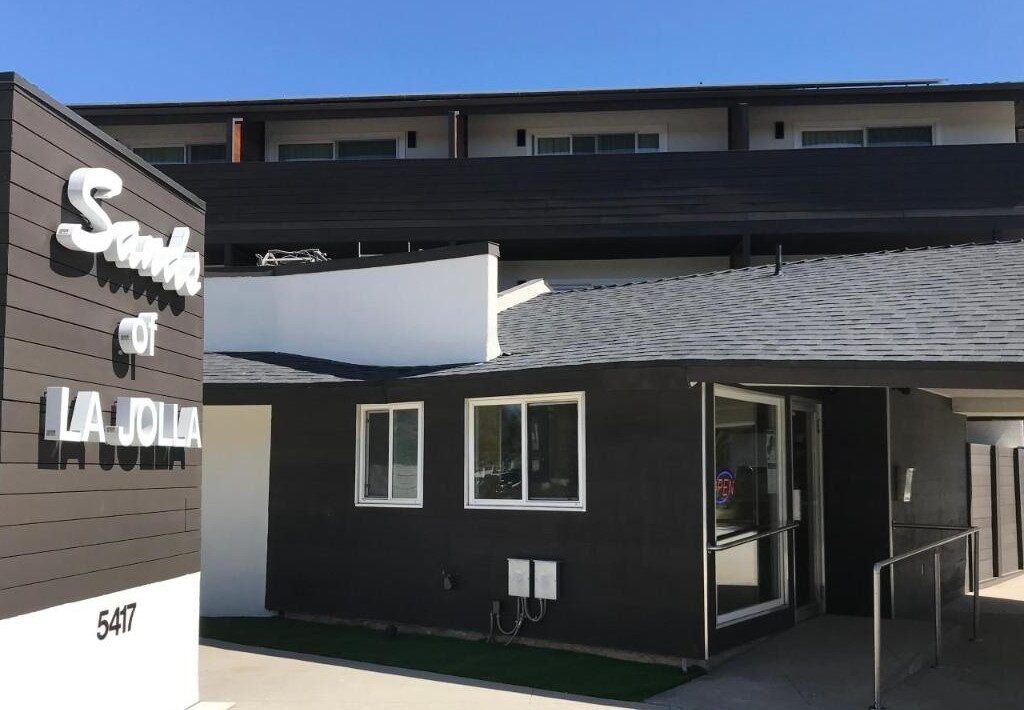 Concierge services are available at this hotel in LA Jolla beach. The hotel offers convenient accommodations for families. Each hotel room has a desk, a flat-screen TV, a bathroom, bed linens, and towels. A few of the Sands Of La Jolla's suites have balconies and air conditioning.
A refrigerator will be available in each guest room also. Famous restaurants like Bird Rock Coffee, Oscar's Mexican Seafood, Ambrogio15, The French Gourmet, and Fig Tree Cafe are nearby.
8. La Quinta Inn & Suites by Wyndham San Diego Mission Bay ($104):
This grand hotel is in the San Diego suburb of Pacific Beach. It is close to the beach and amusement parks also.
Enjoy the convenience of this hotel's complimentary breakfast buffet, fitness facility, and conference center. Visit the jacuzzi to unwind and relax. All rooms provide thoughtful extras like free WiFi, plush beds, and air conditioning.
The property's tidy, comfortable rooms are well-reviewed by visitors. Besides, the professional staffs work diligently to ensure your stay enjoyable, comfortable, and memorable. Mission Bay Park, Mission Bay Golf Course, Crystal Pier, and Pacific Beach Park are a few of the neighboring attractions.
Delay no more; choose any of these hotels for your next trip to make mesmerizing memories and unwind.