Panama comprises of a wide range of picturesque landscapes, beaches, and islands. Along with exploring this marvelous city of wonder, who would not like to enjoy a comfortable staying with marvelous amenities? So, here is a list of budget hotels in Panama, one of safest cities in Florida to experience a wonderful vacation in reasonable pricing.
1.Hampton Inn & Suites Panama City Beach: (Beachfront $202)
This simple yet exclusive hotel features a range of offers such as meeting rooms, private parking, laundry facilities and so on.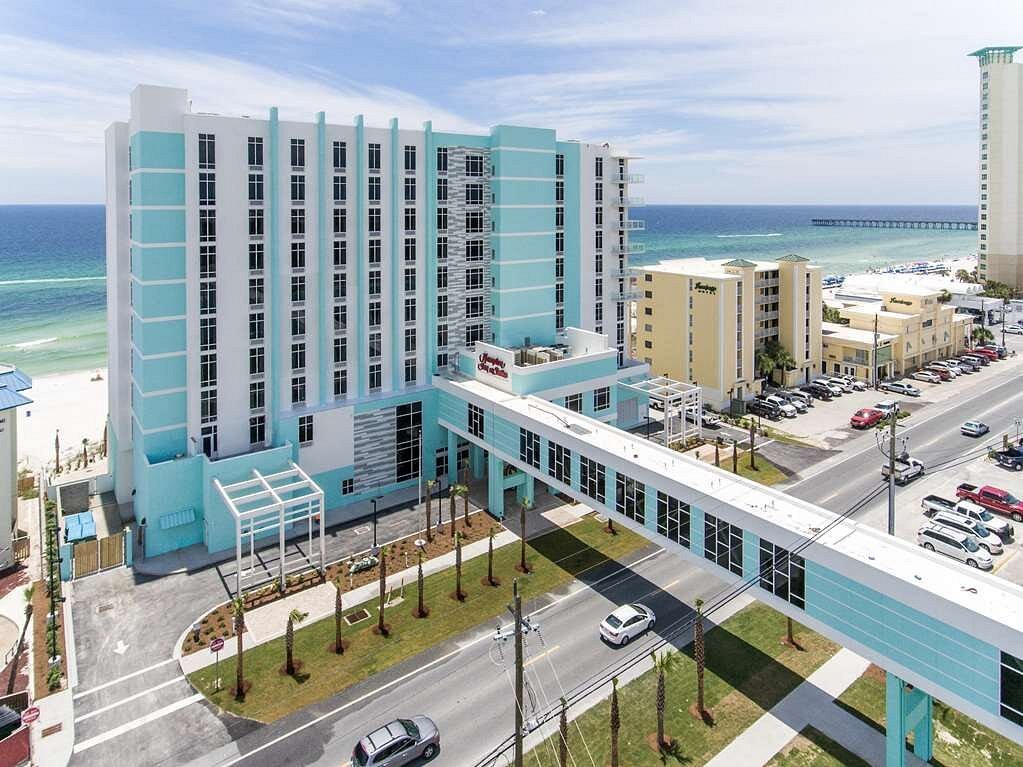 The Hampton Inn & Suites Panama City Beach-Beachfront comprises of 182 rooms with all you need for a pleasant stay. Towels and bed linen are provided for an extra fee. The hotel is about a 35-minute car trip from the Northwest Florida Beaches International Airport.
Gulf World Marine Park, Fish Tales Gallery, and some other best places to visit in Florida are within a short range from this hotel. Among the budget hotels in Panama City Florida, this hotel achieved a score of 8 out of 10 from over a thousand tourists.
2. La Quinta Inn & Suites by Wyndham Panama City: ( Budget $141)
La Quinta Inn & Suites Panama City is situated in the heart of Panama City, making it a perfect choice for both business and leisure travelers.
A day spa, meeting rooms, laundry facilities, and a cafeteria are all available at the La Quinta Inn & Suites Panama City. In addition, multilingual staff can provide many useful local information. The rooms are equipped with all the necessities for a homelike stay, including a refrigerator, microwave, and hair dryer.
The La Quinta Inn & Suites Panama City (Florida) is a great place to stay while visiting Gulf Coast State College and Race City. There is also a plethora of neighboring bars and restaurants that offers appealing meals.
3. Beach Tower: (Free Breakfast included and sea facing) $230
Beach Tower is the perfect hotel for them, who likes to enjoy sea view from the balcony. Overlooking the Gulf of Mexico, this quaint hotel offers a variety of spacious, well-lit, clean rooms. Every suit is attached with a full equipped kitchen.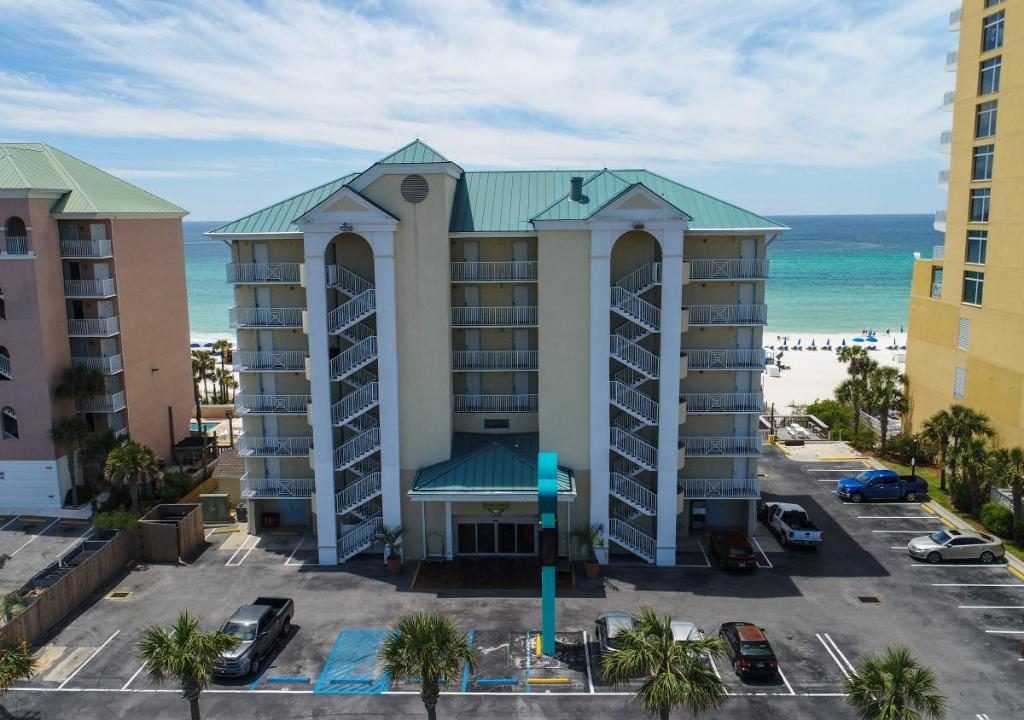 Guests could prepare own food in the well organized kitchen. Restaurants, local attractions, shops and the county pier are within walking distance from this beachfront hotel.
The outdoor pool of this hotel is heated seasonally. There is no laundry facility in Beach Tower hotel. The hotel prides itself for offering friendly and efficient service to the vacationers and honored guests. This hotel is also close to popular night spots.
4. SpringHill Suites Panama City Beach Beachfront: (Sea Facing Balcony $270)
Boasting a beachfront location, Spring Hill Suites offers a tropical setting for your coastal retreat. This pleasant hotel is 3.9 km away from Gulf world marine park and 1 km away from Shipwreck Island.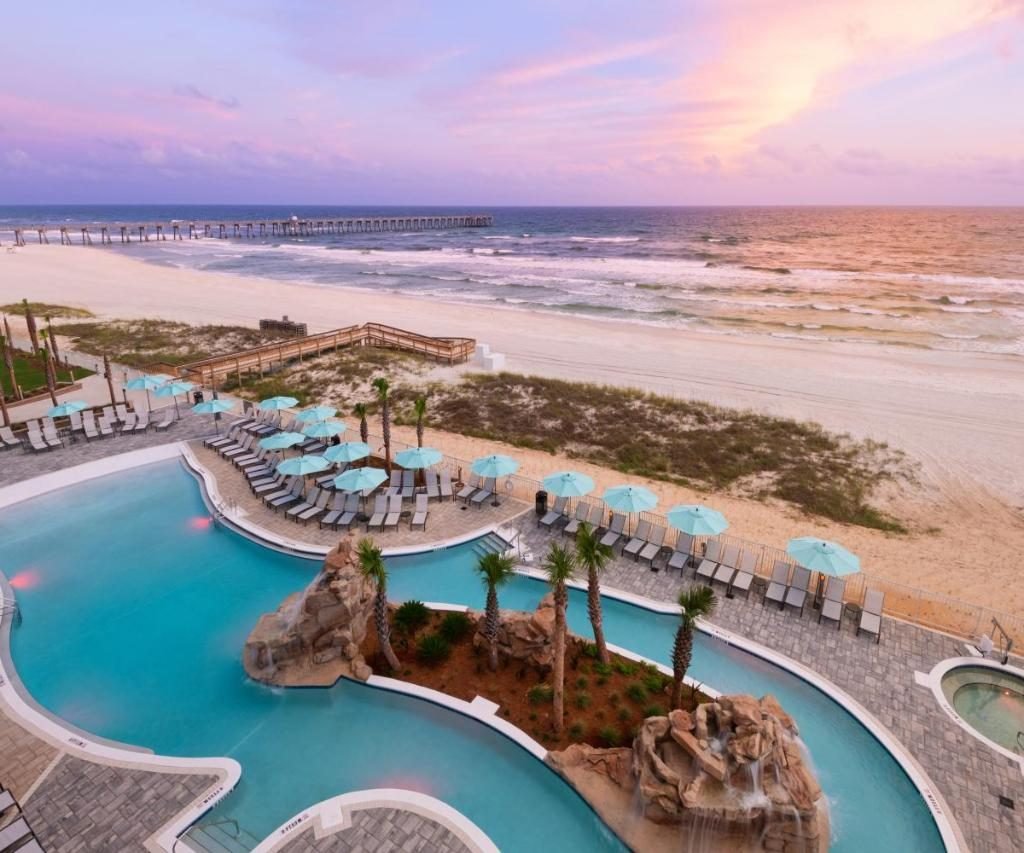 This hotel offers large, homey rooms, modern interior and intimate service. SpringHill is also near to family-oriented attractions like Pier Park Panama City. This 3-star hotel provides an outdoor swimming pool and a fitness center. Guests enjoy fantastic sea view from the balcony.
For parking, this hotel charges extra $20 per day. Visitors have to pay $50 for chair and umbrella, if they want to enjoy sun and to immerse the breathtaking beauty in the beach. Northwest Florida International airport is 26 km away from SpringHill Suits.
5. Driftwood Lodge: (Sea side $260 )
Driftwood Lodge is the ideal hotel in Panama for a weekend getaway or a family vacation. A palm lined courtyard covers around the oceanfront warmed pool and sundeck.
Guests get an impressive sea view from cabana suite. Pier Park shopping is short stroll away from this hotel. Visitors like the outdoor pool and hot tub to chill out. Guests can use the kitchen, which includes microwave and oven.
This hotel offers nice breakfast like Pancakes, cold cereals, waffles pastries, fruit, bagels etc. The Driftwood hotel arranges a pre-Superbowl party and a get together with Jamaican food that impress the guests.
6. Casa Loma Inn: (Beach Front $169)
Casa Loma Inn is a lovely beachfront place for a great sea view. The Gulf of Mexico is right outside the balcony and the pool looks pleasant.
Guests can enjoy barbeque facilities that is available on-site. Beach Vineyard Church is 1.4 mi and Abc Fine Wine And Spirits 1.7 mi from Casa Loma Inn. Comfortable and clean rooms are just a few of the features that make our guests feel welcome and well-rested during their visit to Panama City.
The hotel rooms offer a kitchenette, microwave, a refrigerator, and free wifi. Visitors reaching to this hotel by vehicle, have access to free parking. Tourists can take a taste of seafood at Sharky's Beachfront Restaurant, Firefly and Saltwater Grill.
7. Days Inn by Wyndham Panama City Beach: (Ocean Front $102)
Located in Panama City Beach, this sophisticated hotel tops among the budget hotels in Panama City Florida. It is a short trip from the Museum of Man in The Sea and the Race City.
An outdoor pool, Jacuzzi and a sun deck are some the hotel's attributes. The suites provide all the necessary facilities required for a comfortable stay, like- refrigerator, microwave, and hair dryer.
The motel is a great place to stay if you want to visit surrounding attractions like Miracle Strip at Pier Park and St Andrews State Park. There are also several nearby restaurants and bars, which adds to convenience.
8. Sheraton Panama City Beach Golf & Spa Resort (By the Sea $259)
It is a 3-start hotel with comforting accommodation, private beach and indoor pool. Additional facilities consist of a sauna, gym, and outdoor tennis court.
The resort's rooms include all the requirements for a relaxing holiday to offer you the best experience. Guests staying at the resort can enjoy one-of-a-kind dining at the in-house cafeteria, which is ideally located for those who prefer to eat nearby.
This, one of the budget hotels in Panama City Florida, gets a score of 7.5 out of 10 from over thousand reviews.
9. Osprey on the Gulf ( Sea Side $240)
Local attractions such as Miracle Strip at Pier Park is within a walking distance from this hotel.
The hotel has 24-hour reception, as well as childcare facilities and a pool for children. It has a spot for BBQ, a library, and luggage storage as attractive conveniences.
The Osprey on the Gulf has 70 rooms, each with free Wi-Fi, flat TV screen, and coffee machine. This is one of the budget hotels in Panama City Florida that offers many spectacular views for visitors.
10. Holiday Inn Express & Suites Panama City Beach – Beachfront, an IHG Hotel ($164)
This motel is located near Panama City Beach, adjacent to St Andrews State Park. conference room and a business center are among the amenities provided to visitors of this 4-star hotel.
There is a distinctive smoking zone as well. The on-site restaurant at the Holiday Inn Express & Suites Panama City Beach is a suitable choice for those who want to dine in.
Alternatively, a variety of international restaurants are conveniently located nearby. The hotel is close to Gulf Coast State College and Miracle Strip at Pier Park.
Enjoying some additional facilities doesn't cause any harm if you can keep the expenses within your budget. So, selecting the most convenient hotels, which are both economic and amiable, can make your trip a phenomenal one!