Santa Fe, the Capital city of New Mexico, has emerged as one of the best-undiscovered vacation destinations in the USA. The majority of downtown Santa Fe was formerly an outpost for the Spanish empire.
It is now a recognized historic district, featuring pueblo-style buildings, Spanish churches, winding lanes, and unique shops. The experience is like going back in time! There is delicious food, old-world charm, and a surprisingly urban sensibility in the local culture.
Although Santa Fe is among some of the places less traveled in the USA, it surely offers some unmatched charms. So, without further delay, check out the list of numerous fun things to do in Santa Fe, USA.
1. Explore Canyon Road:
Canyon Road, which is located directly east of Santa Fe Plaza, is the location of a large number (more than 100) of art galleries and cultural landmarks.
In this haven for art enthusiasts, you may find notable works of art by well-known painters. You will also find Navajo carpets and southwestern pottery. With its old adobe houses and vibrant blossoming scenery, the street itself is a work of beauty.
Also outside there are art exhibits on display. As you explore, you can always discover top-notch eateries. Visitors cite this as one of Santa Fe's top experiences!
2. Pay a visit to Meow Wolf:
Meow Wolf, a truly unique experience in Santa Fe, is one of the most beautiful cities in the world.
This art and entertainment collective has produced an incredible, lavish immersive art exhibition in a 20,000 square foot structure. You'll agree with the tourists who exclaim about the peculiar and unusual experience.
Although the average visitor to the Meow Wolf exhibit spends 90 minutes there, allow yourself three hours. Omega Mart is the cutting-edge art collective Meow Wolf's latest interactive experience. It is unpredictable and mind-bending.
Discover doors to fantastical realms full with unexpected, artistically rendered scenes as you explore an astonishing supermarket.
3. Visit Santa Fe Plaza:
In the manner of historic Spanish-American colonial cities, Santa Fe Plaza is a National Historic Landmark in the heart of Santa Fe, New Mexico.
The plaza, or city square, has historically been the hub of the community. Santa Fe Plaza has served as a center of culture from the city's establishment in 1610.
It hosts events including bullfights, live music performances, festivals, and marketplaces. People of all ages can find things to enjoy in this bustling square.
4. Swim at Tingley Beach:
This beach is perfect if you're searching for one near Albuquerque, the state capital of New Mexico.
Since Tingley Beach is situated inside the city, a car is not even necessary to get there. Even though this beach just has a short section of sand, it's still a wonderful little place to check out if you're searching for exciting things to do in Albuquerque on the weekends.
It's fun to visit with kids to see the animals and take a stroll down the beach because the neighborhood ducks frequently claim it as their own.
5. Explore the St. Francis of Assisi Cathedral Basilica:
One of the most intriguing historical sites in this neighborhood is The Cathedral Basilica of St. Francis of Assisi.
It is situated just east of Santa Fe Plaza. Built in 1869, this magnificent Romanesque cathedral is still accessible for visits and religious services.
An important part of Santa Fe's history, culture and way of life is the Saint Francis Cathedral.The stained-glass windows and golden glow of the building's facade at sunset are attracted by visitors.
6. Ski in Santa Fe:
There are numerous sites for skiing in Santa Fe, one of the most vibrant cities in the world.
With powdery tracks, sunny days, and breathtaking Rockies views, northern New Mexico has some of the best skiing in the Southwest. Santa Fe is home to some of the top skiing areas in the Southwest!
Santa Fe is a top winter sports destination since Ski Santa Fe, Pajarito Mountain Ski Area, and Taos Ski Valley are all nearby.
7. Tour the Georgia O'Keeffe Museum:
Georgia O'Keeffe, one of the greatest Southwestern artists, was greatly influenced by the scorching landscapes of Santa Fe.
The Georgia O'Keeffe Museum is devoted to Georgia O'Keeffe's creative legacy, her life, American modernism, and community involvement. On July 17, 1997, eleven years after the artist's passing, it officially opened.
The Georgia O'Keeffe Museum, located in a former Baptist church, is home to the biggest collection of O'Keeffe artwork in existence.
8. Stop by Bandelier National Monument:
On the Pajarito Plateau, walk 50 square miles of the Jemez Volcanic Field in the Jemez Mountains, and Bandelier National Monument.
The southwest region was divided into city-states ruled by Native Americans centuries, before the United States gained independence.
An array of prehistoric cave homes and Pueblo artifacts can be found at the bottom of Frijoles Canyon. It would be a real wonder to explore this settlement, therefore don't pass it up.
9. Indulge in Astronomy Adventures:
In Santa Fe, there are lovely things everywhere around you, both on the ground and in the sky.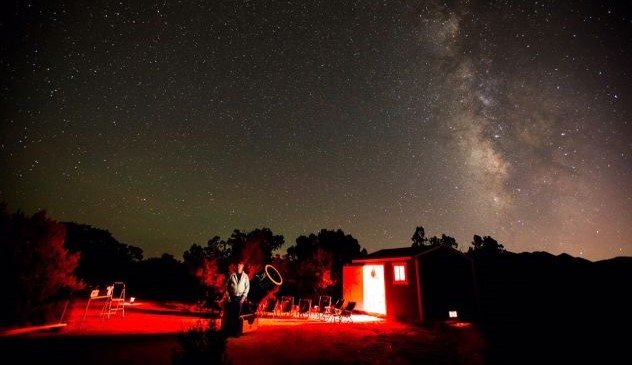 You should embark on an adventure with Astronomy Adventures, if you want to experience stargazing. Along with the wonderful stars, you'll also enjoy the companionship of other explorers when you embark on an Astronomy Adventure.
If you want to feel even more connected to the universe, you should participate in Astronomy Adventures. More than ever, you can sense being close to the stars.
10. Visit Pecos National Historical Park:
Pecos National Historical Park honors the Santa Fe region's long history of human habitation.
This contains long-standing human establishments like the Spanish Mission Church and Pecos Pueblo.
It's a pleasure to tour Pecos National Historical Park. In the form of two Spanish Colonial Missions, trails, and the site of a Civil War Battle, it retains the history of the Pueblo culture.
To get the best experience, join a ranger-led tour. Camping, hiking, and fishing are also available in this park.
11. Spend a fun day at the International Folk Art Market:
The International Folk Art Market is a unique location where regional artists can show and sell their works.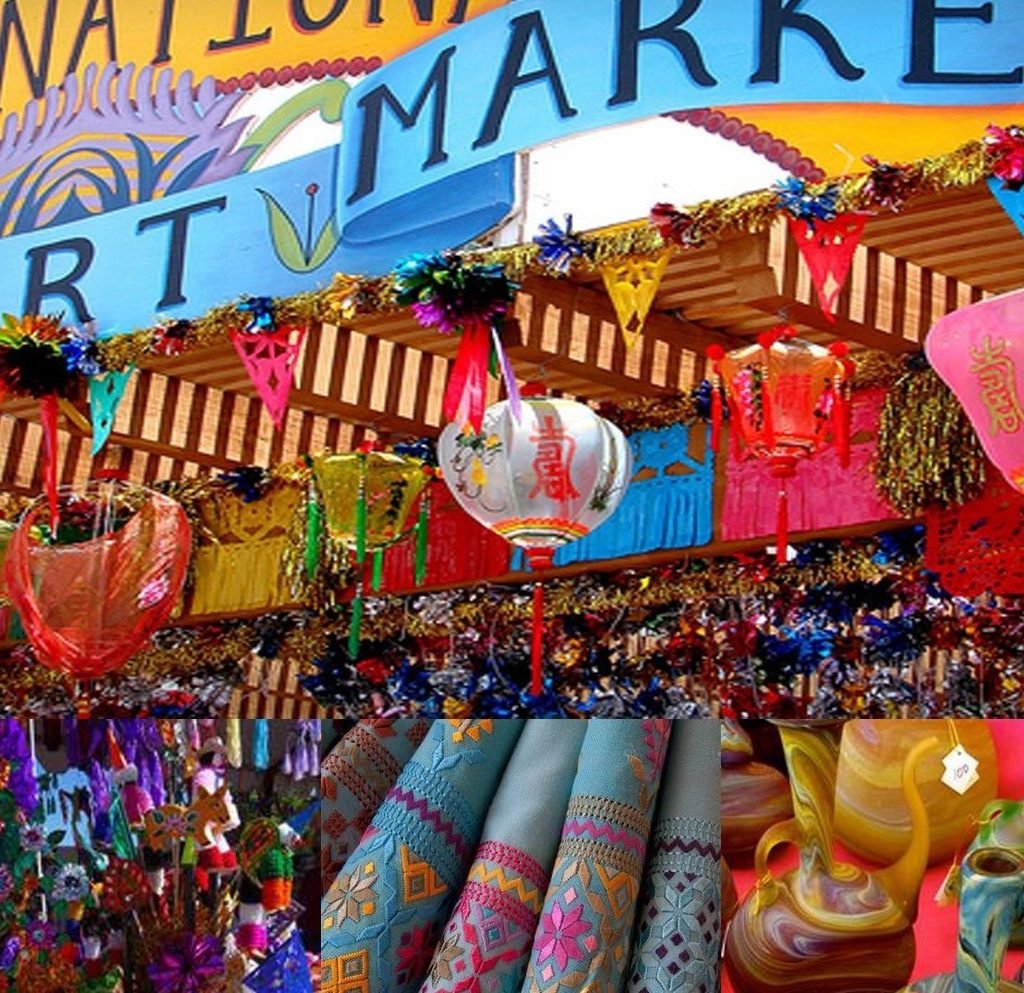 The market is dedicated to maintaining folk art traditions all over the world. Visitors immerse themselves in a world that is rich with culture and has some of the most exquisite handmade goods available.
Most weekends, the market hosts folk art bazaars, where shoppers can find amazing deals on jewelry, clothes, original artwork, and other goods.
12. Explore Traveler's Market:
In this incredible marketplace, you can buy various products manufactured in different places of the world.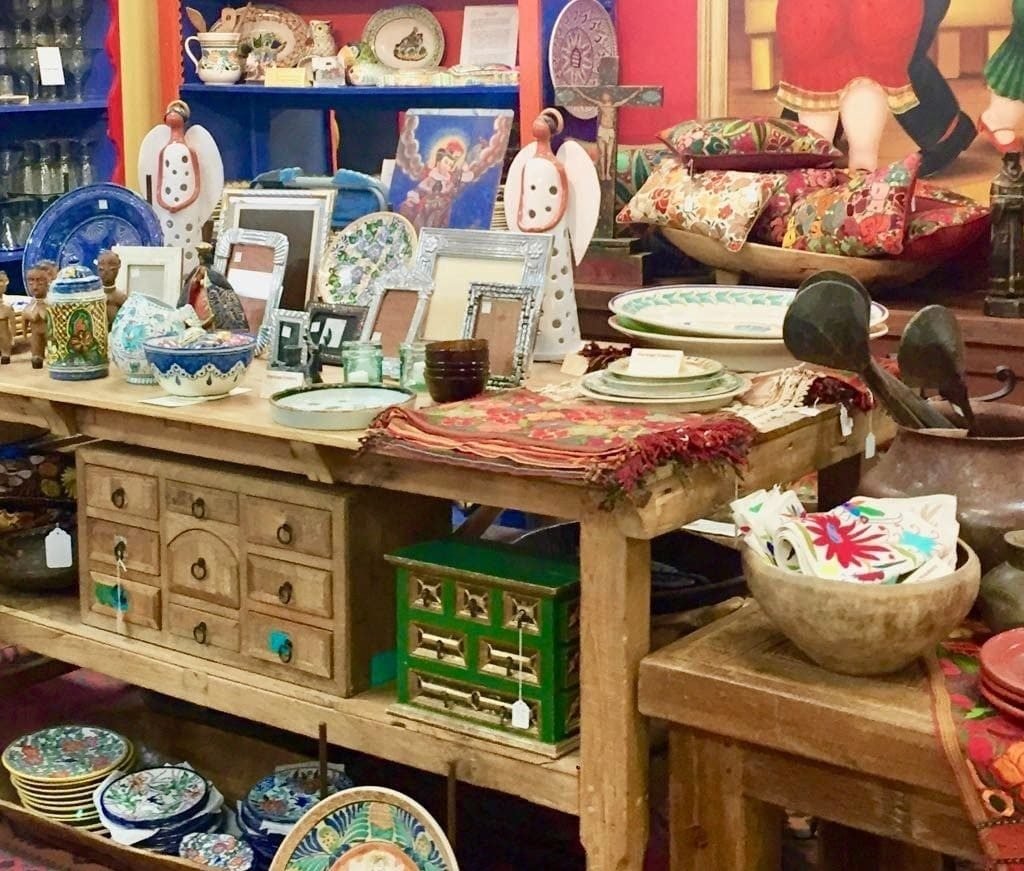 Specialty goods from almost every country can be found at the Traveler's Market. It provides approximately 10,000 square feet of one-of-a-kind treasures from 43 ethnographic and antiques vendors and is tucked away at the back of the De Vargas Center.
You will find books, jewelry, clothes, toys, fabrics, and so much more! You can also explore the tribal art and vintage markets. Make sure to spend a day exploring the market and any nearby malls and stores.
13. Tour the Museum Hill:
Four top-notch museums may be found on Museum Hill along with dining options, shops, and even a botanical park.
Spend the day at the Wheelwright Museum of the American Indian, the Museum of Indian Arts & Culture, the Museum of International Folk Art, and the Museum of Spanish Colonial Art.
Many of Santa Fe's most well-known sculptures are prominently displayed across The Hill, a public sculpture garden. Purchase a New Mexico Culture Pass to save money and gain access to all of the state's museums.
14. Pay a visit to Nambe Trading Post:
Nambe Trading Post is a historic store offering genuine handcrafted goods from the Old West
It also regularly conducts events like art exhibits and antique fairs. The market sells genuine Indian jewelry, Navajo weavings, Indian toys, Western movie costumes, and beads and quillwork. Even for casual explorers, it is a genuine must-see.
15. Spend a day at Cross of the Martyrs Park:
Cross of the Martyrs is a lovely park with magnificent city views and a lengthy history.
A massive crucifix, 25 feet tall, guards the area as a memorial to the priests and Spanish colonists who lost their lives in the Pueblo Revolt of 1680.
The park's history is explained on plaques, and most people can easily complete the short climb. It's a well-liked location to enjoy sunsets because of the views.
16. Explore the New Mexico Museum of Art:
This magnificent museum is worth a visit just for the building; it features the oldest and most beautiful Spanish architecture in the state.
The museum's open attitude enables New Mexican artists to show their creations, merging the worlds of art and community.
It provides a varied selection of performances and artwork. It is always possible to view the work of local artists in rotating exhibitions.
17. Delve into Santa Fe Farmers' Market:
The renowned Santa Fe farmers' market began modestly in the 1960s and has expanded to include over 150 exhibitors.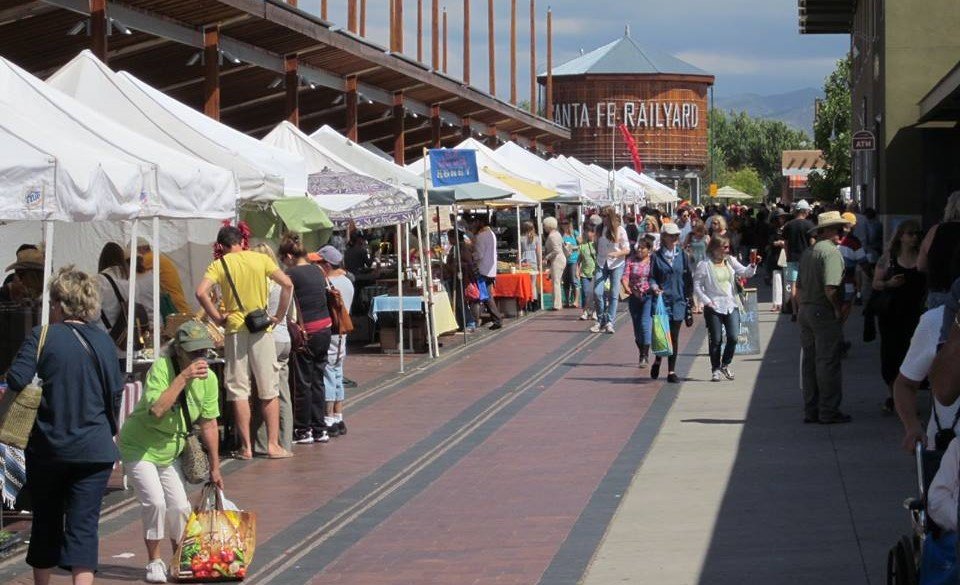 It is the biggest in the state and is open all year round. So locals and tourists can shop for the best local food. Here you will also find Railyard Artisan Market.
It offers a variety of goods including ceramics, jewelry, and musical instruments. All products are produced by artisans in New Mexico. Even a vineyard, gift store, and cafe are located there.
18. Walk through Santa Fe River Park Trail:
In the center of the bustling downtown Santa Fe, there is a magnificent stretch of shaded and greeny walkways along the Santa Fe River.
Get outside and stroll through the Santa Fe River Park Trail's surroundings. Nearly 10 miles of the park and trail network follow the river. Occasionally, the riverbed dries up, serving as a reminder that you are in a desert.
The park features artwork and picnic tables, and the easily accessible route gives interesting viewpoints of the city to discover with loved ones, friends, or your four-legged buddy.
19. Check out the New Mexico State Capitol:
The 232,000-square-foot edifice boasts a 60-foot central rotunda and is the only spherical capital building in the nation.
The capitol is interesting to visit for reasons of art beyond its unusual architecture. Nearly 600 pieces of art, including paintings, sculptures, photographs, and more, are included in its collection, which is overseen by the Capitol Art Foundation.
In addition, the fourth-floor Governor's Gallery functions as a division of the New Mexico Museum of Art and organizes a number of special exhibitions every year. On the 6 1/2-acre property surrounded with the building, there are more than 100 different kinds of native plants.
20. Swim at the Elephant Butte:
Many people travel great distances from all over the state to spend a day at the Elephant Butte Reservoir, which is a popular recreation area for the locals.
The reservoir is located in a flat region, which means there isn't much shade and amazing views all the way to the horizon. So you might want to bring a tent or umbrella on hot summer days.
The beaches at Elephant Butte Reservoir provide visitors a chance to sit and take in the scenery for hours. In addition to being located in New Mexico's largest state park, the reservoir offers a wide range of additional activities, including hiking, biking, boating, fishing, and more.
Santa Fe is a fantastic destination for tourism and recreation. You are surrounded by a variety of fascinating characters and epic tales, many of which go back centuries when you are here. You can find enjoyment just by strolling around, admiring the beautiful architecture, and exploring the hip boutiques and art galleries. Make a trip to Santa Fe without any further delay. If you check an events calendar, this weekend probably has some interesting events.