The iconic Las Vegas Strip is an ideal place for you, if you are planning to visit Las Vegas with family. Why is Las Vegas so popular? Most tourists along with their family heading to Las Vegas for excursion and entertainment, will want to stay at one of the family hotels in Las Vegas Strip. It is the vibrant city's main venue, where luxury resorts and hotels like Wynn Las Vegas, Paris Las Vegas hotel and casino and Sahara Las Vegas are all located. The amazing facilities and luxurious accommodations attract the eyes with a relaxing environment.
Besides, there are more lodging options in the areas of the Strip, which are more affordable and family friendly. Moreover, you will find most top pet friendly hotels in Las Vegas. Check out our list of hotels below, which includes hotels in all price ranges:
1.Wynn Las Vegas: $367
This hotel continues to provide amazingly luxurious experience for all guests staying here. It has one of the best family suites in Las Vegas.
The least expensive rooms here also provide amazing facilities to the customers. The rooms called "The Tower suites" are the most facilitated among all other suites in the hotel. One of the main facilities in these suites is that the guests who'll stay here, will have their own separate pools with their rooms. Tourists often guess, Is Las Vegas dangerous for tourists? No, Wynn will provide you an elegant and safe environment.
The hotel is famous for its 10 different fine dining options and 11 casual dining spots all on property. This hotel provides you Gym and spa facilities also.There are several restaurants near the hotel which is only 3 or 4 mins walk away.
2. Encore at Wynn Las Vegas: $353
This hotel is near to the airport, which is convenient for tourists. Travelers who are interested in shopping can visit Fashion Show Mall and Las Vegas Premium Outlet North.
It is a perfect place to stay in Las Vegas for family of 5 people. It also has one of the large family suites in Las Vegas.The hotel provides you with pool service, spa, gym and personal restaurant. You can visit the Venetian Casino and High Roller which are 11 min and 19 mins walk away from the hotel. ANDREA's, Wazuzu, Jardin etc are some of the popular restaurants near the hotel. So, it can surely be said that it is one of the best family hotels in Las Vegas Strip.
3. Paris Las Vegas Hotel and Casino: $149
One of the best family hotels for family is the Paris Las Vegas Hotel and Casino.
Here, you are transported to the City of Lights with the same passion and ambiance of Europe's most romantic cities. It is a perfect place for a weekend getaway or a family vacation.
There is a pool where you can enjoy your day and also relax on a poolside daybed. It is a pet friendly hotel, so you can bring your pets and stay in one of the best pet friendly hotels in Las Vegas. Moreover, there is access to fitness centre, spa, salon and self-parking service. Nearby restaurants include the Henry, Scarpetta, Secret Pizza etc.
4. Sahara Las Vegas: $59
If you are travelling with kids, then this hotel can be your destination to stay. It is the most kid- friendly hotel in Las Vegas. Alongside, this hotel retains a homely feeling in terms of comfort and style.
You will forget, what is the bad side of Las Vegas? The hotel has pool and spa at your fingertips and room services are also provided. The Cosmopolitan Casino and Mob Museum are cultural highlights near the hotel.
You will find a relaxing and enjoyable environment in Sahara hotel. Moreover, services like free Wi-Fi parking and air-conditioning room are provided. You will find Golden Steer Steak house, Fellini's, Cleo and many restaurants are 10-12 mins walking distance from the hotel.
5. Polo Towers by Diamond Resorts: $98
It is a popular hotel with an outdoor pool. Wi-Fi in public areas in free. Additionally, parking service and a children's pool are present.
Each room feature a kitchenette with refrigerator and microwave. A balcony is also there for you to enjoy the sun and peaceful breeze. Limited house-keeping is available here. No pets are allowed in the hotel premises though.
Bathrooms include free toiletries. Laundry facilities are providing to the guests. Restaurants like Rainforest Café, Pbr grill are present near the hotel.
6. Flamingo Las Vegas Hotel and Casino: $109
This hotel is a great vibe, as there is a comfy large bed in each room. Moreover, the hotel offers a flat screen TV, air conditioning and a refrigerator providing exceptional comfort and convenience.
Along with a full-service spa and a refreshing pool, this resort has a casino and a restaurant. Wi-Fi in public areas is free. Additionally, 2 poolside bars, 5 lounges and a health club are onsite. House-keeping is available on request.
Free breakfast is offered on a daily basis from 6AM-11AM. You can find restaurants near the hotel like Giada, Joe's seafood, Nobu and many that are only 3-4 mins walk away from hotel.
7. Circus Circus Hotel, Casino and Theme Park: $63
Along with 5 indoor restaurants, this resort has 2 outdoor pools and a casino. Self-parking is provided.
Other amenities include bars, fitness centre, ravishing pool and much more. Wi-fi is available in all rooms. Buffet breakfast is available free on daily basis; $20-30 for adults and $14-20 for children.
There are concerts and live shows held that you can enjoy with your family. Restaurants like the Barrymore, Sinatra, ANDREA's are close to the hotel. The hotel combines stylish, modern accommodations and thoughtful amenities to help you make the most of your stay.
8. Harrah's Las Vegas Hotel and Casino: $71
Free Wi-Fi, free breakfast, a relaxing outdoor pool and cosy modern rooms are just a few of the features that make guests feel welcome and well rested during their visit to the hotel.
The hotel rooms come with air-conditioning, daily housekeeping and much more. For extra pampering, guests may also opt for room service and in-room massage. The hotel is known for its luxurious spa and ayurvedic treatments.
Spa-style pool is also present. guests may choose from Ruth's Chris Steakhouse, Oyster bar and Flavours Buffet for a tasty dinner. You will also find Starbucks, as well as Ben and Jerry's ice cream shop in the hotel. So undoubtedly, this hotel is a great choice for you, if you want to experience a gateway into the amazing lifestyle of sin city.
9. LUXOR: $65
The pyramid at Luxor in Las Vegas, with its beam of light, provides embellishment on the glamorous Las Vegas Strip.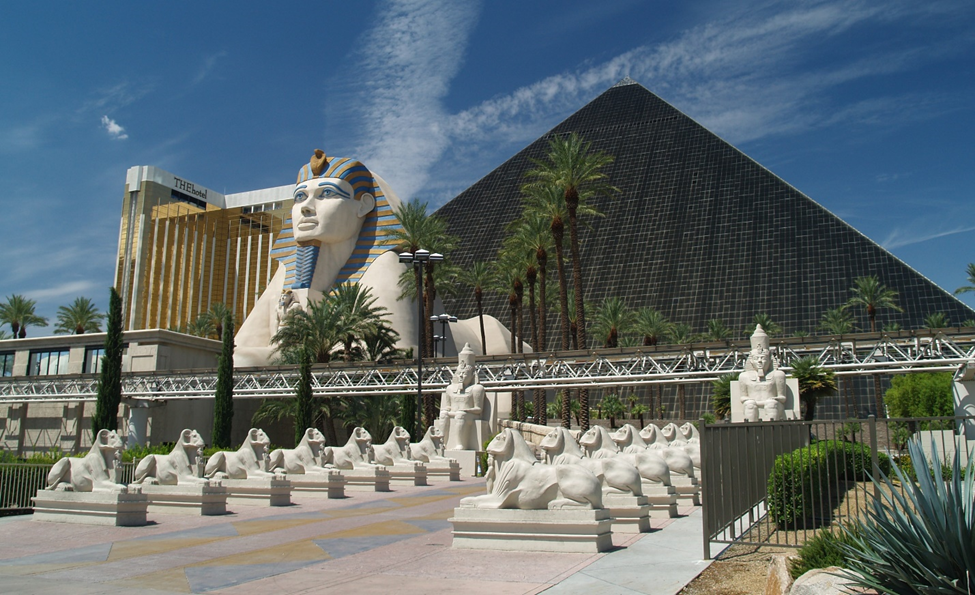 The resort has valet parking along with a pool, gym, and bar. You can visit the Mac King Comedy Magic Show, Carrot top, House of Blues, and Titanic; The Artifact Exhibition is seen if you stay in the hotel.
The rooms are air-conditioned with a flat-screen TV, desk, and a walk-in shower. Room services are provided in need. Nearby restaurants include Ri Ra, Skyfall Lounge, Rivera, etc.The hotel also has plenty of food and beverage options.
10. Longhorn Casino and Hotel: $85
This is a smoke-free hotel that has an outdoor pool along with a casino. Self-parking is free.
All the rooms are provided with free Wi-Fi, refrigerators and flat-screen TVs with cable channels. Free local calls are also available. Housekeeping is available on request. Nearby attractions like Sam's Town, Las Vegas Convention Centre, Sunset Station Casino and Sunset parks are 8-10 mins drive away.
If you want to dine in with good food close to the hotel, you can choose restaurants like Snaps, Firelight Buffet, TGI Fridays, and Del Taco which are 8-12 mins walk away from the hotel.
As you go through our list of hotels, you can easily choose a perfect hotel according to your preference by taking into account the amenities, reputation, and budget. Las Vegas Strip is a place that you will never regret visiting. So find a hotel of your choice and give it a go.