If your next retreat involves sailing through a harbor-side city, make reservations at any of the hotels in Auckland right away. Receive the finest of services and have your stay enhanced by your pick. Vast arrays of hotels pepper across the City of Sails, and each cater to all styles and budgets of visitors. With a variety of unlimited things to do in Auckland, it's best to choose a hotel closest to the city center. Hotels around Viaduct and Waitematā are especially suitable as both boast incredible wonders to delve in, if not Auckland beaches. Fun fact: there are also quite a few free things to do in Auckland, too. If picked the right one, you might even discover some from the windows of your hotel room. And to help you make the right decision, here's our hand-picked list of 14 best hotels for a worth-while trip.
Hotels with Harbor View in Auckland :
Auckland boasts its two harbors – the Manukau and the Waitematā. The hotels lined through these harbors provide with impeccable views of the city. Hence are very popular amongst tourists. Here are the top 2 hotels which you might love to spend a few nights in.
1. The Sebel Auckland Viaduct Harbor :
If you are looking forward to staying in Auckland central, then the Sebel Auckland Viaduct Harbor is a perfect option. It not only brings the best of Auckland to you, but also treats you with a much pampered stay. With amenities like air conditioning, refrigerators, free Wi-Fi, you are assured off all your needs.
After a long day of travelling, you can relax in the balconies while watching the panoramic views of the Viaduct Harbor. While the sunset will restrain you from blinking, the nightfall will make you applaud the glowing harbors.
As you'll be right on the Auckland CBD, you will have a lot of places to travel. You can take a walk down the harbor bridge or you can visit the Coast-to-coast walkway. Visit the sky tower, Queen Street and Ponsonby, and relish in the jovial ambience. Do remember to devour some delicious Asian cuisines in the nearby restaurants. You'll end up returning for seconds.
2. Haka Hotel Suites :
Haka Hotel Suites promises to deliver the finest stay, while standing proudly in the most vibrant central district of Auckland. Designed for people looking for affordable luxury, this hotel is set to assure their visitors' continued returns. The rooms are carefully furnished for you to relax and cater to scenic harbor views.
Relax in the amazing suites of this hotel which consists of a flat-screen TV with a streaming device, seating area and balcony. You can also while away cooking in the en-suit kitchen which is equipped with a microwave, toaster and kettle.
To have a delightful ending to your day, have dinner at Auckland's most famous eateries that are in proximity of this hotel. Haka claims to maximize your experience of this wonderland city. With all the amazing features, unparalleled location and stunning views, they have rightfully earned so.
5-Star hotels in Auckland :
Choosing from a wide array of 5-star luxury accommodation in Auckland can be a troublesome. So here is a list of the best 5-star hotels that stand out from the rest.
1. The Grand by SkyCity :
Located in the centre of Auckland CBD, the Grand by the skycity is a highly appreciated 5-star hotel located below skycity tower. Being in the heart of the business district, you would expect top notch professional service and the Grand will surely not disappoint. Sky city Grand Hotel is a gorgeous 5 star hotel which is a different structure across a path, additionally associated with sky city Tower by an air bridge.
The Grand by the skycity hotel comprises a 24-hour Casino and Orbit 360° Dining, which rotates every hour, at the top of the skycity tower. The fully equipped fitness centre has a heated lap pool and is free for all guests. There's also a Sauna and a Spa pool for you to exult in. Each room is equipped with flat-screen TVs with in-house movies and you can enjoy free Wi-Fi in your rooms. For a delicious Breakfast, swing by Gusto. The Grill by Sean Connolly, Depot and Bellota serve with award winning dining practices that are sure to please you.
Take a walk in Albert Park and enjoy the beauty of surroundings in New Zealand. One Tree Hill is located close to the hotel, too. Add the Auckland War Memorial Museum to your itinerary and you'll be thankful for it after your visit.
2. Park Hyatt Auckland :
Park Hyatt Auckland is a part of a multinational chain of hotels and resorts owned by Hyatt Hotels Corporation, which offers you an amazing 5-star experience in Auckland. Designed with traditional and tribal touches with a subtle modern effect, Park Hyatt Auckland introduces you to the heritage of New Zealand.
Overlooking the Waitematā Harbor, Park Hyatt Auckland offers you some truly charming scenarios that you'll have trouble forgetting for a long time. The waterfront location of this hotel will amaze you to the core. You can socialize and dine at their culinary spaces. They are purposefully designed so that guests can socialize and dine at the same time.

Take the day to explore the Viaduct Harbor, Auckland Fish Market, Silo Park, Coast-to-Coast Walkway and other captivating attractions. Back in the hotel awaits a relaxing treatment at the spa and warm water of the infinity pool.
3. QT Auckland :
A part of a chain by Rydges Hotels & Resorts, QT Auckland is in the heart of Viaduct Harbor and offers an exceptional 5-star experience. This hotel offers accommodation with a restaurant, private parking, bar and a fitness centre. Wi-Fi access, which facilitates computer works, is provided for all guests.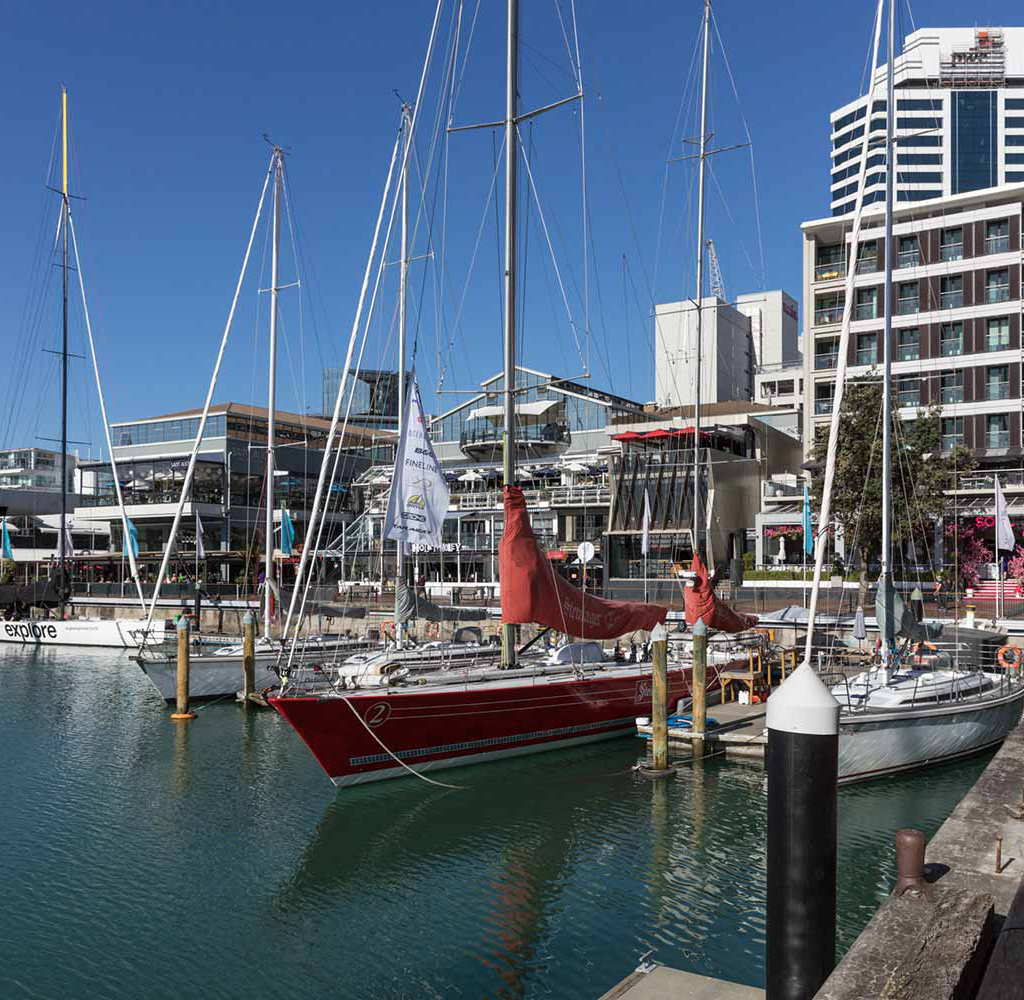 You get to enjoy all the amenities in your room starting from air conditioning, flat-screen TV to modern private bathrooms. Continental and à la carte breakfast are provided there for you to begin the day in bliss. Then climb to the terrace and soak some sun while admiring the magnificent harbor view at QT Auckland.
Visit the Sky tower, Viaduct Harbor and SkyCity Auckland Convention Centre that are located nearby.
Luxury Hotels in Auckland :
Many of you love to splurge on hotels for ensuring the best stay during your trip. Do not worry because we have got you covered. Here are two best luxury hotels in Auckland that will enrich your travel experience and offer you optimum luxury.
1. SkyCity Hotel Auckland :
SkyCIty Hotel Auckland provides first-class service to ensure supreme comfort and luxury to the guests. It has its location in the heart of Auckland CBD and so you will have no issue venturing through the city. Each room has all the features that one could ask for. Starting from minibar, to satellite TV and 24-hour room service, they have it all. With the city skyline views from the room, you will forever cherish your stay.
For the fun-lovers, this hotel is the perfect choice as there is a SkyCity Casino featuring spirited entertainment, a theatre and many restaurants.
With so many nearby attractions, your to-do list just cannot get exhausted. Pay a visit to the nearby Sky Tower which rises about 328m above sea-level and facilitates breathtaking 360-degree views from 3 observation levels. Also enjoy delicious international cuisine buffet breakfast on Level 3 every morning.
2. Aristotle's North Shore :
Wairau Valley, the valley of the Wairau River in Marlborough, is where Aristotle North Shore is located. Just this location is enough to attract the tourists, but there is more that this hotel offers. Aristotle's North Shore provides an ideal blend of comfort and convenience. It has the best family-friendly setting and is an amazing choice for the ones traveling with families.
You can enjoy swimming with the scenic views of the Wairau valley. If you are hungry, the Harimgak Restaurant and Aki sushi, popular among locals and outsiders, will come to rescue.
Pay a visit to the famous attractions like Branch River, Raglan Range, Argyle pond when in this hotel. As you get to experience all the attractions that Wairau Valley offers, you'll surely love your stay at this hotel.
4 Star Hotels in Auckland :
In 4-star hotels you can expect upscale furnishings, luxury bedding and many other attractive amenities. We have chosen two 4-star hotels from the list of top hotels in Auckland that won't disappoint you.
1. Auckland Harbor Suites :
Perfect for leisure and business travelers, Auckland Harbor Suites brags expansive views of the Waitemata Harbor and Auckland City. You can indulge in the top-notch 4-star self- serviced accommodation here at any of the 150 rooms.
Don't forget to cut down the extra calories by making full use of the onsite gymnasium. If you are feeling too fatigued, resort to the heated outdoor pool.
Wander around Viaduct Harbor and you will find a plethora of famous restaurants and bars. Also pay a visit to the Fort and Gore streets to add more to your knowledge about New Zealand.
2. Heritage Auckland, a Heritage Hotel :
The stylish accommodation arranged with many amenities at Heritage Auckland will leave you praising. With 2 fitness centers, you will not have to worry about gaining extra weight during your travel.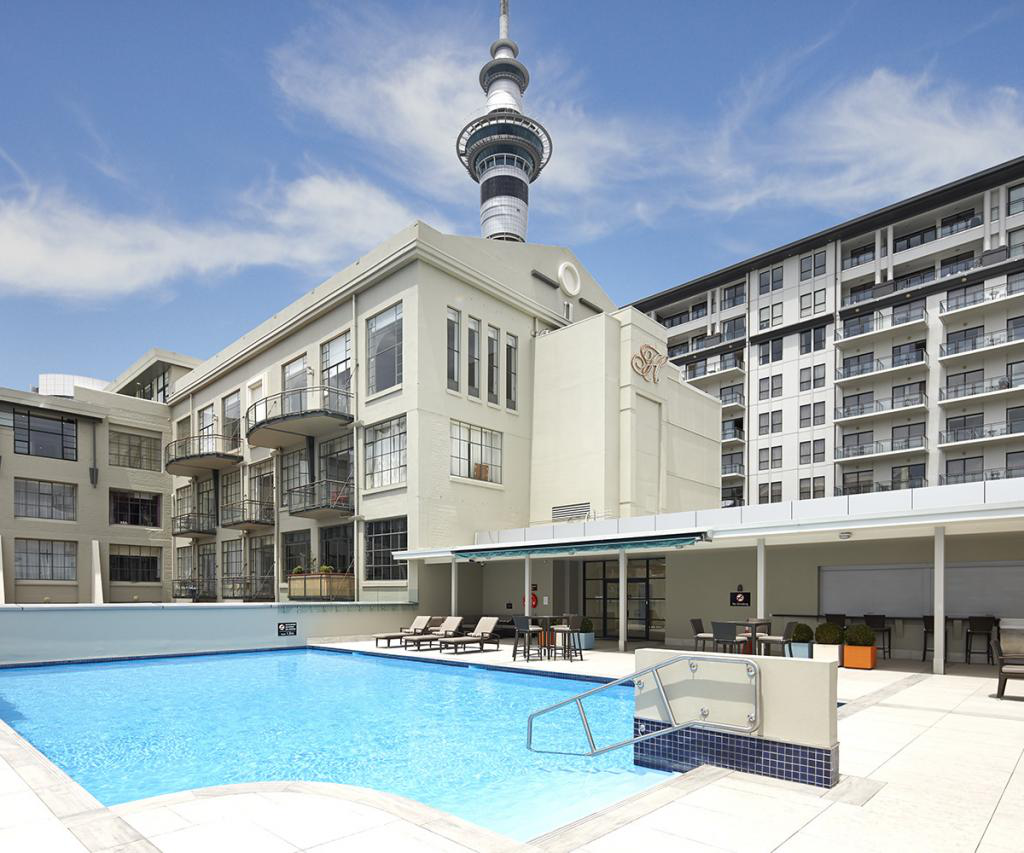 Do not miss out on swimming pools that the Heritage Auckland offers. Located in Auckland CBD, you will be at the perfect location if you are travelling for business or leisure purposes.
Roam around the Viaduct harbor and Queen Street during the day and delve in all the pleasures. The sky tower nearby will also leave you awestruck.
Budget hotels in Auckland :
If you are looking for budget friendly accommodation then you can choose one of the following hotels –
1. President Hotel Auckland :
One of the most popular and fashionable hotels in Auckland CBD, President Hotel welcomes you to take pleasure in their spacious accommodation, exceptionally furnished rooms and other wondrous amenities.
Located only 100m away from the famous Sky Tower, guests love their stay at this hotel. You can workout at the fitness room and even conduct meetings at this hotel as they offer fully equipped meeting facilities.
Have a fulfilling buffet breakfast in the Watergate Restaurant; it serves an à la carte menu each morning. Roam around the nearby Queen Street and you will find numerous eateries, shops and other attractions to explore.
2. Ibis Budget Auckland Central :
With a prime location in Auckland CBD, Ibis Budget Auckland Central provides its guests an opulent experience and that too within budget. Ibis Budget Auckland Central aims at making you feel at home with their exceptional services. The rooms are fully furnished with all the necessary amenities and are serviced daily.
With a 24-hour front desk ready to serve at any time to its guests. To make your visit even more pleasant, Ibis Budget ensures all the amenities that you may need.
When you are here, do not miss out on the wine bars and wine chambers which are at a short distance. This hotel also puts many popular tourist attractions like Queen Street, Sky Tower and Auckland museum at your fingertips.
3. Grand Central Serviced Apartments :
The stunning interiors of Grand Central Serviced Apartments will charm you at the very first glance.
This hotel is a heritage building that has its entry through historic grand lobbies. You can relax in the comfortable rooms which come along with a kitchenette, free toiletries, flat-screen TV, minibar and free Wi Fi.
Take a look at the life of university students of New Zealand by visiting The University of Auckland nearby. Sky Tower, Princess Wharf, Queen St-all are at an easy access from here also.
Cheap Hotels in Auckland :
It is no lie that hotels can cost a lot. And many prefer to spend less in accommodation and more in other arenas while traveling. So here are two best cheap hotels that we could find for you.
1. Kiwi International Hotel :
Offering a very low price point and wondrous location, Kiwi International Hotel is perfect for you if you're not willing to spend a lot on accommodation. Kiwi has its home right at the heart of Auckland city and caters quality, affordable lodging to its guests.
You will get the rooms here clean and fully serviced. If you visit Auckland in the winter season, turn on the heating facilities and warm up. You can also complete all your pending work in the provided desk.
At night, go and visit the theatres and nightclubs nearby to take in the nightlife thrills of Auckland. As you will be close to all the popular restaurants, bars, transport stops and entertainment areas, you'll be in for a treat.
2. Fort Street Accommodation :
The guests keep coming back to this hotel due to the fantastic location and quality service of Fort Street Accommodation. Set up in a pleasing historic building in downtown Auckland, this hotel has amazing service at an extremely low rate.
For the solo female travelers, there are some female-only dorms alongside mixed and private ones. The crew is always there to help you if you need anything.
Order a free tea anytime you want, relax at the sauna or release all your stress by bathing in the hot tub of this hotel. You can even cook at the rooftop kitchen overlooking the views of the city and harbor.
Grab your backpack and walk a few steps to explore Spark Arena, Sky Tower and Viaduct Harbor. You can also use the Britomart Train Station which is located just around the corner.
New Zealand's biggest city, Auckland, is blessed with a lot of stunning landscapes, soothing beaches and natural resources. Explore these and you will be left craving to visit Auckland further. Make your trip even more pleasant by choosing a hotel from the given hotel list. Rest assured you will make the best of your Auckland trip by doing so.