Old Forge Camping Resort is nestled in the heart of Old Forge in New York. It's not only a resort that's adorned amidst nature, but it also ensures all kinds of comfort. It has features ready to suffice all of your needs.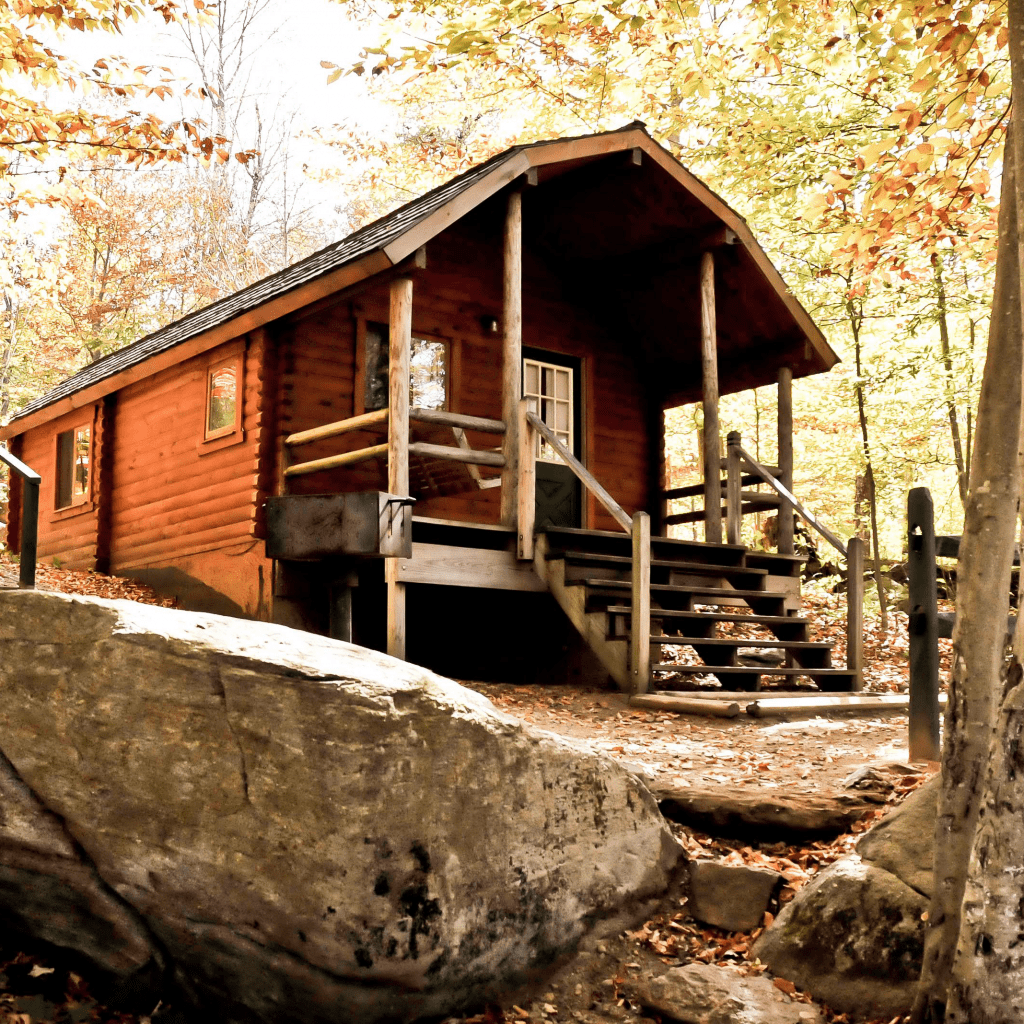 It makes your experience more exciting while in Old Forge for a fun-filled adventure. If you want to go camping, which is marked as one of the best things to do in New York, begin here at the camp spots of Old Forge. Old Forge is embellished by its ambience in a way, so that guests can enjoy their stay out in the open and peaceful environment while being engulfed by nature. This camping resort ensures that your vacation at one of the best small towns in New York will be undoubtedly a memorable one.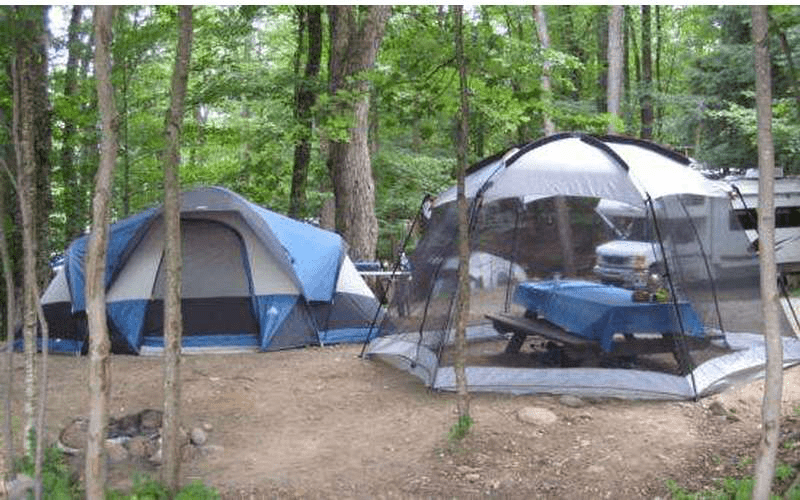 Location:
Old Forge Camping Resort has earned its fame among the best Old forge hotels. Just half-mile away from the center of Old Forge, it will be easy to find its location with the help of a GPS. Moreover, it stands close to the captivating Forest Water Safari and Calypso's Cove. It makes sure that your family's entertainment is not only central to the campground, but also to the many popular sights nearby.
What's there to enjoy?
This resort is full of scenic campsites, along with a beautiful private lake to go canoeing at. Additionally, to celebrate with snow in the winters of February, campers provided with ski boards and other necessary equipment present in the camp stores nearby.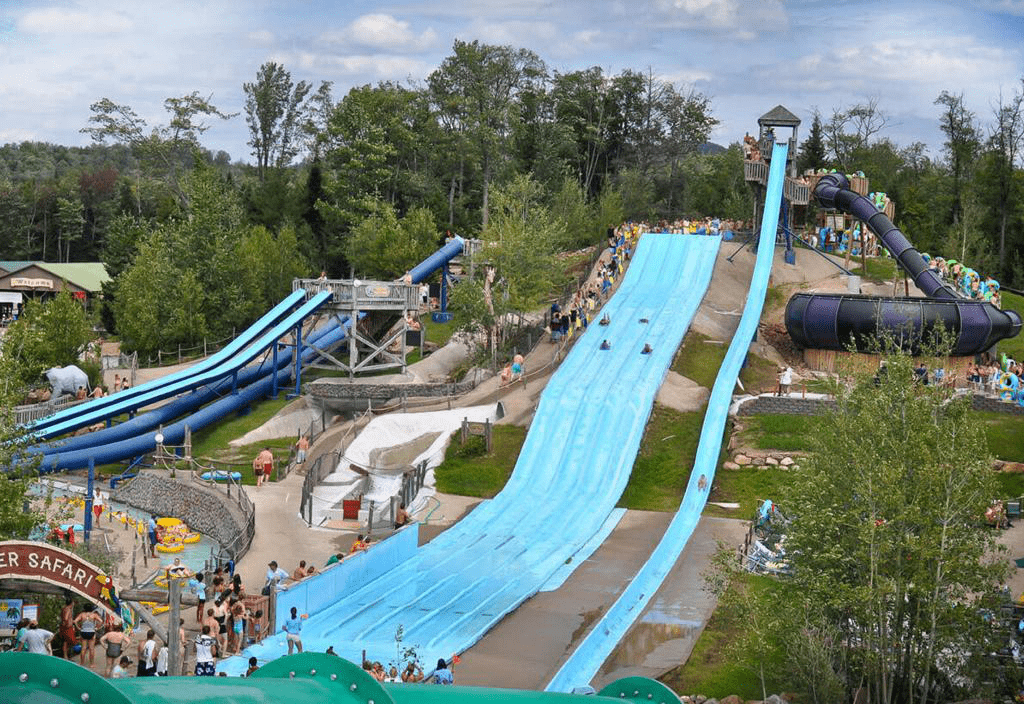 Campers often enjoy visiting Forest Water Safari during summer, thus the resort offers shuttle bus services for free. However, if you just want to stroll through nature, remember to take the walking trail.
The best part about this resort is the sight of adorable bear cubs moving freely on the campgrounds. You'll find this truly amusing and heart-warming. The experiences you'll be rewarded with here are unlike anything you'd want to miss.
Amenities they provide :
Old Forge Camping Resort provides comparatively cheaper camping rates for their 130-acres land during summer. You'll find all your necessities in their camp stores, starting from souvenirs, tents to even small groceries items and snacks for your convenience.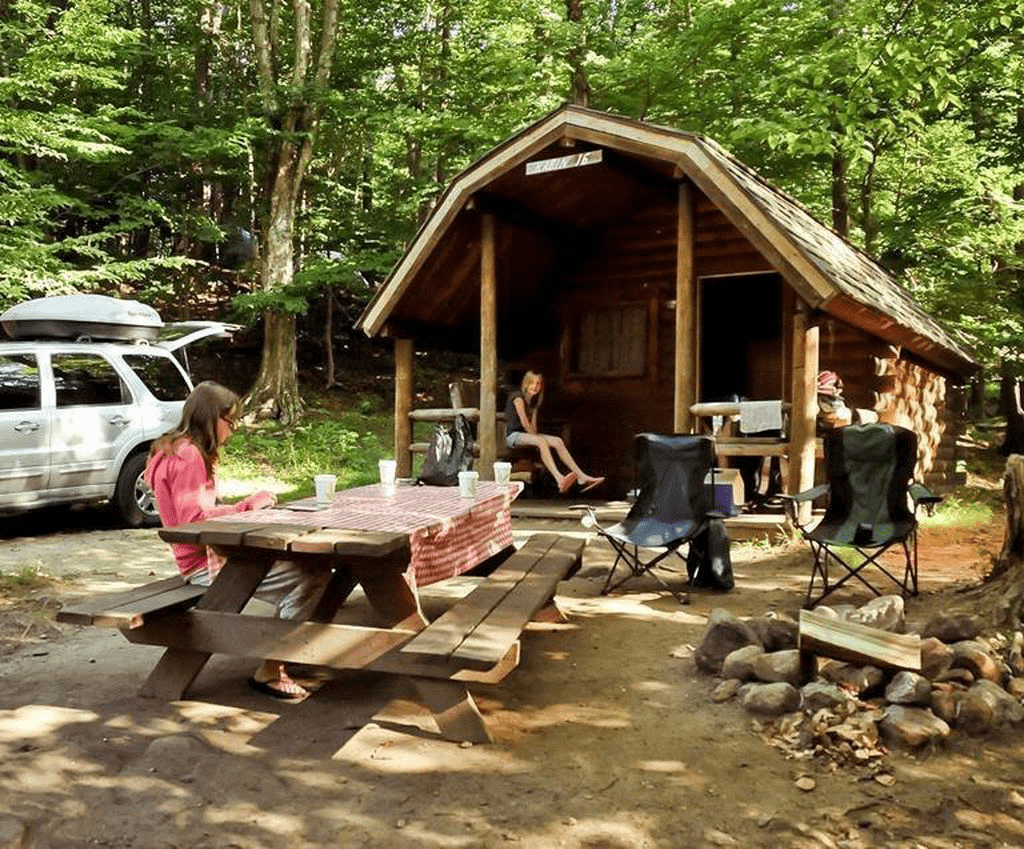 Located in the main Lodge building, at Camper's Café you can enjoy incredibly delicious breakfasts, and relax while taking in the spectacular surrounding views. If you intend on making food by yourself for the utmost camping thrills, you can use their camping kitchens. They perfectly equipped with four burners, a gas stovetop, and a sink.
And guess what? Guests allowed here to bring their pets. Even more, they will get free parking slots, as well as services of a filling station for optimum convenience.
A Variety of Accommodation:
Among several types of accommodations, cottage rental is one that consists of a double bed and single bunk.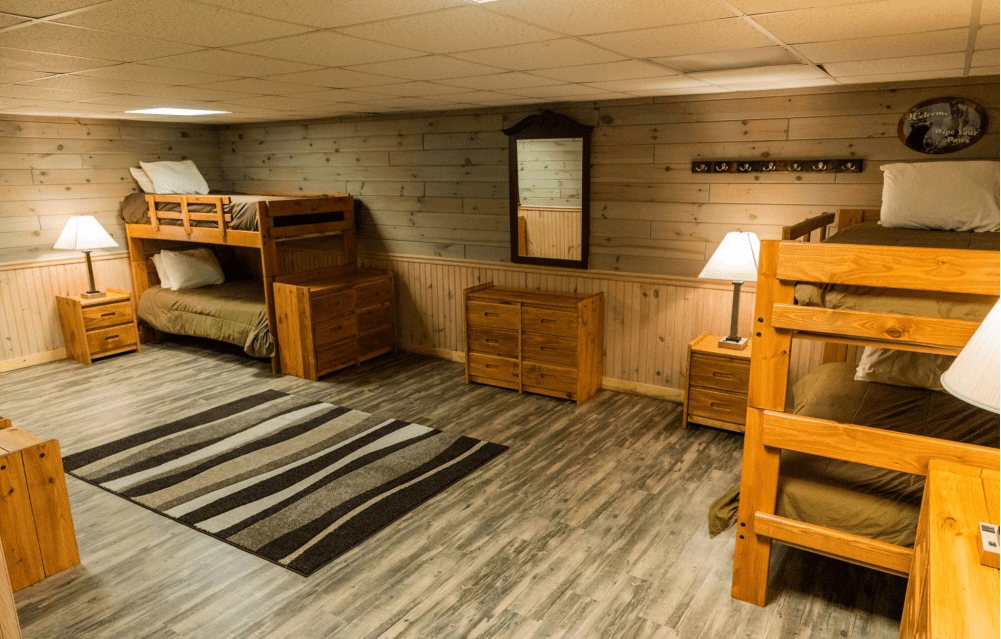 With a kitchenette equipped with microwave, propane stovetop, small refrigerator, sink, dining table & 6 chairs and a bathroom with shower, cottages overall designed for a very comfortable stay. You can also choose log cabins, which consist of double beds and single bunks with an overhead light, heaters, and a utility table.
Furthermore, at their RV camping sites, they have limited numbers of pull-through water and electric sites. So make sure to reserve one for yourself, if you're planning on bringing your own RV.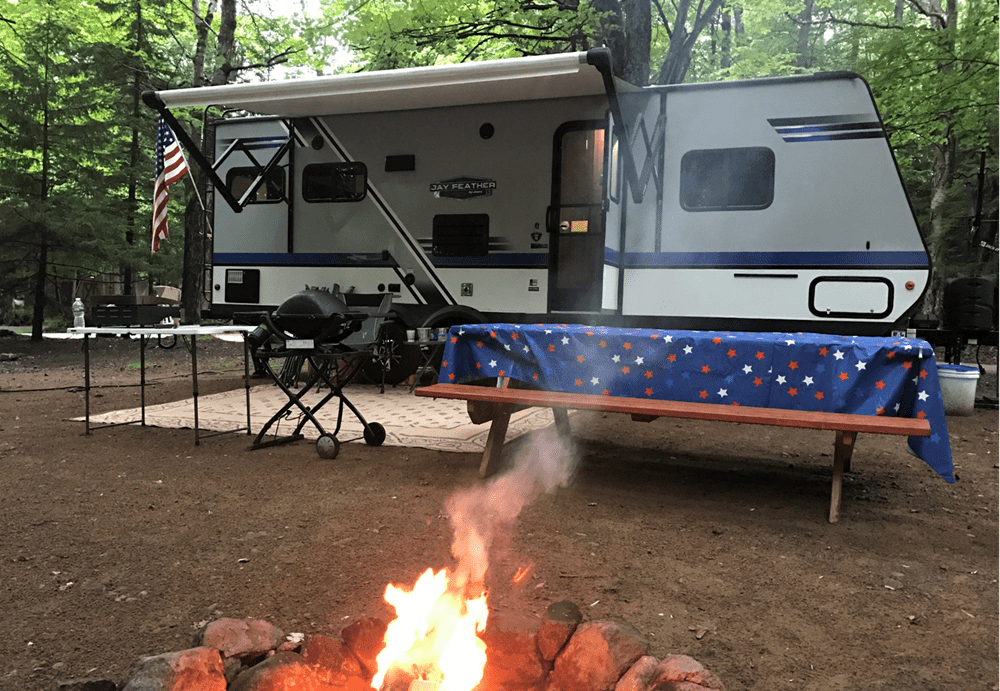 They also offer honey wagon service with a dump station, available for customers at no extra charges. This lavish living quarter can easily house 12 people at once. It has two full bathrooms along with a tub, and a full set of kitchenware. At Lake Serene, you can soak in some picturesque sceneries.
Nevertheless, enjoy picnic tables, fire circle, heated restrooms, and shower facilities, all for a decent price. That makes everything even more alluring. Fun fact: They provide discount codes every once a while, so grab one when you can.
Outdoor Facilities :
All the outdoor facilities that this camping resort provides are quite up to the mark, to say the least.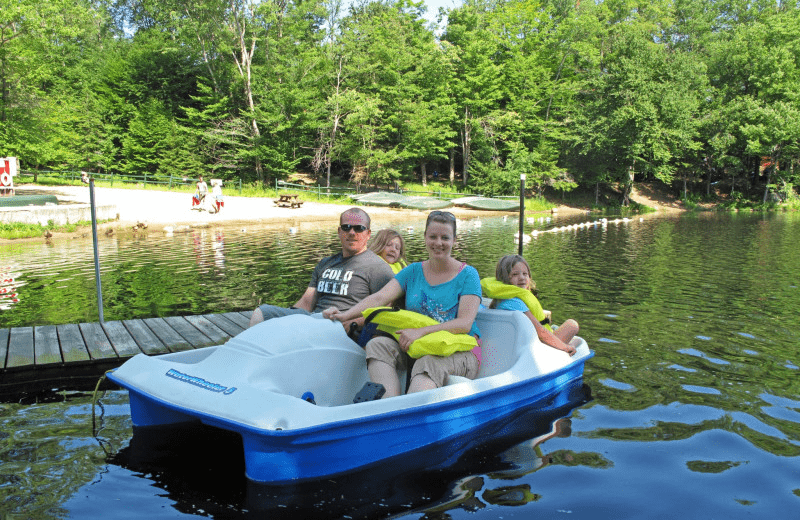 To ensure having a pleasant stay at every season, Old Forge Camping Resort has the best arrangements for exciting outdoor activities. Needless to say, they provide free trips to the Enchanted Forest Water Safari, Calypso's Cove, the Bald Mountain and many more sites of attraction via Shuttle Bus.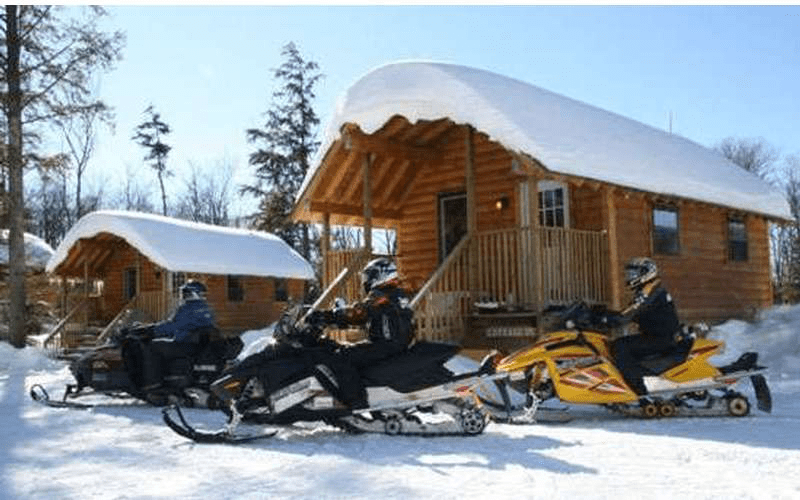 Feel free to use the public restrooms and showers, as well as the public kitchens outside the restroom and shower facilities. During the snowy season, visitors can even rent snowmobiles and fuel them up anytime for free from the filling station. No matter what the season, you are sure to rejoice in an infinite amount of entertainment. These will give you memories that you'll treasure for a very long time.
Surrounding View :
Old Forge Camping Resort situated in Old Forge, is located in one of the best New York cities for travel. You'll be blessed by the gorgeous and mesmerizing sights of nature.
This place displays the most stunning fall foliage than anywhere else in NY, especially during the fall season. The resort surrounded by a series of red, orange, and yellow trees, as well as incredibly magnificent mountains and hills of Adirondack.
More importantly, when you step out from your lodge, you'll be dazed by the tranquility and perfect transparency of the Lake Serene. You could explore hundreds of miles of snowmobile trails, ski slopes, mountains and hiking paths. And each step will only take your breath away. This truly is a paradise!
So, visit this excellent camping resort at Old Forge, NY to delve into a wondrous vacation. And indulge yourself in the peaceful ambiance of the surrounding Adirondack mountains. Enjoy fully the amenities that they offer. And know that Old Forge Camping Resort will warmly welcome you with utmost hospitality and sincerity. No doubt!