When you hear 'Las Vegas', you may imagine casinos, expensive restaurants and losing lots of money. But that's not actually totally true. You can also enjoy Las Vegas events at affordable price!
The question might arise in your mind why is Las Vegas so popular? And the answer is, there are innumerable enjoyable and exciting things to do in Las Vegas. By checking off the items on our list, you can save some money and still have a great time finding the best things to do in Downtown Las Vegas.
1.Bus Trip in Downtown:
This will cost you only $8 for roaming in city downtown for 24 hours a day, which is one of the cheap things to do in Vegas. Spend the whole day enjoying the Las Vegas on the hop-on hop-off bus tour. It will travel you down through Downtown Las Vegas and Las Vegas Strip; enjoying the enchanting views from the open top bus. Furthermore, you can get off at any stop along the route and enjoy shopping, restaurants and much more. This trip is one of the cheap things to do in Vegas for couples.
2.Big Bus Las Vegas Open Top Night Tour:
Among the cheap things to do in Vegas at night, Big Bus tour is notable. People often think, is Las Vegas dangerous for tourists? You can tour freely at night.
Sitting on an open top bus, you can enjoy the top Las Vegas sights dazzled by lights. The duration is about 2-3 hours costing only $44.99. Along with a breezy seat with an open upper deck, you can snap great photos and pass the most luxurious hotels in the city. The tour ends at the original departure point, where you can continue to explore Las Vegas by yourself.
3.Emerald Cave Kayak Tour:
This may cost you about $115. You will be able to experience the beauty of Emerald Cave along with the natural beauty on the Colorado river.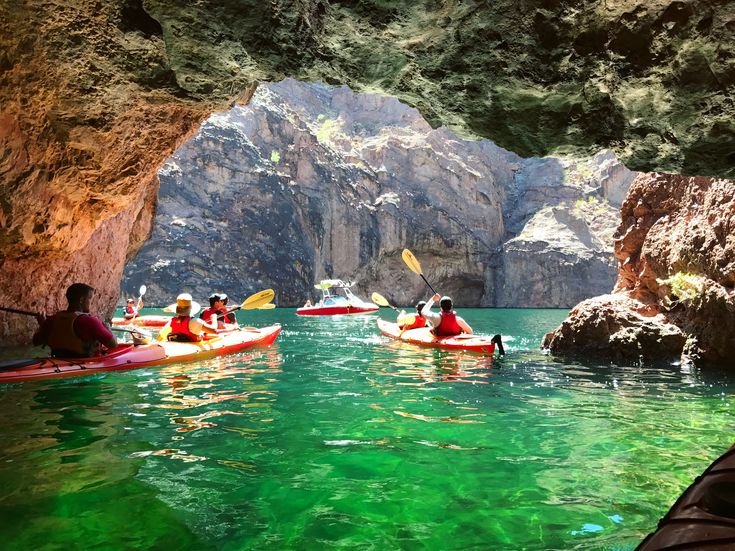 This tour takes maximum 15 people along with a guide. You can stop for snacks and swimming along the way. So, it is surely one of thecheap things to do in Las Vegas with family. Round-trip to hotel by transport is also provided there.
4.Zip Line in Las Vegas:
The zip line is 500 feet high and considered as no.1 thrill in Vegas. It is one of the most thrilling things to do in Las Vegas which costs from $25 about $45. If you're a thrill lover, the ticket is for you. You can travel over 1000 feet and reach speeds up to 35 m/h. Moreover, if you really want to enjoy the ride, you have to choose the suitable position and feel the unforgettable ride.
5.The High Roller at LINQ Ticket:
If you are trying to find free or cheap things to do in Las Vegas Nevada, the High Roller at Nevada is your place. The price starts from $28.12. it is about 550 feet tall.
You can choose day or night rides to watch the amazing view of Nevada. Wherever you have travelled throughout the world, this ride over the Las Vegas skyline won't leave you disappointed. The 30 minutes revolutions on the High Roller have alsoadded audio commentary as its newest attraction.
6. Shark Reef at Mandalay Bay Hotel and Casino:
If you want to enjoy some of the world's most fascinating creatures, this is your place. For only $20.52, you can come face to face with animals like giant rays, endangered green sea-turtles, piranha, jelly fish, rare golden crocodiles and sharks. More than 100 sharks are present here. There are two underwater tunnels. It is one of the world's largest exhibits of uniquely preserved sea creatures.
Make your trip affordable and memorable with our list. There are many other things that are cheap and enjoyable in Las Vegas. Choose them and give it a go too.