Have fun in the sun in the sunshine state of the world – Florida, one of the most beautiful cities in the world! From basking in the sun to camping in the wilds, and exploring all the cultural highlights, your itinerary won't end. To plan a vacation in Florida for 7 days only will not be easy. Crafted below is list of some of the top most favorite additions to every Florida-lover's travel plan. Add them to yours, too, and be prepared to have an awesome vacation.
1.Orlando:
Being one of the largest cities in Florida definitely comes with its own perks.
Haven of theme parks, Orlando is a must-visit for any and all travelers. Walt Disney World, Universal Studios and SeaWorld are undoubtedly the major highlights. Book a 2-night stay at a hotel for thoroughly exploring the city. Or take a daylong road trip through the city to stop by each unique attraction. Either way, you'll love it!
Top 5 Reasons to Visit Orlando
2. Kennedy Space Centre:
Spending a few hours at NASA's world-famous Kennedy Space Center with family and friends, is one of the top things to do in Florida.
There's an infinite amount of things to learn from all the exciting exhibits and displays about America's space programs at this wonderful Visitor Complex. If you're in hunt for knowledge, do stop by.
3. Miami:
Nothing tops Miami when considering both the most enthralling city and the best beaches in Florida.
Spend at least 2 to 3 days amid the artsy architecture and blissful sandy beaches to have a memorable holiday. Simply wandering around the vibrant neighborhoods. Such as Art Deco District and Little Havana, is delightful in itself. Include sun lounging, seafood dining and culture exploring in your plans and you'll never want to leave.
Best Recommended Downtown Miami
4. South Beach:
South Beach is yet another of the best beaches in Florida.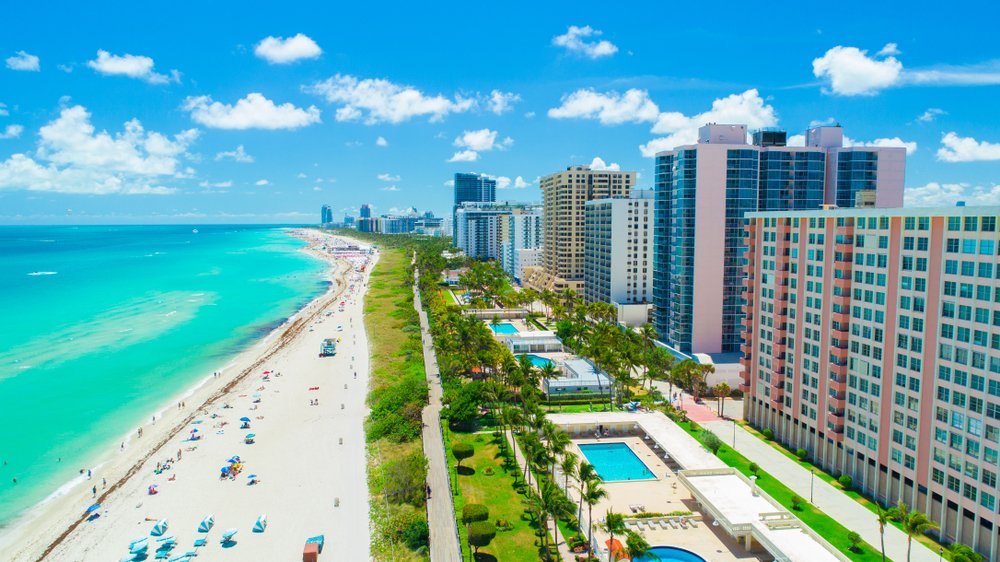 Soaking up some sun in this charming beach is every local and visitor's common favorite. The strip along Ocean Drive is especially a classic and the nightlife is ever alluring. No matter how long you spend here, it'll never be enough.
5. Tampa:
Tampa, one of the most fun places in Florida for adults on the west coast, has lots to offer all nature enthusiasts.
The Busch Gardens, the Tampa Zoo at Lowry Park, and the Tampa Aquarium are among Tampa's most popular attractions. Leave a daylong slot empty to visit this marvelous city, so you can enjoy kayaking or canoeing trips down the Little Manatee River. Moreover, you can spend a nice afternoon discovering the historic attractions of Ybor City, and so much more.
6. Destin:
Destin has the most optimal weather condition year round, and visitors can thus enjoy amazing sightseeing excursions very easily.
Have a trip through the wildlife at the Gulfarium Marine Adventure Park, where you can interact with incredible creatures like dolphins, stingrays, turtles, and alligators. Additionally, the beaches here are a given, and Henderson Beach State Park knows exactly how to serve its guests right.
7. Everglades:
Featuring a plethora of ecosystems, the Everglades is ideally one of the best places to visit in Florida.
Spend a good two days amidst subtropical days and infinite tracts of marshes to take in all the pleasures of Florida's best natural treasures. Home to a diverse range of animals and ecosystems, Everglades is a must visit for every nature lover.
8. Clearwater:
Clearwater is one of the top places to visit in Florida with family. It provides travelers with a plethora of vacation options. Visit Clearwater Marine Aquarium and meet Winter, the star of the "Dolphin Tale" films. Additionally, animal contact programs, dolphin picture opportunities, and stingray feedings are all available at the aquarium.
9. Clearwater Beach:
If you're visiting the city for a short plan vacation in florida for 7 days time and are looking for a car-free, carefree existence, head to Clearwater Beach.
You can try various sorts of watersports while visiting, such as paddle boating and parasailing. Lastly, head to Pier 60 to end you day with watch the sunset in Clearwater.
Key West is an enthralling, vibrant, and completely unforgettable inhabited island of the Key West.
Its relaxed atmosphere, friendly folks, impressive buildings, and an influence cultural mix makes it one of best places in Florida for young adults to vacation. If you're spending a few days at Key West, do try to spare a day for Key West especially.
11. Dry Tortugas National Park:
After a couple of hours spent well in Key West, take a boat or seaplane to the stunning Dry Tortugas National Park.
This poetic park is full of singing birds and rustling breeze carry fresh salt water – ideally one of the best places to visit in Florida for nature lovers.
12. Siesta Key Beach:
Siesta Key is a short drive from downtown Sarasota and homes. A wide range of shopping centers, resorts, restaurants, and nightlife attractions.
Siesta Key is a must-see island paradise known for its magnificent quartz beaches, blue waters, and numerous beachside amenities. Its exotic appeal makes amongst best places for a romantic getaway in Florida.
It's not easy to plan a vacation in Florida for 7 days, given the city has so much to offer. However, the above mentioned are definitely a hard miss. So plan your travel log today and make the best out of your holiday at the world's Sunshine State.